Friday May 24th… Dear Diary. The main purpose of this ongoing blog will be to track United States extreme or record temperatures related to climate change. Any reports I see of ETs will be listed below the main topic of the day. I'll refer to extreme or record temperatures as ETs (not extraterrestrials).😉
The Dreaded Ring Of Fire…Day Two
The first heat wave for the United States is well underway across the Southeast. Also, flooding in the Plains on the periphery of a pesky, strong ridge aloft and in association with this climate crisis weather pattern has gotten to epic proportions. As described yesterday, the thunderstorms in the Plains are part of the "ring of fire:"
https://guyonclimate.com/2019/05/24/extreme-temperature-diary-may-23-2019-the-dreaded-ring-of-fire-day-one/
Yes, people are starting to catch on to what I've been writing about this particular weather pattern:
I'll continue posting notes on this ring of fire pattern until it breaks down, hopefully sometime next week. Storms and flooding are detrimentally affecting people more than the heat, at least initially, so I am posting notes on this aspect of this deadly weather pattern first:
This stripe of NWS flood watches, warnings, and river advisories today in the nation's heartland is all bad news:
Unfortunately more storms will be "ringing" around that ridge on Saturday:
Next I will post notes on the forecast heat here:
On Saturday our heatwave will start breaking many records across the Southeast: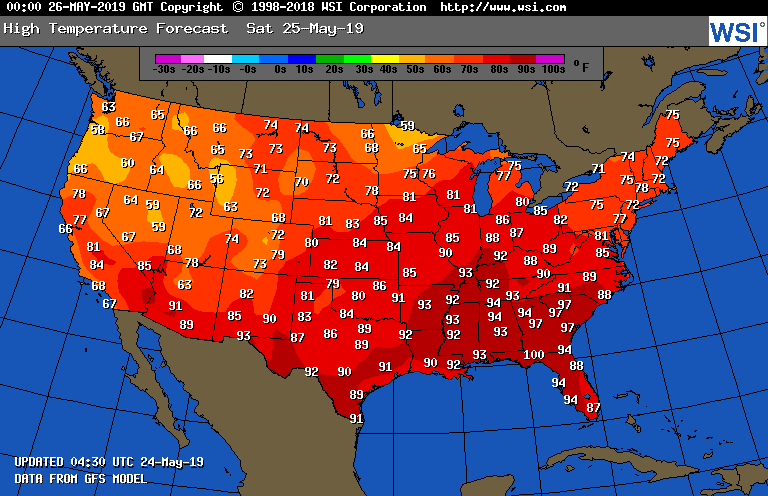 When I was going to school at Florida State in Tallahassee I never saw the temperature get up to 100F in summer, but this could happen in May! Yes, 100F would be a record in Tallahassee.
Elsewhere across the South:
Here are some "ETs" from Friday:
Here is some more climate and weather information from Friday:
(As usual, this will be a fluid post in which more information gets added during the day as it crosses my radar, crediting all who have put it on-line. Items will be archived on this site for posterity. In most instances click on the pictures of each tweet to see each article.)
(If you like these posts and my work please contribute via the PayPal widget, which has recently been added to this site. Thanks in advance for any support.)
Guy Walton- "The Climate Guy"