Friday August 9th… Dear Diary. The main purpose of this ongoing blog will be to track United States extreme or record temperatures related to climate change. Any reports I see of ETs will be listed below the main topic of the day. I'll refer to extreme or record temperatures as ETs (not extraterrestrials).😉
Another Japanese Heat Wave And An IPCC Update
Another heat dome has built over eastern Asia and has been waxing and waning since late July, similar to what we saw in 2018. Unfortunately this has led to 57 deaths from the last report that I saw across Japan, which apparently isn't prepared enough yet to deal with excessive summer heat from the climate crisis. Here is a link:
https://www.ecowatch.com/japan-heat-wave-2639709811.html
Quoting some from this article:
57 Dead, 18,000 Hospitalized in Japan Heat Wave
By: Jordan Davidson Aug. 07, 2019 12:33PM EST Climate
While the worst of this summer's heat seems to have passed in the U.S. and Europe, Japan is in the throes of a dangerous heat wave.
The end of the rainy season last week brought a dangerous heat wave that claimed the lives of 57 people in Japan and sent tens of thousands to the island nation's hospitals for heat related illness, the Japan Times reported.
The week that started on July 29 saw triple the number of heat-related hospitalizations as the week before. At 18,347, that's the second highest number since heat-related records started in 2008, according to the Fire and Disaster Management Agency, as the Japan Times reported.
The Japan Meteorological Agency (JMA) said the surge in hospitalizations, deaths and people collapsing from heat stroke is partly due to people's bodies, which adapted to the cool weather of the rainy season and did not sweat much, have been unable to cope with the sudden spike in temperature, according to the Japan News.
The JMA said a seasonal rain front lingered over Honshu from late June to mid-July. Plus, a high pressure system in the Sea of Okhotsk also brought cold winds from the north, resulting in cloudy, cool weather across the country, as the Japan News reported. That ended abruptly.
From July 1 to July 23, one person died in Japan from heat stroke. The following week, the official end of the rainy season, saw 11 deaths when temperatures reached 98.6 degrees in central Japan, according to the JMA. Last week when 57 people died, temperatures in Kumagaya City and Isesaki City reached 101 degrees, while Fukushima and Osaka registered readings of 98 and Tokyo 95, according to the UPI.
……………………………………..
It's only taken a ridge of a little better than 588 decameters to produce this heat wave as noted by the following Pivotal Weather image: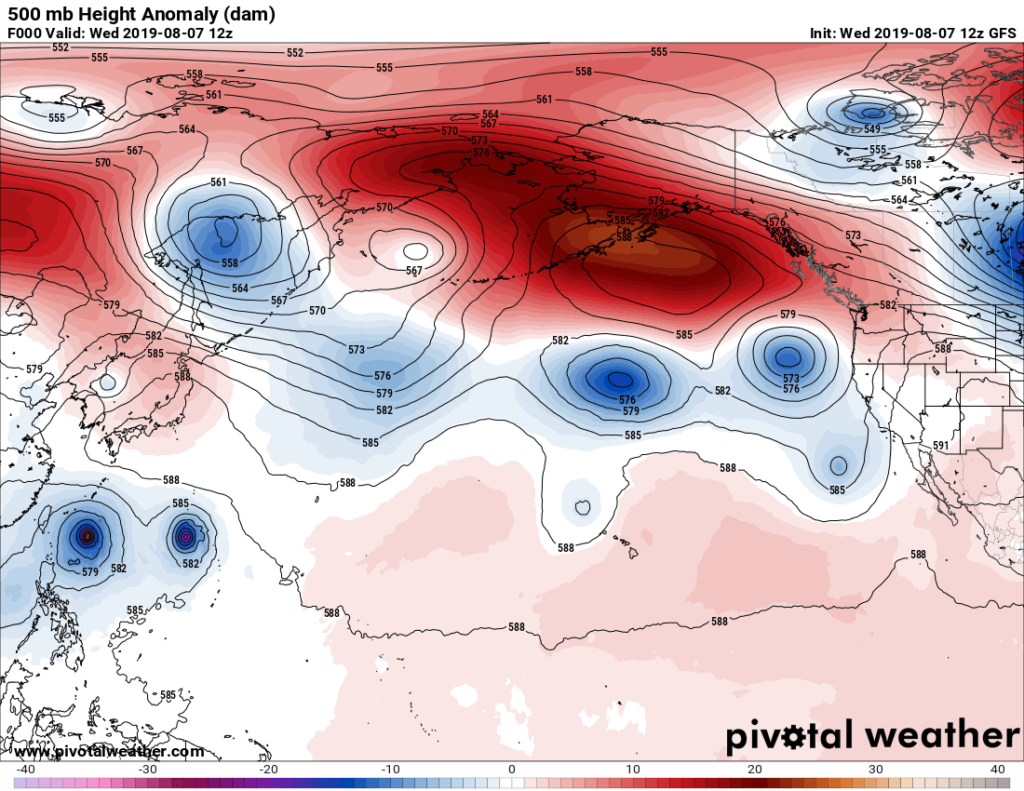 At the time on Wednesday when this chart was initialized typhoons as noted by the blue swirls were moving south of Japan. The 588+ decameter ridge over Japan was just an extension of more positive "ridgeness" that is in association with the current Arctic heatwave, also depicted in red on the chart. Note the huge red anomaly over Alaska. Yikes!
I'll post more on eastern Asia if it crosses my radar later today.
Jeff Beradelli has noted another main topic for today, an IPCC report. Here is his link to CBS videos:
Here is more from Digital Journal:
http://www.digitaljournal.com/news/environment/climate-crisis-adding-increased-risks-to-global-food-security/article/555544
Climate crisis fuels increased risks to global food security
Listen | Print By Karen Graham 22 hours ago in Environment
More than 500 million people today live in areas affected by erosion linked to climate change, the UN warned on Thursday, before urging all countries to commit to sustainable land use to help limit greenhouse gas emissions before it is too late.

Speaking at the launch of a Special Report on Climate Change and Land by the UN Intergovernmental Panel on Climate Change (IPCC) in Geneva, experts highlighted how the rise in global temperatures, linked to increasing pressures on fertile soil, risked jeopardizing food security for the planet.
The report was written by over 100 scientists and unanimously approved by diplomats from nations around the world Thursday at a meeting in Geneva. The report not only voices dire warnings for the future – but provides some possible fixes. The report takes an unprecedented look at the impacts of the climate crisis on land and how land use is affecting the climate, according to the Associated Press.
Earth's landmasses comprise 30 percent of the globe, yet humans affect 70 percent of the total, with one-quarter of that land already degraded, noted Valérie Masson-Delmotte, Co-Chair of one of three Working Groups that contributed to the 1,500-page report.
Read more: http://www.digitaljournal.com/news/environment/climate-crisis-adding-increased-risks-to-global-food-security/article/555544#ixzz5w8VngDOf

…………………………………
Both of today's main topics are warnings that we should be getting our carbon polluting house in order.
Here is more climate and weather news from Friday:
(As usual, this will be a fluid post in which more information gets added during the day as it crosses my radar, crediting all who have put it on-line. Items will be archived on this site for posterity. In most instances click on the pictures of each tweet to see each article.)
We have an "ET" report for today:
(If you like these posts and my work please contribute via the PayPal widget, which has recently been added to this site. Thanks in advance for any support.)
Guy Walton- "The Climate Guy"