Sunday September 8th… Dear Diary. The main purpose of this ongoing blog will be to track United States extreme or record temperatures related to climate change. Any reports I see of ETs will be listed below the main topic of the day. I'll refer to extreme or record temperatures as ETs (not extraterrestrials).😉
Another Hot Week Ahead for the Southern United States…Could the Heat Lead To More Tropical Troubles?
As I start writing this post for today my jaw remains open being in awe at how hot it is in my neck of the woods (the Deep South) so late in the summer season. Usually temperatures are dipping substantially lower going into the second week of September then what we are currently witnessing. Here are some mid afternoon readings from today: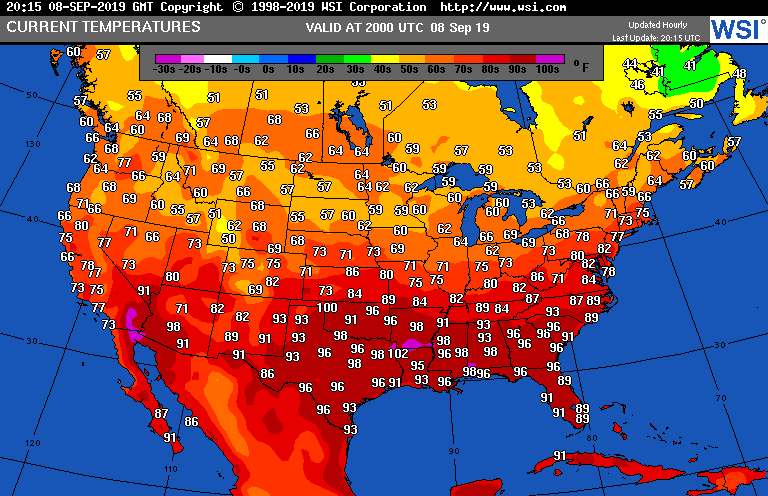 The "average" maximum temperature around 9/8 is 85F at Atlanta. It will be at least 96F here today. But you are saying to the Climate Guy looking at the above chart, well what gives? It is reasonably cool now from the northern Rockies through the Midwest, which is true. We only need to look at 500 millibar charts, though, to see how anomalous this weather pattern is. Here is what we see as of this morning across the Northern Hemisphere: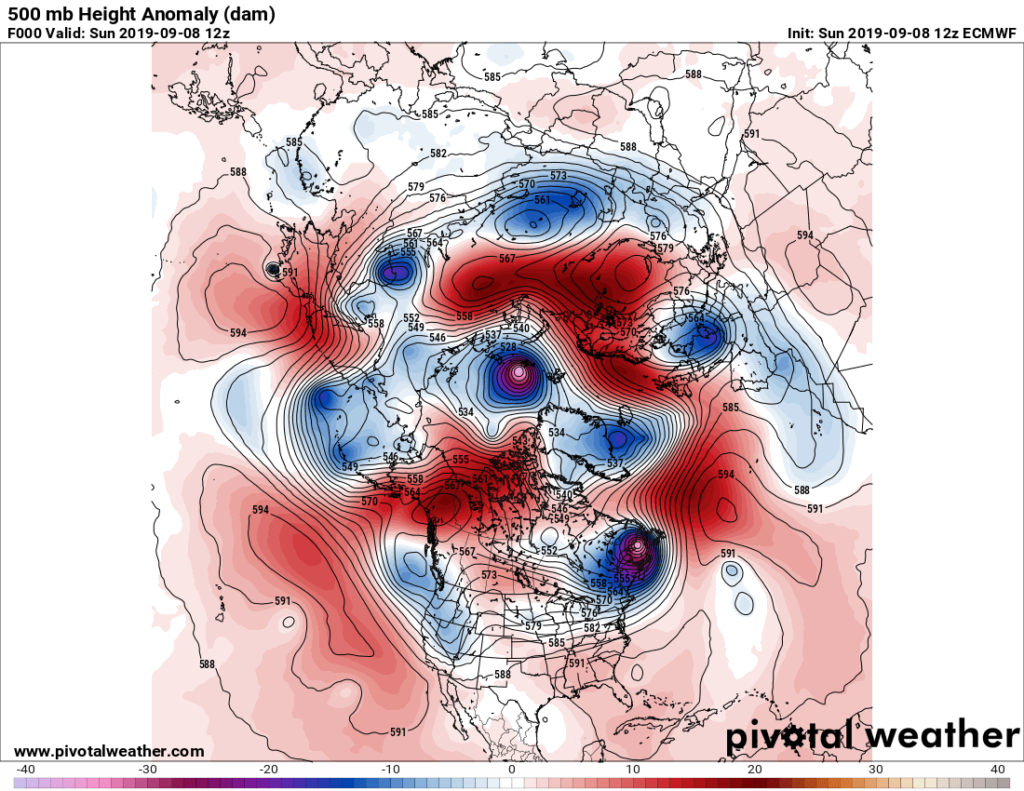 The above chart isn't that toasty looking at the CONUS, but the one valid for Wednesday certainly is:
A 594+ decameter ridge over a wide swath of the Southeast would be hot for June, July or August, and we usually don't see such a warm heat dome across the CONUS in September. The Heat dome will peak out during the middle of the week, but not before setting many surface temperature records. Atlanta may get up to around 100F, for example. Here is one "ET" that occurred yesterday:
All those doing outdoor activities will still have to take mid-summer precautions across the South. This heat wave probably will not make headlines since southern U.S. residents are well armed with great air conditioning. Still, if it gets to 100F in Atlanta this far into September many people, even those not that tuned into the weather, will take notice…and yes climate change will come up in conversations.
This national map for Monday doesn't forecast maximum values high enough simply because "traditional climatology" is built into guidance used to automatically crunch values making up the chart. It should not be this hot across the South the second week of September:
Warmth gets even more pronounced across the eastern U.S. going all the way out to 240 hours, about as far out as we can expect reasonably accurate scenarios from any global models:
Such a pattern reminds me of what happened before Hurricane Michael developed last year. Here are a few notes:
https://guyonclimate.com/2018/10/08/extreme-temperature-diary-october-8-2018-topic-tracking-michael-day-two/
The anomalous 500 millibar pattern of last October was much more impressive than the one forecast over the U.S. the next couple of weeks:
Still, it will be hot enough. This warm pattern is very conducive for hurricanes to affect the U.S. as we saw with Michael last year, unfortunately. I'm hoping that we won't see this:
Here is some self-quoted material from October 2018: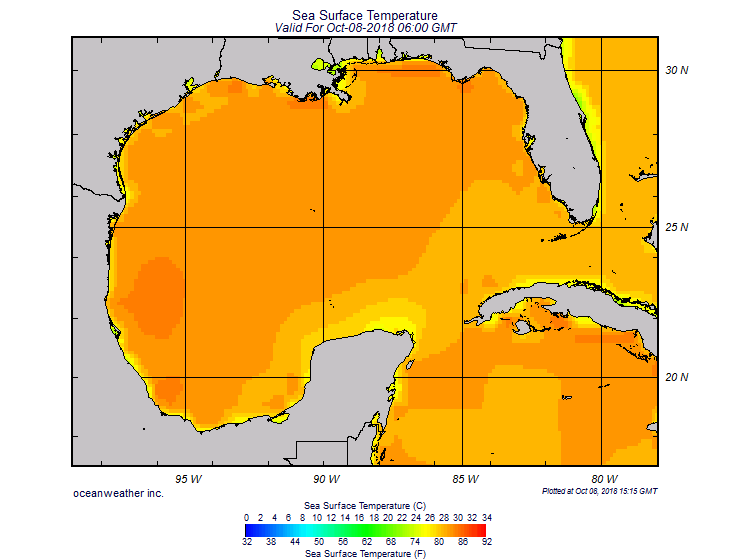 "We saw a record warm September through early October across the South, so typical cold fronts for early fall did not penetrate the northern Gulf cooling waters down. In fact, as Michael gets close to the Florida Panhandle it will be encountering the warmest waters along its projected path, close to 86-88F looking at the above chart, well above any threshold to maintain a major hurricane."
We can't point out one run of the GFS forecasting a Dorian to move over Florida as correct, especially past 240 hours. That would be foolish. All we can point to are trends. I do think that a hurricane or tropical storm is likely to develop from a wave coming off of Africa over the following weekend or early next week. Each run of the GFS has been very adamant about this. Hopefully a "weakness" in the very warm ridge forecast to cover the central Atlantic will lift any hurricane well north and east of the Leeward Islands and, of course, the Bahamas and United States. 
Also, perhaps a way overdue front moving through the eastern U.S. will deflect any tropical system trying to organize away from the United States. We will see.
Here is more climate and weather news from Sunday:
(As usual, this will be a fluid post in which more information gets added during the day as it crosses my radar, crediting all who have put it on-line. Items will be archived on this site for posterity. In most instances click on the pictures of each tweet to see each article.)
Here are more "ETs" from Sunday:
(If you like these posts and my work please contribute via the PayPal widget, which has recently been added to this site. Thanks in advance for any support.)
Guy Walton- "The Climate Guy"