Tuesday January 7th… Dear Diary. The main purpose of this ongoing blog will be to track United States extreme or record temperatures related to climate change. Any reports I see of ETs will be listed below the main topic of the day. I'll refer to extreme or record temperatures as ETs (not extraterrestrials).😉
Great Summary For The 2010s From Inside Climate News
Dear Diary. Among all of the news outlets writing on climate I'm the most impressed with InsideClimate News, which has the resources to do some intricate, detailed scientific reporting. Here is their summary for the 2010s via Desdemona Despair, which I would have you read in its entirety by clicking "more" at the bottom of the article:
https://desdemonadespair.net/2020/01/2010-2019-earths-hottest-decade-on-record-marked-by-extreme-storms-deadly-wildfires-the-climate-of-the-20th-century-is-gone-were-in-a-new-neighborhood.html
2010-2019: Earth's hottest decade on record marked by extreme storms, deadly wildfires – "The climate of the 20th Century is gone. We're in a new neighborhood."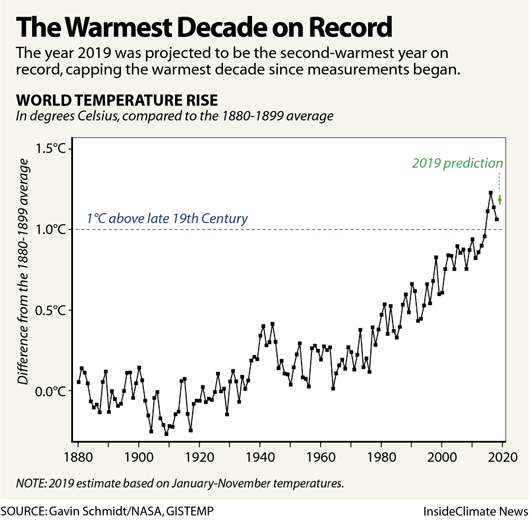 Global surface temperature anomalies, 1880-2019, compared with the 1880-1899 average. The year 2019 was the second warmest year on record, capping the warmest decade since measurements began. Data: Gavin Schmidt / NASA GISTEMP. Graphic: InsideClimate News
By Bob Berwyn
19 December 2019
(InsideClimate News) – Deadly heat waves, wildfires and widespread flooding punctuated a decade of climate extremes that, by many scientific accounts, show global warming kicking into overdrive.
As the year drew to a close, scientists were confidently saying 2019 was Earth's second-warmest recorded year on record, capping the warmest decade. Eight of the 10 warmest years since measurements began occurred this decade, and the other two were only a few years earlier.
Arctic sea ice melted faster and took longer to form again in the fall. Big swaths of ocean remained record-warm nearly all year, in some regions spawning horrifically damaging tropical storms that surprised experts with their rapid intensification. Densely populated parts of Europe shattered temperature records amid heat waves blamed for hundreds of deaths, and a huge section of the U.S. breadbasket region was swamped for months by floodwater.
And wildfires burned around the globe, starting unusually early in unexpected places like the UK. They blazed across country-size tracts of Siberia, fueled by record heat, flared up in the Arctic and devastated parts of California. Australia ended the decade with thick smoke and flames menacing Sydney and a record-breaking heat wave that sent the continent's average temperature over 107 degrees Fahrenheit. Again and again, scientists completed near real-time attribution studies showing how global warming is making extremes—including wildfires—more likely.
Even more worrisome, scientists warned late in the year that many of these extremes are linked and intensify each other, pushing the global climate system ever-closer to tipping points that could lead to the breakdown of ecological systems—already seen in coral reefs and some forests—and potentially trigger runaway warming.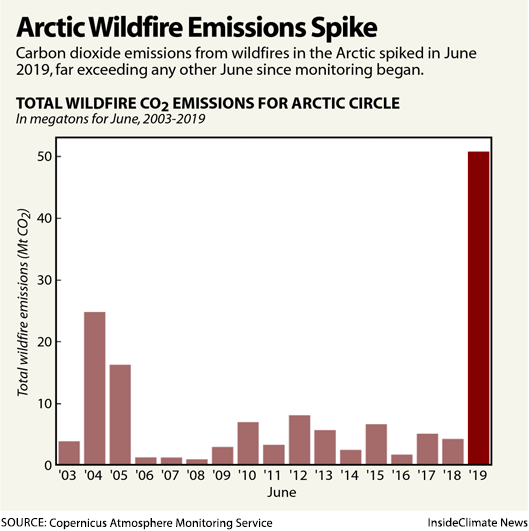 Total wildfire carbon dioxide emissions for the Arctic Circle, 2003-2019. Data: Copernicus Atmosphere Monitoring Service. Graphic: InsideClimate News
"Every decade or half-decade we go into a new realm of temperature. When you look at the decadal averages, it becomes pretty obvious that the climate of the 20th Century is gone. We're in a new neighborhood," said Deke Arndt, chief of the Climate Monitoring Branch at NOAA's National Centers for Environmental Information.
"When I look at the patterns, the thing that always comes back to me is, we share one atmosphere, one climate system with people we will never meet. When we poke it here in our part of the world it can have mammoth consequences elsewhere," he said.
The record heat and weather extremes are affecting millions of people worldwide, said Omar Baddour, who helped compile a World Meteorological Organization report showing that more than 10 million people were displaced by climate extremes in just the first half of 2019. In addition to extreme weather, warming can increase the risk of mosquito-borne diseases like malaria, rising sea levels and erosion can make coastal areas uninhabitable, and increasing heat can harm agriculture and water supplies communities rely on.
"It's really serious. We are getting into a self-sustained loop of global warming that could lead to 3 to 5 degrees Celsius (5.4 to 9°F) of warming by the end of the century," he said. "We have been recording 2,000 to 3,000 excess deaths from heat waves. This is really becoming a disaster. Humans are suffering." [more]
I'd like to highlight one graphic included in this report involving all climate change related or enhanced weather events from the 2010s across the United States: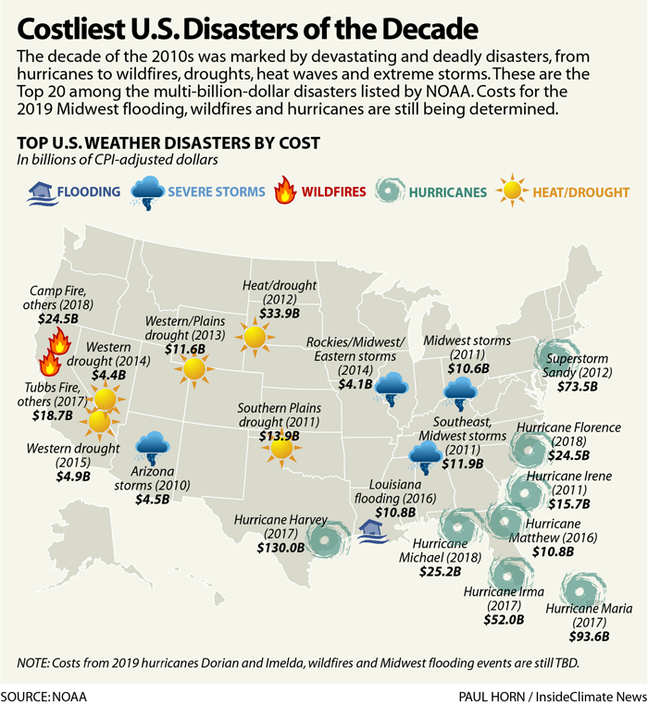 Note carefully that we don't see any wintry cold related costly billion dollar disasters on the Inside Climate News graphic, which is no surprise given how mild winters were during the 2010s. So, here are the things that we need to watch for this decade: Ramped up heat, floods, drought and severe storm systems (both inland and from the tropics). The warmer the planet gets the worse these events will be, especially since added heat in the atmospheric system transitions to added energy for storms. Also during the 2020s, if I am reading my tea leaves correctly, watch for most in the denial camp to become suddenly silent as the world warms…just sayin'.
Here is more climate and weather news from Tuesday:
(As usual, this will be a fluid post in which more information gets added during the day as it crosses my radar, crediting all who have put it on-line. Items will be archived on this site for posterity. In most instances click on the pictures of each tweet to see each article.)
Here is an "ET" from Korea:
And a cold "ET" from Alaska:
(If you like these posts and my work please contribute via the PayPal widget, which has recently been added to this site. Thanks in advance for any support.)
Guy Walton- "The Climate Guy"