Friday July 10th… Dear Diary. The main purpose of this ongoing blog will be to track United States extreme or record temperatures related to climate change. Any reports I see of ETs will be listed below the main topic of the day. I'll refer to extreme or record temperatures as ETs (not extraterrestrials). 😉
Thursday July 9th, 2020/ Main Topics: Prolonged Historic U.S. Heat Wave…Update #6
Dear Diary: As usual to start this particular post, let's have a heat checkup for the United States for the next couple of days. Our low level CAT 1 heat wave from Thursday has intensified across some sections of the country to that of a CAT2 since we see numerous heat advisories posted this morning across the South and Southwest. Also, we will start to see some daily records set from this heat wave starting today: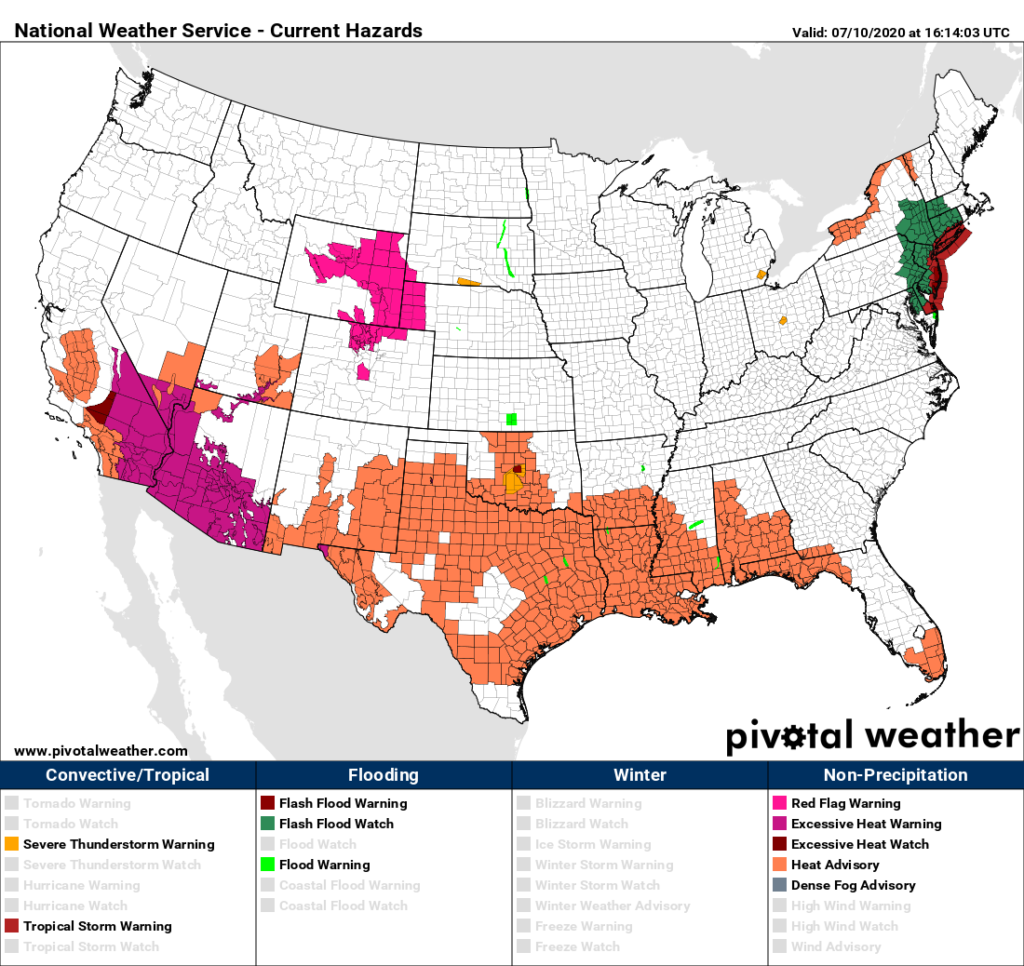 At least dangerous levels of heat have tailed off across the Upper Midwest due to a front moving through that area.
On Saturday our western ridge will peak near 600 decameters. Over the weekend we probably will see a few reports of all-time records from the deserts of California eastward through West Texas:
I do have just a bit of good news to report today. Models are trending weaker with the ridge rebuilding eastward from Texas next week. No longer do I see a forecast of an ungodly high 597+ decameter contour over the Tennessee or Ohio Valley when the ridge peaks again next Friday:
If the above panel were to verify as depicted with a sprawling 594+ decameter ridge centered near Arkansas we would see some daily records being set, but far less all-time records than that for a stronger system. Also, if trends continue, there should be more systems bringing cooling storms to the Upper Midwest and perhaps the Southeast, limiting the heat wave in those areas. Certainly, our heat wave would be somewhat tamed if the associated heat dome came down to the following level after next Friday due to a retrogression of the ridge…a common occurrence when heat waves in the eastern U.S. either wane or end:
On the other hand, out to 240 hours the operational European Model holds no such luck:
The biggest key to the forecast of a weakened eastern ridge will depend upon what happens from the Gulf of Alaska into the Pacific Northwest. Will there be a ridge or trough there looking at the above two charts?
So, perhaps this heat wave will not be a prolonged, historic entity for the Upper Midwest. We will see.
Regardless, through next Friday this heat wave will produce some historically high levels of heat from the Southwest into the Southeast and as far north as the Great Lakes and Mid-Atlantic areas.
As always, check in from time to time on this site to see if I have posted any updates.
Here are some "ET's" from Thursday and Friday:
Here is more climate and weather news from Friday:
(As usual, this will be a fluid post in which more information gets added during the day as it crosses my radar, crediting all who have put it on-line. Items will be archived on this site for posterity. In most instances click on the pictures of each tweet to see each article. The most noteworthy items will be listed first.)
Now here are some of today's articles and notes on the horrid COVID-19 pandemic:
(If you like these posts and my work please contribute via the PayPal widget, which has recently been added to this site. Thanks in advance for any support.)
Guy Walton "The Climate Guy"