The main purpose of this ongoing blog will be to track United States extreme or record temperatures related to climate change. Any reports I see of ETs will be listed below the main topic of the day. I'll refer to extreme or record temperatures as ETs (not extraterrestrials).😉
Main Topic: Notes On Recent East Asian Heat
Dear Diary. As of Wednesday we see many areas of anomalously warm temperatures across the globe:
The worst are in the Arctic region, which currently is running a whopping 6.4°C above average. Obviously, warmer than average temperatures over such a large area close to the Arctic Circle are hampering the normal sea ice refreeze process and yes, even the jet stream:
The area that Scott Duncan circled is mostly outside of the Arctic area though, in the Far East. Let's concentrate on that area for today's main subject since some experts are starting to take notice of this anomaly.
What does the heat dome at 500 millibars look like this week over the Far East? Here is what we saw Monday from Pivotal Weather: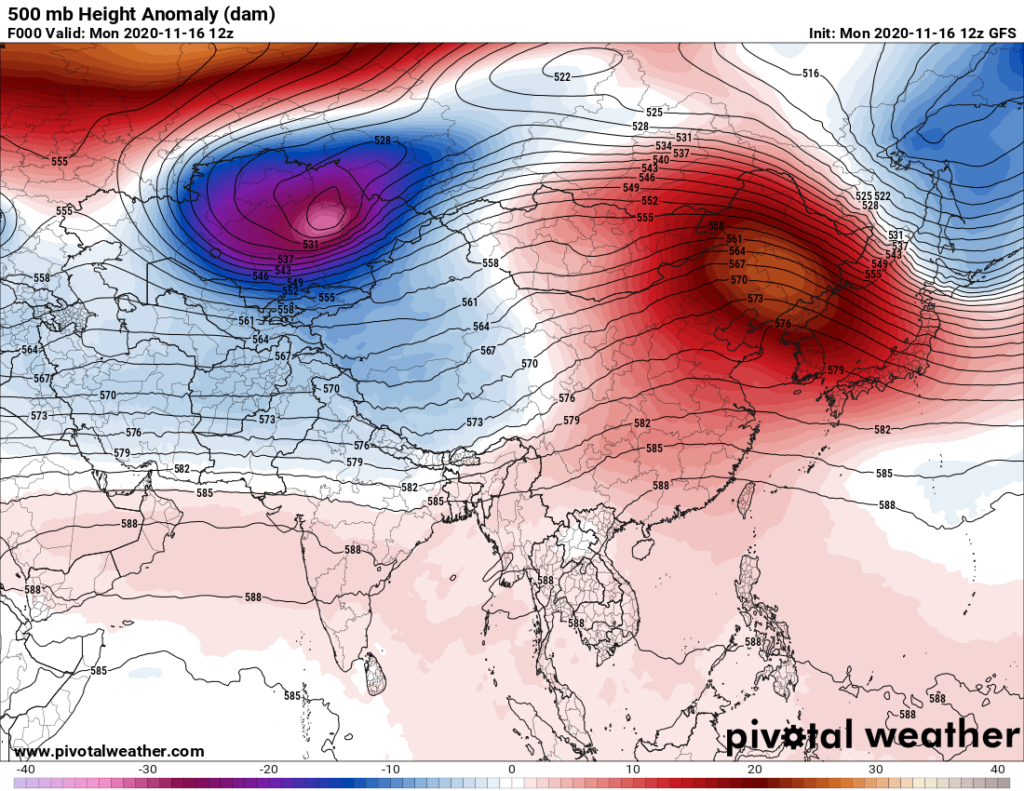 Notice the dark orange/red anomaly over northeast China and the Koreas. This is where the heart of this "warm wave" was occurring earlier this week. A cold low has pinched off, as represented by the blue colors, in Central Asia. As of today there has not been much change with the jet stream: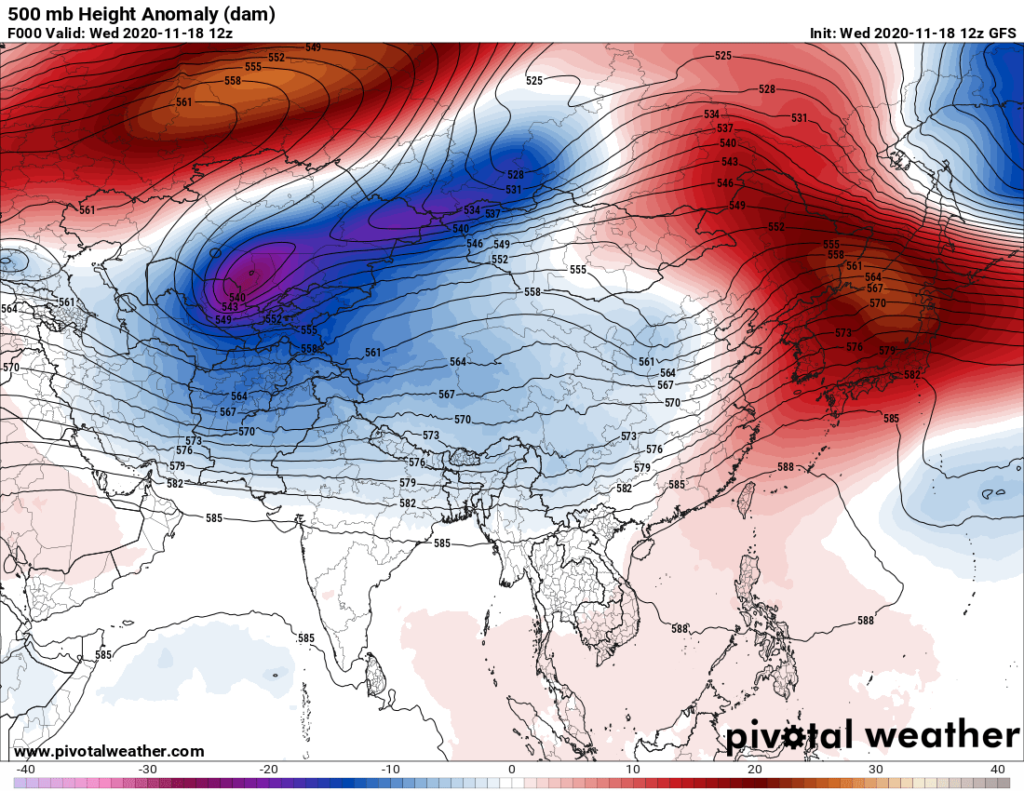 A weak system is putting an end to some of the record heat in central China, though.
Here are Maximiliano Hererra's recent notes:
This record warmth is not life threatening. Given that we are near winter in the Far East, this summer-like warmth is astonishingly uncomfortable, though and unwelcome in most instances. Still, the warmth is one more dire sign that our climate is changing.
More information on these anomalous temperature regimes:
Here are some "ET's" from Wednesday:
Here is more climate and weather news from Wednesday:
(As usual, this will be a fluid post in which more information gets added during the day as it crosses my radar, crediting all who have put it on-line. Items will be archived on this site for posterity. In most instances click on the pictures of each tweet to see each article. The most noteworthy items will be listed first.)
Now here are some of today's articles and notes on the horrid COVID-19 pandemic:
(If you like these posts and my work please contribute via the PayPal widget, which has recently been added to this site. Thanks in advance for any support.)
Guy Walton "The Climate Guy"