The main purpose of this ongoing blog will be to track worldwide extreme record temperatures related to climate change. Any reports I see of ETs will be listed below the main topic of the day. I'll refer to extreme or record temperatures as ETs (not extraterrestrials).😉
Main Topic: Spring Comes Way Too Early To Eurasia
Dear Diary. Last week as most of the United States was freezing during a historic cold wave portions of Europe and Asia were experiencing record warmth. The polar vortex and associated jet stream became more contorted and odd looking than I had ever seen in my 40+ years of looking at 500 millibar charts. This week the Eurasian warmth will continue while the cold wave I dubbed "Yeti" across the United States ends. Here are a couple of notes I tweeted out yesterday:
We can see both anomalies in Climate Reanalyzer data for today, as well as those across North America:
Here is a look at a forecast 500 millibar chart centered on the Arctic valid for this Thursday when the top chart is valid: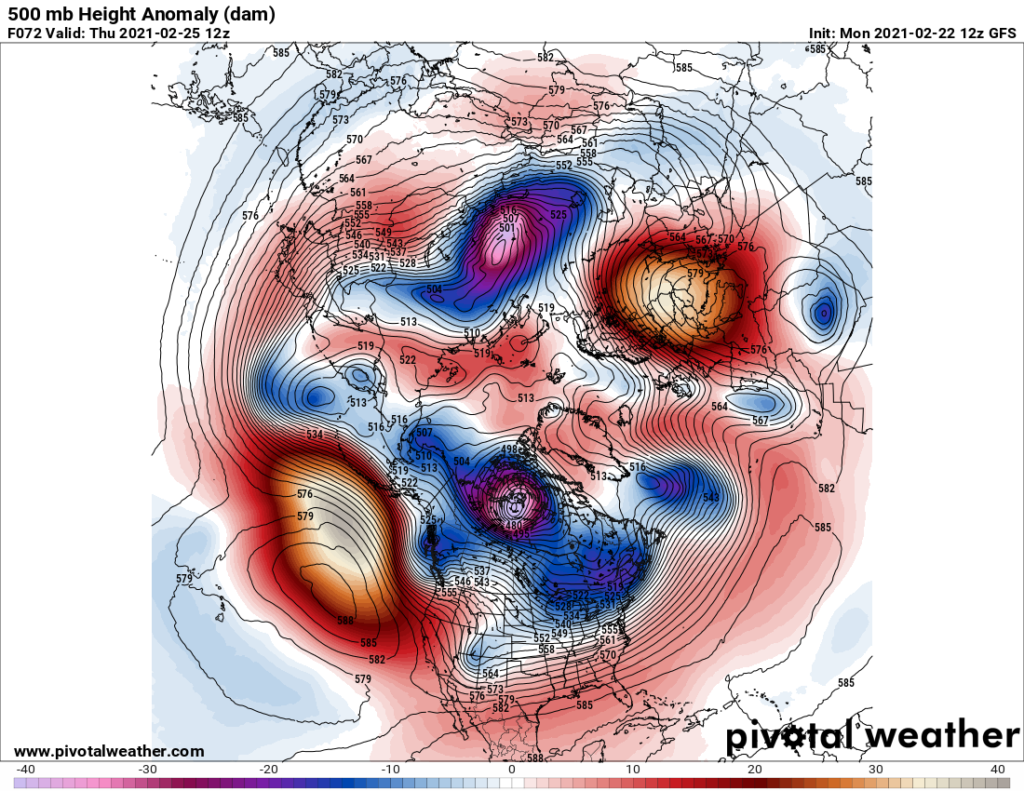 On the above chart we see a very convoluted, anomalous looking pattern with the European and Pacific ridges being very warm. Two extreme cold pockets are noted, one in northern Canada, and one in Russia. Of note:
What's startling is how fast Europe has warmed:
Here is a list of European and Asian records starting last week. Some of these are just monstrous given that it is just late February:
Eastern Asia's spring "warm wave" should begin to wane this week while Europe's warmth builds:
We will see if this "false spring" has repercussions for both flora and fauna in the coming days and weeks.
Here is more climate and weather news from Monday:
(As usual, this will be a fluid post in which more information gets added during the day as it crosses my radar, crediting all who have put it on-line. Items will be archived on this site for posterity. In most instances click on the pictures of each tweet to see each article. The most noteworthy items will be listed first.)
Now here are some of today's articles and notes on the horrid COVID-19 pandemic:
(If you like these posts and my work please contribute via the PayPal widget, which has recently been added to this site. Thanks in advance for any support.)
Guy Walton "The Climate Guy"