The main purpose of this ongoing blog will be to track planetary extreme or record temperatures related to climate change. Any reports I see of ETs will be listed below the main topic of the day. I'll refer to extreme or record temperatures as ETs (not extraterrestrials).😉
Main Topic: Where Will The Next U.S. Heatwave (Delta) Strike?
Dear Diary. We've already experienced three historic named heatwaves in the West this summer season. The next, using my Greek alphabet naming scheme for this year, would be Delta. Named heatwaves are not necessarily historic in nature using my definitions. They only need to get up to CAT3, or become potentially "dangerous," in which an area at least as large as about the state of Texas is under National Weather Service heat advisories for a couple of days, or a smaller area for at least three days.
Since it's only mid July with most of the summer ahead of us, so where and when will Delta strike? A few days ago I tweeted out thus message:
So, how are newer meteorological models looking for the northern Rockies and northern Plains?
By Sunday we see about the same 500 millibar heights and configuration: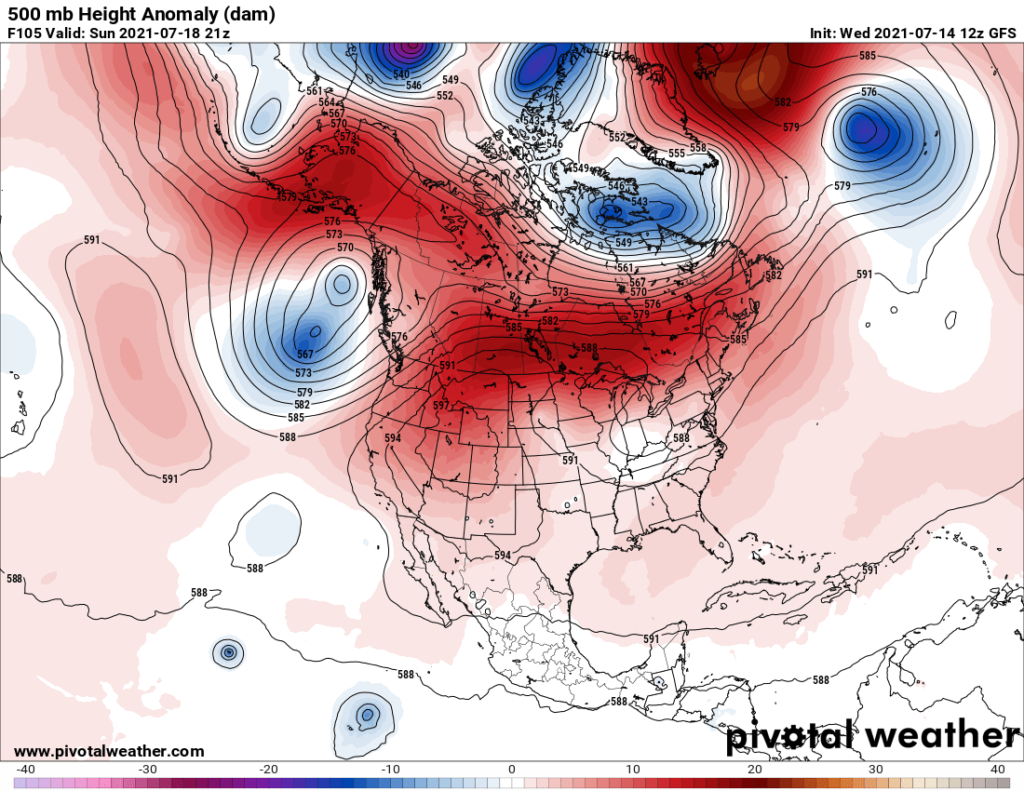 At lower levels heat will be building under the heat dome as depicted on the chart below:
The heat dome will persist over the Rockies with part of the system extending over the northern Plains through at least Wednesday:
Now that we have established that there will be a long lasting heat dome, will conditions get hot enough to warrant widescale heat advisories? Off hand, I would say yes, particularly from Wyoming into Montana and probably from Nebraska into the Dakotas. Here is a forecast Pivotal Weather chart depicting some rather high maximum temperature values valid for this coming Sunday for Idaho and Utah eastward into the Dakotas:
This coming heat wave may not make much news since it will occur across some of the least populated states of our nation. However, for the roughly 17 million people that will be affected, conditions will be very uncomfortable and dangerous for those who can't properly cool off. We will soon find out how bad conditions get across states that traditionally have some of the coldest weather in the nation in this topsy-turvy world of climate change.
(As usual, this will be a fluid post in which more information gets added during the day as it crosses my radar, crediting all who have put it on-line. Items will be archived on this site for posterity. In most instances click on the pictures of each tweet to see each article. The most noteworthy items will be listed first.)
Here is more climate and weather news from Wednesday:
Now here are some of today's articles and notes on the horrid COVID-19 pandemic:
(If you like these posts and my work please contribute via the PayPal widget, which has recently been added to this site. Thanks in advance for any support.)
Guy Walton "The Climate Guy"