The main purpose of this ongoing blog will be to track planetary extreme or record temperatures related to climate change. Any reports I see of ETs will be listed below the main topic of the day. I'll refer to extreme or record temperatures as ETs (not extraterrestrials).😉
Why Severe Flooding Often Happens When Heat Waves Break…Case In Point Today's Germany
Dear Diary. In Europe over the last few days a phenomenon is going on which I haven't touched on much on this blog. Whenever a heat dome dissipates or collapses by interacting with an upper cold trough there is potential for heavy rainfall. Since relatively warm air can hold higher amounts of moisture, the hotter the heat wave, the heavier a potential flooding situation.
Heat waves can trap available moisture, keeping most from being released. Here is why:
https://physics.stackexchange.com/questions/150910/why-does-air-hold-more-water-when-the-air-is-warmer
"This has everything to do with entropy: when the temperature is higher, the benefit of having more water molecules in the air (giving rise to greater entropy) become energetically more favored. This is why water "dissolves better in air" at higher temperatures.
Another way of looking at this (pure statistical thermodynamics): when water is cold, few molecules have the energy to "escape" the surface tension forces that hold molecules in the liquid – and thus few molecules escape. By contrast any water molecule in the air that hits the water has a good chance of becoming part of the liquid. When the rate of escape is low, the equilibrium concentration is also low.
Contrast this with high temperature water: lots of molecules escape so you can have far more molecules in the vapor phase at equilibrium.
Both approaches give you the same answer… saturated vapor pressure increases with temperature."
A case in point can be made with the current flooding situation in Germany. Residents there have no doubt that climate change is behind this wild weather.
In this case a cold upper low was slowly moving east, plowing through the heat dome that produced record warmth last week in Scandinavia, releasing copious amounts of rainfall:
The above Pivotal charts distinctly have the climate change signature of an upper low buried between two strong positive anomaly ridges at the time of Germany's flooding. A heat wave was in the process of breaking across Finland and the rest of Scandinavia.
While record heat was not occurring in Germany before the flooding, the heat dome did affect the orientation and probably the speed of the system tracking through Europe on the above charts. Also, the interaction of the warm heat dome over northern Europe and the cold core low over central Europe squeezed out much more moisture than would have been available without the heat dome to the system's north and east (although an attribution study will be needed to verify my statements here).
Here are details from Desdemona Despair:
Record rainfall in Europe after record heatwave – At least 42 dead and dozens missing in Germany floods – "We have never seen such a disaster. It's really devastating."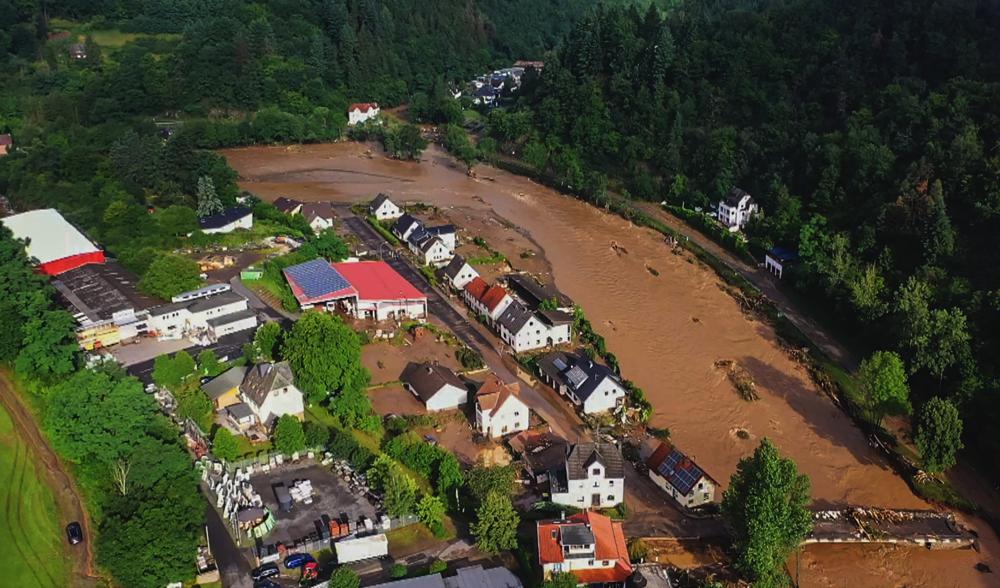 Aerial view of the devastation caused by the flooding of the Ahr River in the Eifel village of Schuld, western Germany, on 15 July 2021. Photo: Christoph Reichwein / dpa / AP
15 July 2021 (BBC News) – At least 42 people have died in western Germany and many more are missing following severe floods, police say.
The worst of the flooding has been in the states of Rhineland-Palatinate and North Rhine-Westphalia, where buildings and cars have been washed away.
At least six others have died in neighbouring Belgium, and the city of Liège has urged all residents to leave.
It follows record rainfall in parts of western Europe that has caused major rivers to burst their banks.
The Netherlands has also been badly hit, with flooding rivers damaging many houses in the southern province of Limburg. A number of care homes have also had to be evacuated.
Malu Dreyer, chief of Germany's Rhineland-Palatinate state, described the flooding as a "catastrophe".
"There are dead, missing and many people still in danger," she said. "All of our emergency services are in action round the clock and risking their own lives." [more]
Germany floods: At least 42 dead and dozens missing after record rain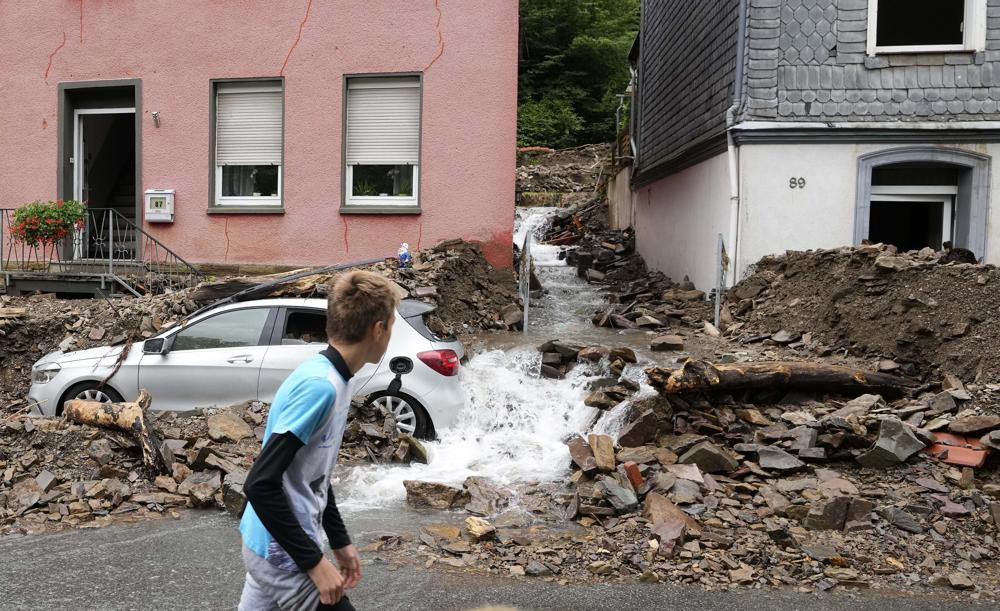 A boy walks by a car in Hagen, Germany, on 15 July 2021, that was buried in debris brought by the flooding of the 'Nahma' river the night before. Photo: Martin Meissner / AP Photo
More than 30 dead, dozens missing in heavy Europe floods
BERLIN, 15 July 2021 (AP) – More than 30 people have died and dozens of people were missing Thursday in Germany and neighboring Belgium after heavy flooding turned streams and streets into raging torrents, sweeping away cars and causing buildings to collapse.
Storms across parts of western Europe in recent days caused rivers and reservoirs to burst their banks, resulting in several flash floods overnight as rain-soaked soil failed to absorb any more water.
Authorities in the western German region of Euskirchen said eight deaths had been reported there in connection with the floods. Rescue operations were hampered by the fact that phone and internet connections were down in parts of the county, which is southwest of Cologne.
Officials said 18 people had died in Ahrweiler county, south of Euskirchen. Up to 70 people were reported missing after several houses collapsed overnight in the village of Schuld in the Eifel, a volcanic region of rolling hills and small valleys southwest of Cologne.
Dozens more were trapped on the roofs of their houses awaiting rescue. Authorities used inflatable boats and helicopters, and the German army deployed 200 soldiers to assist in the rescue operation.
"There are people dead, there are people missing, there are many who are still in danger," the governor of Rhineland-Palatinate state, Malu Dreyer, told the regional parliament. "We have never seen such a disaster. It's really devastating."
German Chancellor Angela Merkel said she was distraught by the news of the floods. "My sympathy goes to the relatives and of the dead and missing," she said during a trip to Washington.
Across the border in Belgium, the Vesdre river broke its banks and sent masses of water churning through the streets of Pepinster, close to Liege, its destructive power bringing down some buildings. […]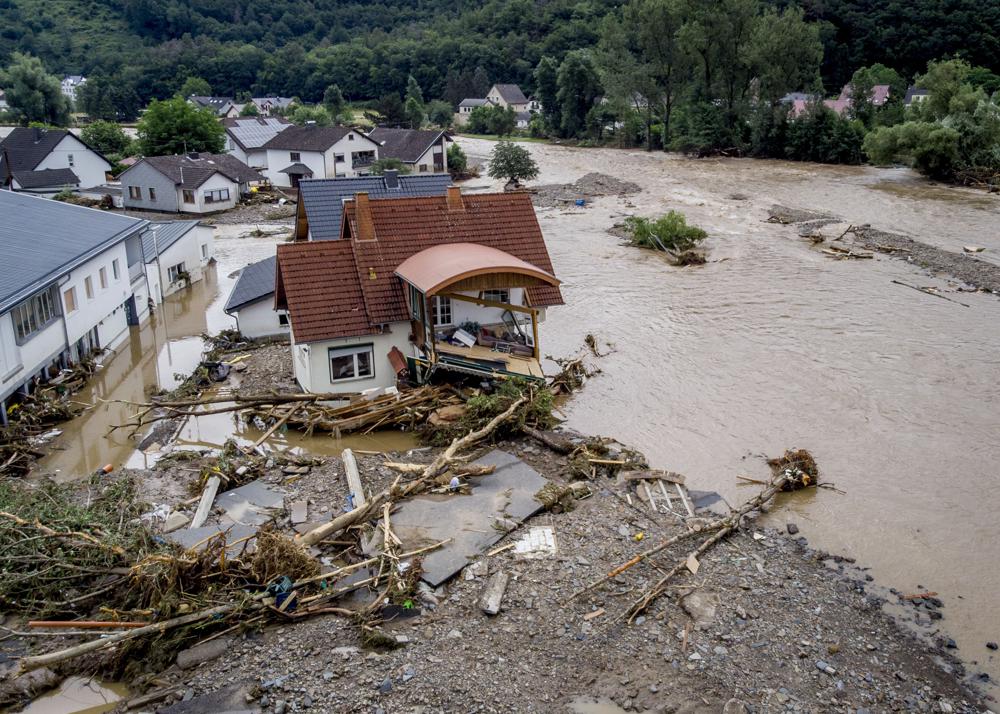 A damaged house is seen at the Ahr river in Insul, western Germany, 15 July 2021. Due to record rainfall the Ahr river dramatically went over the banks the evening before. Photo: Michael Probst / AP Photo
EU Commission President Ursula von der Leyen pledged to help those affected.
"My thoughts are with the families of the victims of the devastating floods in Belgium, Germany, Luxembourg and the Netherlands and those who have lost their homes," she tweeted. "The EU is ready to help."
The full extent of the damage across the region was still unclear after many villages were cut off by floodwater and landslides that made roads impassable. Videos posted on social media showed cars floating down streets and houses partly collapsed in some places.
Many of the dead were only discovered after floodwaters began to recede again. Police said four people died in separate incidents after their basements were flooded in Cologne, Kamen, and Wuppertal, where authorities warned that a dam threatened to burst. […]
Unusually intense rains have also inundated a swath of northeast France this week, downing trees and forcing the closure of dozens of roads. A train route to Luxembourg was disrupted, and firefighters evacuated dozens of people from homes near the Luxembourg and German border and in the Marne region, according to local broadcaster France Bleu.
The equivalent of two months of rain has fallen on some areas in the last one or two days, according to the French national weather service. With the ground already saturated, the service forecast more downpours Thursday and issued flood warnings for ten regions.
Meanwhile, high temperatures of 30 degrees Celsius (86 degrees Fahrenheit) or higher were expected Thursday in parts of northern Europe.
The night between Wednesday and Thursday was the hottest in history, the Finnish weather service company Foreca said Thursday with the mercury reaching 24.2 Celsius degrees (75.6 degrees Fahrenheit).
Greta Thunberg, the climate activist, tweeted that the extreme weather of recent days should not be regarded as "the new normal."
"We're at the very beginning of a climate and ecological emergency, and extreme weather events will only become more and more frequent," she wrote. [more]
More than 30 dead, dozens missing in heavy Europe floods
(As usual, this will be a fluid post in which more information gets added during the day as it crosses my radar, crediting all who have put it on-line. Items will be archived on this site for posterity. In most instances click on the pictures of each tweet to see each article. The most noteworthy items will be listed first.)
Here is more climate and weather news from Thursday:
Now here are some of today's articles and notes on the horrid COVID-19 pandemic:
(If you like these posts and my work please contribute via the PayPal widget, which has recently been added to this site. Thanks in advance for any support.)
Guy Walton "The Climate Guy"