The main purpose of this ongoing blog will be to track planetary extreme or record temperatures related to climate change. Any reports I see of ETs will be listed below the main topic of the day. I'll refer to extreme or record temperatures as ETs (not extraterrestrials).😉
Main Topic: America Needs To Emulate A New European Union Climate Plan
Dear Diary. It's often been said that America is the leader of the free world. Well, if that's true our plans to fight the "Climate War," just like when we fought World War II, should be bolder and better than those of our European counterparts.
That's simply not the case as reported by the BBC. I'm envious of this Green New Deal, which in the long run will put Britain and Europe on a faster path towards sustainability than those proposed by the Biden Administration. As of mid 2021 it looks like Europe will take the lead on climate:
https://www.bbc.com/news/world-europe-57833807
EU unveils sweeping climate change plan
Published1 day ago comments Comments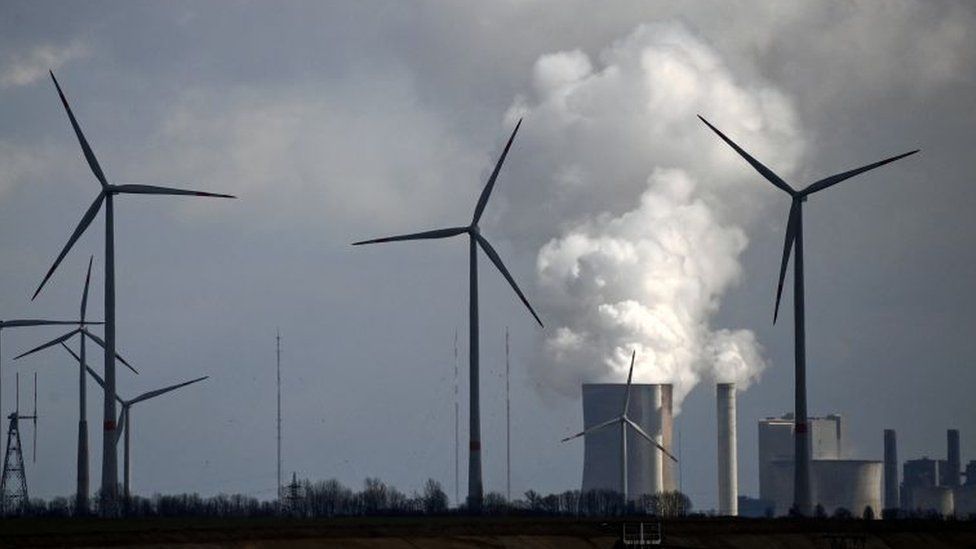 The European Union has announced a raft of climate change proposals aimed at pushing it towards its goal of becoming carbon neutral by 2050.
A dozen draft proposals, which still need to be approved by the bloc's 27 member states and the EU parliament, were announced on Wednesday.
They include plans to tax jet fuel and effectively ban the sale of petrol and diesel powered cars within 20 years.
The proposals, however, could face years of negotiations.
The plans triggered serious infighting at the European Commission, the bloc's administrative arm, as the final tweaks were being made, sources told the AFP news agency.
"By acting now we can do things another way… and choose a better, healthier and more prosperous way for the future," European Commission President Ursula von der Leyen said on Wednesday.
"It is our generational task… [to secure] the wellbeing of not only our generation, but of our children and grandchildren. Europe is ready to lead the way."
The measures are likely to push up household heating bills, as well as increase the cost of flights in the EU. Financial assistance will be available for people to install insulation and make other long-term changes to their homes.
"We're going to ask a lot of our citizens," EU climate policy chief Frans Timmermans said. "We're also going to ask a lot of our industries, but we do it for good cause. We do it to give humanity a fighting chance."
Opposition is also expected from some industry leaders, such as airlines and vehicle manufacturers, as well as from eastern member states that rely heavily on coal.
One EU diplomat told Reuters that the success of the package would rest on its ability to be realistic and socially fair, while also not destabilising the economy.
"The aim is to put the economy on a new level, not to stop it," they said.
The measures, billed as the EU's most ambitious plan yet to tackle climate change, have been named the Fit for 55 package because they would put the bloc on track to meet its 2030 goal of reducing emissions by 55% from 1990 levels.
By 2019, the EU had cut its emissions by 24% from 1990 levels.
Some of the key proposals include:
Tighter emission limits for cars, which are expected to effectively end new petrol and diesel vehicle sales by 2035
A tax on aviation fuel, and a 10-year tax holiday for low-carbon alternatives
A so-called carbon border tariff, which would require manufacturers from outside the EU to pay more for importing materials like steel and concrete
More ambitious targets for expanding renewable energy around the bloc
A requirement for countries to more quickly renovate buildings that are not deemed energy efficient
But corporate lobby BusinessEurope denounced the plan, saying it "risks destabilising the investment outlook" for sectors such as steel, cement, aluminium, fertilisers and electric power "enormously".
And Willie Walsh, head of the International Air Transport Association, said: "Aviation is committed to decarbonisation as a global industry. We don't need persuading, or punitive measures like taxes to motivate change."
At the same time, environmentalist campaigners have said the proposals don't go far enough.
"Celebrating these policies is like a high-jumper claiming a medal for running under the bar," Greenpeace EU director Jorgo Riss said in a statement.
"This whole package is based on a target that is too low, doesn't stand up to science, and won't stop the destruction of our planet's life-support systems."
Climate campaigner Greta Thunberg said that unless the EU "tears up" its proposals, "the world will not stand a chance of staying below 1.5C of global heating".
In September the EU Commission set out its blueprint for reaching the 55% reduction by 2030, and said at least 30% of the EU's €1.8tn (£1.64tn; $2.2tn) long-term budget would be spent on climate-related measures.
The targets are part of a global effort to tackle climate change by cutting atmospheric pollution, especially carbon dioxide (CO2) emissions.
The Paris climate deal, signed in 2016, aims to keep global temperature rise well under 2C, and preferably within a maximum rise of 1.5C, to prevent the worst effects of climate change.

The scale of this 12-pronged plan is breathtaking. It will likely have an impact on every citizen of Europe in almost every aspect of their lives.
The scope is so huge because the target is so tough.
From 1990 to 2019 the EU cut carbon emissions by 24% – now it proposes to slash CO2 by another 31% in just 9 years. That's what's needed if the 2050 net-zero target is to be achieved.
So as well as boosting renewables, the EU is now set to tackle the really tough issues of home heating and transport. The proposals would see the end to new petrol and diesel cars by 2035.
Europe's emissions trading scheme will also be reformed to include heating and road transportation. Fossil fuels used in shipping and aviation will face tax rises.
One of the most eye-catching proposals is a carbon border tax on goods like steel, cement and fertiliser to ensure that European industry, which has to pay for permits to use carbon, can compete. However, the proposal is contentious and could spark a trade war with China and the US.
The ambitious package will now face months of negotiations with member states, with poorer countries wary of new policies that could raise costs for consumers.
The commission is betting that instead of hordes of yellow-vest protesters taking to the streets, citizens will be willing to pay a price for cleaner air, lower emissions, and more sustainable lifestyles.
The rest of the world will watch this huge gamble with interest.
Here is one "ET" reported on this Monday:
Here is more climate and weather news from Friday:
(As usual, this will be a fluid post in which more information gets added during the day as it crosses my radar, crediting all who have put it on-line. Items will be archived on this site for posterity. In most instances click on the pictures of each tweet to see each article. The most noteworthy items will be listed first.)
Now here are some of today's articles and notes on the horrid COVID-19 pandemic:
(If you like these posts and my work please contribute via the PayPal widget, which has recently been added to this site. Thanks in advance for any support.)
Guy Walton "The Climate Guy"