Dear Diary. The main purpose of this ongoing blog will be to track global extreme or record temperatures related to climate change. Any reports I see of ETs will be listed below the main topic of the day. I'll refer to extreme or record temperatures as ETs (not extraterrestrials).😉
Main Topic: Next Heatwave (Kappa) Will Plague The West
Dar Diary. Don't you just want summer to end? There have been many a heat episode to plague the drought stricken West this year, and we are about to have at least one more. A heat dome of at least moderate proportions will be building over the Southwest this Labor Day weekend. It's uncertain if the associated heatwave will reach my CAT3 dangerous criteria in which it gets a name, though.
Already excessive heat watches are in effect for the Desert Southwest with heat advisories appearing in the Sacramento Valley:
A relatively weak heat done will be diminishing across the Southeast this weekend where best advisories are in effect for southeast Louisiana. These are only in place because much if the area remains without power and air conditioning because of Hurricane Ida.
By Tuesday here is what we see at 500 millibars across the United States:
About a 596 decameter ridge will be centered over Nevada, which won't be too unusual for early September. A weak trough should be putting a kibosh on our mini heatwave named Iota in Louisiana, although enough warmth will persist there to make conditions uncomfortable for those without AC. I certainly would not want to be living there at this time.
It would appear that once a ridge gets established in the West it will slowly progress eastward. We should have a warm September just about everywhere folks: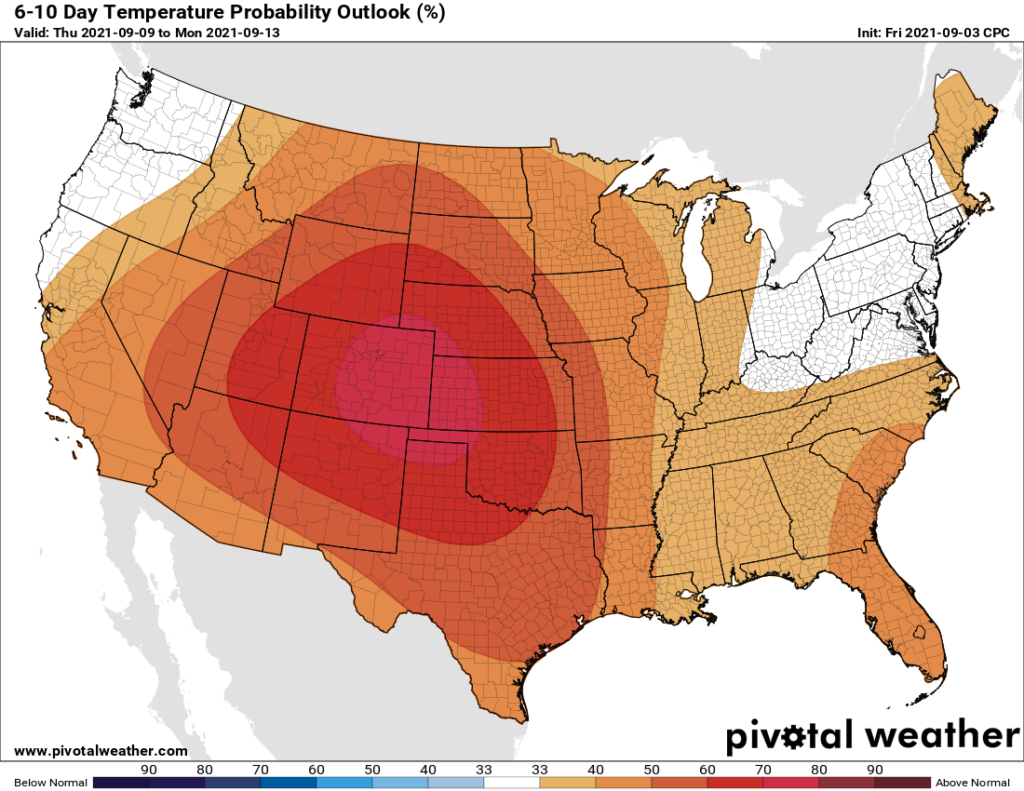 For this holiday weekend here are a few forecasts from the West:
Over the next several days we will see whether or not our potential Kappa gets named and if many records get set from this system.
Here is some more August 2021 climatology:
Here is more climate and weather news from Saturday:
(As usual, this will be a fluid post in which more information gets added during the day as it crosses my radar, crediting all who have put it on-line. Items will be archived on this site for posterity. In most instances click on the pictures of each tweet to see each article. The most noteworthy items will be listed first.)
Now here are some of today's articles and notes on the horrid COVID-19 pandemic:
(If you like these posts and my work please contribute via the PayPal widget, which has recently been added to this site. Thanks in advance for any support.)
Guy Walton "The Climate Guy"