The main purpose of this ongoing blog will be to track planetary extreme or record temperatures related to climate change. Any reports I see of ETs will be listed below the main topic of the day. I'll refer to extreme or record temperatures as ETs (not extraterrestrials).😉
Some States Are Stepping Up To Confront Climate Change As The Federal Push Stalls
Dear Diary: Yesterday I indicated that it's not likely that Joe Biden's Build Back Better plan with its historic climate initiatives will pass Congress and be implemented soon. As of this writing it looks like Speaker of the House Nancy Pelosi will postpone the vote simply because she could not get enough Democrats from her own party to support the measure, which is rare on her part. I also stressed that now it maybe left to the private sector to fight climate change.
Let's not forget about separate states that are currently most affected by the climate crisis. Where the federal government has failed, states can invest in renewable energy, impose penalties for carbon polluters, and can mandate changes to the transportation sector, although some initiatives can and will be challenged by the Supreme Court. One such state is California, which is overwhelmingly governed by Democrats. Here is a new Reuters article showing how Governor Gavin Newsome, who just one a big recall election, and California are taking the lead on climate:
https://www.reuters.com/world/us/california-governor-signs-15-bln-package-tackle-climate-change-2021-09-24/
September 24, 202112:52 PM PDT
California governor signs $15 bln package to tackle climate change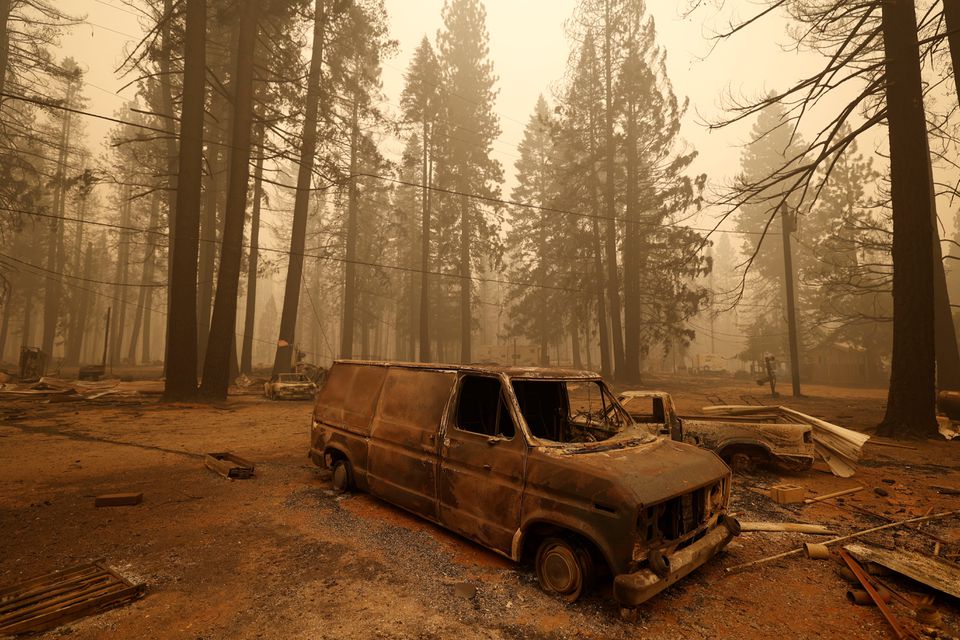 Burned vehicles are seen after the passing of the Dixie Fire, a wildfire near the town of Canyondam, California, U.S. August 7, 2021. REUTERS/Fred Greaves
Sept 24 (Reuters) – California Governor Gavin Newsom has signed a $15 billion package that will fund programs to tackle drought and climate change in the state after a devastating wildfire season.
Newsom signed 24 bills focused on climate and clean energy efforts, droughts, and wildfire preparedness, his office said in a statement on Thursday, describing the funding as the largest climate package in California's history.
The package's largest portion, $5.2 billion, will go towards funding for emergency drought relief projects and expanding California's water supplies. The package includes $3.7 billion to address climate change risks, investing in projects that will mitigate extreme heat and tackle the threat of rising sea levels.
About $1.5 billion will go toward preventing wildfire risk in forests, according to the statement from Newsom's office.
This month, President Joe Biden renewed his push for significant investments to combat climate change as he visited California and took an aerial tour of areas hit by one of the country's worst fire seasons. read more
California typically experiences its peak fire season in late summer and fall. The state is on pace to see more of its landscape go up in flames this year than last, which was the worst year on record for the state. read more
Human-caused climate change has intensified the withering drought gripping the Southwestern United States, the region's most severe on record, with precipitation at the lowest 20-month level documented since 1895, a U.S. government report said on Tuesday. read more
Over the same period, from January 2020 through August 2021, the region also experienced the third-highest daily average temperatures measured since record-keeping began near the end of the 19th century, according to the National Oceanic and Atmospheric Administration.
The report warned that extreme drought conditions are likely to worsen and repeat themselves "until stringent climate mitigation is pursued and regional warming trends are reversed. "Reporting by Kanishka Singh in Bengaluru. Editing by Gerry Doyle
Here is more climate and weather news from Thursday:
(As usual, this will be a fluid post in which more information gets added during the day as it crosses my radar, crediting all who have put it on-line. Items will be archived on this site for posterity. In most instances click on the pictures of each tweet to see each article. The most noteworthy items will be listed first.)
Now here are some of today's articles and notes on the horrid COVID-19 pandemic:
(If you like these posts and my work please contribute via the PayPal widget, which has recently been added to this site. Thanks in advance for any support.)
Guy Walton "The Climate Guy"