The main purpose of this ongoing blog will be to track planetary extreme or record temperatures related to climate change. Any reports I see of ETs will be listed below the main topic of the day. I'll refer to extreme or record temperatures as ETs (not extraterrestrials).😉
Main Topic: The Future Of Our Planet Squarely Falls In The Hands Of One Man-Senator Joe Manchin
Dar Diary. First some great news today. The Build Back Better bill, which contains many climate Green New Deal provisions, passed the U.S. House of Representatives today, which was a huge hurdle. Now the thing needs to pass the Senate, which needs 50 votes, to go to President Joe Biden's desk for his signature to become law. Now the bad news. It looks like we have 49 votes, but just like back in February of this year, one person is on the fence, who could derail the entire enterprise…Senator Joe Manchin.
Optimistically, I'm thinking that behind the scenes Biden and Manchin, since they are members of the same political party, came to an agreement long before the House vote in order to assure progressive House members to vote for the first bipartisan infrastructure bill. If that is the case Build Back Better will soon be on Biden's desk. Still, Biden's presidency, and even our climate in the long run, rests in the hands if one person, which is quite unnerving. Here are many more details from Inside Climate News and Salon:
| | |
| --- | --- |
| | A twice-a-week digest of the most pressing climate-related news, released every Tuesday and Friday, written by Kristoffer Tigue. |
'It's Really, Truly, Finally All on Joe Manchin'
You're reading Today's Climate, and the U.S. House of Representatives just passed the most aggressive climate change bill in the nation's history.
President Biden's nearly $2 trillion spending package aims to expand the country's social safety net and also includes a whopping $555 billion in funding for climate initiatives and clean energy programs, by far the largest sum of money ever dedicated by the federal government to fighting the climate crisis.
The House narrowly passed the bill Friday morning, with 220 representatives voting in favor and 213 voting against, the New York Times reported. The vote was almost entirely along party lines, with just one Democrat, Rep. Jared Golden of Maine, opposing the measure. Earlier this month, Golden cited a tax provision in the bill that he says would mostly benefit the wealthy as his reason for voting no.
The package now moves to the Senate, where Democrats can't afford to lose a single vote and face a difficult uphill battle. In the Senate, it's expected that the bill will get chopped down from the House's $1.85 trillion version to a smaller sum and sent back to the House for further, likely heated debate.
Friday's hasty early morning vote came after the original vote scheduled for Thursday night was delayed by a marathon filibuster from Rep. Kevin McCarthy. Speaking for eight hours and 32 minutes, the California Republican actually broke a House record, eclipsing the eight-hour-seven-minute mark set by Nancy Pelosi in a 2018 speech about the "DACA" program for immigrants, CBS reported. Talk of the speech quickly began to trend on social media, particularly one clip that showed McCarthy saying, "Nobody elected Joe Biden to be FDR," to which an irreverent AOC yelled back, "I did!"
But Republicans have hardly been the main obstacle to Biden's climate agenda, which has been plagued by infighting between moderate and progressive Democrats.
In the House, five moderate Democrats had raised concerns over whether Biden's bill, named the Build Back Better Act, would significantly raise the federal budget deficit. An analysis by the nonpartisan Congressional Budget Office, released Thursday evening, determined that measure would increase the deficit by $160 billion over the next 10 years—a slight increase, relatively speaking, but certainly not a negligible amount.
The report was enough to assuage concerns from the Democratic holdouts, CNBC reported, which included Reps. Stephanie Murphy of Florida and Kurt Schrader of Oregon.
Passing the Build Back Better Act is critical if Democrats hope to achieve their goal of slashing greenhouse gas emissions by 50 percent in the next decade. That benchmark is also a key indicator of whether nations can keep their promise under the Paris Agreement to keep warming below 1.5 degrees Celsius and avoid the worst effects of climate change.
So what's next? Salon's headline this morning, perhaps, sums it up best: It's Really, Truly, Finally All on Joe Manchin.
Thanks for reading Today's Climate, and I'll see you next Tuesday.
https://slate.com/news-and-politics/2021/11/joe-manchin-build-back-better-democrats-house-senate.html
It's Really, Truly, Finally All on Joe Manchin
BY JIM NEWELL NOV 19, 20219:50 AM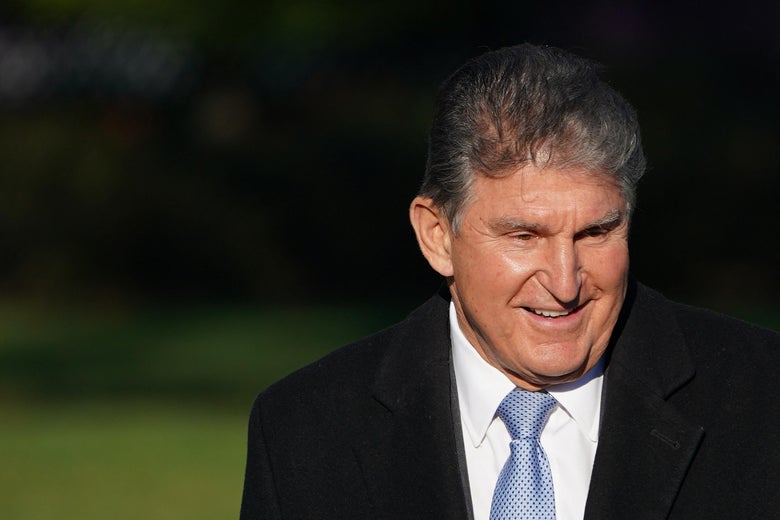 After months of procedural gamesmanship, hostage-taking, threats and tricks between competing blocs of moderates and progressives, the House of Representatives has passed Joe Biden's economic agenda. It passed the bipartisan infrastructure bill a couple of weeks ago. And on Friday morning, after House Minority Leader Kevin McCarthy spoke for more than eight hours to delay the vote originally scheduled for the previous night, it passed the Build Back Better Act, a sprawling collection of social spending programs and measures to address climate change. The final vote was 220 to 213, with all Republicans and one Democrat, Maine Rep. Jared Golden, in opposition.
But this is not over yet. The one remaining obstacle to enacting the Democrats' signature legislation is the same one it's been the whole time: Joe Manchin, and how Joe Manchin feels about inflation on the date of the Senate vote, expected sometime before the end of the year.
So how did the House finally pass this? House Democrats' previous attempts to advance the bill came up short earlier this month when a group of at least five centrist members objected to voting until they had seen a full cost estimate from the Congressional Budget Office that was roughly in line with what their leaders had been telling them it would be. It was, and they kept to their word: The full CBO estimate went public around 5:45 p.m. on Thursday, and the House moved to act shortly thereafter. There weren't any shocking surprises in the CBO estimate—except, if anything, that the cost over 10 years came a little below the $1.75 trillion the bill was expected to cost, at $1.64 trillion. There was some fuzzy math on the revenue raised to pay for it, but nothing the centrists couldn't live with.
"Tonight, I intend to advance the Build Back Better Act," Florida Rep. Stephanie Murphy announced, "after receiving information from the Congressional Budget Office, the Joint Committee on Taxation, and the Treasury Department that shows the bill is fiscally disciplined."
"I will vote for the Build Back Better Act tonight," Oregon Rep. Kurt Schrader tweeted. "I am confident moving this legislation forward is the best decision for Oregon families, businesses and our economy. I look forward to working with the Senate to further improve the bill to deliver these investments to our state." Schrader had dragged his feet on the importance of the BBBA for a while, and Democratic leaders had long prepared for him to be one of the three "no" votes they could afford to lose. With him on board, there wasn't much else to worry about.
Once they had the votes lined up, House Speaker Nancy Pelosi moved to what she presumably thought would be a quick floor debate on Thursday night with a vote intended shortly thereafter. McCarthy, however, had other ideas. He began speaking at 8:38 p.m. on Thursday. Sometime around the 75th minute or so, it became clear we had a stunt on our hands. He finished speaking Friday morning, after 8 hours and 32 minutes. There are a few reasons he did this. House minority leaders don't have much power to change anything, but they can put on a show: Then–Minority Leader Pelosi herself pulled this stunt in 2018 over Republicans' refusal to bring a Dreamers bill to the floor. McCarthy also may have wanted to delay the final vote into "the dead of night," solely to secure the talking point that "Democrats passed their calamitous bill in the dead of night." But around midnight, Democrats decided to kick the vote to the light of the morning and let McCarthy exhaust himself.
The debate now moves to the Senate, where there will be zero "no" votes to give away to centrist Democrats in the 50-50 Senate. Which brings us to Sen. Joe Manchin, representing one of the reddest states in the country. With Arizona Sen. Kyrsten Sinema having ironed out most of her problems with the bill, Manchin is the last serious obstacle for the Dems. And Republicans who'd like him to kill the bill may have a hook.
Joe Manchin professes to be worried about inflation. He professed worry about it before last week's wretched inflation report, and he's professed more worry since. He does not want to pump more deficit-financed spending into the economy until this wave of inflation has passed, he says. (Plenty of Democrats see this as just an excuse to go after the BBBA, a bill he never had much interest in, considering his own beloved legislative prize—the bipartisan infrastructure bill—also added to the deficit, but didn't bother him.)
A breakdown of the CBO report offers some talking points for Republicans who are begging Manchin to kill the bill. They are, in fact, already using them. For instance, CBO estimates the bill will add about $150 billion to the deficit each of the next three fiscal years and $200 billion in 2025, as much of the revenue-raisers, some of which are gimmicks, don't really kick in until years down the road. House Minority Leader Kevin McCarthy brought this up, among many other things, countless times in his interminable speech. The audience was Joe Manchin as much as it was the American people. Or maybe even more so.
But that's a post-Thanksgiving problem for Democrats—and if you don't think the fear of missing flights for Thanksgiving recess wasn't a useful motivator for Pelosi in corralling votes on major legislation, you don't know Congress the day before a holiday break. For now, House Democrats can revel in how, with only three votes to spare, they were able to pass a piece of legislation establishing universal pre-K, fixing the ACA, extending the enhanced child tax credit, and including the most meaningful measures addressing climate change that Congress has ever passed. For now.
Related:
Here are some "ET's" reported on this Friday:
Here is more climate and weather news from Friday:
(As usual, this will be a fluid post in which more information gets added during the day as it crosses my radar, crediting all who have put it on-line. Items will be archived on this site for posterity. In most instances click on the pictures of each tweet to see each article. The most noteworthy items will be listed first.)
Now here are some of today's articles and notes on the horrid COVID-19 pandemic:
(If you like these posts and my work please contribute via the PayPal widget, which has recently been added to this site. Thanks in advance for any support.)
Gut Walton "The Climate Guy"