The main purpose of this ongoing blog will be to track planetary extreme, or record temperatures related to climate change. Any reports I see of ETs will be listed below the main topic of the day. I'll refer to extreme or record temperatures as ETs (not extraterrestrials).😉
Main Topic: Vast Forest Loss Imperils Climate Goals
Dear Diary. Over the last few years, many climate activists and yours truly have become quite alarmed over tree and vegetation loss coming from the Amazon. This is Jair Bolsonaro's responsibility, but that pseudo fascist, populist president rules like he doesn't care.
This seems to be the case all across the globe where environmentalists are losing their battle to save pristine tracks of forest from logging and land clearing. Not only that, but as global temperatures begin to spike, ever larger and deadlier forest fires are beginning to take their toll on forest acreage. Just ask the folks in New Mexico this spring, for example.
For our main subject today, here is a Desdemona Despair article indicating the alarming trend of vast forest acreage lost around the planet in recent years:
https://desdemonadespair.net/2022/05/vast-forest-losses-in-2021-imperil-global-climate-targets-report-says-were-seeing-fires-burning-more-frequently-more-intensively-and-more-broadly-than-they-ever-would-und.html
Vast forest losses in 2021 imperil global climate targets, report says – "We're seeing fires burning more frequently, more intensively and more broadly than they ever would under normal conditions"
May 8, 2022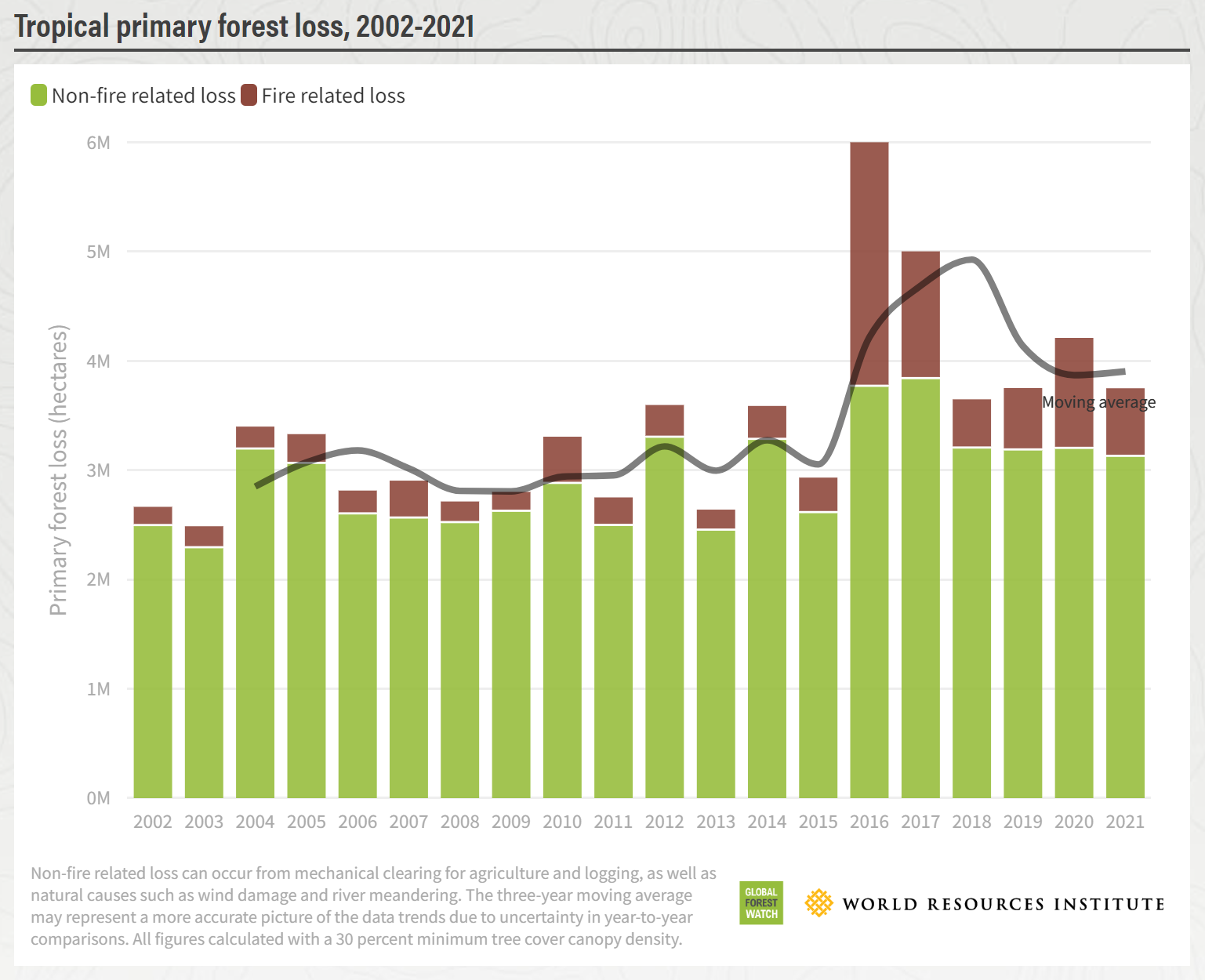 By Jake Spring
28 April 2022
SAO PAULO, April 28 (Reuters) – The world lost an area of forest the size of the U.S. state of Wyoming last year, as wildfires in Russia set all-time records and Brazilian deforestation of the Amazon remains high, a global forest monitoring project report said on Thursday.
Global Forest Watch, which is backed by the non-profit World Resources Institute (WRI) and draws on forest data collected by the University of Maryland, said in a report that roughly 253,000 square kilometers (97,683 square miles) of forest were lost in 2021.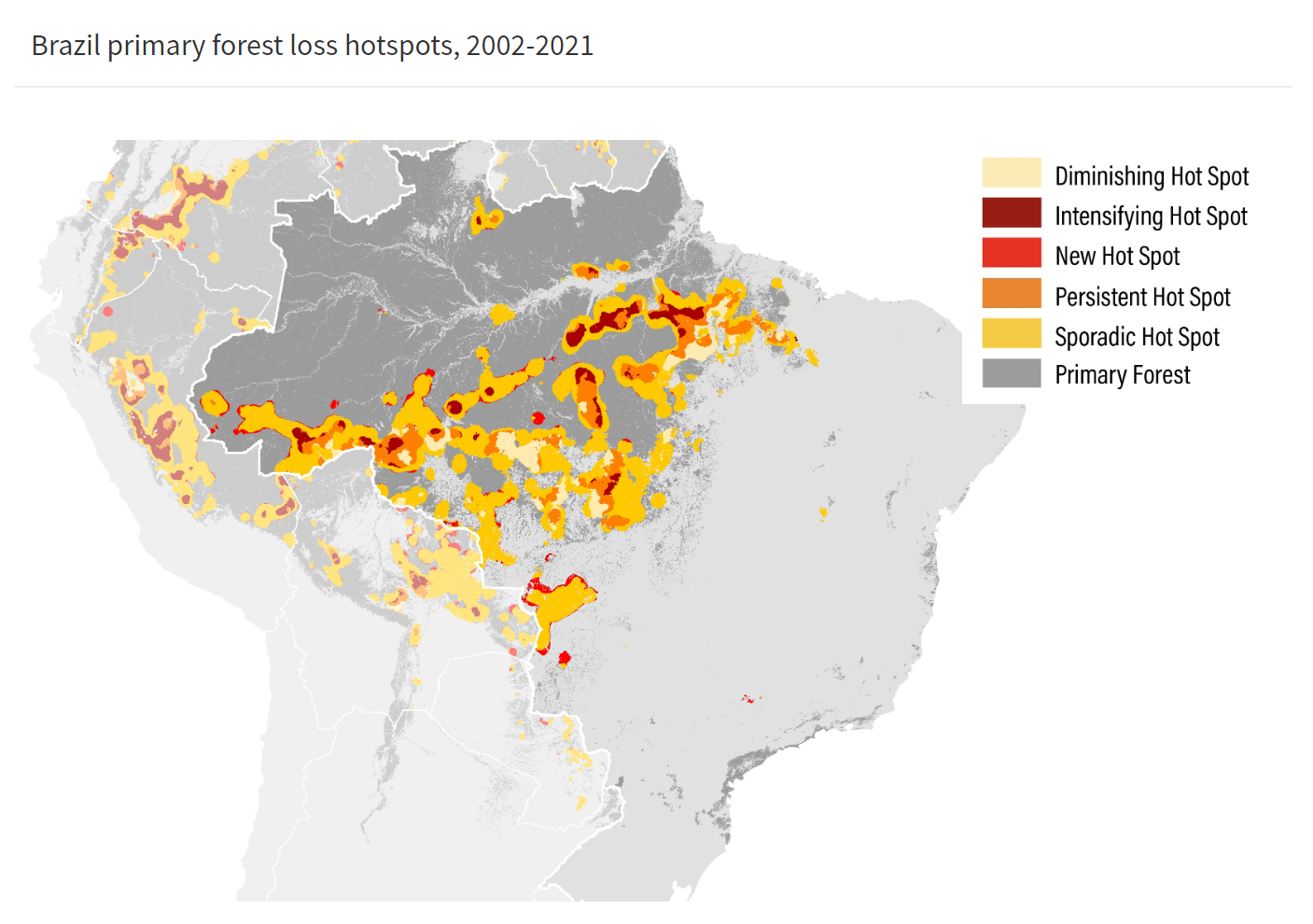 Forests provide a buffer against climate change because of the vast amounts of carbon dioxide that they absorb and their rapid destruction is putting global climate targets at risk, WRI analysts said in a briefing.
The high-level of 2021 forest loss, while roughly flat with 2020, does not match up with the commitment announced by more than 100 world leaders at a United Nations climate summit last November to halt deforestation by 2030, the analysts said.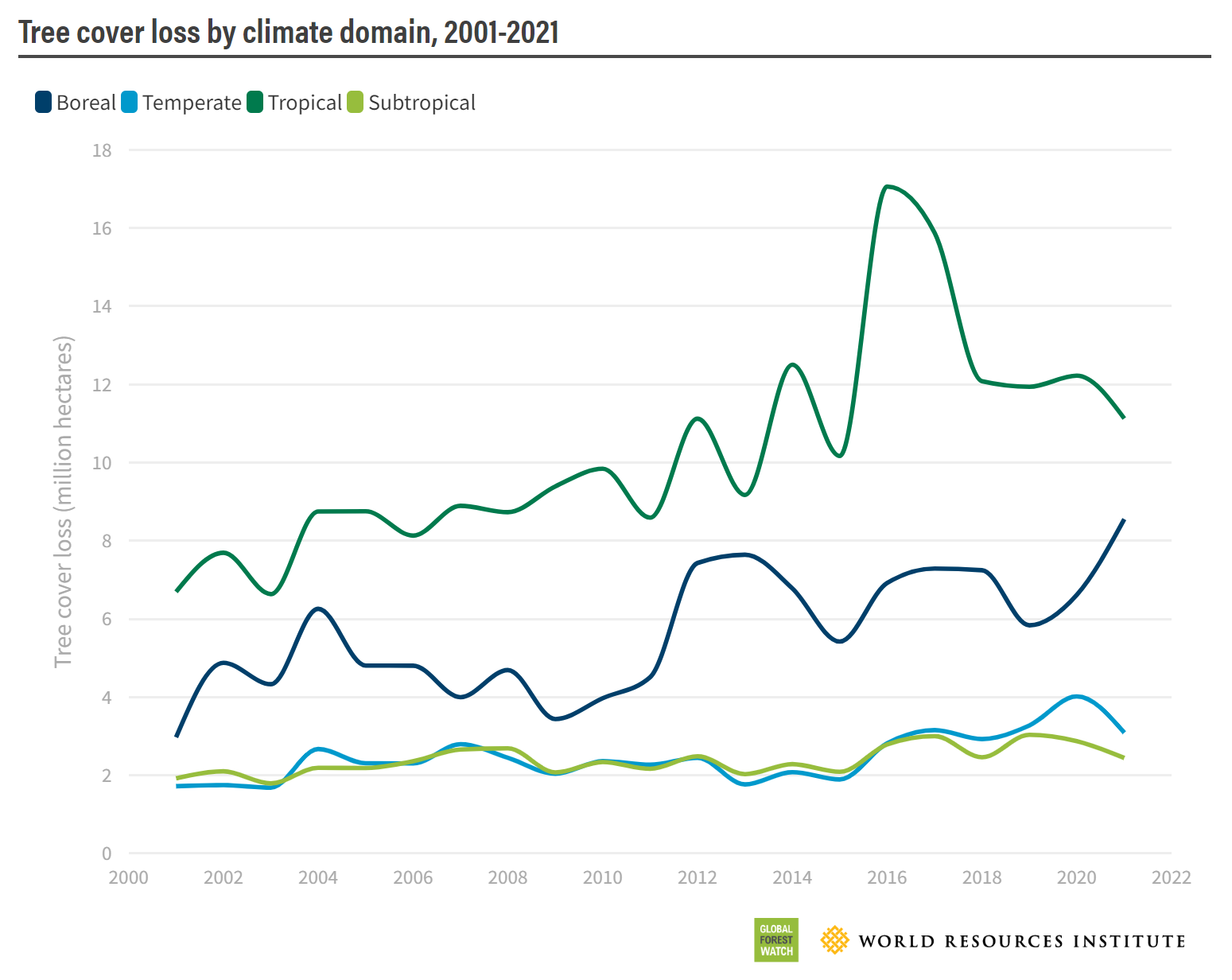 "We are not seeing the downward decline (in forest loss) we would expect to see those results," said Rod Taylor, WRI's global forests program director, referring to the 2030 commitment.
The causes of the reduction in forest cover include human and natural causes, as well as deforestation, wildfires and other destruction.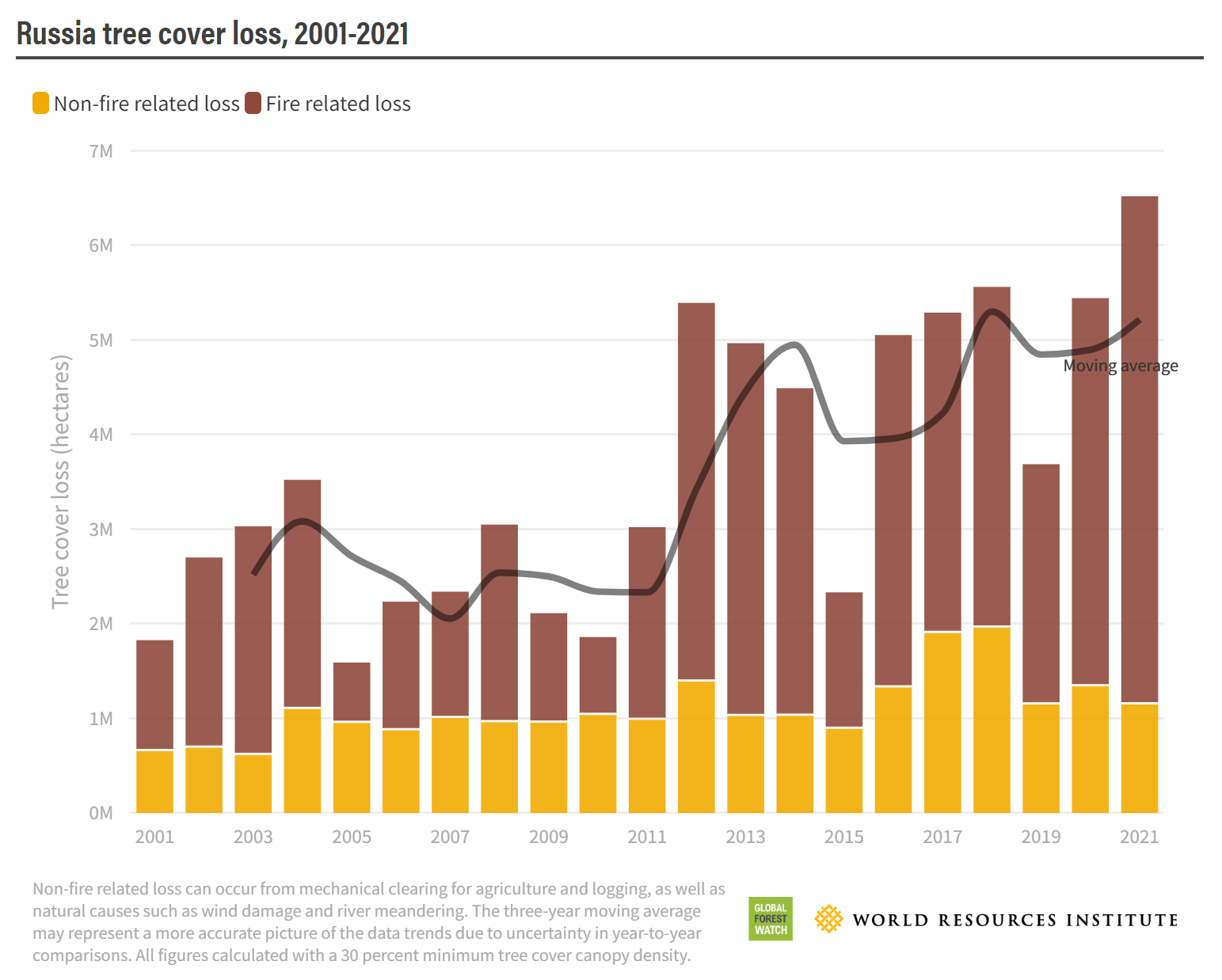 Russia tree cover loss, 2001-2021. The rate of loss in in boreal forests reached unprecedented levels in 2021, increasing by 29 percent over 2020. An unprecedented fire season in Russia drove much of this increase. Russia experienced the worst fire season since record-keeping began in 2001, with more than 6.5 million hectares of tree cover loss in 2021. While fires are a natural part of boreal forest ecosystems, larger, more intense fires are worrying. Hotter, drier weather related to climate change has led to fire-prone conditions, drier peatlands and melted permafrost. Siberia's vast peatland area — the largest in the world — stores massive amounts of carbon, which is released into the atmosphere when peat dries up. Melting permafrost also releases stored carbon and methane. These conditions may represent a new normal, impacting people living in Siberia and creating a feedback loop in which increasing fires and carbon emissions reinforce each other and lead to worsening conditions. Graphic: WRI
Loss of 37,500 square kilometers of old-growth tropical rainforest is particularly concerning because the dense vegetation holds high levels of carbon, WRI analysts said.
Although that destruction was slightly lower than 2020, it caused carbon dioxide emissions equivalent to all of the fossil fuel India burns in a year, the report said.
That destruction was overwhelmingly from human's permanently clearing the land, with more than 40% of that loss in Brazil.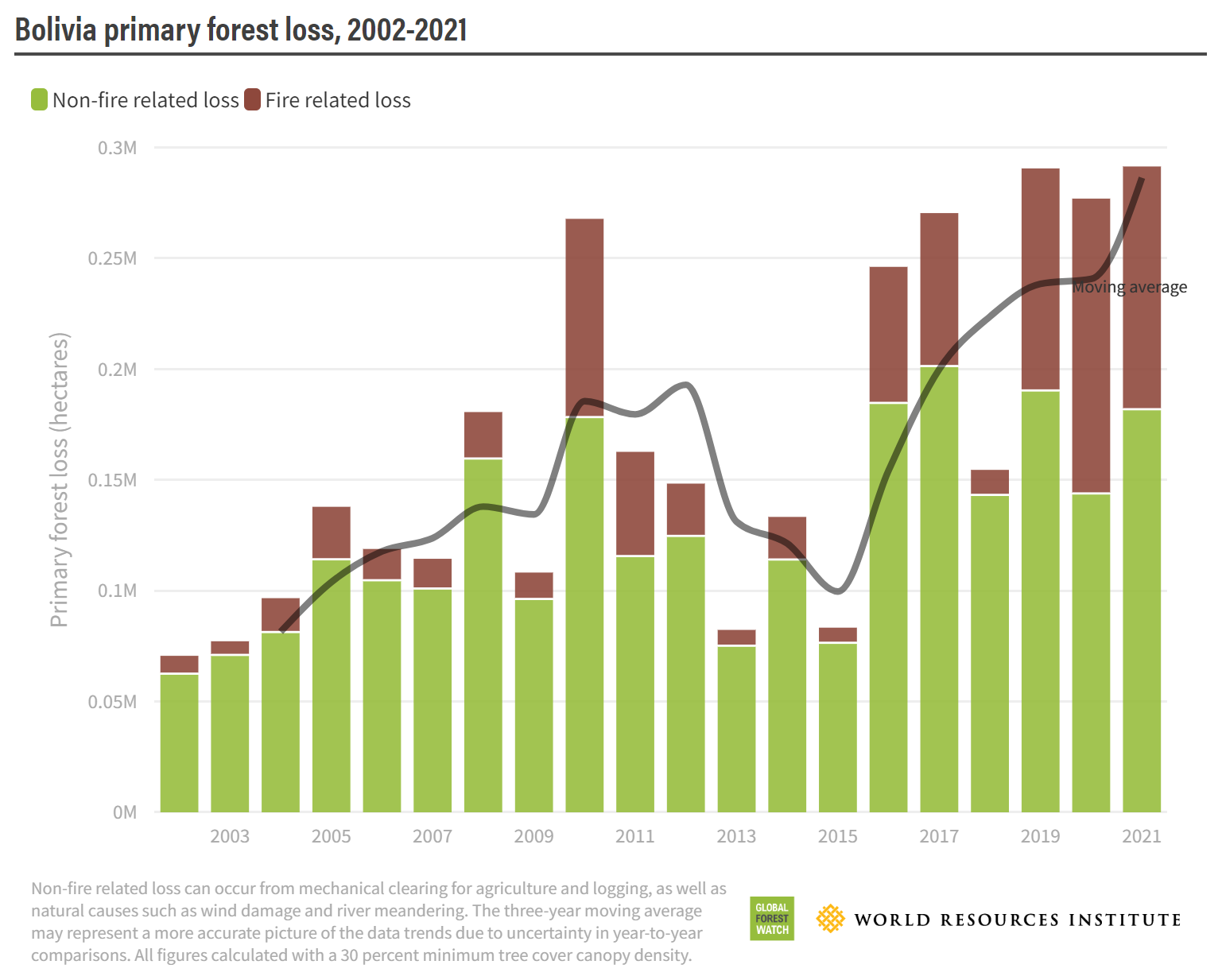 Bolivia primary forest loss, 2002-2021. Bolivia experienced record-high primary forest loss due to fires and large-scale agriculture. Primary forest loss in Bolivia reached its highest level on record in 2021 at 291 thousand hectares, surpassing Indonesia once again to have the third-most primary forest loss among tropical countries. The past three years have seen consistently high rates of loss in Bolivia, with fires accounting for over a third of the loss each year. As in the previous two years, 2021 saw significant burning of primary forests within protected areas. Fires in Bolivia are almost always set by humans as part of efforts to clear land, but spread out of control due to dry, hot weather exacerbated by climate change. Santa Cruz is also the country's epicenter of large-scale agriculture like soy and cattle ranching, which accounts for much of the non-fire primary forest loss in 2021. Though Bolivia has much less soy production than neighboring countries, most of its soy expansion has come at the expense of forests. Graphic: WRI
Cold boreal forests found in the far northern regions like Canada, Russia, and Alaska lost more than 80,000 square kilometers of area last year, the highest level since records began in 2001.
The majority of that loss was due to record fires in Russia, driven by hotter and drier conditions that are likely linked to climate change, the report said.
"It's hugely worrying," Taylor said.
"We're seeing fires burning more frequently, more intensively and more broadly than they ever would under normal conditions."
Vast forest losses in 2021 imperil global climate targets, report says
Related:
Here are "ET's" recorded from around the planet the last couple of days and extreme temperature outlooks:
Here is more April 2022 climatology:
Here is more climate and weather news from Sunday:
(As usual, this will be a fluid post in which more information gets added during the day as it crosses my radar, crediting all who have put it on-line. Items will be archived on this site for posterity. In most instances click on the pictures of each tweet to see each article. The most noteworthy items will be listed first.)
(If you like these posts and my work please contribute via the PayPal widget, which has recently been added to this site. Thanks in advance for any support.)
Guy Walton "The Climate Guy"