Dear Diary. The main purpose of this ongoing blog will be to track global extreme or record temperatures related to climate change. Any reports I see of ETs will be listed below the main topic of the day. I'll refer to extreme or record temperatures as ETs (not extraterrestrials).😉
Main Topic: India Burns While the Rest of the World Goes About Business in Denial
Dear Diary. We as human beings are very often non-reactive if war and other world crises are not personally affecting us. Gun violence comes to mind here in the United States. We know that we are in more personal danger as more assault rifles get put on the streets, yet most of us aren't willing to put pressure on our politicians for needed change.
The same goes for the climate crisis. At this point in time, with global temperature averages near 1.1°C above preindustrial conditions, we are seeing no more than one or two truly historic regional heatwaves that produce more than 500 deaths per year across the Northern Hemisphere. In 2021 the worst most anomalous heat wave occurred in the Pacific Northwest and British Columbia where hundreds of people died due to a lack of air conditioning. Yet, did this event prod hundreds of thousands of average Americans not affected by this heat episode to March in the streets for change thereafter? Of course not.
Since most people get their news from nightly 30-minute broadcasts and cable television, the vast majority of people are not even aware of this year's first major heat event occurring across India and Pakistan, frying millions and killing thousands. The thing is out of sight, out of mind since T.V. news producers deem that the Indian heat wave is not a big enough story to warrant much, if any, coverage. Across the United States there have been very few heat related deaths so far this warm season, and it looks like any heat waves during June won't be extremely severe. Most people are much more worried about high gas prices and inflation rather than climate change. What we have here is a case where ignorance and lack of current and future self harm supersede any perceived long range threats. Also, most people aren't willing to make sacrifices to prevent climate related harm to occur for others.
Still, we as climate activists need to press on to save humanity from itself. It's often a thankless job. I can assure you, dear reader, that once it gets hot enough to kill tens of thousands during the summer across the United States and Europe, it will be too late to fix our climate. To that end, here is today's latest New York Times article on the first widespread deadly heat wave of 2022 that should serve as a red flag warning. My posting of this might change a few more hearts and minds towards action:
A Hotter World
Climate change's effects are already unequal.
Homeless people sleep in the shade of an highway overpass on a hot day in New Delhi, last month. Credit…Manish Swarup/Associated Press
By German Lopez
June 2, 2022, 6:42 a.m. ET
India has contributed little to climate change: Home to 18 percent of the world's population, it has emitted just 3 percent of planet-warming greenhouse gases.
But India is suffering from climate change. It is happening right now: Over the past three months, a heat wave has devastated North India and neighboring Pakistan. Temperatures surpassed 110 degrees Fahrenheit. It is so hot that overheated birds fell out of the sky in Gurgaon, India, and a historic bridge in northern Pakistan collapsed after melting snow and ice at a glacial lake released a torrent of water.
Scientists say global warming almost certainly played a role in the heat wave. And rising temperatures stand to make unusually hotter weather more common not just in India and Pakistan but around the world, including in the U.S.
Indians have responded by staying indoors as much as possible, particularly during the afternoon hours. The government has encouraged this, pushing schools to close early and businesses to shift work schedules. The measures have kept down deaths — with fewer than 100 recorded so far, an improvement from heat waves years ago that killed thousands.
But these measures have costs. Schooling time is cut short, so students learn less. People do not travel to their jobs, so work is less productive. The heat kept some farmers inside and stunted harvests, so crop yields fell and global food prices increased. Social life is disrupted.
The situation reminds me of the mixed effects of Covid lockdowns: Measures adapting to climate change can help prevent the worst health outcomes, but they come with real costs. "We're saving lives, but then livelihoods are lost," Roxy Koll, a climate scientist in India, said.
And many people still have to go out in the heat. Koll told me that his son recently showed signs of heatstroke after getting home from school. (The episode prompted Koll and his wife to push the school to end classes earlier.) In Delhi, the afternoon heat left Chandni Singh, a climate researcher, "extremely tired, nursing a throbbing headache and completely dehydrated" the following morning, she wrote in Times Opinion.
A global disparity
The geography of poor countries — many are close to the Equator — is not the only reason climate change is such a burden for them. Their poverty is another factor, leaving them with fewer resources to adapt.
"Climate change is one of the most profound inequities of the modern era," said my colleague Somini Sengupta, the global climate correspondent who writes The Times's climate newsletter. "Those who did not cause most of the problem are feeling most of the impact already."
There is a paradox to the climate crisis. Because India never fully industrialized, it has not released as many greenhouse gases as the U.S., European nations and other rich countries. But because it has not industrialized, it also has fewer resources to adapt than the richer, polluting nations.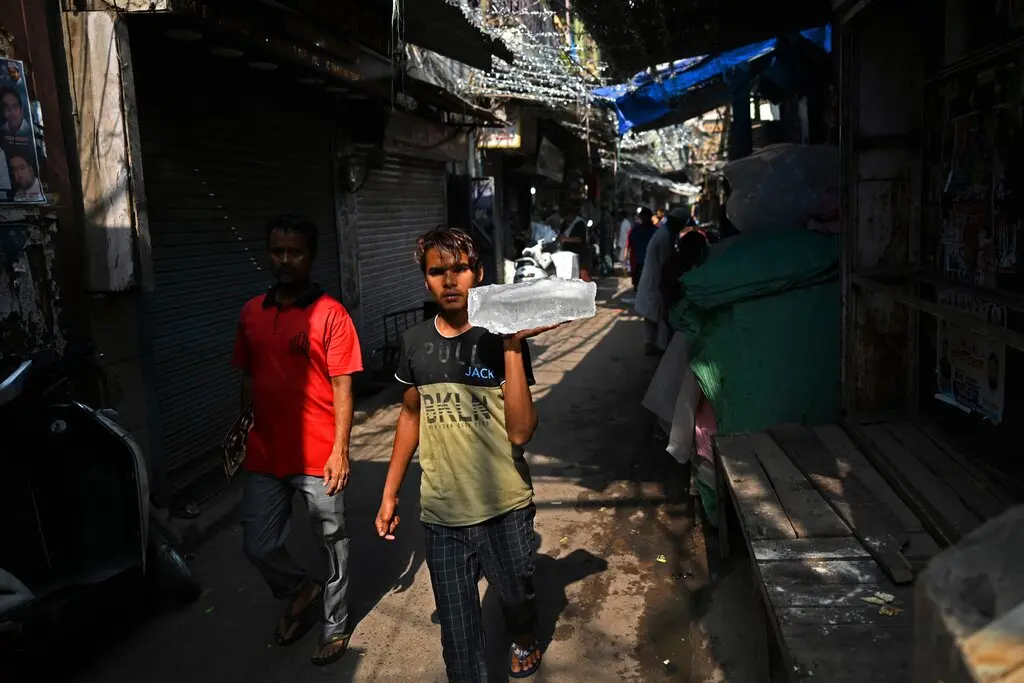 Ice bought from a roadside vendor in New Delhi. Credit…Sajjad Hussain/Agence France-Presse — Getty Images
Fewer than 10 percent of Indians have air-conditioning at home. Many lack reliable electricity, limiting their ability to use fans. The problem was especially bad lately, with a coal shortage causing power failures.
There is a tension here: To adapt, countries have to adopt modern technologies. But since these technologies often require planet-warming oil and coal, their use aggravates climate change and, consequently, extreme weather. The weather then requires still more adaptation.
The rush for clean energy technologies, like solar and wind power, is an effort to break that tension — to give countries a way to industrialize without the planet-warming pollution. With climate disasters already hitting much of the world, that effort is in a race against time to prevent more crises like India's.
Related: In the U.S., less access to air-conditioning, pools and even trees causes poorer Americans also to suffer more from heat waves. These recent photos from New York highlight the differences.
Here are some "ET's" recorded from around the planet the last couple of days, their consequences, and some extreme temperature outlooks:
Here is some May 2022 climatology:
Here is more climate and weather news from Thursday:
(As usual, this will be a fluid post in which more information gets added during the day as it crosses my radar, crediting all who have put it on-line. Items will be archived on this site for posterity. In most instances click on the pictures of each tweet to see each article. The most noteworthy items will be listed first.)
(If you like these posts and my work please contribute via the PayPal widget, which has recently been added to this site. Thanks in advance for any support.)
Guy Walton "The Climate Guy"