The main purpose of this ongoing blog will be to track planetary extreme, or record temperatures related to climate change. Any reports I see of ETs will be listed below the main topic of the day. I'll refer to extreme or record temperatures as ETs (not extraterrestrials).😉
Main Topic: The Historic Chinese Heatwave Has Peaked…So How Bad Was It?
Dear Diary: Practically all summer long we have witnessed a startling historic heatwave build across China, which has led to a painful drought across that country. Now that heat episode is finally waning during the last few days of August.
Here we note that the heat dome over China was quite strong at the beginning of this week but will come down substantially be middle of next week, on the last day of August: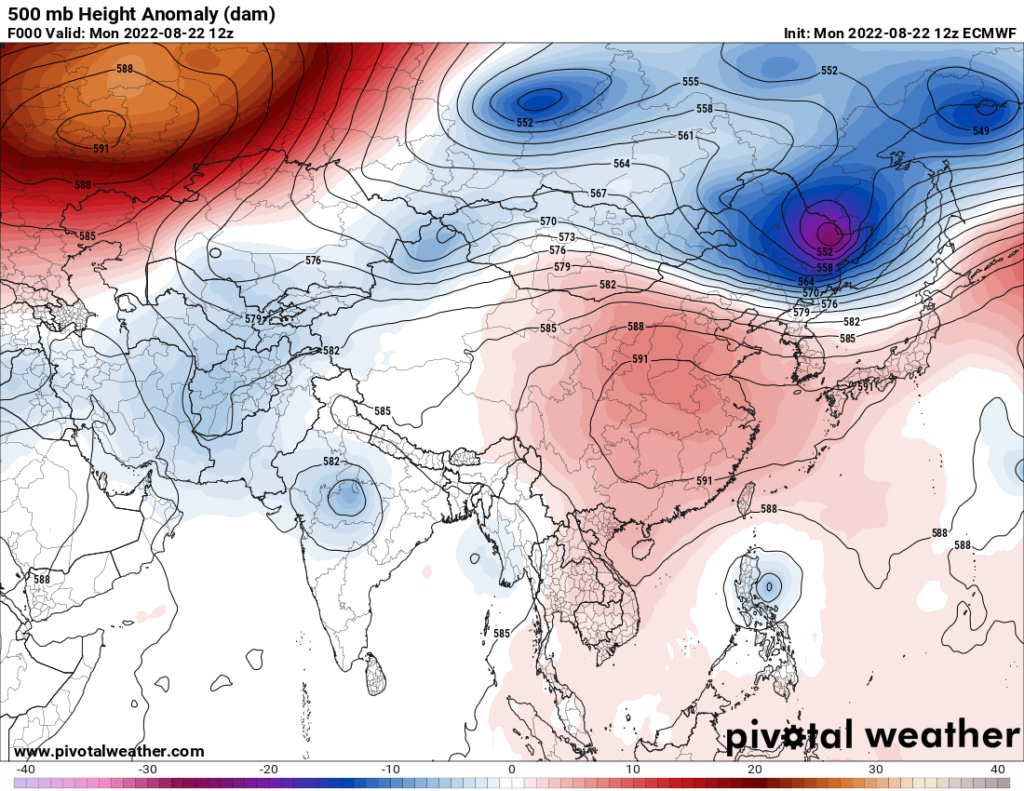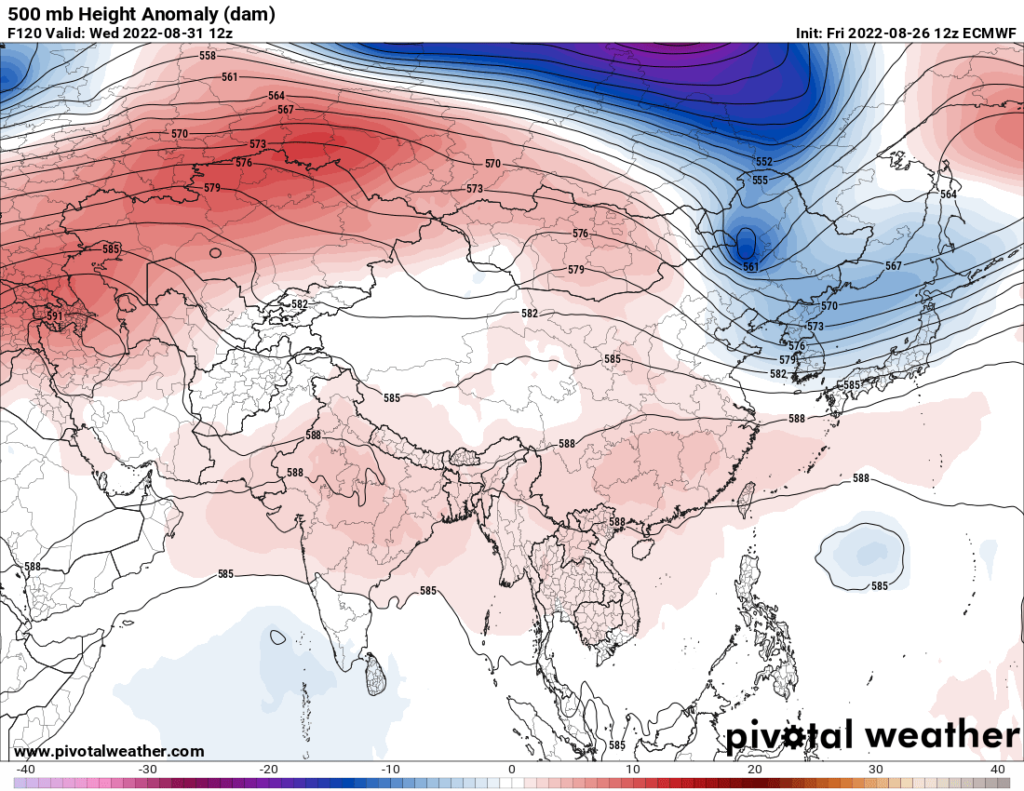 So, just how "historic" was this heatwave? Was this heatwave the worst worldwide in recorded history? Here is a good summary from the New Scientist:
https://www.newscientist.com/article/2334921-heatwave-in-china-is-the-most-severe-ever-recorded-in-the-world/
Sign up to read our regular email newsletters
HALF-PRICE SALE
SUBSCRIBE TODAY
 Account Search
Heatwave in China is the most severe ever recorded in the world
A spell of extreme hot and dry weather is affecting energy, water supplies
ENVIRONMENT 23 August 2022
The bed of the Jialing river is exposed in Chongqing, China
Zhong Guilin/VCG via Getty Images
Low rainfall and record-breaking heat across much of China are having widespread impacts on people, industry and farming. River and reservoir levels have fallen, factories have shut because of electricity shortages and huge areas of crops have been damaged. The situation could have worldwide repercussions, causing further disruption to supply chains and exacerbating the global food crisis.
People in large parts of China have been experiencing two months of extreme heat. Hundreds of places have reported temperatures of more than 40°C (104°F), and many records have been broken. Subway stations have set up rest areas where people can recover from the heat.
On 18 August, the temperature in Chongqing in Sichuan province reached 45°C (113°F), the highest ever recorded in China outside the desert-dominated region of Xinjiang. On 20 August, the temperature in the city didn't fall below 34.9°C (94.8°F), the highest minimum temperature ever recorded in China in August. The maximum temperature was 43.7°C (110.7°F).
It is the longest and hottest heatwave in China since national records began in 1961. According to weather historian Maximiliano Herrera, who monitors extreme temperatures around the world, it is the most severe heatwave recorded anywhere.
"This combines the most extreme intensity with the most extreme length with an incredibly huge area all at the same time," he says. "There is nothing in world climatic history which is even minimally comparable to what is happening in China."
Together with the extreme heat, low rainfall in parts of China has led to rivers falling to low levels, with 66 drying up completely. In parts of the Yangtze, water levels are the lowest since records began in 1865. In a few places, local water supplies have run out and drinking water has had to be trucked in. On 19 August, China announced a national drought alert for the first time in nine years.
Hydroelectricity generation has fallen because of the low water levels. Sichuan has been especially affected because it normally gets 80 per cent of its electricity from hydropower. Thousands of factories in the province have had to cease operations because of electricity shortages amid high demand for air conditioning. Offices and shopping malls were also told to reduce lighting and air conditioning to save power.
In Sichuan alone, 47,000 hectares of crops are reported to have been lost and another 433,000 hectares damaged. The agriculture ministry has said it will try to increase rainfall by seeding clouds. It remains scientifically unclear whether cloud seeding makes a significant difference.
China is far from the only place affected by drought. Europe is having what may be its worst drought in 500 years. There is also a drought in the Horn of Africa, and across much of the US and Mexico.
Lower crop yields in these regions could worsen the global food crisis. Global food prices hit record levels even before Russia invaded Ukraine, and though they have fallen since March, they remain higher than in previous years. However, China has built up large grain reserves in recent years, so it can make up for some shortfall.
According to a 2021 report from the Intergovernmental Panel on Climate Change, droughts have been increasing as a result of global warming and will become more frequent and severe as the planet continues to warm.
Here is much more from the Washington Post:
https://www.washingtonpost.com/world/2022/08/24/china-drought-heat-wave-climate-change/
China's summer heat wave is breaking all records
By Christian Shepherd and
Updated August 24, 2022 at 11:20 a.m. EDT|Published August 24, 2022 at 4:00 a.m. ED
Receding waters in Poyang Lake, in China's Jiangxi province, on Aug. 21. The lake has shrunk dramatically in a record-breaking heat wave. (AFP/Getty Images)
The unprecedented heat wave that has engulfed China this summer has dried up rivers, wilted crops and sparked forest fires. It has grounded ships, caused hydropower shortages and forced major cities to dim lights. Receding waters have revealed long-submerged ancient bridges and Buddhist statues.
Among the many striking images is a pattern left in the mud flats around Poyang Lake, usually the largest freshwater body in the country, which has shrunk by more than two-thirds. Chinese media dubbed the branchlike patterns carved by trickling waters "Earth tree," calling the lake's condition a warning about a dangerous future of intensifying extreme weather.
At 73 days and counting, the heat wave has easily surpassed China's record of 62 days in 2013. All-time highs are being broken, often only to be re-broken days later. "This heat wave overtakes anything seen previously worldwide," tweeted climate historian Maximiliano Herrera.
China shuts factories, rations electricity as heat wave stifles economy
Numerous fires have started over the past week amid the high heat and drought, with particularly intense blazes in central parts of the country near Chongqing, a city along the trickling Yangtze River. The city recorded low temperatures as high as 95 degrees Fahrenheit (35 Celsius) in recent days, a record for daily minimums in August
Among the most recent all-time records: Sichuan province reached 111.2F (44C) on Wednesday; a week ago, Beibei in Chongqing province recorded 113F (45C), the highest temperature ever in China outside the desert of Xinjiang.
"The area worst-affected includes much of the more built-up parts of China, leading to big impacts to society," Vikki Thompson, a climate scientist at the University of Bristol in England, wrote in an email.
Electricity shortages in regions reliant on a vast network of power-generating dams and reservoirs also come as the Chinese government is debating how — and how fast — to transition away from coal-fired power to renewable sources.
The usually half-submerged islet of Luoxing Dun, with its ancient temples, stands exposed in Poyang Lake this week. (Noel Celis/AFP/Getty Images)
Water-level poles illustrate the extreme drought conditions in Changxing, Zhejiang province, on Aug. 20. (Aly Song/Reuters)
The reduction in hydropower, which last year accounted for about 15 percent of China's total energy supply, has added urgency to government concern about power generation keeping pace with rising consumption — a boon for coal-power companies that account for about 60 percent of electricity production.
President Xi Jinping's plan for China's carbon dioxide emissions to peak before 2030 is spurring a massive rollout of wind and solar power. But the government has also said that coal — a leading contributor to global greenhouse gases — will remain the mainstay of national energy production in the near term.
China hit by drought, floods, as Yangtze River runs dry
Power shortages create a prime opportunity for China's fossil-fuel giants to secure their place in the nation's rapidly evolving energy structure, said Philip Andrews-Speed, a senior fellow at the National University of Singapore's Energy Studies Institute.
"After this crisis, the coal lobby will be saying, 'This is why you need to have more coal mines and more coal-fired power plants,' " he said. "As in Europe, the key is keeping the lights on and keeping the heating and the air conditioning going. That is the short-term priority."
After Sichuan's hydropower output fell below half its normal level, 67 coal-fired power plants in the province were "firing on all cylinders" to generate as much power as possible as part of an emergency response to the shortage, Chinese state media reported Tuesday.
Parched ground at Poyang Lake on Aug. 23. (Noel Celis/AFP/Getty Images)
Exposed sand along the Yangtze River in Wuhan on Aug. 19. (Getty Images)
Long before China was a leading producer and installer of solar and wind power, it prioritized expanded hydropower production with megaprojects like the Three Gorges Dam, as well as hundreds of smaller generators built across China's major rivers and their tributaries.
The scale of this investment means swaths of southwest China rely on hydropower for as much as 80 percent of their electricity and transfer excess energy to eastern provinces. Energy-intensive industries have flocked to provinces such as Sichuan to take advantage of cheap, plentiful and renewable power produced by local dams.
The prospect of reduced energy production from the usually wet southwest in future years could undermine the region's reliance on hydropower as a carbon-free source. More-frequent droughts make hydropower an uncertain bet, Andrews-Speed said.
China's summer floods and heat waves fuel plans for a changing climate
Sichuan's high reliance on hydropower means that it is hard for other energy sources to make up a shortage when needed, Lin Boqiang, dean of the China Institute for Energy Policy Studies at Xiamen University, wrote in an article.
"If the frequency of extreme weather increases because of climate change, then the government must actively take responsive measures to diversify the energy structure and improve the electricity grid," he said.
The concern about hydropower's reliability is a sharp reversal from the situation at the start of the summer, when torrential rain filled Chinese reservoirs and raised hydropower generation.
A fisherman searches the banks of Poyang Lake on Aug. 23. (Noel Celis/AFP/Getty Images)
Children search for crabs on the dried bed of the Jialing River, a tributary of the Yangtze, in Chongqing on Aug. 21. (EPA-EFE/Shutterstock)
Turmoil in global energy markets caused by Russia's invasion of Ukraine has added to China's long-standing concerns about energy security. After power shortages late last year, the Chinese government responded by ordering coal mines to expand output. As the rest of the world has shunned Russian oil and coal, China has imported record amounts of both.
Beijing's continued embrace of fossil fuels has drawn criticism from climate change activists that the world's largest greenhouse gas emitter is failing to transition away from coal fast enough to meet international goals to keep global average temperature rises to within 2 degrees Celsius (3.6 degrees Fahrenheit) over preindustrial levels.
Part of the problem for Chinese state planners is that energy use per capita in China remains below half that of many industrialized nations, including the United States, and China's total primary energy consumption is unlikely to peak for at least another decade.
Chen Xiaohua shows his dead sweet potato plants after all his crops perished in this summer's drought, in Fuyuan village in Chongqing on Aug. 19. (Thomas Peter/Reuters)
Yet the intensity of extreme weather events in recent years has drawn greater attention to the impact of climate change in China. Even though Beijing, for many years, has recognized the need to slow global warming, public discussion of the issue was limited until only a couple of years ago.
As climate change moved up China's geopolitical agenda, along with Beijing's desire to be seen as a global leader on the issue, dramatic scenes of flash floods in central China's Henan province last summer — and the more than 300 deaths they caused — helped to raise awareness.
Studies have found that heat waves are increasing in intensity and duration in China, as well as delivering warmer temperatures at night, because of human-induced climate change. The increase has been observed in urban and rural locations. Heat waves are also starting earlier and ending later.
And it's just the beginning.
"We have been seeing heat waves getting hotter over the past century, and we know this is due to climate change. We know that these sort of events are getting increasingly likely — but the events this year, with heat waves across the Northern Hemisphere, have been shocking," Thompson wrote.
Official rhetoric, too, has shifted toward openly connecting extreme weather events to climatic shifts. Earlier this month, Chen Lijuan of the National Climate Center told local media that global warming means heat waves will become a "new normal," in which high temperatures arrive earlier and last longer — in a trend that will become "ever more obvious in the future."
Alicia Chen and Pei Lin Wu contributed to this report.
By Christian Shepherd Christian Shepherd is China correspondent for The Washington Post. He previously covered the country for the Financial Times and Reuters from Beijing.  Twitter
By Ian Livingston Ian Livingston is a forecaster/photographer and information lead for the Capital Weather Gang. By day, Ian is a defense and national security researcher at a D.C. think tank.  Twitter
Related:
Here are some more "ET's" recorded from around the planet the last couple of days, their consequences, and some extreme temperature outlooks:
Here is more climate and weather newsfeed from Friday:
(As usual, this will be a fluid list in which more information gets added during the day as it crosses my radar, crediting all who have put it on-line. Items will be archived on this site for posterity. In most instances click on the pictures of each tweet to see each article. The most noteworthy items will be listed first.)
(If you like these posts and my work, please contribute via this site's PayPal widget. Thanks in advance for any support.)
Guy Walton "The Climate Guy"