The main purpose of this ongoing blog will be to track planetary extreme, or record temperatures related to climate change. Any reports I see of ET's will be listed below the main topic of the day. I'll refer to extreme or record temperatures as ET's (not extraterrestrials).😉
Main Topic: Thousands of English Deaths from July CAT5 Heatwave Smaug
Dear Diary. Now that the summer of 2022 is over across the Northern Hemisphere, many will get a break from extreme heat, of course. Fall and winter will be a time to access damage from climate crisis related amped up heatwaves so that when Summer 2023 rolls around there will be fewer casualties even if more extreme heat episodes occur.
Back in July Europe and Great Britain experienced what I described using my criteria as CAT5 Heatwave Smaug, named for J.R.R. Tolkien's Dragon from his book the Hobbit. Category 5 is my top end ranking for a heatwave similar to that of top end hurricanes on the Saffir-Simpson Scale. This heatwave was no joke though, killing near 3000 older folks in England alone, which is today's main linked subject from The Guardian. Here is a thorough report on Smaug from July:
Extreme Temperature Diary- Wednesday July 20th, 2022/Main Topic: Taking Stock of European Heatwave Smaug – Guy On Climate
A similar heatwave across the United States would not have caused nearly as many deaths. Adaptation to heatwaves will evolve as heatwaves like Smaug strike areas of the planet not used to seeing 90°F+ heat. Dwellings will get more air conditioning across Europe to cut down in casualties and to make folks more comfortable during increasingly more common heatwaves. One problem that all countries will encounter, though, will be whether or not power grids will hold up during extreme CAT4/5 heatwaves. Here we need to work on enough green power generating infrastructure to handle very high energy demand. Of course, the best offense would be the defense of stopping the burning of fossil fuels in the first place.
Here is that new Guardian report:
(For the complete article with a good statistical chart, click the link below):
https://www.theguardian.com/world/2022/oct/07/england-excess-deaths-during-2022-heatwave?CMP=Share_AndroidApp_Other
England recorded 2,800 excess deaths in over-65s during 2022 heatwaves
Calls for government to take action now to prevent further unnecessary deaths next summer
Michael Goodier and Damian Carrington Fri 7 Oct 2022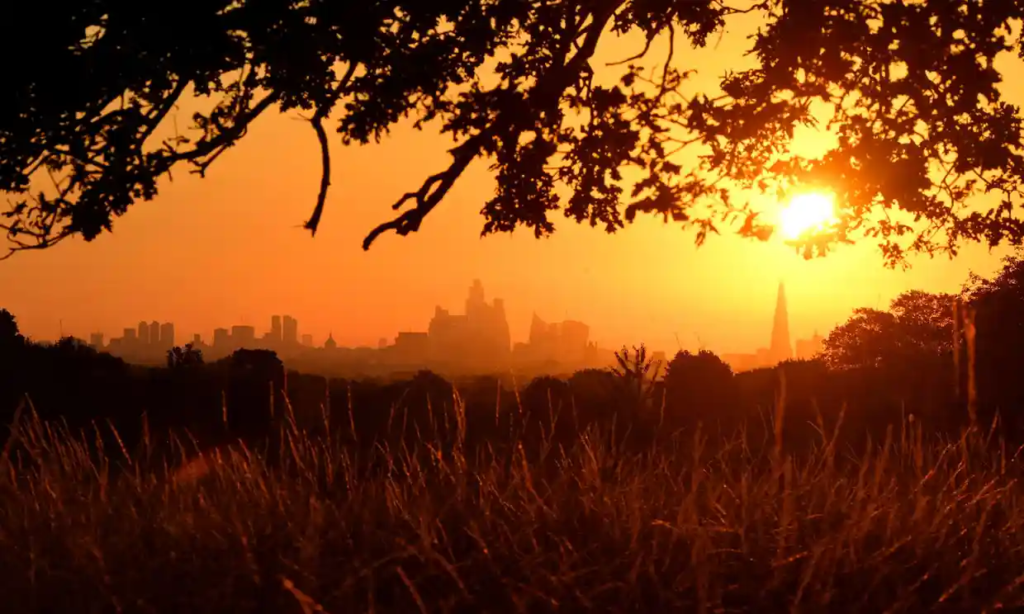 More than 2,800 more people aged 65 and over died in England during this summer's heatwaves than would have otherwise, figures show, marking the highest excess death toll caused by heat in at least two decades.
The UK Health Security Agency (UKHSA) recorded 43,755 non-Covid-related deaths of people in the 65-plus age group during this summer's heatwaves in England.
This was 2,809 more deaths than would be expected based on the surrounding fortnight, the highest number since the introduction of the heatwave plan for England in 2004.
Statistics released simultaneously by the Office for National Statistics (ONS) show that the number of people who died across all age groups in England and Wales was 6.2% higher than normal for the time of year, compared with the five-year average.
During the second heatwave, between 10 and 25 July – in which a new UK record temperature of 40.3C (104.5F) was set at Coningsby, Lincolnshire – overall excess deaths were 10.4% higher.
During the July heatwave, an extra 1,206 over-65-year-olds died – 7% more than would have been expected to based on the days surrounding the heatwave, according to the UKHSA.
The 8-17 August heatwave was the most devastating for older people, with 1,459 excess deaths (excluding Covid-19 deaths) – 15% higher than would have otherwise been expected.
Both the ONS and the UKHSA defined a "heat period" as one with a level 3 heat health alert or where the mean central England temperature (CET) was greater than 20C.
The ONS figures for all age groups found that each hot period was followed by a period of lower-than-expected deaths – suggesting that some deaths of vulnerable people were brought forward because of the heat.
The NHS came under increasing pressure during the hotter weather, with early warning systems data showing a rise in admissions for heatstroke and sunstroke, ambulance callouts for people affected by heat, and the number of people consulting NHS 111 online about heat exposure or sunburn.
The figures show the increasing impact of the climate emergency on public health. A study by scientists at the World Weather Attribution group previously found the UK heatwave in July was made at least 10 times more likely as a result of human-induced climate change.
Bob Ward, from the Grantham Research Institute on Climate Change and the Environment at the London School of Economics and Political Science, said: "These figures confirm the fear that the record-breaking temperatures this summer caused a record number of deaths. Most of these deaths were preventable and the government refused to take additional precautions even though it knew its heatwave plan was not fit for purpose.
"The threat to lives and livelihoods from summer heatwaves is undoubtedly increasing due to climate change. The prime minister must now act decisively by initiating a national heat risk management strategy that can be properly put in place ahead of next summer and prevent further unnecessary suffering and death across the country."
Isabel Oliver, the chief scientific officer at the UKHSA, said: "These estimates show clearly that high temperatures can lead to premature death for those who are vulnerable. Higher excess deaths occurred during the hottest days this year and a warming climate means we must adapt to living safely with hotter summers in the future.
"Prolonged periods of hot weather are a particular risk for elderly people, those with heart and lung conditions, or people who are unable to keep themselves cool, such as people with learning disabilities and Alzheimer's disease."
Dr Friederike Otto, a senior lecturer in climate science at the Grantham Institute – Climate Change and the Environment at Imperial College London, said: "These numbers are not surprising. We've known that heatwaves are extremely deadly and despite the warnings issued this year, the UK is not prepared for heat like this. The houses most of us live in are poorly insulated, we have not been educated even on the most basic things, like closing the windows during the day in a heatwave, so it is sad, but not surprising that so many people died.
"Making our cities livable in heatwaves should be a high priority, because this summer was just the start. It would not have been as hot if it wasn't for climate change this year, and we will continue to experience summers like this with increasing frequency."
Here are some "ET's" recorded from around the planet the last couple of days, their consequences, and some extreme temperature outlooks:
Here is some September 2022 climatology:
Here is more climate and weather news from Saturday:
(As usual, this will be a fluid post in which more information gets added during the day as it crosses my radar, crediting all who have put it on-line. Items will be archived on this site for posterity. In most instances click on the pictures of each tweet to see each article. The most noteworthy items will be listed first.)
If you like these posts and my work please contribute via the PayPal widget, which has recently been added to this site. Thanks in advance for any support.)
Guy Walton "The Climate Guy"