The main purpose of this ongoing blog will be to track planetary extreme, or record temperatures related to climate change. Any reports I see of ETs will be listed below the main topic of the day. I'll refer to extreme or record temperatures as ETs (not extraterrestrials).😉
Main Topic: A Triple La Niña Starts to Intensify the U.S. Drought
Dear Diary. Many areas of our planet are suffering from historic droughts that have dried up broad rivers and threatened food and water supplies. On this blog I've linked plenty of articles and pictures of the three worst areas, those of Europe, China, and the United States. Today let's concentrate on the United States because it would appear the western drought that we have had for years is spreading east, getting into my own backyard.
Ever since starting the Extreme Temperature Diary back in 2017, Atlanta and North Georgia have lived charmed lives weather wise. Rainfall has been plentiful. Perhaps due to climate change ramping up, we haven't had a major winter storm here since a heavy wet snow occurred on the north side of town since December 2017. Also, unlike other cities on the planet, Atlanta has not seen extraordinarily high temperatures since 2012 when we set an all-time max of 106°F. There are signs, though, that our good weather times might be coming to an end from a combination of a triple La Niña and climate change.
It has been over a decade since Atlanta saw its all-time hottest month, which was in August 2007. That was a big drought year, which started when the fall of 2006 was extraordinarily dry. Sometimes climate scientists get short term effects wrong. I still have to snicker that a few of my colleagues at The Weather Channel thought that Lake Lanier, the main source of water for metro Atlanta, would dry up in a matter of months due to climate change at the height of the drought during summer 2007. Of course, being located so close to two big moisture sources, the Gulf of Mexico and the Atlanta, it didn't take much of a weather pattern change from late 2007 into 2008 replenished all of Atlanta's reservoirs. We are way overdue for some bad weather, which is climate change related, though. Will our run of good luck run out?
First, we did not get any precipitation in North Georgia from Hurricane Ian in September. During the fall many times we get copious amounts of rainfall, from tropical activity. Not this year, though, and no systems are forecast to move north from the tropics for the remainder of October. We officially only had .99″ of rainfall during September that was -2.83″ below average. That has browned some lawns.
Broadening our view, it's not only Atlanta, of course, but it is most of the South that is getting drier:
Another unwelcome item has cropped up, which is producing dry fall weather not only in my backyard, but across most of the United States this fall…the return of the dipole. We are witnessing a stubborn ridge building in the West with a corresponding trough in the jet stream across the East. This chart is typical from the last month:
Going out as far as models are reliable (my 240-hour rule of thumb) there is not much change:
As expected, going deeper into fall, our eastern trough is getting colder. Fall is typically a dry time across the West. Sometimes we see wet systems in the Pacific Northwest, which dive into the Rockies and produce early season snow there, but not this year. Across the East we could see some early lake effect snow associated with cold jet troughs later in October, but not much rain. In fact, the only system forecast to produce significant rain of around an inch will be a fairly fast-moving front going through the region and my neck of the woods next Thursday, a full week from today:
In summary, this overall pattern should produce some record heat from time to time this fall across the West with associated high fire danger. It will be colder than average across most of the East but too dry overall. I would not be surprised to see record chill in the East, as well. All the while, our national drought will be getting worse since Gulf of Mexico moisture will be cut off from moving north due to dry northwest jet stream flow.
I suspect that the mega ridge or heat dome in the West is climate change related. A triple La Niña, or one that lasts for three consecutive years, is also greatly responsible for continuing the U.S. drought. Both climate change and La Niña are working in tandem to make life miserable for western farmers, western ski operators, and perhaps going into 2023, farmers across the South. I mentioned 2007 on this post because the South is way overdue for all-time record heat. Unfortunately, a dry fall and winter would go a long way towards a repeat of 2007 here. Will we see a repeat of a dry late 2006 going into 2007 in the 2022/23 timeframe in Atlanta? That's now closing in on a 50 50 proposition, but we will see.
Here is the current state of La Niña:
Here is an NBC article describing the effects that are likely to occur from a triple La Niña with the main focus being on the Southwest:
https://www.nbcsandiego.com/news/local/what-is-a-triple-dip-la-nina-and-what-does-it-mean-for-californias-weather-a-meteorologist-explains/3047482/#:~:text=Will%20this%20%27triple-dip%27%20La%20Ni%C3%B1a%20affect%20our%20drought%3F,Coast%2C%20and%20in%20California%20in%20the%20coming%20months.
What is a 'Triple-Dip' La Niña & What Does it Mean For California's Weather? A Meteorologist Explains
La Niña is forecasted to last into next year, so what does that mean for weather across the country?
By Ana Cristina Sánchez and Christina Bravo • Published September 21, 2022
The eastern Pacific Ocean is experiencing longer-than-usual cool temperatures and climatologists predict a La Niña will stretch into its third winter, which would make this climate pattern the first "triple dip" La Niña this century.
So what is a La Niña and why is a "triple dip" La Niña significant? We asked NBC 7 and Telemundo 20 Meteorologist Ana Cristina Sánchez to break it down. Here's what we learned.
What is a La Niña and an El Niño?
Both La Niña and El Niño are simply terms to describe the weather phenomenon that involves changing surface ocean temperatures in the central and eastern equatorial Pacific throughout the year. Both are phased of the El Niño Southern Oscillation Climate Pattern.
A La Niña occurs when the central and eastern Pacific Ocean, which is tropical in nature, experiences colder than average surface ocean temperatures. It has the opposite impact from El Niño, which occurs with warmer surface ocean temperatures. Both events influence weather patterns, ocean conditions and marine life.
El Niño and La Niña events happen every two to seven years, on average, but they don't happen on a regular schedule. Typically, El Niño happens more often than La Niña.
This current La Niña started in September 2020. The World Meteorological Organization (WMO), a United Nations agency that provides climatology resources to countries, predicts the La Niña will continue over the next six months, making it the first time this century that La Niña has returned for three consecutive years. They've dubbed the event a "triple dip" La Niña.
Weather
CLIMATE IN CRISIS SEP 9
CALIFORNIA SEP 3
What exactly happens during La Niña?
Under normal conditions in the Pacific Ocean, trade winds blow east to west along the equator, pushing warm surface waters from South America towards Asia. To replace that warm water, cold water rises from the depths — a process known as upwelling.
During La Niña events, trade winds are even stronger than usual, pushing more warm water toward Asia. Off the west coast of the Americas, upwelling increases, bringing more cold, nutrient-rich water to the surface. This environment supports more marine life and attracts more cold-water species, like squid and salmon, to places like the California coast. The cooler surface water over the eastern Pacific has an impact on the weather in the U.S.
El Niño happens when the trade winds along the equator weaken, pushing warmer waters over the eastern Pacific. Upwelling weakens or stops altogether. And Without the nutrients from the deep, there are fewer phytoplankton off the coast. Fish either die or migrate into areas where they'll find more to eat.
What does La Niña do to our weather?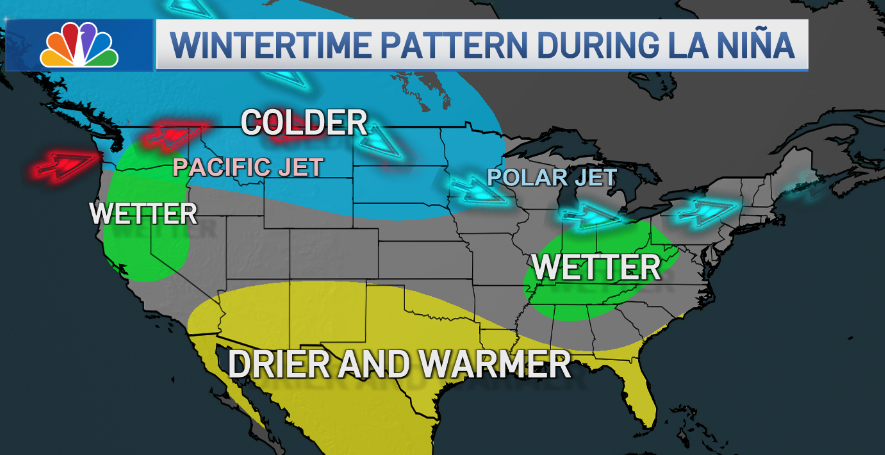 Will this 'triple-dip' La Niña affect our drought?
The short answer is yes. According to US National Oceanic and Atmospheric Administration (NOAA), the ongoing La Niña is expected to intensify drought across the southern and central Plains, eastern Gulf Coast, and in California in the coming months.
The weather pattern will also increase fire weather for already-dry southern states like California.
"We have to be extra careful, compared to even a normally expected rough fire season, this season, because we're in unprecedented territory," said Ivory Small, a meteorologist with the National Oceanic and Atmospheric Administration.
But, drought conditions are expected to improve in the northern Rockies, Northwest, New England, Alaska and Hawaii over the coming months.
Other parts of the world can be affected by La Niña as well. WMO Secretary-General Petteri Taalas said drought in Africa and southern South America "bear the hallmarks of La Niña as does the above average rainfall in South-East Asia and Australasia."
Here are some "ET's" recorded from around the planet the last couple of days, their consequences, and some extreme temperature outlooks:
Here is some September 2022 climatology:
Here is more climate and weather news from Friday:
(As usual, this will be a fluid post in which more information gets added during the day as it crosses my radar, crediting all who have put it on-line. Items will be archived on this site for posterity. In most instances click on the pictures of each tweet to see each article. The most noteworthy items will be listed first.)
If you like these posts and my work please contribute via the PayPal widget, which has recently been added to this site. Thanks in advance for any support.)
Guy Walton "The Climate Guy"