The main purpose of this ongoing blog will be to track global extreme or record temperatures related to climate change. Any reports I see of ETs will be listed below the main topic of the day. I'll refer to extreme or record temperatures as ETs (not extraterrestrials).😉
Main Topic: Generational Cold Outbreak "Gamma" Affecting New England
Dear Diary. An extreme cold wave will briefly send temperatures and wind chills to near all-time record low values this weekend, something that many hardy residents have near experienced during their lifetimes. I've dubbed this outbreak major category three "Gamma" since it's not in association with a winter storm. We saw Beta in November:
Extreme Temperature Diary- Tuesday November 15th, 2022/ Main Topic: Update on U.S. Cold Wave Beta – Guy On Climate
You can peruse my criteria for naming and ranking cold waves here:
Extreme Temperature Diary- Monday November 30th, 2020/ Main Topic: A Saffir-Simpson Type Scale For Cold Waves – Guy On Climate
Thank goodness this cold wave will be confined just to the Northeast with relief coming for most areas by Sunday and Monday.
Looking at 500 millibar anomalies we can see the culprit for record chill: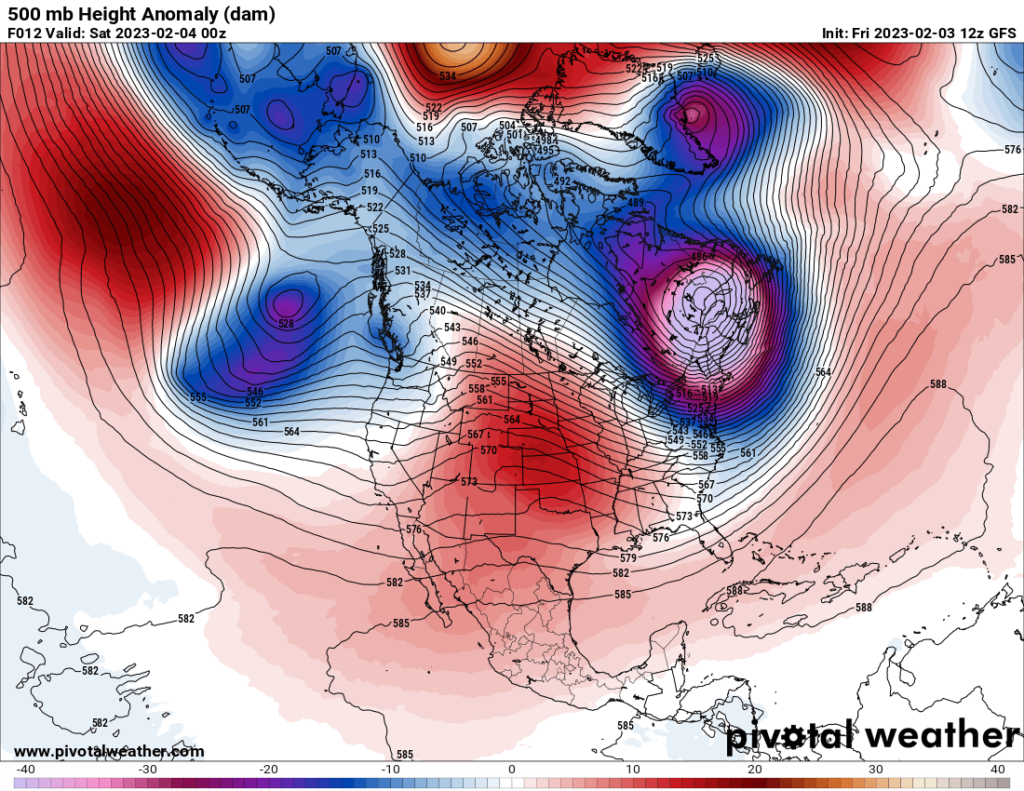 Temperature values at 500 millibars under the purply shaded vortex located over southeast Canada will be nearly off the scale and should be under 470 decameters by Saturday morning. Notice that on the above Pivotal chart that the 500 millibar pattern across the Northern Hemisphere is quite elongated and amplified. This fits in with the theory that climate change is weakening the polar vortex, so some record chill ironically can be caused by global warming. At the moment there is a lot of anomalous warmth north of the Arctic Circle in association with the chilly pattern set to strike the Northeast: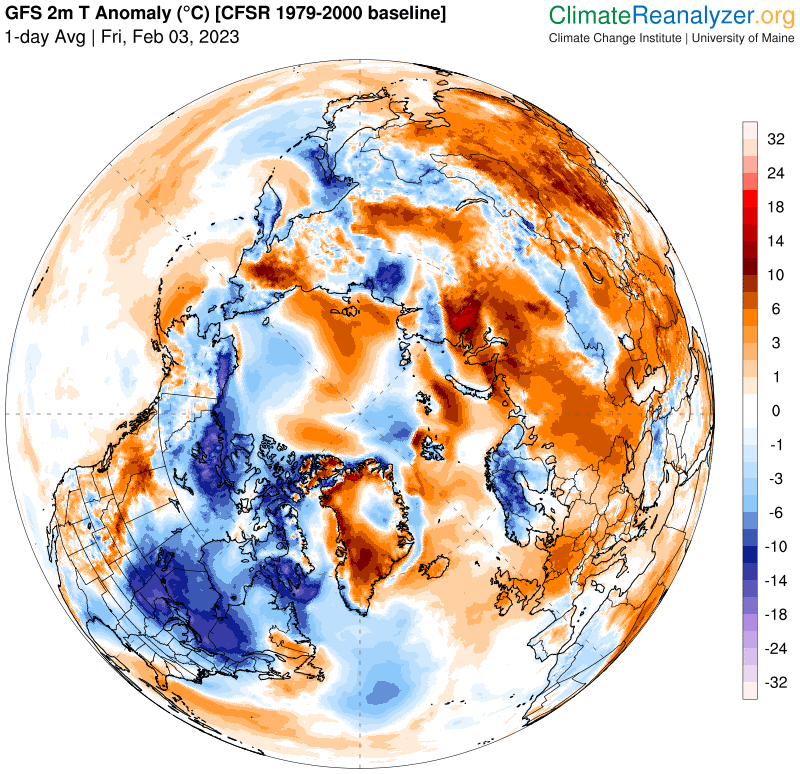 Latest (2023/02/02) 1-day area-weighted 2m temperature anomalies calculated from the NCEP Climate Forecast System (CFS) and CFS Reanalysis (CFSR). The anomaly values fluctuate day-to-day and week-to-week depending on prevailing weather patterns. For context, daily temperatures for the domains below are available via interactive charts for the entire CFS/CFSR 1979–present record. Anomalies are based on 1979–2000 climatology for the specific day of the year.
| World | Northern Hemisphere | Arctic |
| --- | --- | --- |
| + 0.5 °C | + 0.83 °C | + 3.44 °C |
| Tropics | Southern Hemisphere | Antarctic |
| --- | --- | --- |
| + 0.29 °C | + 0.17 °C | + 0.19 °C |
So, just how cold and brutal will Gamma get? Here is a report from Ian Livingston of the Washington Post:
Here's how cold it will get in the Northeast from the polar vortex – The Washington Post
The punishing, historic cold invading the Northeast in five maps
The coldest wind chills in more than 50 years — minus-50 or lower — are forecast in northern New England on Friday night
February 3, 2023
Temperature forecast from the European weather model for Saturday morning. (Pivotal Weather) (Pivotal Weather /Pivotal Weather)
Dangerously cold air from the Arctic roared into the Northeast early Friday, and it is poised to become even more frigid Friday night into Saturday morning. Parts of Maine could endure their most extreme wind chills in at least a generation.
Nearly 50 million Americans in 15 states find themselves under wind chill alerts into Saturday, with millions more in Canada's southeast provinces under warnings for extreme cold as well.
Wind chills are projected to bottom out between minus-50 and minus-65 in northern and western Maine and could even plummet to around minus-100 at New England's highest spot, the summit of Mount Washington in New Hampshire. Through midday Friday, wind chills had already tumbled into the minus-80s on Mount Washington and into the minus-40s in Upstate New York and northern Maine.
The National Weather Service warned such wind chills are "life threatening" and could result in frostbite in as little as five minutes.
Actual air temperatures are forecast to fall below zero throughout much of New England and the interior Northeast on Friday night. In Boston, it's predicted to be the coldest since 2016.
While wind chills will flirt with records, especially in western and northern New England, the piercing cold brought on by this invading lobe of the polar vortex lobe is mercifully in the rear view by the end of the weekend.
The most anomalous cold on earth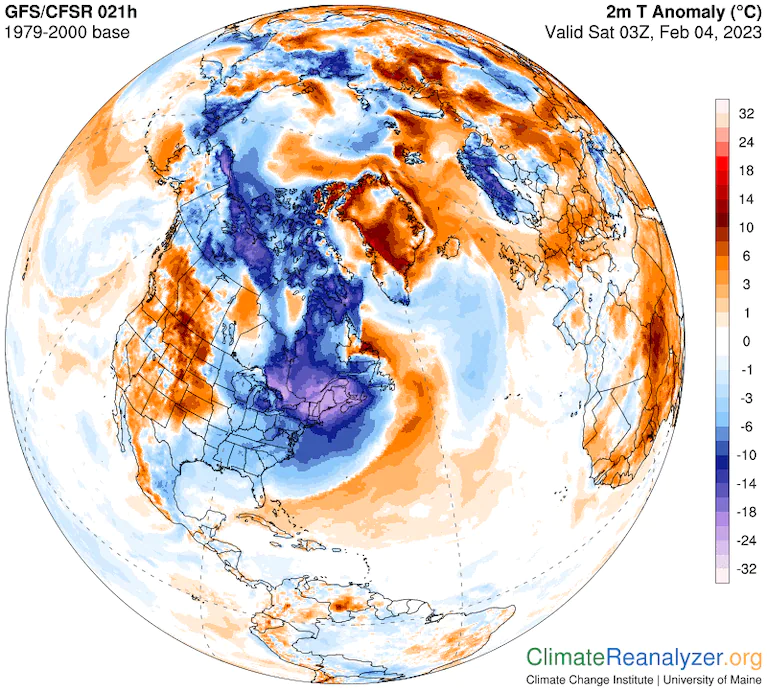 Coldest air compared to normal on Earth is over the Northeast U.S. and Southeast Canada. (Climate Reanalyzer)
A huge area of temperatures about 30 to 40 degrees below normal will cover New England and much of southeast Canada into Friday night. Absolute temperatures may be somewhat colder in northern Siberia, but the cold over northeastern North America is much more anomalous.
Friday night's forecast low of around minus-17 degrees in Burlington, Vt., is 26 degrees below normal, while Boston's forecast low of minus-6 degrees is 27 degrees below normal. At the summit of Mount Washington, the predicted low of minus-46 degrees is about 40 degrees below normal.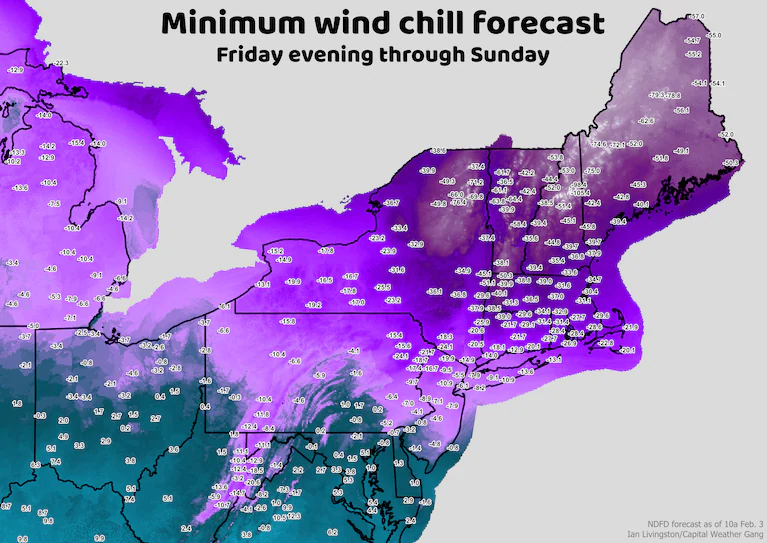 Minimum wind chill forecast from the Weather Service through the weekend. (Ian Livingston/The Washington Post)
Wind chills are forecast to drop to minus-20 degrees or lower in most of New England into early Saturday. Many of the minimum wind chill forecasts from the Weather Service are truly extreme, and could be the lowest in at least 50 years in some locations.
Mount Washington is forecast to see a minimum wind chill of minus-105.4 degrees, which would surpass the record of minus-102.7 degrees set in 2004. Winds at the crewed observatory are forecast to blow as high as 101 mph sustained, with gusts around 128 mph.
Outside of the mountains, the town of Greenville in central Maine is expecting a wind chill of minus-62.6 degrees. Berlin in northern New Hampshire could get down to minus-53 degrees. Saranac Lake in northern New York may dip to minus-49.3 degrees.
Caribou in northern Maine is forecast to see a wind chill of minus-54 degrees, close to a record of minus-58.6 degrees. Montpelier, Vt., is slated to snag a wind chill of minus-41 degrees, compared to its record low of minus-52.3 in 1981. Boston is expecting a minimum wind chill of minus-31 degrees. The record there is minus-38.6 degrees, set in 1957.
Roaring winds
Maximum wind gust forecast for northern New England. (weatherbell.com)
This shot of cold is made much worse by strong winds. Winds will peak in most spots Friday night into Saturday, with sustained levels of 20 to 35 mph common, and perhaps as high as hurricane force sustained in the mountains of northern New England.
Blizzard warnings have been issued for northern Maine, where winds are expected to gust around 45 to 55 mph. While there won't be a lot of new snow, squalls may cause temporary whiteouts from falling flakes. There's also a lot of snow on the ground waiting to be blown around and drop visibility.
Winds gusting 40 mph or higher should visit most spots north of the Mason-Dixon Line. Parts of Massachusetts and Connecticut may also get gusts as high as 50 mph. New England mountain ranges will see gusts approaching or surpassing 100 mph.
A taste of the stratosphere
A lobe of the tropospheric polar vortex (bright white headed through New England) is a pocket of cold air aloft as cold as any other air in the hemisphere. (weatherbell.com)
In addition to the potential for minus-100 degree wind chills, Mount Washington might find itself in the stratosphere Friday night as a lobe of the polar vortex barrels southward. The atmosphere becomes more compressed as it cools, meaning that the boundary dividing its two lowest layers, the troposphere and the stratosphere, known as the tropopause, will sink in altitude.
"An unusual phenomena for our area is possible [Friday] night, with guidance indicating that the tropopause could dip below the peak of Mount Washington," wrote the Weather Service office in Gray, Maine. "While extremely rare, the impact of this is that winds are likely to increase [as it passes]."
Intrepid observers on the summit might even smell the ozone layer, as it sits low in the stratosphere.
Quickly in and quickly out
Temperatures will fall 40 to 45 degrees with the cold moving in and then rise in similar ways by Sunday. (weatherbell.com)
Almost as fast as this Arctic outbreak arrives, it disappears.
Lobes of the polar vortex tend to move swiftly. And in this case, it will be gone within about 36 hours.
But historically cold air is expected in the meantime. Numerous record cold high temperatures are forecast in the Northeast on Friday and Saturday, along with several record lows Saturday morning:
Boston is set to fall to minus-6 degrees Saturday morning, which would surpass its Feb. 4 record of minus-2 degrees.
New York City will fall close to record lows, with readings near 10 degrees.
Newcomb, in the Adirondacks of Upstate New York, is forecast to fall to minus-25 degrees, topping its Feb. 4 record of minus-23 degrees.
January's warmth was unprecedented in much of the Northeast
But moving into next week, temperatures some 10 to 15 degrees above normal are likely across much of the same area, a return to the milder-than-average weather that has prevailed much of the winter.
By Ian Livingston Ian Livingston is a forecaster/photographer and information lead for the Capital Weather Gang. By day, Ian is a defense and national security researcher at a D.C. think tank. Twitter
More:
Here are some "ET's" recorded from around the planet the last couple of days, their consequences, and some extreme temperature outlooks, as well as any extreme precipitation reports:
Here is some new January 2023 climatology:
Here is more climate and weather news from Friday:
(As usual, this will be a fluid post in which more information gets added during the day as it crosses my radar, crediting all who have put it on-line. Items will be archived on this site for posterity. In most instances click on the pictures of each tweet to see each article. The most noteworthy items will be listed first.)
If you like these posts and my work please contribute via the PayPal widget, which has recently been added to this site. Thanks in advance for any support.)
Guy Walton… "The Climate Guy"