The main purpose of this ongoing blog will be to track planetary extreme, or record temperatures related to climate change. Any reports I see of ETs will be listed below the main topic of the day. I'll refer to extreme or record temperatures as ETs (not extraterrestrials).😉
Main Topic: India Is Coping with Extreme Heat
Dear Diary. April into May is prime time for India and much of the rest of southern Asia fo have killing heat before monsoon season sets in. Due to climate change this time during 2023 is that much more deadly. This week I've noticed an anomalously large heat dome that has set up across the area: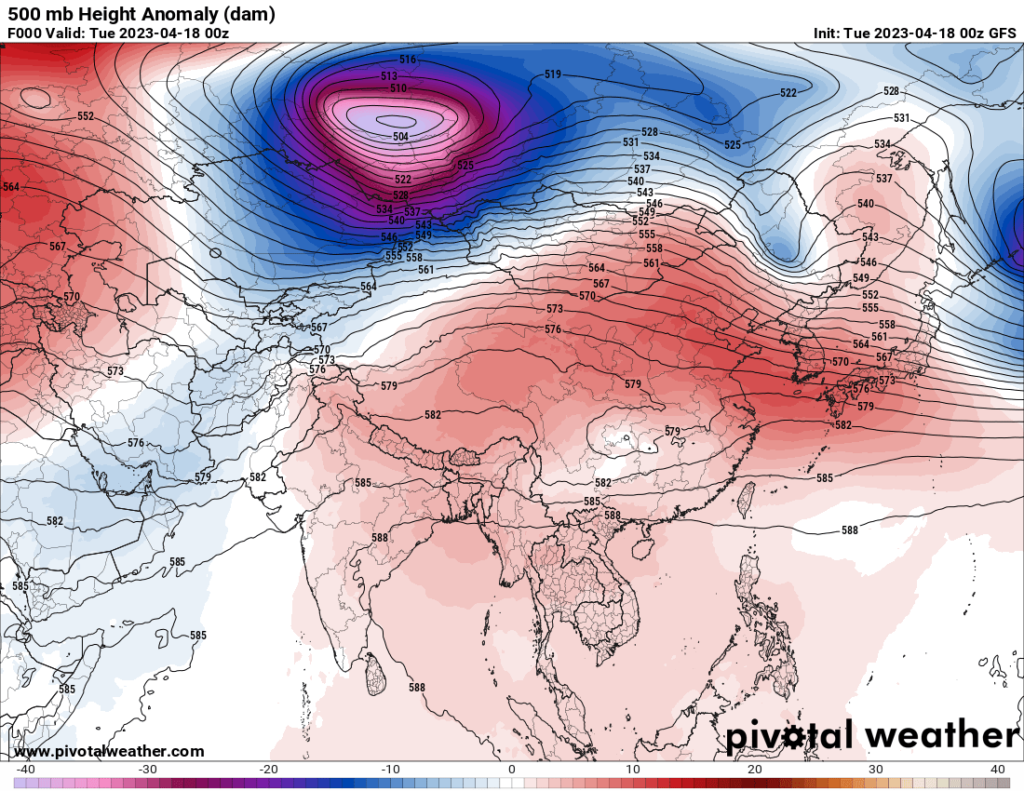 At the surface we see the effect of this heat dome from Climate Reanalyzer and from surface record reports:
Here is a report from the New York Times detailing how Indians are coping with this latest round of anomalous heat brought to them by all of us burning fossil fuels:
Coping With Extreme Heat – The New York Times (nytimes.com)
Coping With Extreme Heat
A disaster in India highlights the health hazards of being out under a hot sun.
At least 11 died of heatstroke at a political event on the edge of Mumbai on Sunday. Credit…Bachchan Kumar/Hindustan Times, via Getty Images
April 18, 2023
Extreme heat can be deceptively dangerous, even in places accustomed to extreme heat. India learned that lesson in a deadly episode over the weekend.
On Sunday afternoon, at a government event on the outskirts of Mumbai, hundreds of thousands of people sat on a bare field, under a scorching mid-April sun, listening to a parade of politicians who appeared on a stage shaded by a roof, according to video from local television news.
The maximum temperature recorded at the nearest weather station was just above 35 degrees Celsius, or 95 Fahrenheit.
By the end of the day, at least 11 people had died of heat stroke. Some 50 were hospitalized. (Death toll estimates varied, with some news outlets reporting up to 13 deaths.)
Rarely in recent years have so many people died of heat at a single event. In general, heat related deaths are notoriously hard to quantify.
It was a grave warning to a nation exceedingly vulnerable to the hazards of global warming. A long and punishing heat wave walloped India last year, and, this year, the hot season began abnormally early. India recorded its hottest February in history.
How did this happen?
There was no heat warning for the area before the event, because there wasn't, strictly speaking, a heat wave. That designation is triggered by the Indian Meteorological Department when temperatures are more than 4.5 degrees Celsius above normal.
But it was hot enough to be debilitating when sitting under the sun for hours. High levels of humidity, ranging from 60 to 70 percent at midday, according to local weather reports, added to the risk.
That's one of the challenges. In some coastal areas, humidity figures into heat alerts. But it's not uniformly worked into heat alerts for all areas.
By midafternoon, the Meteorological Department had issued a news release warning of a rise in maximum temperatures, but it focused on the 5 days ahead, over the entire state of Maharashtra.
By then, the outdoor event, an awards ceremony on the edge of Mumbai, was in full swing. Many of the state's top politicians were in attendance, as was India's powerful minister of home affairs, Amit Shah.
The heat deaths immediately led to political finger-pointing. The Maharashtra chief minister, Eknath Shinde, called them "unfortunate" and promised compensation of 500,000 rupees, or around $6,100, to the families of the dead. Opposition politicians called for an inquiry.
What are the lessons?
This all highlights how ill-prepared many local and state governments are in dealing with the dangers of extreme heat.
A report from an independent Indian think tank called the Centre for Policy Research telegraphed those risks just a few weeks ago. It credited government agencies for creating a heat wave early warning system and for working in creative ways to get messages out, including radio jingles, billboards, WhatsApp messages and YouTube shorts.
But the report found that only a handful of Indian cities and states have heat action plans in place, designed to protect lives and livelihoods. Many of them had ambitious targets, like setting up cooling centers and improving access to water. But most lacked funding. Nor did many have ways to identify the most vulnerable citizens. Most "have an oversimplified view of the hazard," it went on.
Perhaps most worrying, state and local heat action plans aren't always publicly available.
Aditya Valiathan Pillai, an author of the study, said Maharashtra State did not have a plan in place in February, when he was putting together the report. It issued a plan in late March, but whether it had been in force by the time of Sunday's disaster remained unclear.
"Without access to the plan, it is unclear whether it would've prevented deaths and hospitalizations," he said by email this morning.
That would depend on what temperature and humidity threshold would trigger a heat alert under the plan, and whether humidity levels would figure into the calculation. Usually, a red alert, the most severe, is triggered when temperatures are much higher than they were on Sunday.
"The confusion around the existence of a plan and what it contains underscores one of the main recommendations of our study — make all heat action plans publicly available to create some degree of accountability," Mr. Pillai wrote.
What does the future hold?
More extreme heat.
India is among the most vulnerable countries to human-caused climate change. And its poorest people are at the greatest risk.
In 2022, India recorded its hottest March since record-keeping began 120 years ago. Temperatures were abnormally high in April and May, too. Climate change increased the likelihood of such a freakish summer "by a factor of about 30," scientists concluded.
This week, many parts of India were under heat wave alerts. Schools and colleges were closed in most parts of West Bengal state. Delhi sweltered above 40 degrees Celsius, or 104 degrees Fahrenheit, for the second day in a row.
India isn't alone in facing heat hazards. Thailand set an ominous national record when temperatures peaked past 45 degrees Celsius, or 114 degrees Fahrenheit, this week. Several weather stations in China broke temperature records this month.
Other recent climate related New York Times articles:
Toxic cargo and long hauls: A sharp increase in plastic production means many dangerous chemicals are being shipped long distances in the United States.
Germany phases out nuclear: The last plants in the country were scheduled to shut down by Saturday. The move comes as other European countries are seeking to expand nuclear power.
An E.V. price war: More than 40 automakers have reduced prices this year on electric and conventional vehicles in China, the world's largest car market.
More:
Here are some other "ET's" recorded from around the planet the last couple of days, their consequences, and some extreme temperature outlooks, as well as any extreme precipitation reports:
Here is more climate and weather news from Tuesday.
(As usual, this will be a fluid post in which more information gets added during the day as it crosses my radar, crediting all who have put it on-line. Items will be archived on this site for posterity. In most instances click on the pictures of each tweet to see each article. The most noteworthy items will be listed first.)
If you like these posts and my work please contribute via the PayPal widget, which has recently been added to this site. Thanks in advance for any support.)
Guy Walton… "The Climate Guy"