The main purpose of this ongoing blog will be to track planetary extreme, or record temperatures related to climate change. Any reports I see of ETs will be listed below the main topic of the day. I'll refer to extreme or record temperatures as ETs (not extraterrestrials).😉
Main Topic: $500 Million From Biden to Stop Amazonian Deforestation?
Dear Diary. I keep harping over and over that its extremely important that the Amazonian rainforest be protected and not cut from logging and farming interests. At least now we have U.S. and Brazilian presidents who knows this. Today I'm learning that President Biden has pledged $500 million to Brazil for Da Silva's efforts to protect the Amazon, but here's a catch. Biden can't just go ahead and fork X amount of money to Brazil. That has to be approved by the House of Representatives, which is now controlled by anti-environment Republicans, so we will see how this effort will go. Yes, elections have big consequences.
Here are more details from the New York Times:
Biden to Pledge $500 Million to Stop Deforestation in Brazil – The New York Times (nytimes.com)
Biden to Pledge $500 Million to Stop Deforestation in Brazil
The promise to help Brazil protect the Amazon must be approved by Congress, where Republicans are opposed to foreign climate aid.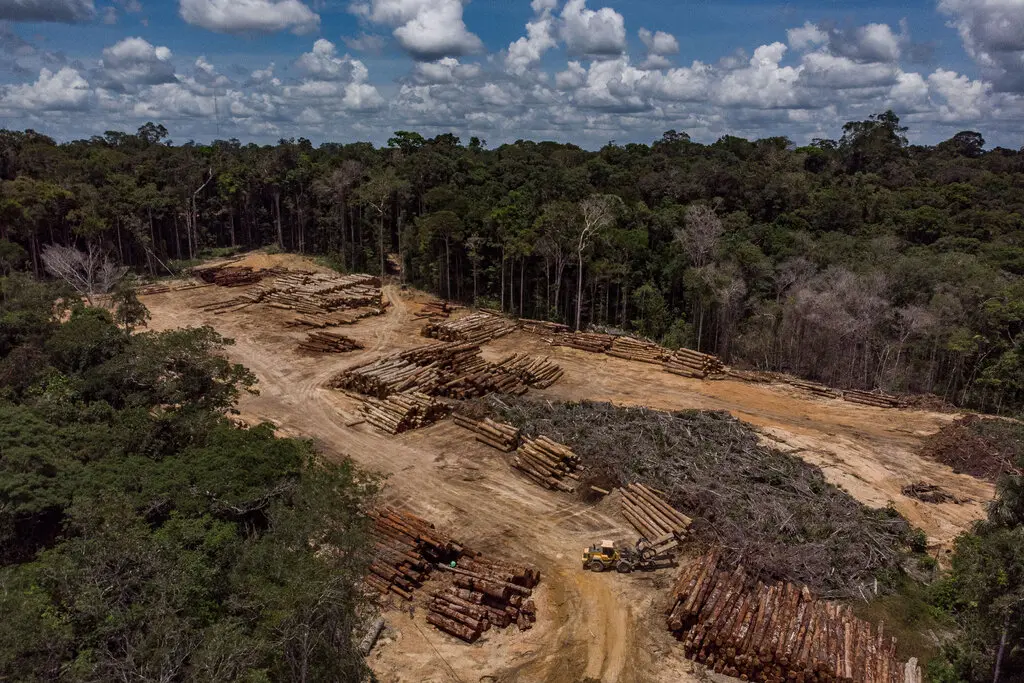 Logging in the Caxiuanã National Forest, located in the lower Amazon region of Brazil's state of Pará.Credit…Victor Moriyama for The New York Times
By Lisa Friedman and Manuela Andreoni
April 20, 2023
WASHINGTON — President Biden on Thursday will pledge $500 million over five years to fight deforestation in Brazil, a White House official said, in a move that would make the United States one of the largest donors to the global Amazon Fund.
But the pledge would require approval from Congress, where Republicans are overwhelmingly opposed to international climate assistance and have made it difficult for President Biden to deliver on his promises to help poorer nations cope with climate change.
Brazil's president, Luiz Inácio Lula da Silva, has been working with the Biden administration on several issues, including climate change, despite Mr. Lula's criticism of U.S. support for Ukraine in its war with Russia.
The Amazon Fund, a conservation program, was established by Brazil in 2008 and has bankrolled efforts to curb deforestation in the world's largest rainforest. Norway, the first and largest contributor to the fund, has donated more than $1.2 billion. Germany recently announced a $217 million donation.
But the fund was suspended under Mr. Lula's far-right predecessor, Jair Bolsonaro, who weakened environmental protections and saw annual average deforestation rates soar, reaching levels the country hadn't experienced in more than a decade.
Inside the Amazon Rainforest
Mr. Lula took office in January with a promise to end deforestation in the Amazon by 2030. But his administration has had a rough start. Preliminary data suggests that deforestation rates have continued to rise, as his administration tries to rebuild environmental protections.
The Amazon plays an important role in regulating water cycles, stabilizing the climate and absorbing carbon dioxide. By one estimate, there are 150 billion to 200 billion metric tons of carbon locked away in the forest. But as trees are cut down, parts of the forest now emit more carbon dioxide than they absorb.
The president is expected to announce the pledge at a gathering in Washington of representatives from some of the world's largest economies. The White House said in a fact sheet that the pledge comes "in the context of Brazil's renewed commitment to end deforestation by 2030." The U.S. is also expected to call on other countries to contribute to the fund.
"That's a lot of money," said Suely Araújo, a policy expert at the Climate Observatory, an environmental group in Brazil. "It's a sign of trust in the new administration, that it can manage this, and that it's making an effort to control deforestation."
"I really hope Congress approves it," Ms. Araújo said. "It's really needed for what Brazil needs to do."
Mr. Biden has pledged to deliver $11.4 billion annually in international climate aid by 2024 but so far is nowhere close to that goal. Last year Congress approved only $1 billion — despite Democratic control of both the House and the Senate.
"We are working as hard as possible to try to get to that goal and make good on the president's pledge," said Sarah Ladislaw, a special assistant to Mr. Biden and the senior director for climate and energy on the White House National Security Council.
With Republicans now controlling the House and Democrats holding just a slim majority in the Senate, winning approval for additional money for things like the Amazon Fund will be an uphill battle.
But in at least one instance, the Biden administration has found a way around Republican opposition.
Last year, Republicans cut funds that the administration had pledged to the Green Climate Fund, a United Nations-led program to help poor countries transition from fossil fuels to renewable energy and increase resilience to climate disasters. On Thursday the administration is expected to deliver $1 billion to the fund, tapping discretionary funds within the State Department, according to an administration official.
Lisa Friedman reports on federal climate and environmental policy from Washington. She has broken multiple stories about the Trump administration's efforts to repeal climate change regulations and limit the use of science in policymaking. @LFFriedman
Manuela Andreoni is a writer for the Climate Forward newsletter, currently based in Brazil. She was previously a fellow at the Rainforest Investigations Network, where she examined the forces that drive deforestation in the Amazon. @manuelaandreoni
Here are some other "ET's" recorded from around the planet the last couple of days, their consequences, and some extreme temperature outlooks, as well as any extreme precipitation reports:
Here is some more March 2023 climatology:
Here is more climate and weather news from Thursday.
(As usual, this will be a fluid post in which more information gets added during the day as it crosses my radar, crediting all who have put it on-line. Items will be archived on this site for posterity. In most instances click on the pictures of each tweet to see each article. The most noteworthy items will be listed first.)
If you like these posts and my work please contribute via the PayPal widget, which has recently been added to this site. Thanks in advance for any support.)
Guy Walton… "The Climate Guy"