The main purpose of this ongoing blog will be to track planetary extreme, or record temperatures related to climate change. Any reports I see of ETs will be listed below the main topic of the day. I'll refer to extreme or record temperatures as ETs (not extraterrestrials).😉
Main Topic: Were There Climate Change Factors Involved with the Maui Tragedy?
Dear Diary. Weather associated tragedies have been happening to mankind before we got out of caves and invented the use of fire, so what if anything set the Maui tragedy apart from any wildfire disasters from the past? What if any role did climate change play in the weather that led to dozens of deaths in Maui yesterday? Can we point to climate change here? While the Maui tragedy might have occurred in the absence of 21st century climate change, attribution scientists should be able to point to the following factors:
A strong Hurricane Dora to the south of the Hawaiian islands that tightened the pressure gradient in the area leading to high winds that fanned flames
Abnormal drought from our changing climate that dried out vegetative fuels for the conflagration.
Last night I contacted my friend Bob Henson who said that he and Dr. Jeff Masters would be writing an in-depth post on the meteorology behind the Maui fires. Here is their fine article:
What caused the deadly Hawai'i wildfires? » Yale Climate Connections
What caused the deadly Hawaii wildfires?
Weather, climate, and ecology teamed up to drive a compound catastrophe.
by BOB HENSON and JEFF MASTERS
AUGUST 10, 2023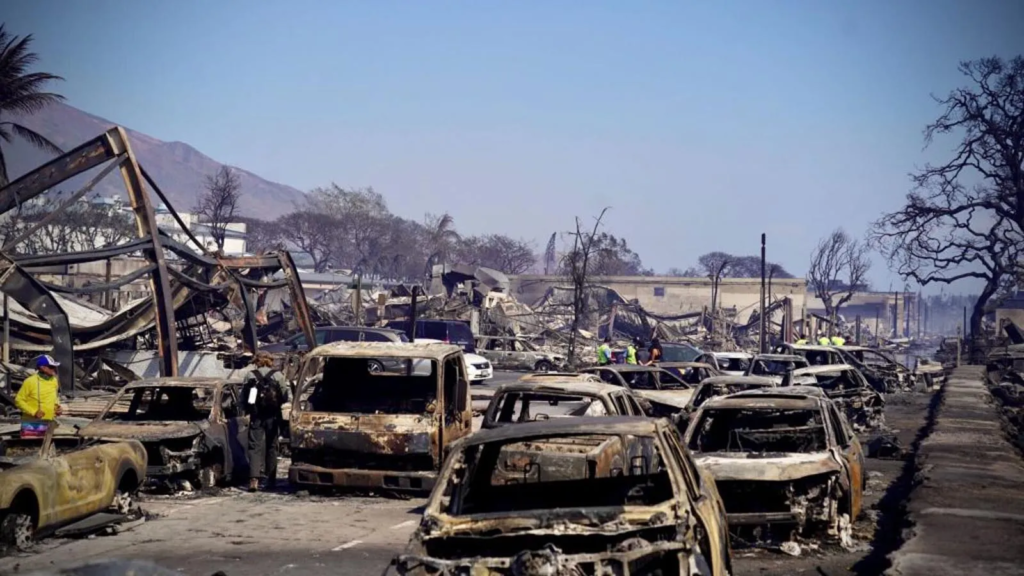 Historic Lahaina, Hawai'i lies in charred ruins after a wildfire on Aug. 9, 2023. (Image credit: Ku'u Kauanoe, Honolulu Civil Beat)
The deadliest and most destructive U.S. wildfires of 2023 thus far swept through Hawai'i on Tuesday night and Wednesday, Aug. 8-9. At least 36 deaths had been reported from the fires by early Thursday, with an uncertain number of people injured.
The worst damage was on Maui, where the central part of Lahaina (pop. 12,000) was largely destroyed. More than 271 structures in Lahaina had been affected, Maui County authorities reported in a news release late Wednesday. Two other blazes, the Upcountry and Pūlehu fires, destroyed several homes elsewhere on Maui. Three fires were in progress on the island of Hawai'i, but no injuries or structural losses had been reported by late Wednesday, according to the Associated Press.
Aerial images showed fire-charred structures throughout the core of Lahaina, which served as the capital of the Hawaiian Kingdom from 1820 to 1845. Most of the town is part of a National Historic Landmark District, with a number of buildings dating back 150 to 200 years. Damages to Lahaina could well run into the hundreds of millions of dollars, if not even more, likely making it the worst natural disaster in state history since Hurricane Iniki caused $6.7 billion in damage in 1992. The loss of two centuries of civic and architectural history, and the psychic impact of the fire on Maui residents, are incalculable.
The flames that tore across Maui were fanned by winds gusting from 40 to 80 mph, driven by an expansive and unusually strong high-pressure cell that was intensifying to the north of Hawai'i. At the same time, Category 4 Hurricane Dora was passing well to the south of Hawaii, and the contrast between Dora and the surface high only added to a sprawling area of strong easterly winds. These easterly winds warmed, dried, and intensified as they descended the West Maui Mountains and swept into Lahaina. Such mountain downslope winds have fueled some of the most destructive wildfires in recent U.S. history, including Colorado's Marshall Fire of Dec. 30, 2021, and several of the worst Santa Ana and El Diablo fires on record in California.
Did Hurricane Dora play a role in the Hawai'i wildfires?
It's an open question how much the presence of Dora may have fueled the strength of the winds that ripped across Hawaii. Dora has been remarkably potent for a long time – the storm has logged more hours as a category 4 hurricane than any other in reliable records for the Pacific that go back more than 50 years (see more on Dora below) – but the storm has also remained quite compact. Moreover, its center took a westward path that stayed more than 700 miles south of the island. Dora's tropical-storm-force winds extended no more than about 150 miles north of its center, and surface pressures were higher than average across most of the area between the islands and Dora when the fires erupted (see Figure 1 below).
Figure 1. Surface pressure (black lines) and anomalies in surface pressure (blue and red) across the North Pacific Ocean as of 6Z (2 a.m. EDT) Wednesday, Aug. 9, 2023, when the fires in Maui were raging. Surface pressures in association with the large, intense high-pressure cell over the central North Pacific were unusually high (denoted by orange and red colors) across most of the region around Hawai'i except for a small area immediately surrounding compact Hurricane Dora (bottom center, in blue). (Image credit: tropicaltidbits.com)
Some of the high pressure between Dora and Hawaii was likely induced by the hurricane itself. Rising air within a strong hurricane is typically balanced by descending air on the fringes of the storm. As that descending air warms, it can lead to clear skies, high surface pressures, unusually hot conditions, and fire-favorable weather. A case in point is Hurricane Lane of August 2017, which angled northward and passed much closer than Dora to the Hawaiian Islands. Lane brought the heaviest rains ever recorded from a tropical cyclone in Hawaii to the Big Island. Yet strong winds on the periphery of Lane triggered multiple wildfires on Maui and O'ahu, as detailed in the study "Fire and Rain: The Legacy of Hurricane Lane in Hawai'i."
Figure 2. Areas of hurricane-force sustained winds, at least 74 mph (red), and tropical-storm-force sustained winds, at least 39 mph (orange), during the history of Hurricane Lane (left) and of Hurricane Dora through Wednesday afternoon, Aug. 9 (right). (Image credits: National Hurricane Center)
The resilience and strength of both Dora and the surface high north of Hawaii may both be linked to larger-scale dynamical features that have kept both Dora and the high pushing westward over the past several days. In similar fashion, Hurricane Ophelia – which passed northward well off the coast of Portugal in October 2017 as the easternmost hurricane on record for the Atlantic – was embedded within, and helped reinforce, a large-scale steering flow that drove hot, dry southerly winds across the Iberian Peninsula, stoking wildfires that took at least 49 lives in Portugal and Spain. Such events are often considered compound disasters, as they involve multiple factors that add up to a disastrous sum greater than its parts.
Drought and dry air — both local and imported
Many of the western (leeward or downslope) parts of the Hawaiian Islands, including much of West Maui, have arid or semiarid climates. Much like Southern California, rainfall is concentrated in the late fall through early spring, and drought conditions are common in summer. Long-term warming tends to make even naturally occurring periods of drought hotter, thus parching the landscape more readily.
According to the U.S. Drought Monitor, the western coast of Maui was experiencing moderate to severe drought as of Aug. 8. As shown in Figure 3 below, drought conditions in August were more intense during the La Niña years of 2020, 2021, and 2022 than they are right now. So while the current drought is not exceptional, it was enough to help create a fire-friendly environment when the fierce, dry downslope winds arrived.
Figure 3. Drought conditions across Maui since 2000. Drought conditions were especially intense in the summer and fall of 2020, 2021, and 2022, and they have been intensifying over the last few weeks. (Image credit: National Drought Mitigation Center)
The increasing presence of large swaths of flammable nonnative grasses also contributed to the wildfires. As noted in a state hazard mitigation plan, "The State of Hawaii's native ecosystems are not fire adapted. In many cases, once an area burns, it is replaced by fire-prone non-native species, permanently changing the State of Hawaii's landscape."
It's also possible that the record-hot air mass over the U.S. Southwest — whose unprecedented heat has been deemed virtually impossible without human-induced climate change ­­— played an indirect role in the Maui fires. Upper-level steering currents around the massive high appear to have pushed a wedge of unusually warm, dry air, extending several miles above ground level, westward all the way to Hawaii, as shown in the animation embedded below (the acronym PGF refers to pressure gradient force, which is proportional to the difference in high pressure and low pressure across a given distance). This air mass would have then descended the tall slopes of Maui into areas that ultimately burned.
A formal climate attribution study would help shed light on how much the factors above played into the catastrophic compound disaster across Maui, and how likely or unlikely it is that they would have come together as they did in the absence of climate change.
Assuming the fires in Maui were at least partially Dora-related, then Dora is the second tropical cyclone to affect Hawai'i so far in 2023. On July 18-19, Tropical Storm Calvin passed about 100 miles to the south of the Big Island with sustained winds of 45-50 mph. Calvin brought widespread rainfall amounts of two to four inches to the Big Island and Maui, which caused minor flooding and scattered power outages. A few locations on the Big Island received rains of five to seven inches, according to the final report from the National Weather Service.
A 2016 modeling study found that we could expect to see a significant increase in hurricanes near Hawai'i in coming decades due to climate change; see also Jeff Masters' August 2014 post, Climate Change May Increase the Number of Hawaiian Hurricanes. Only five named systems at tropical storm strength or higher have made a direct landfall in Hawaii since modern recordkeeping began in 1949.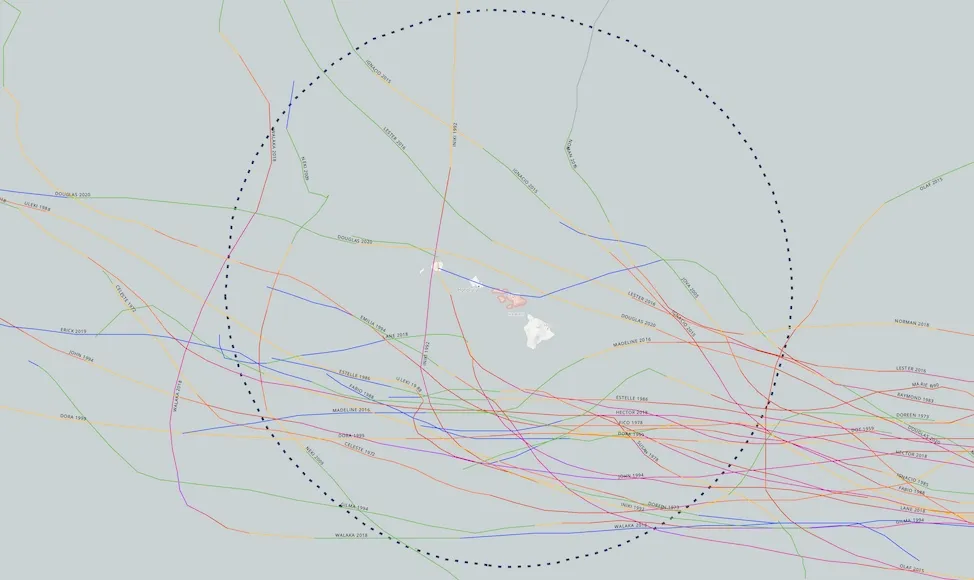 Figure 4.  All major hurricanes (category 3 or stronger) passing within 600 nautical miles (690 miles) of Maui in the long-term hurricane database maintained by NOAA. All of the hurricanes shown are from the 1970s onward except for Hurricane Dot (1959). Hurricane Dora has been tracking just beyond the southern edge of the circle shown. (Image credit: NOAA Historical Hurricane Tracks)
Forecast for Dora
At 11 a.m. EDT Thursday, Dora was still a category 4 hurricane with 140 mph winds, located 1,010 miles southwest of Honolulu, Hawaii, and headed just north of due west at 22 mph. Dora is expected to weaken only very slowly and will likely cross the international date line by Friday night as a category 3 storm, becoming Typhoon Dora in the western Pacific. Only three other central Pacific major hurricanes have been recorded to cross into the western Pacific and become major typhoons there: Genevieve (2014), Ioke (2006), and John (1994). By early next week, Dora will move more to the northwest and encounter cooler waters and higher wind shear, which will put an end to this unusually long-lived storm. Dora is not a threat to any land areas.
Hawaii fires punctuate a mostly quiet year for U.S. wildfire
Although Canada is having its worst wildfire season in modern history, and sending massive volumes of smoke into the United States, the U.S. itself is having its least-fiery year in more than a decade. As of Aug. 9, 2023 has been the least active for U.S. wildfire in terms of acreage burned since at least 2013, according to statistics from the National Interagency Fire Center. This year's U.S. fires (including those in Alaska and Hawai'i) have burned 1,411,277 acres through Aug. 9, which is only about a third of the annual average up to that date across the last 10 years. In the center's full-year database, which goes back to 1983, every year since 1998 has ended up scorching at least 3.4 million acres by Dec. 31. It remains to be seen how long residual moisture from the notably wet winter of 2022-23 will help keep landscapes across the western U.S. relatively fire-free.
Maui fire the 2nd-deadliest U.S. wildfire of the past 100 years
No U.S. agency keeps official tallies of the nation's wildfire deaths, but EM-DAT, the international disaster database, has global wildfire statistics going back to 1911. Using their data, plus additional information from other official and unofficial sources, here is a list of all U.S. wildfires on record that have killed at least 20 people:
1. 1200-2500 deaths, 1871 (Peshtigo Fire, Wisconsin) 
2. 453 deaths, 1918 (Cloquet Fire, Minnesota)…Sometimes erroneously stated as 1000
deaths
3. 418+ deaths, 1894 (Hinkley Fire, Minnesota)
4. 282 deaths, 1882 (Thumb Fire, Michigan)
5. 88 deaths, 2018 (Camp Fire, Paradise, California)
6. 87 deaths, 1910 (Great Fire of 1910, Idaho and Montana)
7. 65 deaths, 1902 (Yacolt Burn, Oregon and Washington)
8. 36 deaths, 2023 (Maui Fire, Hawaii)
9. 32 deaths, 2020 (August Complex Fire, California)
10. 29 deaths, 1933 (Griffith Park Fire, Los Angeles, California)
11. 26 deaths, 1991 (Tunnel Fire, Oakland Hills, California)
12. 22 deaths, 2017 (Tubbs Fire, California)
CNN is offering a link to help wildfire victims in Hawaii. Donations can go to multiple nonprofits: the American Red Cross, Maui United Way, Maui Humane Society, and Salvation Army.
Bob Henson's What caused the deadly Hawaii wildfires? was first published on Yale Climate Connections, a program of the Yale School of the Environment, available at: http://yaleclimateconnections.org. This work is licensed under a Creative Commons Attribution-Noncommercial-No Derivative Works 2.5 license (CC BY-NC-ND 2.5).
More:
Here are some other "ET's" recorded from around the planet the last couple of days, their consequences, and some extreme temperature outlooks, as well as any extreme precipitation reports:
Here is more brand-new July 2023 climatology:
Here is more climate and news from Thursday:
(As usual, this will be a fluid post in which more information gets added during the day as it crosses my radar, crediting all who have put it on-line. Items will be archived on this site for posterity. In most instances click on the pictures of each tweet to see each article. The most noteworthy items will be listed first.)
Today's News on Sustainable and Traditional Energy from Fossil Fuel:
More on the Environment:
More from the Weather Department:
More on other science and the beauty of Earth and this universe:
If you like these posts and my work on record temperature ratios, please contribute via my PayPal widget on this site. Thanks in advance for any support. 
Guy Walton… "The Climate Guy"