The main purpose of this ongoing blog will be to track planetary extreme, or record temperatures related to climate change. Any reports I see of ETs will be listed below the main topic of the day. I'll refer to record temperatures as ETs (not extraterrestrials).😉
Main Topic: A Current "Endless Japanese Heatwave
Dear Diary. This past summer I've been posting many a note from Maximiliano Herrera that states that Japan is having an "endless" heatwave with many records being set. Here are a few more from the last week:
More stifling hot nights in #Japan with Min. temperatures locally 25C/28C in Central and Southern areas.
Two more records of highest Tmin for September fell yesterday:
27.6 Niijima
27.3 Tateyama

Japan has been breaking records nearly every day for months. pic.twitter.com/NbF1pEo5gh

— Extreme Temperatures Around The World (@extremetemps) September 22, 2023
Endless scorcher in #Japan.
Today Kiryu reached 35C for the 46th time this 2023.
This is the first time in Japanese history any station had more than 45 days >35C.

Yesterday tied hottest September night on records at Hihonmatsu with a Tmin of 24.8C. https://t.co/dLRkL8DNMS

— Extreme Temperatures Around The World (@extremetemps) September 19, 2023
It's no wonder that Japan has seen so much warmth this year. Due to very warm sea surface temperatures, the country is caught in a positive feedback loop brought to us by climate change:
A severe marine heatwave near Japan has been ongoing for the last several months, with sea surface temperatures currently up to 8°C (14.4°F) above normal.

This is not just a local issue. Both global ocean heat content and sea surface temperatures have reached their highest… pic.twitter.com/539sorrxuU

— Colin McCarthy (@US_Stormwatch) September 23, 2023
Here are more details about recent Japanese hot times from the Guardian:
Japan swelters through 'abnormal' autumn, with warnings of more heat to come | Japan | The Guardian
Japan swelters through 'abnormal' autumn, with warnings of more heat to come
After experiencing a record-breaking number of 'extremely hot' days in summer, the unusually high temperatures are due to continue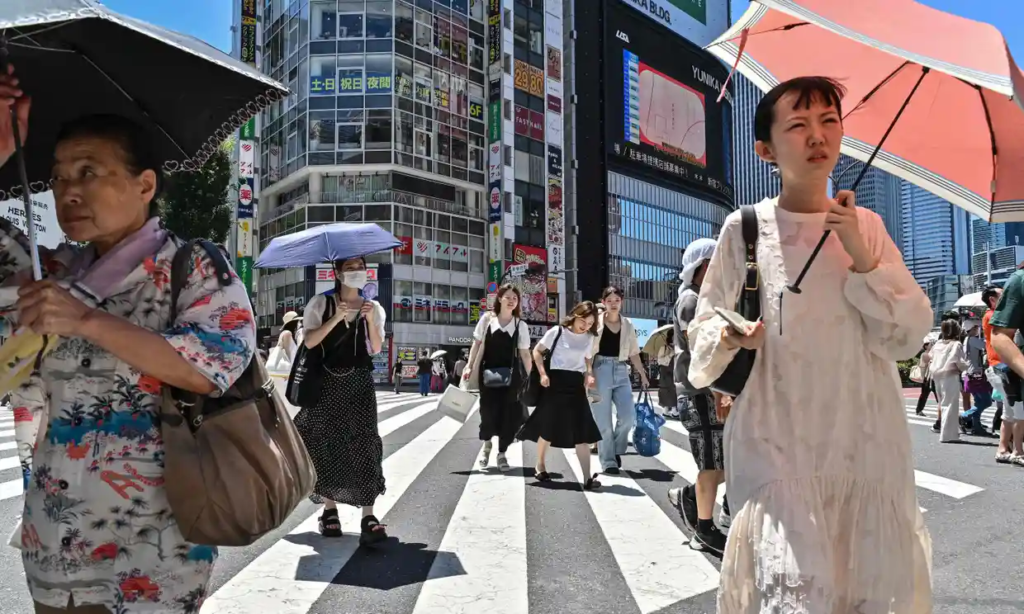 Japan experienced record-breaking heat this summer, with daytime highs exceeding 38C on some days. Photograph: Richard A Brooks/AFP/Getty Images
Justin McCurry in Tokyo Wed 20 Sep 2023 01.07 EDT
Matsutake mushrooms and persimmons have appeared on supermarket shelves, along with seasonal beers and sakes. In Tokyo neighbourhoods, residents carry portable shrines through the streets at festivals to mark the end of summer, and children get ready for school sports days.
Autumn, though, has yet to make an appearance in Japan. Instead, experts are warning that the crisp, sunny days that usually offer relief at the end of a sweltering summer are still some way off, with one describing the weather as "abnormal".
Japan experienced record-breaking heat this summer, with daytime highs exceeding 38C on some days, the public broadcaster NHK said, adding that "disaster-level" heat of 40C had been observed in two cities in early August.
Based on measurements at 15 locations around the country from June through August, Japan's summer was its hottest since 1898, when the meteorological agency started collecting data.
Tokyo has experienced 22 days this year when the mercury topped 35C – the agency's definition of "extremely hot" weather – easily breaking the previous record of 16 days, set last year.
Even Sapporo, the country's northernmost main city – and venue for a snow festival every February – experiencing three straight days over 35C in late August. Hokkaido Railway Company cancelled trains, fearing the heat could warp tracks, while some students were asked to study remotely rather than attend lessons in classrooms without air conditioners.
The ancient capital of Kyoto, known for its humid summers and bracing winters, saw a record 37 days of extreme heat.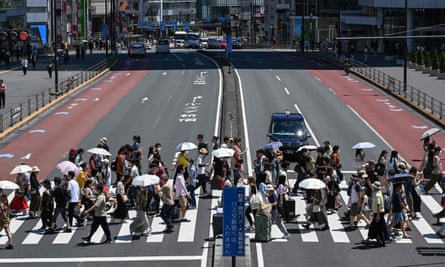 Conditions have eased since the start of September, but only marginally. Earlier this month, organisers of a marathon in the north-east city of Morioka terminated the race midway through after a large number of runners retired due to the heat, with one pronounced dead after being rushed to hospital.
Weather observation points across Japan have broken annual records for the number of extremely hot days, prompting the Mainichi Shimbun newspaper to ask: how long will this heat continue?
The answer will disappoint those desperate to escape the brutal heat. According to the meteorological agency, the combined effect of El Niño and global heating means that unusually hot weather will continue through to the end of the month and into October.
"Even if it's not extremely hot, there is a possibility that high temperatures of around 30C will continue in October, so people need to be careful about heatstroke," Takafumi Umeda, director of the agency's Tokyo Climate Centre, said recently, according to the Mainichi.
The agency has also predicted a mild winter with less snowfall than usual – a forecast that will dismay businesses in resorts that usually attract large numbers of skiers and snowboarders.
One location is escaping the worst of the heat, however. In Katsuura, in Chiba prefecture east of Tokyo, the temperature did not rise above 35C throughout July and August – the 118th year in a row the coastal town had avoided extremely hot days.
Human-caused climate breakdown is supercharging extreme weather across the world, driving more frequent and more deadly disasters from heatwaves to floods to wildfires. At least a dozen of the most serious events of the last decade would have been all but impossible without human-caused global heating.
Explore more on these topics:
Here are some other "ET's" recorded from around the planet the last couple of days, their consequences, and some extreme temperature outlooks, as well as any extreme precipitation reports:
Record warmth in Europe

MINIMUM TEMPERATURES up to 17.2 in Estonia,18.3 Lithuania,19.7 Belarus,>20 Hungary and
28.8 at Lindos in Greece.

MAX up to
41 Turkey,39 Cyprus,38 Albania,37 Greece and Bulgaria, 36 North Macedonia,Romania and Serbia.

Exceptional for late September. https://t.co/5aHoDtYIQ2

— Extreme Temperatures Around The World (@extremetemps) September 23, 2023
Heat wave in SE Asia moved West between NW Thailand and Myanmar with 37.5C in Mae Sariang and 37.4C Monyin ,Myanmar (September record at).

But the most serious drought is in Central Thailand:The area between Phetchaburi and Cha Am Beach has recorded only 150mm in 2023 so far. https://t.co/LrXCbEh8Yx

— Extreme Temperatures Around The World (@extremetemps) September 23, 2023
The heat is still extreme in Middle East,specially exceptional in Iraq with temperatures yesterday exceeding 47C in Basra.
The capital Baghdad reached 44C with similar temperatures next few days.
It 's the hottest end of September in Iraqi history. pic.twitter.com/RyQz9i2mhW

— Extreme Temperatures Around The World (@extremetemps) September 23, 2023
Australian Heat Wave moves around but it never ends. Extraordinary warm nights for September and records broken by big margins. Most important:
20.1C Esperance
19.6C Esperance AP
14.9C Lake Grace
18.3C Munglinup https://t.co/PvJ8sGZKKo

— Extreme Temperatures Around The World (@extremetemps) September 23, 2023
South America Heat Wave day #2:
Highest temperature today was 43.6C at Villamontes in Bolivia.
Exceptionally hot nights in some areas with a Tmin of 29.5C at Establecimiento Miguel y Jesús in Paraguay.

Tomorrow the heat will intensify and spread in area and reach historic levels pic.twitter.com/vy2wBNNpVm

— Extreme Temperatures Around The World (@extremetemps) September 22, 2023
SOUTH AMERICA RECORD HEAT
It's not just Argentina,Brazil or Paraguay:
No,it's all South America.

Today FRENCH GUIANA tied ITS HOTTEST DAY IN HISTORY with 38.0C at Apatou

In COLOMBIA yesterday all time high tied at Cucuta with 39.0C.

South America is sizzling …
Updates later pic.twitter.com/sc3Z9qbmiu

— Extreme Temperatures Around The World (@extremetemps) September 22, 2023
Here is some more August 2023 climatology:
August 2023 in #Bahamas had an average temperature in Nassau AP of 30.0C,+1.1C above the 1991-2020 norm and was the HOTTEST August on records and hottest month overall tied with July 2023.
Total rainfall was 137.7mm (norm is 211mm)

In Freeport it was the hottest month on records pic.twitter.com/GshmkqxVy5

— Extreme Temperatures Around The World (@extremetemps) September 23, 2023
August 2023 in #Tunisia had an average temperature of 29.0C which matches the 1991-2020 norm.(map)
The rainfall amounts was 56.7% of the normal.

Summer as a whole was hot:Average temperature was 29.2C, +1,45C above normal.

Map by Tunisian National Institute of Meteorology pic.twitter.com/4dGCOyPu1x

— Extreme Temperatures Around The World (@extremetemps) September 23, 2023
Here is more climate and weather news from Saturday:
(As usual, this will be a fluid post in which more information gets added during the day as it crosses my radar, crediting all who have put it on-line. Items will be archived on this site for posterity. In most instances click on the pictures of each tweet to see each article. The most noteworthy items will be listed first.)
"Why September's record-warm temperatures have scientists so worried" [the worry is that the planet will continue to warm as long as we generate climate pollution] by Scott Dance (@SSDance) for the @WashingtonPost: https://t.co/nL8Etj8ooK

— Prof Michael E. Mann (@MichaelEMann) September 23, 2023
"A climate scientist on how to recognize the new climate change denial" by Avishay Artsy (aka @heyavishay) for @VoxDotCom: https://t.co/4mmMl1HKEH#OurFragileMoment

— Prof Michael E. Mann (@MichaelEMann) September 23, 2023
'More than 4,500 people died in England in 2022 due to high temperatures'

So when people say 'I like the heat' they are being selfish. They mean they can cope. Not everyone can cope.#ClimateChange#heatwavehttps://t.co/Eb1zd9jGDq

— Brian McHugh 🌏🏳️‍🌈 (@BrianMcHugh2011) September 23, 2023
Another look back at the last three months… 😵‍💫

🟥 [red] warmer than average
🟦 [blue] colder than average

Data from https://t.co/8pB26JbSzJ pic.twitter.com/3Q9hurwYPS

— Zack Labe (@ZLabe) September 23, 2023
Code UFB!!!

The Earth Energy Imbalance (EEI) just hit a new record high for its 36-month running mean, at 1.46 W/m².

Over the last 3 years, this is the equivalent of 11.8 Hiroshimas per Second, or 1.07B Hiroshimas in total of excess Earth heating.

Data: https://t.co/TvuTvSRQbf pic.twitter.com/ZQwIvmc96R

— Prof. Eliot Jacobson (@EliotJacobson) September 23, 2023
This is a very interesting paper about the changes in El Niño/La Niña in the last century.

Tl;dr? It's complicated, but some patterns are emerging. https://t.co/93PFXmcyaK

— Gavin Schmidt (@ClimateOfGavin) September 23, 2023
"Most of Earth's near-surface permafrost could be gone by 2100, an international team of scientists has concluded after comparing current climate trends to the planet's climate 3 million years ago." https://t.co/OHyKPz9oH4

— David Wallace-Wells (@dwallacewells) September 23, 2023
The US has a growing problem w/ climate change. The frequency and severity of climate extremes and disasters will continue to go up, and that while preparedness and adaptation can help, it won't be enough until we stop climate change. https://t.co/5AoIAlbnwR pic.twitter.com/3zBAYifVRk

— Jonathan Overpeck (@GreatLakesPeck) September 23, 2023
"There's a very clear thing that we all as a global society can do, stopping the burning of fossil fuels and emission of heat-trapping greenhouse gases" https://t.co/0xjTqlPtTr

— Extinction Rebellion Global (@ExtinctionR) September 23, 2023
UK one of 32 countries facing European court action over climate stance

I'm beginning to lose count of the number of times the UK is facing legal action over climate policyhttps://t.co/7bgC329kJP

— Brian McHugh 🌏🏳️‍🌈 (@BrianMcHugh2011) September 23, 2023
"Your Ecological House: A climate hockey stick that melts ice" by Philip S. Wenz for the Corvalis Gazette-Times (@gtnews): https://t.co/aLyO6QPatW

— Prof Michael E. Mann (@MichaelEMann) September 23, 2023
Today's News on Sustainable and Traditional Polluting Energy from Fossil Fuel:
What Christiana Figueres said! 👏 👏

It's time to kick profiteering fossil fuel companies with vested interests out of decision making processes around climate. #KickPollutersOut
https://t.co/8yqRqX1mYs

— 350 dot org (@350) September 23, 2023
Transportation doesn't have to be a casualty of climate change—it can be part of the solution. pic.twitter.com/ESiYLQoVen

— Secretary Pete Buttigieg (@SecretaryPete) September 23, 2023
Almost all carbon offset projects are junk. pic.twitter.com/urwW6fgA2Y

— David Ho (@_david_ho_) September 23, 2023
Here's some good news for the climate and human rights: the world's biggest insurance companies are reluctant to offer crucial support to disastrous oil projects in the DRC.

It's one of the worst places in the world to extract oil.#SaveCongoRainforest https://t.co/srQpj2SZna

— Greenpeace International (@Greenpeace) September 23, 2023
More from the Weather Department:
Serious flooding and water rescues are occurring along some rivers in eastern North Carolina, as water pushed upstream by Tropical Storm #Ophelia encounters runoff from 4-8" rains. @CC_Yale https://t.co/lpVFyOUwM3

— Bob Henson (@bhensonweather) September 23, 2023
We took the northeastern eye wall around 5:30 AM in Atlantic Beach, NC. Morehead City gusted to 62 MPH and Cape Lookout to 74 MPH. Our power went around 5 AM; 15% of Carteret County is in the dark. #Ophelia made landfall at 6:20 AM on the NC coast near Emerald Isle.#tropics pic.twitter.com/hOsCIm0qr7

— Mike Seidel (@mikeseidel) September 23, 2023
NEW: Flood watch issued for DC area and I-95 corridor 8p tonight to 8a Sunday. Wave of heavy rain associated with Ophelia's core to arrive between 8 and 10p tonight. 2-4" of rain could fall. Best to avoid traveling late tonight.
Updates: https://t.co/VTXrB92i95 pic.twitter.com/pEMLANzqry

— Capital Weather Gang (@capitalweather) September 23, 2023
Homes, Roads Flooded After Ophelia Landfall

From The Weather Channel iPhone App https://t.co/FuPuwxGtsB pic.twitter.com/36iUssDmb4

— James Wilson (@tornadokid3) September 23, 2023
Storm surge flooding in Washington, North Carolina.@foxweather @NWSMoreheadCity pic.twitter.com/F1f8f0oboR

— Mark Sudduth (@hurricanetrack) September 23, 2023
Tropical Depression 17 has formed in tropical Atlantic. Forecast to become a tropical storm by tomorrow. If it does, it would be the 12th Atlantic named storm to form since August 20. That would tie 2020 for the most named storms to form between 8/20-9/24 on record. #hurricane pic.twitter.com/atrjRbOGn7

— Philip Klotzbach (@philklotzbach) September 23, 2023
More on the Environment:
Gov. Maura Healey signed an executive order that she says will make Massachusetts the first state to ban the purchase of single-use plastic bottles by state agencies. https://t.co/ThWNHoPxmo

— AP Climate (@AP_Climate) September 23, 2023
No. Using industrial carbon capture is nonsense, and only results in increasing emissions compared to other solutions.

Trees have limits, and we will have to steward them long into the future, but at least they can genuinely reduce CO2 levels.

https://t.co/XlOlDn7nL2

— Dr. Jonathan Foley (@GlobalEcoGuy) September 23, 2023
From our archives: Lithium miners in the High Andes will evaporate around half a million gallons of water to produce a single ton of lithium carbonate.

The rush to mine lithium for EV batteries is set to turn the region's wetlands and meadows to desert.https://t.co/xvMC17pnuz

— Yale Environment 360 (@YaleE360) September 24, 2023
No, this isn't a beach in Florida – this is WISCONSIN! 🦩

For the first time in nearly a century, a flamboyance of flamingos was spotted yesterday on the Wisconsin side of Lake Michigan following Hurricane Idalia. pic.twitter.com/iRcdNzH4FU

— AccuWeather (@accuweather) September 23, 2023
More on other science and the beauty of Earth and this universe:
Holy smokes! Did you see this #sunset last night in Virginia??

Clouds spreading out ahead of #Ophelia brought on all of these colors!#VAwx pic.twitter.com/b9yeBDX6Sh

— WeatherNation (@WeatherNation) September 23, 2023
Stopped in to see an old friend in California today. 2000 years old, and still hanging in there, despite it all. pic.twitter.com/kPMO0bzUFF

— Jeff Goodell (@jeffgoodell) September 24, 2023
If you like these posts and my work on record temperature ratios, please contribute via my PayPal widget on this site. Thanks in advance for any support.
Guy Walton… "The Climate Guy"