The main purpose of this ongoing blog will be to track planetary extreme, or record temperatures related to climate change. Any reports I see of ETs will be listed below the main topic of the day. I'll refer to record temperatures as ETs (not extraterrestrials).😉
Main Topic: September's Record-Warm Temperatures Have Scientists Worried
Dear Diary. June, July and August 2023 were the hottest three months in recorded human history that had a big slate of record reports as reported daily on this blog. Now it appears that September can be added to that list, which has many scientists very worried. A combination of a developing strong El Niño and overall warmth produced by climate change has increased global average temperatures so much that the atmosphere can easily produce extreme heat during the summer of each hemisphere for every country in the planet. Even without an El Niño, as we saw during 2022, record heat was quite prevalent, but added warmth going into the atmosphere from this current El Niño is literally scorching the Earth.
Here are more details from the Washington Post:
"Why September's record-warm temperatures have scientists so worried" [the worry is that the planet will continue to warm as long as we generate climate pollution] by Scott Dance (@SSDance) for the @WashingtonPost: https://t.co/nL8Etj8ooK

— Prof Michael E. Mann (@MichaelEMann) September 23, 2023
Warm September temperatures have Earth nearing a key climate threshold – The Washington Post
Why September's record-warm temperatures have scientists so worried
By Scott Dance
September 23, 2023 at 6:00 a.m. EDT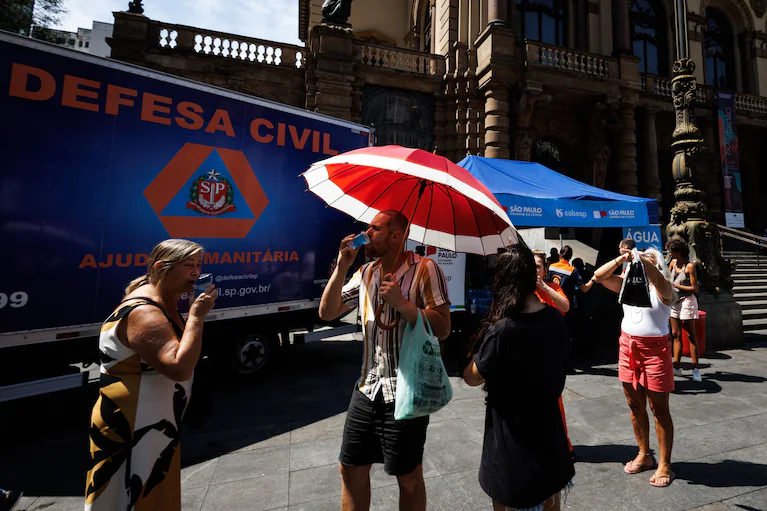 City council employees distribute bottles of water to combat a heat wave in São Paulo on Sept. 20. (EPA-EFE/Shutterstock)
After months of record planetary warmth, temperatures have become even more abnormal in recent weeks — briefly averaging close to 2 degrees Celsius above preindustrial levels, a global warming threshold leaders are seeking to avoid.
"I thought we had seen exceptional temperatures back in July," said Zeke Hausfather, climate research lead for the payment company Stripe. "What we've seen this week is well above that."
The trend adds to near-certainty that 2023 will be Earth's warmest on record, and heightens threats of the extreme conditions the heat could fuel around the world.
The warmth is likely to be the fingerprints of a deepening El Niño climate pattern and a sign that temperatures will continue to accelerate beyond old norms in the year ahead, scientists said. El Niño, which began to appear this spring, is known for raising global temperatures by releasing vast stores of Pacific Ocean heat into the atmosphere.
"The El Niño won't peak until later this year and there is plenty more heat waiting in the wings," Michael McPhaden, a senior scientist at the National Oceanic and Atmospheric Administration, said in an email. "So expect more records to be set in the coming months."
Scientists' assessments are based on near real-time climate analyses that use weather observations to estimate global averages, much like a weather prediction model — only one that looks backward in time, rather than forward. Trust in such analyses has grown as they line up with the routine global climate assessments that NASA and NOAA perform weeks and months after the fact.
One such analysis produced by the Japanese Meteorological Agency shows that, this month, global temperatures have persistently diverged from 1991-2020 averages by 1 degree Celsius (1.8 degrees Fahrenheit).
Hausfather said that the 1991-2020 average is, itself, about 0.9 degrees warmer than levels observed before the Industrial Revolution and the widespread burning of fossil fuels. That means temperatures are inching closer, at least briefly, to warming thresholds that global leaders have pledged to avoid.
The past few days in September have been extraordinarily warm globally, with the warmest anomalies that we've seen all year in the JRA-55 reanalysis product (more than 1C over the 1991-2020 baseline): pic.twitter.com/TkHNhE3NDh

— Zeke Hausfather (@hausfath) September 20, 2023
Scientists have warned that if long-term global average temperatures rise 2 degrees Celsius (3.6 degrees Fahrenheit) above preindustrial levels, it could unleash irreversible consequences for all life on Earth. It would take years of such sustained warming to trigger the most dire and widespread consequences, though in the planet's hottest spots that have already experienced those levels of warming, the effects have been catastrophic.
Already, the planet is on the brink of the most ambitious climate target, to limit warming to 1.5 degrees Celsius (2.7 degrees Fahrenheit) above preindustrial averages. Scientists have said it is not out of reach, however, and said the latest spike of heat underscores the importance of climate action.
"Decades of burning fossil fuels and deforestation have pumped heat-trapping gases in the atmosphere, and the vast majority of that heat is absorbed by the oceans. We're now seeing the wrath of that heat as it's unleashed back to the atmosphere," Jennifer Francis, a senior scientist at the Woodwell Climate Research Center, wrote in an email. "We must act swiftly and boldly to reduce emissions of these gases to prevent as much warming as possible and the impacts of that heat."
The temperature anomalies are remarkable for being even more aberrant than the extreme heat observed around the world in July and August. "By a large margin" of 0.71 degrees, this summer was the planet's warmest three-month stretch in record books going back nearly two centuries, European climate scientists said earlier this month.
Hausfather called it "a foregone conclusion" that September marks a third consecutive month of record-setting average global temperatures.
If temperatures remain as abnormally warm as they are now, the planetary average could for the first time on an annual basis surpass 1.5 degrees Celsius of warming above preindustrial temperatures, Hausfather calculated, though he called that "very unlikely."
The temperature anomalies have grown even as, in absolute terms, the planet is cooling ahead of the Sept. 23 equinox, which marks the start of fall in the Northern Hemisphere. Conditions in the Northern Hemisphere have a larger effect on planetary averages because it contains more land than the Southern Hemisphere, and land warms and cools more quickly than oceans do.
El Niño is nonetheless likely a major driver behind the warm trend because it creates Pacific trade wind patterns that encourage more heat to be released from the ocean and trapped by greenhouse gases in the atmosphere. With that El Niño pattern only expected to strengthen, reaching a peak during the Northern Hemisphere winter, that warmth may become even more anomalous over the coming year, said Michael Mann, a climate scientist and professor at the University of Pennsylvania.
El Niño is known for boosting planetary temperatures by one to two tenths of a degree Celsius. The last strong El Niño pushed 2016 to the current record for average global warmth, and also triggered a rise in extreme heat and storms.
Other factors may be contributing to the warming, Hausfather said: Reduced emissions from shipping liners, allowing more sunlight to reach the oceans; the 2022 eruption of the South Pacific underwater volcano Hunga Tonga, which sent vast amounts of water vapor into the atmosphere; and an ongoing upswing in solar activity, slightly increasing the sun's warming effect on Earth.
But Claudia Tebaldi, an earth scientist at the Pacific Northwest National Laboratory, said the latest surge in temperature anomalies could be a sign that human influences and natural fluctuations are acting in concert to raise global temperatures.
During a stretch of the early 2000s when rates of global warming appeared to slow, Tebaldi said, natural fluctuations had a cooling effect that acted to dampen human-caused warming. That appears to have changed.
"It is not surprising that the pendulum is now oscillating in the other direction," she wrote in an email.
Here are some other "ET's" recorded from around the planet the last couple of days, their consequences, and some extreme temperature outlooks, as well as any extreme precipitation reports:
Europe between cold nights,heavy showers and fierce heat.
Today again up to 42C in Asian Turkey, 39.5C in Cyprus, 37C in Greece where Lindos (Rhodes) is recording the latest Tmin >30C in European history.

The heat will kick off again from Spain where >35C are expected next days. https://t.co/cmn2n1t3o0

— Extreme Temperatures Around The World (@extremetemps) September 24, 2023
Exceptional warmth in Northern Canada too with temperatures up to 27.2C/81F at Fort Providence latitude 61N.
24.4C at Churchill on the Hudson Bat shore.
22.7C Ennadai Lake in Nunavut and 22.5C at Hanbury River latitude 64N.

Unprecedented warmth for this time of the year. https://t.co/ZyRpSWAVBY

— Extreme Temperatures Around The World (@extremetemps) September 24, 2023
Another extraordinary record in #Australia:
Marble Bar had a MIN temperature of 28.1C breaking its September record of highest Tmin (POR is 121 years).

24.9C also at Legendre Island , new record of highest Tmin,but short POR https://t.co/VoJd8OKf4e

— Extreme Temperatures Around The World (@extremetemps) September 24, 2023
More record in #Australia to add:
Record will keep falling every day for the rest of the month.
A September like none before, after the warmest winter on records. https://t.co/eR6yz774Vf

— Extreme Temperatures Around The World (@extremetemps) September 24, 2023
Southern Africa is sizzling:
Today in Botswana 40.1C at Mababe >1000m asl, Tubu 42.8C would break the National record but the station seems overheating

In Madagascar yesterday fohn and monthly record at Tulear/Toliara with 39.4C

But a sharp cooling is on the way in South Africa pic.twitter.com/OKrZkKK1eW

— Extreme Temperatures Around The World (@extremetemps) September 24, 2023
More exceptional heat in Middle East and North Africa:

Yesterday in the United Arab Emirates 46.6C Saih al Salem,45.6C Dubai (2nd hottest September day on records,but unprecedented for that late),45.1C Sharjah

In Algeria 46C at Ouellene, never been that hot so late in the year pic.twitter.com/lW8hVwrPD7

— Extreme Temperatures Around The World (@extremetemps) September 24, 2023
🔥 South America #heatwave.

🌡️44.4°C Filadelfia, #Paraguay 🇵🇾, 1.1°C from the Sept. national record.
🌡️43.6°C Mariscal Estigarribia, monthly record.
🌡️43.5°C Las Lomitas, #Argentina 🇦🇷, 0.1°C from its monthly record set… yesterday.

Over 42°C in #Brazil 🇧🇷 but hotter tomorrow. pic.twitter.com/PdA0A544Ik

— Thierry Goose (@ThierryGooseBC) September 25, 2023
The heat is being extreme in Peru too with 40.3C yesterday at Puerto Esperanza
The all time highest temperature in Peru (41.1C Neshuya) can be threatened in the next 2 days

Note:Several Bolivian stations (the hottest ones) have been offline (no synops,no metars) since yesterday https://t.co/2YDLyK7STP

— Extreme Temperatures Around The World (@extremetemps) September 25, 2023
Here is more climate and weather news from Sunday:
(As usual, this will be a fluid post in which more information gets added during the day as it crosses my radar, crediting all who have put it on-line. Items will be archived on this site for posterity. In most instances click on the pictures of each tweet to see each article. The most noteworthy items will be listed first.)
'Climate villain': scientists say Rupert Murdoch wielded his media empire to sow confusion and doubt https://t.co/jfigscPR1m

— Ed Maibach (@MaibachEd) September 24, 2023
Practically no areas of below average temperatures – anomalies over the last month (left), 3 months (center), and 12 months (right) in the Northern Hemisphere…

Data from @CopernicusECMWF ERA5 reanalysis at https://t.co/e7aUaffEik. pic.twitter.com/OqJyHInazB

— Zack Labe (@ZLabe) September 24, 2023
We need more leadership like this! "Everyone was clapping and saying, 'This is what we were expecting from the US leadership the whole time" https://t.co/To4xxFdmfE

— Jonathan Overpeck (@GreatLakesPeck) September 24, 2023
"When we say that we want climate justice, we're not just talking about transitioning to solar panels. We are talking about leaving no one behind when you're talking about addressing the injustices that come with the climate crisis." https://t.co/EcIxHv5BKC

— Climate Reality (@ClimateReality) September 24, 2023
Another (21st) week of intense Canada #wildfires & further increase in smoke emissions (carbon shown but trend applies to all constituents) from BC, AB & NWT continuing since early May. #CopernicusAtmosphere GFAS data based on MODIS🛰️ obs https://t.co/mW6aU0WPm1 https://t.co/PUAnG44YQc pic.twitter.com/fKDJTXyQk5

— Mark Parrington (@m_parrington) September 25, 2023
The insanity of the 2023 fire season will only be stopped by significant snow. https://t.co/d7OVIOZVpO

— Dr. Merritt Turetsky (@queenofpeat) September 23, 2023
Eight nations now backing the @fossiltreaty https://t.co/VrWk8BMdKw

— Bill McKibben (@billmckibben) September 24, 2023
Today's News on Sustainable and Traditional Polluting Energy from Fossil Fuel:
#SundayMorning Reading: ICYMI – "The leaked communications plan makes no mention of a phase-down or phase-out of fossil fuels…" UAE oil company executives working with #COP28 team, leak reveals https://t.co/Zz54mtnR6s

— Silicon Valley North (@CCLSVN) September 24, 2023
Alok Sharma challenges Rishi Sunak: show us how UK can meet green pledges https://t.co/vH1TkXLWMe

— Guardian Environment (@guardianeco) September 24, 2023
5.02 GW of batteries on the grid, up from 0.5 GW in 3 years.

The remarkable rise of California's grid battery capacity https://t.co/Qz7ti22CFF @CanaryMediaInc #WWS #WindWaterSolar

— Mark Z. Jacobson (@mzjacobson) September 24, 2023
What's truly unrealistic is the idea that we can burn fossil fuels into the future without drastic consequences.https://t.co/dNsUmRQVjD

— Dr. Jonathan Foley (@GlobalEcoGuy) September 24, 2023
Indonesia to increase the biofuel blend in diesel to 35%, from the current 30%, with an eye on a 50:50 blend by 2025

This will fuel even more deforestation and destruction of Orangutans and unique wildlife
Bio fuels are not green https://t.co/EZ3it4N1Xm pic.twitter.com/zAzv13Grem

— GO GREEN (@ECOWARRIORSS) September 24, 2023
Germany 🇩🇪 has some of most environmentally friendly trains in the world. They are powered by hydrogen and oxygen. The only waste they produce is water.

We have the solutions. Time to ditch fossil fuels & implement them.#ActOnClimate #climate #energy

pic.twitter.com/V5rFtwfTzX

— Mike Hudema (@MikeHudema) September 24, 2023
It matters how hydrogen is produced, managed, used…if we don't get it right we risk squandering huge resources on projects that could increase climate pollution while worsening air quality. I explore w/ @ManishBapnaNRDC @ArmondCohen1 via @TheMessenger https://t.co/FsZhIi3MCu

— Fred Krupp (@FredKrupp) September 23, 2023
"Transitioning to heat pumps in Maine is creating good-paying jobs, curbing our carbon emissions, cutting costs for families, and making people more comfortable in their homes," @GovJanetMills said in a release https://t.co/I0rsMNP5LL

— grist (@grist) September 23, 2023
The city of Sydney now runs on 100% wind and #solarpower. Who's next? RT if you want your city to get a renewable upgrade.

We have the solutions to the #ClimateEmergency. Let's implement them. #ActOnClimate#Climate #energy #renewables #renewableenergy #GreenNewDeal pic.twitter.com/fDfGpxVAys

— Mike Hudema (@MikeHudema) September 25, 2023
More from the Weather Department:
On top of the heavy rains that already fell in association with Ophelia's remnants, a narrow axis of heavy rain may set up over NE PA into N NJ & SE NY tonight, with CAMs showing possible 4"+ totals in locations already affected by flash flooding earlier this summer. pic.twitter.com/tBdUvi5mmW

— Tomer Burg (@burgwx) September 24, 2023
Fascinating satellite loop of an extratropical cyclone undergoing bombogenesis off the coast of Washington, directing a significant atmospheric river into the Pacific Northwest pic.twitter.com/0lIjxwBS9R

— Colin McCarthy (@US_Stormwatch) September 24, 2023
Winter 2023/2024 Forecast Update: The influence of El Nino grows, aided by the Polar Vortex and a negative wind anomaly in the Stratospherehttps://t.co/TcAWF70Asg

— severe-weather.EU (@severeweatherEU) September 24, 2023
Cold West- Warm Central More early snow ❄️ in the Wasatch and Rockies https://t.co/vRPDqMd0vU pic.twitter.com/4nCWxRvDFn

— James Wilson (@tornadokid3) September 25, 2023
Hail inundated streets in central Oklahoma on Saturday as severe storms swept through the area. #OKwx pic.twitter.com/4Z0zERYdrq

— AccuWeather (@accuweather) September 24, 2023
What. Is . Happening… #okwx pic.twitter.com/pNLyhBhFrk

— Alex Spahn 🌋🌪️☄️ (@spahn711) September 24, 2023
More on the Environment:
Study: Wildfire smoke is reversing years of US air quality progress https://t.co/WkQkbif98j

A new study published in Nature reveals that wildfire smoke in the United States is reversing years of progress on air quality, undoing 25 percent of improvements achieved since 2000. The…

— Svein Tveitdal (@tveitdal) September 25, 2023
They will be gone forever just because people drive their cars with bio fuels from Palm Oil deforestation and eat food products like biscuits with Palm Oil ingredients
Why are we just letting this happen?
Demand proper food labeling – end to Palm Oil
Most people not aware https://t.co/zt4e4bu0ob

— GO GREEN (@ECOWARRIORSS) September 24, 2023
Our current food and farming systems are broken and unsustainable.

Alternative systems are possible, ones that are more collaborative, socially just, ecological, and that prioritizes food sovereignty. Systems that are good for people and the planet.https://t.co/NIkuuPyb0r

— Greenpeace International (@Greenpeace) September 24, 2023
Night thoughts

The guarantors of a water supply in summer are also becoming smaller and fewer. No words for it 💚☘️🌲🌱🌿🌳🍀💚 pic.twitter.com/ey8UAOgSe1

— Green is a mission (@Greenisamissio1) September 24, 2023
More on other science and the beauty of Earth and this universe:
After a journey of nearly 3.9 billion miles, the #OSIRISREx asteroid sample return capsule is back on Earth. Teams perform the initial safety assessment—the first persons to come into contact with this hardware since it was on the other side of the solar system. pic.twitter.com/KVDWiovago

— NASA (@NASA) September 24, 2023
Asteroid mission touches down bearing fragments of the heavens for science labs on Earth – The Globe and Mail https://t.co/eXhMTPlMJS

— Paul Beckwith (@PaulHBeckwith) September 24, 2023
Today's goal is to transfer the capsule from the range to a temporary clean room here at UTTR and put the sample on a nitrogen purge.

Avoiding contamination is the priority and the team is taking every precaution to protect the sample. https://t.co/eLFTQTCFKx pic.twitter.com/S0PbaU8saP

— NASA Solar System (@NASASolarSystem) September 24, 2023
Wow! Incredible auroral display in Ireland right now as a G2 geomagnetic storm rattled Earth's magnetic field (shield).

Auroras may be visible across the northern tier of the U.S. — Maine, northern Vermont, Michigan, North Dakota, Montana, northern Idaho, Washington State. https://t.co/jeRMVAkOcw

— Matthew Cappucci (@MatthewCappucci) September 24, 2023
Gorgeous shot of Mt. Jefferson with a lenticular cloud. Thanks to my friend Meagan Cuthill for sharing this photo (taken Sunday A.M.). #ORwx pic.twitter.com/nEPQ0jI4n7

— Jeff Forgeron (@WeatherJefe) September 24, 2023
If you like these posts and my work on record temperature ratios, please contribute via my PayPal widget on this site. Thanks in advance for any support.
Guy Walton… "The Climate Guy"