The main purpose of this ongoing blog will be to track planetary extreme, or record temperatures related to climate change. Any reports I see of ETs will be listed below the main topic of the day. I'll refer to record temperatures as ETs (not extraterrestrials).😉
Main Topic: A Dire Letter from Peter Kalmus
Dear Diary. Pleading, cajoling, begging…this is what most climate scientists and environmentalists have come down to in light of Summer 2023 global warming and September's astoundingly hot statistics, which we delved into on yesterday's diary post. Today for our main topic I'm reposting a letter to the world written by Dr. Peter Kalmus, who has been willing to get arrested for demonstrating against the fossil fuel industry and thinks that civilization as we know it is lost because of our carbon pollution.
Here is Peter's letter to the world. We dare not heed it, but sadly, being a student of history and human nature, I seriously doubt we will, although future consequences of continued warming may force humanity's hand:
Sadly, It's Not 'Just Another Summer.' We Must End the Fossil Fuel Industry | Opinion (newsweek.com)
Sadly, It's Not 'Just Another Summer.' We Must End the Fossil Fuel Industry | Opinion
PETER KALMUS , CLIMATE SCIENTIST
ON 10/4/23 AT 2:34 PM EDT
My fellow human beings, we're in the process of losing basically everything, as the latest data demonstrates. September was more like your average July, The Washington Post wrote on Tuesday. All that we've been experiencing recently—the worsening fires, smoke, heat, floods, and collapsing ecosystems—is just the beginning. This is what experiencing the early stages of Earth's unraveling feels like. The immediate cause is the fossil fuel industry, and the overarching cause is extractive-colonial capitalism.
I write this for everyone, but it's helpful to think in terms of three general groups. The first group: those of you who are already screaming, inside your heads, that saving what's left of our habitable Earth must become our top collective priority. Thank you for your urgency! Once enough people share your urgency, meaningful change will come quickly. For now, I hope to give you some ideas about what you can do to accelerate that shift into climate emergency mode.
I also write this for those of you who "believe science" but think that the people and centers of power—such as the White House, individual world and corporate leaders, the United Nations—will handle it. You likely feel that there is some higher priority issue to address, and this isn't unreasonable given the huge gap between what climate scientists know and what gets transmitted to the public. You may think that some technology like nuclear fusion or carbon capture or electric vehicles or putting some iron in the ocean will "solve" climate change. Or you may not think of climate much at all. I hope to convince you that greater urgency is called for. President Biden appears to be a member of this group. It would be helpful to life on Earth if he would declare a climate emergency and take urgent executive action.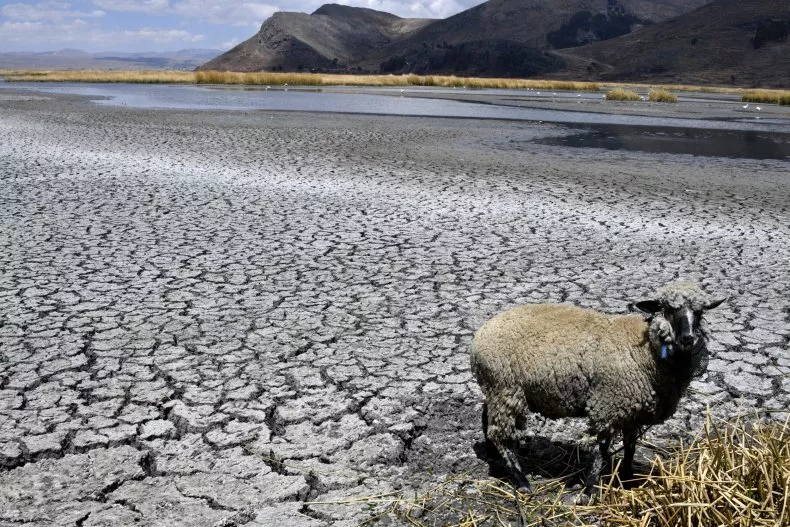 A sheep stands on cracked earth in the Bahia Cohana area of Lake Titicaca, shared by Bolivia and Peru, in the Bolivian Altiplano on Sept. 22. AIZAR RALDES/AFP VIA GETTY IMAGES
Why do I claim that we're "in the process of losing basically everything?" Isn't that an exaggeration?
I don't think it's likely that humanity will go extinct, which is why I've used the modifier "basically." But I do think we are on a sociopolitical pathway—fossil fuel expansion—that will eventually end civilization as we know it, cause billions of human deaths, and further worsen widespread ecological collapse and mass extinction—damage that will take millions of years for Earth to recover from. We must get off this path, but instead, we continue to procrastinate.
READ MORE
The more fossil fuel we burn, the hotter the planet will get. This is basic, rock solid, incontrovertible, unassailable physics. It's a dead certainty. And the people currently in charge are still doing everything they can to expand fossil fuels. Just this year, for example, Biden approved the Willow Project in Alaska and forced a construction restart on Joe Manchin's pet Mountain Valley Pipeline in Appalachia. These two "carbon bomb" projects, and many, many others occurring all around the world, ensure a hotter, less habitable, and far more dangerous planet.
There is now no conceivable way we can stay under 1.5°C of mean global heating. We probably still had that chance a few years ago, but it has been squandered out of political cowardice, media distraction, apathy, a steady diet of false hope and false solutions, and above all a continued stream of disinformation and legalized bribes from the fossil fuel industry. We're currently at about 1.3°C and rising at two tenths a degree per decade. As a scientist studying extreme heat, I dread the first time we get a heat wave that kills more than a million people over the course of a few days, something I now feel is inevitable. But—if we continue to burn fossil fuels—it won't stop there. We will NOT reach a "new normal" (this phrase has done so much to undermine climate urgency) where heat waves kill "only" a million people. If we continue to burn more fossil fuels, it will get hotter, until at some point heat waves kill 2 million people, and then 3 million, and then 10 million. And that's just extreme heat. Wildfires, floods, migration, food system collapse—it's all driven by increasing global heat, so it will all get worse as well. All at the same time.
I don't know how to be any clearer: This is why we must get off this path as soon as we can. And because the fossil fuel industry is the cause of the global heating that's driving all this, the only real way to make a change is to ramp down and then end the fossil fuel industry. We will not solve things by direct air capture, nuclear fusion, or any other whiz-bang technology. We must accept that these are distractions. We must directly confront this system of deeply inequitable and deadly fossil-fueled capitalism, which has become a planet-sized runaway diesel engine.
I hope some of you in that second group will accept these realities and feel greater urgency. But what about those of you who were already feeling white-hot levels of urgency? What can you actually do? First, support climate activists, and become one yourself. This requires two things: meeting and getting to know the climate activists in your region, and taking risks. Second, powerfully and publicly express the emotions you're feeling, whatever they may be. Keep in mind that the objective is to shift the social norms that are currently holding people back from accepting we are all in urgent danger. This will feel risky. We are social animals, and when we challenge social norms we experience a feeling of "risk."
Finally, accept that we are in a war. It's a real war, not a figurative one, although it's not like any other war in human history. People are dying, all over the world, because of decisions made by fossil fuel executives in tall buildings. And I can confidently state that many more people will die from climate impacts in the coming years.
Fossil fuel executives knew their decisions would lead to loss of habitability and death, but they made them anyway, and then colluded to block mitigating action and increase their profits. These "scorched earth" tactics are now leading to the collapse of ocean currents, the death of coral reefs and tropical forests, including the Amazon. If allowed to continue, they will lead to uninhabitable tropics, mass migration, and more frequent and severe catastrophes all over the world. Meanwhile, governments are bringing harsher charges against climate activists. In some places, they are even being murdered. Against this backdrop, climate civil disobedience is perhaps the least we can do.
Once enough of us start to fight, we will win. The only question is how long it will take to get to that point, and how much we will irreversibly lose before we do.
Dr. Peter Kalmus is a climate scientist at NASA studying future extreme heat impacts on human health and ecosystems, speaking on his own behalf. He is also a climate activist and the author of Being the Change: Live Well and Spark a Climate Revolution.
The views expressed in this article are the writer's own.
Here are some other "ET's" recorded from around the planet the last couple of days, their consequences, and some extreme temperature outlooks, as well as any extreme precipitation reports:
Another very hot day in Europe,after the 37.7 yesterday in Cordoba,today 37.8 new record in SEVILLE

Insane record heat in GALICIA
36.4 Ribadavia
33.3 A Coruna
32.6 Lugo
32.2 Sant. Compostela 30.7 AP

Records in FRANCE
32.3 Castelnaudary
31.6 Carcassone
29.4 Millau
26.5 Cambon pic.twitter.com/7UJYRHRW0o

— Extreme Temperatures Around The World (@extremetemps) October 7, 2023
Incredible in #Peru,indescriptible,yesterday 41.0C at Inapari ,the October national record was broken again
Warm even >3500m asl up to 25C

In Bolivia another record day too
40 Cobija all time high again
39.8 Santa Ana and 39.4 Riberalta monthly R

No day passes without records https://t.co/EFEGdm8LKj

— Extreme Temperatures Around The World (@extremetemps) October 7, 2023
#Australia is a fabric of heat waves, one after another:
Today extreme heat in Western Australia with 35.9c at Perth Airport and monthly records:
31.5C Shannon
33.6C Collie

In #Indonesia >37C in Java (38.4C Jatiwangi),Sulawesi (37.8C Makassar) and Borneo (37.0C Banjarmasin) . pic.twitter.com/60B8mHz8Ep

— Extreme Temperatures Around The World (@extremetemps) October 7, 2023
Middle East Heat Wave:
More record heat yesterday in Oman with temperatures up to 45.0C at Barka and 44.7C at Sur.

Records of highest minimum temperatures were also broken in Qatar with 33C (tie Qatar October highest minimum) and in Bahrain (Tmin 32.4C new record for October). https://t.co/q3CEdC7PGx

— Extreme Temperatures Around The World (@extremetemps) October 7, 2023
Saturday 12:23 pm: Just Because Department: Tropical air reaches into northern Labrador, 72F in Nain, warmest October day on record (previous record was 67F). Average high this time of year is ~45F. pic.twitter.com/NHtjMQUs2d

— Richard Heatwave Berler (@HeatwaveKGNS) October 7, 2023
This morning's low temperature in Phoenix was 82 degrees which is a new record warm low for Oct 7th and also ties for 2nd warmest low temperature ever recorded in October. #azwx pic.twitter.com/pSYpe7WTIz

— NWS Phoenix (@NWSPhoenix) October 7, 2023
Here is some more new September 2023 climatology:
As most people know by now, September 2023 was the warmest September on record globally – by a wide margin. This map shows the rank from 1 (warmest) to 84 (coolest). This is a stunning map. pic.twitter.com/ODpiOAzpV8

— Brian Brettschneider (@Climatologist49) October 7, 2023
Last monthly easily set the new record for the hottest global sea surface temperatures during the month of September…

Data available from @NOAA ERSSTv5 (https://t.co/V8F2MhaASY). Methods detailed in https://t.co/59vZAgOX5j. pic.twitter.com/YxJNmcgWIC

— Zack Labe (@ZLabe) October 7, 2023
September 2023 wasn't just the warmest September on record, it was the moistest too…

You have probably heard about September 2023 being the warmest September on record by a country mile, but what about atmospheric moisture? 💧

A warmer world is a moister world and that's… pic.twitter.com/B6iBYqh860

— Ben Noll (@BenNollWeather) October 7, 2023
And before you say, "the exceptional warmth was primarily over the ocean," here's a chart of land-only temps for the month of September. https://t.co/bseMQG1nGM pic.twitter.com/EmJHNOam38

— Brian Brettschneider (@Climatologist49) October 7, 2023
September 2023 in #Hungary was also extremely warm.
Average temperature was 19.6C which is +3.6C vs 1991-2020 and was the warmest September on records.
Average precipitation was 36.5mm, which is 38% below normal.
Details 👎 https://t.co/5OaWRpYpKy

— Extreme Temperatures Around The World (@extremetemps) October 7, 2023
September 2023 in #Slovakia was also record warm with an anomaly of 3.5C above the 1991-2020 normal. Precipitation was in most of the territory normal. Details below: https://t.co/ym74cGdyQd

— Extreme Temperatures Around The World (@extremetemps) October 7, 2023
September 2023 in #Bulgaria was hot and had temperature anomalies between +1C and +3C above average.
It was generally drier than average except for the SW (right map).
Maps by Meteo Bulgaria pic.twitter.com/s3Lzw37U3S

— Extreme Temperatures Around The World (@extremetemps) October 7, 2023
September 2023 in #Moldova was exceptionally hot and had temperature anomalies between +3.5C and +4.5C and was the hottest September on records.
It was very dry as well except in the North (right map).
Maps by Meteo Moldova. pic.twitter.com/lkIqkBNRTE

— Extreme Temperatures Around The World (@extremetemps) October 7, 2023
September 2023 in #Romania was exceptionally warm:
Temperature anomaly was between +3C and +4.5C above average.
It was mostly very dry (right map).
Maps by Meteo Romania. pic.twitter.com/4eui0a3DNz

— Extreme Temperatures Around The World (@extremetemps) October 7, 2023
Another record day in North America with the heat building in the West:100s California,90s Oregon:

CANADA
25.8c Goose Bay Highest October temp. in Labrador history
22.6c Churchill Falls
22.2c Makkovik

USA
84F Quillayute WA

MEXICO (yesterday)
41.0C Soto la Marina
39.0C Matlapa pic.twitter.com/vngjDzIz2w

— Extreme Temperatures Around The World (@extremetemps) October 6, 2023
Here is More Climate and Weather News from Saturday:
(As usual, this will be a fluid post in which more information gets added during the day as it crosses my radar, crediting all who have put it on-line. Items will be archived on this site for posterity. In most instances click on the pictures of each tweet to see each article. The most noteworthy items will be listed first.)
Holy dread. The current extreme temperatures we are experiencing globally are equivalent to *the mean* temperature in the CMIP6 models in about 12 years 😳

(Note: thus far this model ensemble has run a bit hot, according to @hausfath, who I stole this figure from 😅). pic.twitter.com/USPCVpvd5L

— Ryan Katz-Rosene, PhD (@ryankatzrosene) October 6, 2023
BBC News – World breaches key 1.5C warming mark for record number of days

Although this is a sign of things to come, a few days does not make a long term average. The temp would also spike over any target in the short term.
Don't give up#ClimateChangehttps://t.co/P2AlM3YNGV

— Brian McHugh 🌏🏳️‍🌈 (@BrianMcHugh2011) October 7, 2023
For those new to the climate discussion, this is the reason Earth is warming. It is absorbing more energy than it is emitting. That discrepancy is increasing due to more fossil fuel emissions and less pollution. Pictured here is the Northern Hemisphere. https://t.co/ZzcKEVeII4

— Jeff Berardelli (@WeatherProf) October 7, 2023
Short update Arctic and Antarctic are both in bad shape and no one is talking about! It is a secret 🤐 wonder how long these websites are reachable and when we will be silenced 🔇 methane oxidation or how to use airplanes to increase the Albedo of clouds ☁️ still a taboo. pic.twitter.com/6pcxy0VzhM

— Thomas Reis (@peakaustria) October 7, 2023
Your 'moment of doom' for Oct. 7, 2023 ~ A refresher course on our collective f&%kery:

"climate change has not really taken a deep bite out of humanity yet … the truly catastrophic stuff is coming. It is inevitable. At this point it is unstoppable."https://t.co/NmI6GoIvfb

— Prof. Eliot Jacobson (@EliotJacobson) October 7, 2023
1/9 🧵My interview with @bbcnickrobinson at the BBC.

"If warming reaches or exceeds 2°C this century, mainly richer humans will be responsible for killing roughly 1 billion mainly poorer humans." https://t.co/5Eb2JhvfCbhttps://t.co/kESHBzjbTB

— Roger Hallam (@RogerHallamCS21) October 7, 2023
Fossil fuels are causing #globalwarming 100 times faster than past natural changes. We are taking Earth's climate far beyond natural limits, with carbon dioxide & temperatures levels not seen for 3 million years.

No time to waste. #ActOnClimate#climate #energy #EndFossilFuels pic.twitter.com/VtmRbmS3xu

— Mike Hudema (@MikeHudema) October 7, 2023
"Extreme inequality and wealth concentration undermine humanity's ability to stop climate breakdown."#ClimateCrisis #TaxTheRich #BanPrivateJetshttps://t.co/WBw7ECCGbt https://t.co/gMhykDSBSK

— Greenpeace International (@Greenpeace) October 7, 2023
#EndFossilFuels #ClimateEmergency #ActOnClimate pic.twitter.com/PXc0yCCdMo

— 100 Climate Messages (@climatemessages) October 6, 2023
Today's News on Sustainable, Traditional Polluting Energy from Fossil Fuel, and the Green Revolution:
"Fossil Fuels: The Battle Over "Peak Oil" — IEA Vs OPEC" by Steve Hanley for @CleanTechnica: https://t.co/DQd4fzrDYT

— Prof Michael E. Mann (@MichaelEMann) October 7, 2023
When I asked govt why allow new homes to be built without solar panels, they say to be technology neutral. But our investigation into Tory donors+ how builders have saved billions, while adding costs to rest of us, casts new light. Read it here: https://t.co/j3cO5skoBY

— Fiona Harvey (@fionaharvey) October 7, 2023
Your regular reminder that solar farms take up less of the UK than golf courseshttps://t.co/hyoP2pvG9G pic.twitter.com/MJnvNB4KNx

— Simon Evans (@DrSimEvans) October 7, 2023
Tesla's new $365 million lithium hydroxide processing plant in Texas will open earlier than originally planned, ramping up production beginning in H2 2024. The facility will employ 165 & produce enough battery-grade lithium to build ~1 million EVs/year.https://t.co/3xpriiGQxL

— Jesse D. Jenkins (@JesseJenkins) October 7, 2023
Too true the best carbon capture machine in the world that cost over 15 million to build only captures the missions equal to the emissions from about 870 cars. Essentially a gimmick designed to give false hope and allow Big Oil to continue for decades more even as Earth burns https://t.co/xMGC5MaSWk pic.twitter.com/lf5hN7ZnAg

— GO GREEN (@ECOWARRIORSS) October 7, 2023
Strong majorities of Americans are comfortable with views of solar and wind farms. But not so positive about living near nuclear power plants. pic.twitter.com/MZIetof0Ki

— Jonathan Overpeck (@GreatLakesPeck) October 7, 2023
More from the Weather Department:
Here's a final look at the multi-model ensemble trends for long-lived tropical storm Philippe — continuous remarkably large forecast track errors right up until the very end: pic.twitter.com/bbocnGg29y

— Tomer Burg (@burgwx) October 6, 2023
More on the Environment:
One key is also that newly replanted forests take decades to reach capture maturity. So planting tree stands does very little in the shorter and are often greenwashing offsets. https://t.co/UZpfI49Bs9

— Jeff Berardelli (@WeatherProf) October 7, 2023
More on Other Science and the Beauty of Earth and this Universe:
What type of intermittent fasting to choose? Take short test to find out. 👇

— BetterMe: Health Coaching (@betterme) September 28, 2023
Watch out for the ewe turn! 🐑 The City of Othello released this rare drone footage of a sheep crossing in Washington. pic.twitter.com/8l0dnhPrVC

— AccuWeather (@accuweather) October 7, 2023
If you like these posts and my work on record temperature ratios, please contribute via my PayPal widget on this site. Thanks in advance for any support.
Guy Walton… "The Climate Guy"