The main purpose of this ongoing blog will be to track planetary extreme, or record temperatures related to climate change. Any reports I see of ETs will be listed below the main topic of the day. I'll refer to extreme or record temperatures as ETs (not extraterrestrials). 😉
Main Topic: Climate Change and El Niño Are Grilling the Amazon and South America
Dear Diary. One other item that I keep harping on ever since starting this site in 2017 is the danger of the Amazon being destroyed. The "lungs of the Earth" are one tipping point factor that must not succumb to deforestation cancer from climate change and agriculture. This year the signs of that cancer metastasizing are everywhere since a record strong El Niño event is helping to push the Amazon and most of South America into drought enhanced by record heat. In my opinion, this is the most important region on Earth which must be preserved.
Wow – nearly 2 °C above 1850-1900 reference levels. No wonder the drought in the Amazon is at record highs, and other regions are getting record rainfall dumped, creating record floods. We are entering the age of weekly climate records. https://t.co/dpmlAd6Bmh

— Peter Dynes (@PGDynes) November 9, 2023
Currently we have a heat dome centered over the northern two thirds of South America that is highly anomalous and quite eye popping: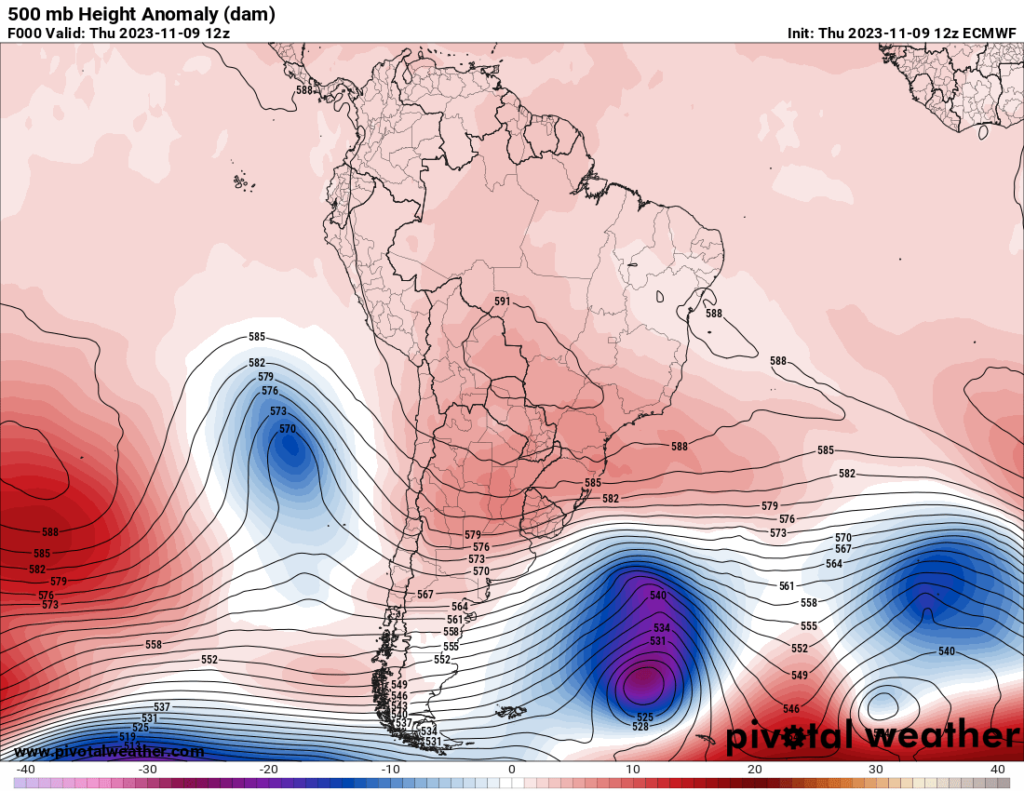 It's not changing significantly any time soon, although Argentina will see some cold frontal relief from time to time: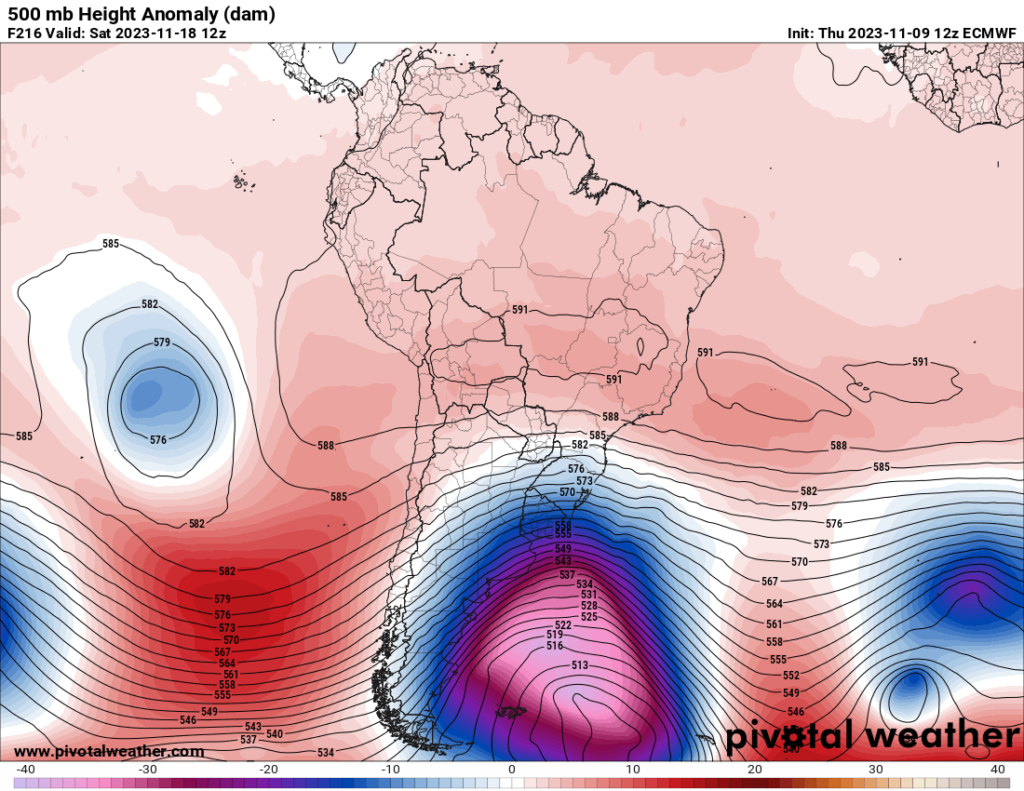 El Niño, which is building off the South American coast, is aiding to prop up this heat dome via thermodynamic feedback mechanisms between land and ocean: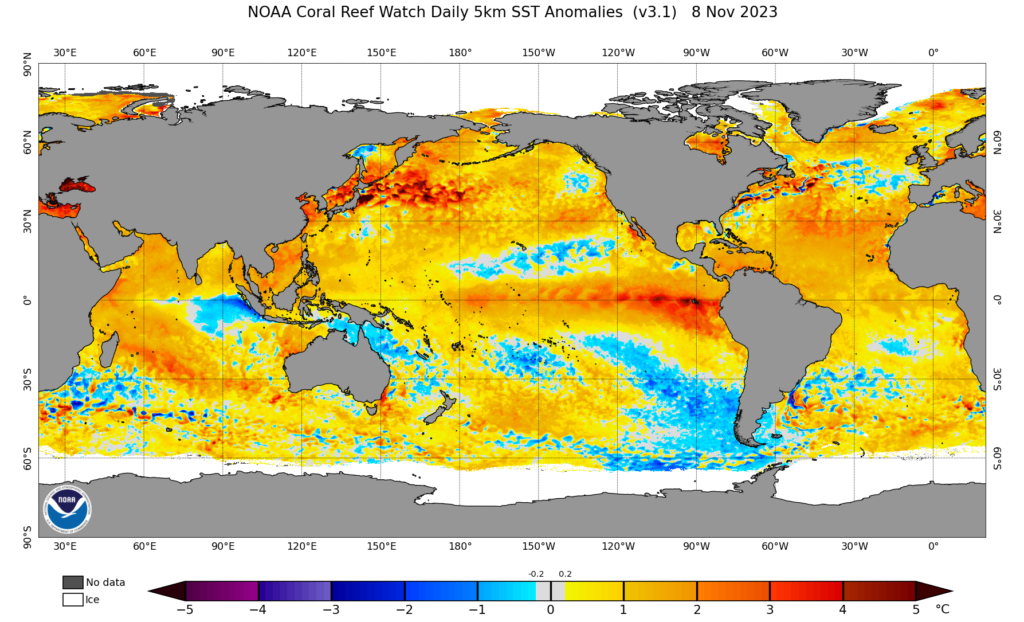 We are seeing a South American heatwave that has lasted for many months affecting climatology among several nations there. Here are a couple of examples:
October 2023 in #Bolivia was exceptional
Temperature anomalies were between +2.5C and +4C above average and was the warmest on record.
Records were broken in almost all stations with world record temperatures up to 39C at above 2500m asl

See Tmax/Tmin anomalies graphs by Senmahi pic.twitter.com/KipIIpODm4

— Extreme Temperatures Around The World (@extremetemps) November 8, 2023
October 2023 in #Brazil was exceptionally hot and dry in most of the country except for Rio Grande do Sul State which was cooler and wetter than normal. (left/right maps).
This is typical of a El Niño pattern.
Maps are credit of Inmet. pic.twitter.com/EzsCxCvcdK

— Extreme Temperatures Around The World (@extremetemps) November 9, 2023
Here are more heatwave notes from Maximiliano Herrera:
SOUTH AMERICA Heat wave:
Records in Argentina,Paraguay,Bolivia and Peru (see list below),monthly and also all time like:
46.0C Las Lomitas, ARGENTINA, 44.1C San Jose, BOLIVIA and 43.5C Concepcion,PARAGUAY
Next days can be the hottest in South American history https://t.co/XVM8MExJYP pic.twitter.com/RhQLlWnEIv

— Extreme Temperatures Around The World (@extremetemps) November 9, 2023
RECORD SOUTH AMERICA tied the Highest TMIN in November: 31.6C MIN. at Prats Gill,Paraguay 🇵🇾

Max. Temperatures up to 45C in Argentina 🇦🇷, several monthly (and all time in Bolivia 🇧🇴) records were broken including 43.7C Cordoba Argentina.👎 pic.twitter.com/1CFaSNcLfP

— Extreme Temperatures Around The World (@extremetemps) November 8, 2023
Brutal heat waves incoming in the Southern Hemisphere

South America,South Africa and Australia will have extreme heat waves all at the same time.
South America specially will have among the hottest days in its history,specially between Paraguay and Bolivia
Don't miss the updates pic.twitter.com/iKZXiWYfxt

— Extreme Temperatures Around The World (@extremetemps) November 7, 2023
It's no wonder that the end result of all of this heat has been drought within the Amazon area. Here are a couple of notes that I saw yesterday on that:
The Amazon is in trouble. That's been the case for years. But this winter -now spring- the region is in it's worst drought on record due to El Nino, a warm Atlantic & climate change. Oct temps +5-12F! Locally deforestation, much from the beef industry, enhances heat + aridity 1/ pic.twitter.com/nay1VrUH0l

— Jeff Berardelli (@WeatherProf) November 8, 2023
The warming and drying trends in the Amazon are deeply troubling. https://t.co/coVDxgT63R

— Dr. Robert Rohde (@RARohde) November 8, 2023
This year's El Niño related Amazon drought has been worsened by deforestation. This could become Earth's first climate tipping point, well ahead of ice-sheet loss, activated by large scale forest die-back.https://t.co/rksaGRI9NV

— Prof Nick Cowern (@NickCowern) November 7, 2023
Here is that Guardian post mentions from the last tweet:
'Everything is parched': Amazon struggles with drought amid deforestation | Brazil | The Guardian

'Everything is parched': Amazon struggles with drought amid deforestation
By now, the rivers should be full. But large-scale cattle farming, the climate crisis and weather events like El Niño mean Brazil is near the point of no return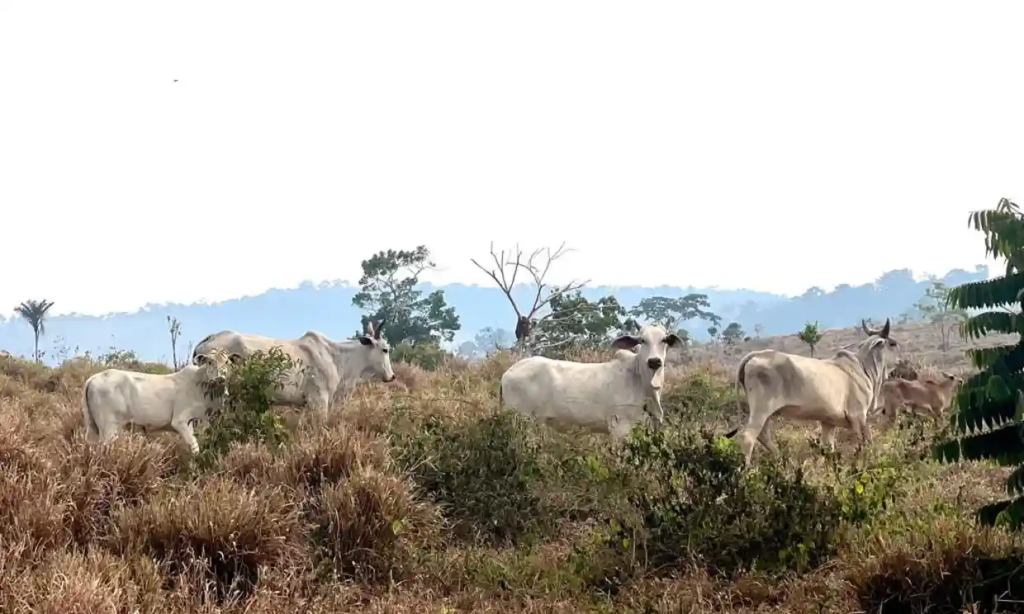 Brazil's beef industry has a bigger carbon footprint than the whole of Japan. Photograph: Jonathan Watts/The Guardian
Jonathan Watts in Altamira @jonathanwatts Mon 6 Nov 2023 06.35 EST
Cows, dust and smoke. That was what greeted me on my return home to Altamira, after several weeks on the road. An unusually fierce dry season has taken a horrific toll on the Amazonian landscape, swathes of which are already denuded by cattle ranches. Together, they threaten the integrity of the world's biggest tropical forest.
I will get to the science behind that horrifying statement shortly. But first, let me describe what is happening on the ground, in and around my home in Altamira, in Pará state, northern Brazil.
Everything is parched. The vegetation crunches underfoot. Compared with the rainy season, the forest has visibly shrunk back several metres from the roadside. The more resilient trees are holding on, but at the fringes, the weaker palms have started to shrivel up and turn brown.
Several areas in my neighbourhood are charred black from recent burning. Criminal land-grabbers are taking advantage of the tinder-dry conditions. Each morning when I wake, the air tastes of smoke. A pall blurs the horizon. Solar panels are unable to function as normal because the sunlight cannot pierce the haze.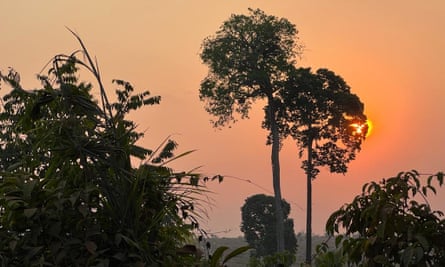 And then there are the cows, poor creatures, that amble through sickly brown pastures looking for the last few leaves or patches of grass that haven't been coated with dust. Innocent victims though they are, their presence has contributed to this bleak scene.
October, November and December are usually a period of transition. By now, the dry season would normally have peaked, and rivers and aquifers would start to replenish. But the rains refuse to come. And with every day that passes, the sense of foreboding grows stronger.
The Xingu River, where we take our dogs each morning, is 4 metres below its peak and the small tributary, where I usually canoe, has shrunk to an ankle-deep stream. In the house, the kitchen and bathroom taps run dry for a few hours every two or three days. Wasps that usually buzz around the fruit bowl now congregate near the pipes, seeking drops of water ahead of nectar. Toads seek refuge in our dogs' water bowls.
To a lesser degree, all of these things happen every dry season, but this is no normal year, as I confirmed with a couple of Brazil's top scientists. Marcelo Seluchi, the head of modelling and operations at the Natural Disaster Monitoring and Alert Centre, told me this is already one of the worst droughts in the history of the Amazon, an area the size of Europe.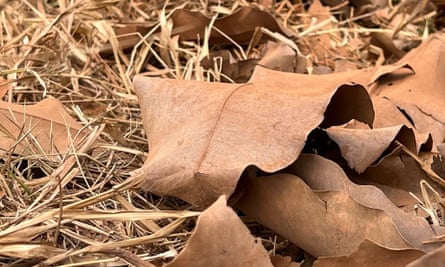 Many rivers in the region, including the mighty Rio Negro, he said, have fallen to levels not seen since measurements began more than a century ago. I saw that shocking sight myself a couple of weeks ago.
Temperatures in many areas have hit record highs and the drought is far from over. Seluchi said the latest forecasts suggest rains will not return to most parts of the Amazon until the end of this month.
At a recent crisis meeting organised by the National Water and Sanitation Agency and president Luis Inácio Lula da Silva's chief of staff, experts warned of threats to hydroelectric dams and river transport of essential commodities, such as food, fuel and medicine. Meteorologists explained that this year's Amazon drought is anomalously severe due to the El Niño effect, Atlantic Ocean heating and the climate crisis.
This explanation is accurate but narrow, missing many of the main causes of this problem and the most workable solutions. The most important of those, proved by recent studies, is that a healthy forest does not only generate its own rainfall, but also acts as a powerful regional cooler. If you clear the vegetation, as many farmers continue to do – albeit at a much slower rate than they did under the rule of the rightwing former president Jair Bolsonaro – then the region will become hotter and drier due to local effects and global climate disruption.
This is where my bovine neighbours come into the picture. The beef industry is the biggest driver of Amazon deforestation. Nothing else comes close. Land-grabbers use cows as occupying armies to strengthen their claims on stolen and cleared forest. This has become one of the world's most heinous climate crimes. A mind-boggling new report by the Climate Observatory notes that Brazil's beef industry now has a bigger carbon footprint than Japan. Dwell on that for a moment. This country has 220 million cows, 43% of which are in the Amazon. Their global heating emissions – from their burps and farts, but mostly through their owners' connections to forest clearance and fires – are now greater than all the cars, factories, air conditioners, electric gadgets and other forms of carbon consumption of 125 million Japanese people living in one of the most industrialised economies on Earth. When slaughtered, the cattle make billions of dollars for global food conglomerates. Through cows, these companies intensify the climate crisis and, thus, probably help to make El Niños more likely.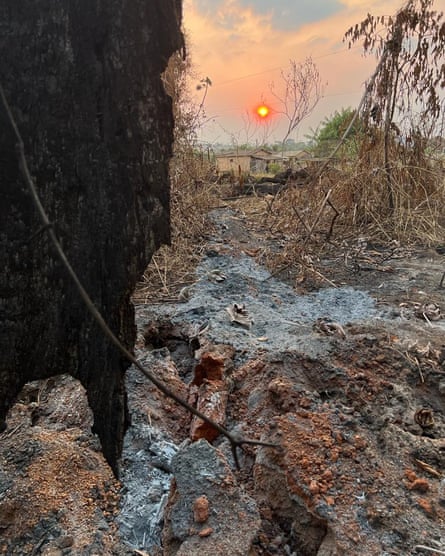 Carlos Nobre, one of Brazil's most influential climatologists, confirmed to me that cattle farm deforestation is contributing – along with the primary causes of El Niño and Atlantic warming – to this year's devastating dry season. The danger, he warned, is that such extreme climate events will, within two decades, push the Amazon to a critical point, after which the region will desiccate and be unable to maintain itself as a tropical rainforest. In the southern part of the south-eastern Amazon, he said, the forest is very close to that point of no return. The dry season there is four to five weeks longer than it was in 1979, tree mortality is rising and the forest emits more carbon than it absorbs.
On a more hopeful note, he says that deforestation slowed rapidly in most Amazonian countries this year. That alone will not be enough to prevent reaching that critical moment. Regional governments will also need help from wealthy nations – which are historically largely responsible for the climate crisis – to reduce fires and forest degradation, and to embark on large-scale reforestation programmes. At Cop28 in Dubai later this month, Nobre will help to launch one such project, named Arc of Restoration.
It feels long overdue. The Amazon cannot endure unless cows are replaced by trees, dust by plants, and smoke by rain.
Explore more on these topics:
Here are more "ET's" recorded from around the planet the last couple of days, their consequences, and some extreme temperature outlooks, as well as any extreme precipitation reports:
Insane heat in Libya with 37.1C at Ghat at 700m asl. Another record for November.
This heat in November is totally unprecedented and shows no signs to abate next days.
Nights can still hover 30C on the Red Sea like in summer. https://t.co/5hE0AWVkmE

— Extreme Temperatures Around The World (@extremetemps) November 8, 2023
HISTORIC November Heat Wave

107F in Mexico (incredible record 90F/32C at 2000m asl in Guanajuato)

97F Texas,87F Missouri,85 Indiana,84 Illinois
Dozens records fell/tied in several States today
Here a list of main records https://t.co/5wHQfySoks pic.twitter.com/sijUJsAgGv

— Extreme Temperatures Around The World (@extremetemps) November 9, 2023
Historic heat in USA,Mexico & Caribbeans
35.0 Canefield DOMINICA NOVEMBER NATIONAL RECORD

MEXICO records allover the country even at high elevations:
32.0 Morelia,Aguascalientes and Guanajuato (2000m)
29C Pachuca (2450m asl).

In Texas Abilene reached 93F/33.9C pic.twitter.com/RL8KixvNkb

— Extreme Temperatures Around The World (@extremetemps) November 9, 2023
Here is some more new October 2023 climatology:
The #OnePlanetPolarSummit is now taking place.
October shattered the monthly temperature record. It was 6th straight month that Antarctic sea ice extent was record low for the time of year.
Arctic sea ice extent was 7th lowest, per @CopernicusECMWF.https://t.co/WLA0jtcgfF pic.twitter.com/JUWRg954qz

— World Meteorological Organization (@WMO) November 9, 2023
October 2023 was Europe's fourth-warmest October on record. The month was 1.30°C warmer than the 1991-2020 average. Italy and many parts of the northern Balkans saw their warmest October since records began. pic.twitter.com/d1uOVjCk0n

— Nahel Belgherze (@WxNB_) November 9, 2023
October #SeaIce highlights from the #CopernicusClimate Change Service (#C3S):

❄️ #Antarctic sea ice extent remained at record low levels – 11% below average;
❄️ #Arctic sea ice extent reached its 7th lowest value for October, at 12% below average.

▶️https://t.co/wIeD2mBpo4 pic.twitter.com/GLRNHUQdio

— Copernicus ECMWF (@CopernicusECMWF) November 8, 2023
October 2023 in Cuba had an average temperature of 27.1C,+1C above normal
15 records of October highest temperatures were set ,including that of the long serie city of Pinar del Rio which has broken the monthly records of EVERY MONTH so far in 2023 (10 out of 10)
Data by Insmet👎 pic.twitter.com/ceyOcHQNAw

— Extreme Temperatures Around The World (@extremetemps) November 9, 2023
October 2023 in Czech Republic had an average temperature of 11.1C which is 2.9C above the 1991-2020 normal and was the 3rd warmest October on records.
Average rainfall was 51mm near the average. https://t.co/LjIU1vCNIN

— Extreme Temperatures Around The World (@extremetemps) November 9, 2023
October 2023 in #Thailand had an average temperature of 27.9C which is 0.8C above normal.
Average rainfall was 215.4mm which is 19% above normal: wetter in Northern areas but drier than average in Central/Southern areas.
See temperatures and rainfall anomalies maps by TMD pic.twitter.com/3K1gWi6OSz

— Extreme Temperatures Around The World (@extremetemps) November 9, 2023
October 2023 in the #Philippines was very hot,specially with persistent record hot nights. (left map)
Rainfalls were pretty much close to average. (right map).
Maps are courtesy of Pagasa. pic.twitter.com/wSVfNZyZEN

— Extreme Temperatures Around The World (@extremetemps) November 9, 2023
October 2023 in #Bermuda was very rainy:
Average temperature of 24.4C was is 0.2C below normal.
Total rainfall was 310.6mm which is nearly the double of average.
Sea surface temperature averages 25.8C, +0.9C above normal. pic.twitter.com/byv9pwpxI8

— Extreme Temperatures Around The World (@extremetemps) November 9, 2023
October 2023's atmospheric moisture (we call it precipitable water) was ~10% above the 1980s levels. That is a lot of excess moisture. Warmer air holds more moisture and dumps more rain overall. The relationship is straight forward, ~8% increase per 2 degree F warming. pic.twitter.com/CZVPBiSd9x

— Jeff Berardelli (@WeatherProf) November 9, 2023
Reconstructing October #Arctic sea ice extent since 1850…

Find out more about this data by reading: https://t.co/7q9EnNgpQa. pic.twitter.com/wEhCH4HZVH

— Zack Labe (@ZLabe) November 8, 2023
Here is More Climate and Weather News from Thursday:
(As usual, this will be a fluid post in which more information gets added during the day as it crosses my radar, crediting all who have put it on-line. Items will be archived on this site for posterity. In most instances click on the pictures of each tweet to see each article. The most noteworthy items will be listed first.)
NEW today: The Earth's last 12 months were the hottest in the modern era and probably in the last 125,000 years according to @ClimateCentral analysis. And the planetary warming shows no sign of stopping.

Reporting by @ssdance ⬇️https://t.co/6HCOdbEXQC

— Capital Weather Gang (@capitalweather) November 9, 2023
"Can we still avoid 1.5 degrees C of global warming?" by Bob Henson (@bhensonweather) for Yale Climate Connections (@CC_Yale)https://t.co/qcggBW9Eli

— Prof Michael E. Mann (@MichaelEMann) November 9, 2023
Here are the stats for the year, through Nov. 8th.

This uses the Berkeley Earth 1850-1900 IPCC baseline and NCEP for current temperature data courtesy of U. Maine. pic.twitter.com/jtR7dfVJjX

— Prof. Eliot Jacobson (@EliotJacobson) November 9, 2023
El Niño is expected to last at least until April 2024, influencing weather patterns and contributing to a further spike in temperatures.
Here's the precipitation outlook for next 3 months.
🔗WMO Update https://t.co/l5VJXkRf5K#EarlyWarningsForAll #StateofClimate pic.twitter.com/56qsio43rc

— World Meteorological Organization (@WMO) November 9, 2023
Our latest #ENSO blog is out! As expected, #ElNiño likely to last through winter. Come read what it might mean for the U.S.https://t.co/A3f4JwGGFm pic.twitter.com/RwHplnoRkS

— NOAA Climate.gov (@NOAAClimate) November 9, 2023
Just when I hoped we finally get out of record territory for global temperatures, ECMWF forecasts this… https://t.co/w7VBphZSNn

— Zeke Hausfather (@hausfath) November 9, 2023
More people not having children due to climate breakdown fears, finds research https://t.co/YZg7F7xrVC

— Guardian Environment (@guardianeco) November 9, 2023
Today's Berardelli Bonus: October's heat blew away previous records. Global oceans are so warm right now – when you compare it to our recent historical ocean data – the chances sea sfc temps could be this warm in a climate without man-made climate change, are like 1-in-a-billion. pic.twitter.com/HJZFMts9nU

— Jeff Berardelli (@WeatherProf) November 9, 2023
We have now reached a whopping 25 billion-dollar disasters in 2023, the highest of any year on record!

We're LIVE breaking down the most significant, costliest weather events. pic.twitter.com/hJl3U3oj9K

— The Weather Channel (@weatherchannel) November 9, 2023
"We show that 77% of the burned area in extratropical intact forests currently stems from lightning and that these areas will probably experience 11 to 31% more lightning per degree warming." https://t.co/drS7WRQoY4

— Jeff Berardelli (@WeatherProf) November 9, 2023
Sea level rise of at least 1m is locked in over the next 70 years. This will have a huge impact on the Asian landmass, including low-lying island nations that will be completely swamped. Many Asian regions are also the largest producers of rice – Huge food supply issues coming. pic.twitter.com/MveMObkYpH

— Peter Dynes (@PGDynes) November 9, 2023
We are deep into the red zone … red means danger … red means hotter … this is the blood-red zone.

🌍🔥 #ClimateBrawl 🔥🌍 pic.twitter.com/FveFzuTJZX

— Gerald Kutney – 🌏🔥#ClimateBrawl🔥🌍 (@GeraldKutney) November 9, 2023
Today, on #CarlSaganDay, I'm delighted to announce that #OurFragileMoment is now available in the UK (courtesy of @ScribePub): https://t.co/B8B9txwxLI

— Prof Michael E. Mann (@MichaelEMann) November 9, 2023
I haven't done this before. I want to take this moment to thank God for enabling me to publish a book, A Bigger Picture. This book has been translated into more than three languages. Indeed, the sufficiency is of God. Thank you God. pic.twitter.com/K3qJPZz6TP

— Vanessa Nakate (@vanessa_vash) November 9, 2023
Today's News on Sustainable, Traditional Polluting Energy from Fossil Fuel, and the Green Revolution:
This @NYTimes article is getting a lot of attention today.

Unfortunately, the reality doesn't live up to the hype. Please read our new @PennCSSM white paper on carbon capture by Joe Romm, just out today:https://t.co/b0pGfFs9S8 pic.twitter.com/akjRCkESPq

— Prof Michael E. Mann (@MichaelEMann) November 10, 2023
Your 'moment of doom' for Nov. 9, 2023 ~ The 'worst effects' are collapse & extinction.

"global coal, oil, and gas production are all still increasing while planned reductions are nowhere near enough to avoid the worst effects of climate change"https://t.co/brMbwLBNsb

— Prof. Eliot Jacobson (@EliotJacobson) November 9, 2023
Fiscal ideologues that like #nuclear power ignore the lessons of the past – as their cognitive biases don't allow them to understand that free market economics and nuclear generation go together like flame-throwers and gas stations …#NuclearEnergy https://t.co/P3A4CcPElM

— Dr Paul Dorfman (@dorfman_p) November 9, 2023
'More than 30 million homes in Europe could meet all their energy needs using rooftop solar panels alone, according to a new study from the Karlsruhe Institute of Technology in Germany.'https://t.co/JXW4BJPeq5

— Dr Paul Dorfman (@dorfman_p) November 9, 2023
More from the Weather Department:
A week does not seem to go by without flooding events which are once in a hundred/thousand yrs probabilities. The thing to remember is this is how it will be – and much, much worse – for the next 10s of thousands of yrs. Such is the criminality of drilling for more fossil fuels. https://t.co/sBh76yVvTI

— Roger Hallam (@RogerHallamCS21) November 9, 2023
Underreported story: Hundreds of fires are burning in the Appalachians — from Virginia/West Virginia to northern Georgia. Abnormally warm temps, drought, gusty breezes, intensifying the situation.

Details⬇️https://t.co/ZVhfYk56C9

— Capital Weather Gang (@capitalweather) November 9, 2023
This is pretty amazing graph when you think about it. Days since the last 1" or greater rainfall event. Alexandria, LA and Jackson, MS have gone 7 MONTHS in this streak. Chances increasing this gets broken before years end.

Thanks @jillbowx for updating and @MeaganMasseyWX… pic.twitter.com/KRfGfbQ1VD

— Jim Cantore (@JimCantore) November 9, 2023
Models really starting to up the rains for eastern Texas and upper Gulf. All from a lingering front through the weekend and next week. Blend of model estimates through Wednesday here. https://t.co/Hk3pbO7x8H pic.twitter.com/S2iwRSnvEb

— Mike's Weather Page (@tropicalupdate) November 9, 2023
Wowza. Model guidance slowly latching onto significant rainfall totals along the Gulf Coast. First round arrives Fri-Saturday w/ potentially more potent/significant rainfall potential next Monday-Wednesday. Stay tuned. Drought relief & potential flash flood risk. @weatherchannel pic.twitter.com/ojLLWj8nvf

— Scot Pilié (@ScotPilie_Wx) November 9, 2023
A look at the "super fog" in New Orleans yesterday morning, which caused near-zero visibility on the highway.

Similar conditions caused three separate crashes, resulting in one death and multiple injuries, on Tuesday. pic.twitter.com/LA4yZiQ4ct

— AccuWeather (@accuweather) November 9, 2023
Pretty much all the major global models are now showing a broad low forming over the Caribbean next week in response to forcing from an upper trough. GFS of course is the most early/aggressive still. Remains to be seen if this is a consolidated system or a broader gyre. pic.twitter.com/hGC0AeQYfv

— Andy Hazelton (@AndyHazelton) November 9, 2023
In Africa, a lack of weather stations is making it harder to warn locals about upcoming extreme weather events or to determine the role of climate change after the fact, writes @FrediOtto.

Read more @YaleE360: https://t.co/nAhfIQvhKw pic.twitter.com/wShWWdMriu

— Yale Environment 360 (@YaleE360) November 10, 2023
Second day in a row with 9.0" snow for Anchorage. This is the 4th time on record with consecutive days of 9"+ snow in any month. The snow depth of 21" is easily the greatest for so early in the season. The season-to-date snow of 27.4" already exceeds the 25.1" for all of 2014-15. pic.twitter.com/mhRkl9q9eW

— Brian Brettschneider (@Climatologist49) November 10, 2023
Storm total now up to 16". pic.twitter.com/CqyAEqs1O0

— Brian Brettschneider (@Climatologist49) November 9, 2023
Snow blowers don't like wet snow. This event is much more like a Lower 48 snowfall. Near freezing temps and high density (10:1). pic.twitter.com/BVAfk0os8f

— Brian Brettschneider (@Climatologist49) November 9, 2023
More on the Environment and Nature:
This spells death for marine life and its down to humans
A type of zooplankton found in marine fresh water can ingest and break down microplastics into nano plastic
In one lake alone in Poyang Lake rotifers produced 13.3 quadrillion nanoparticles a day https://t.co/dwRx5Fi6TZ

— GO GREEN (@ECOWARRIORSS) November 9, 2023
"If the bees disappear off the surface of the globe then man would only have four years of life left……. FOUR YEARS…….

No more pollination, no more plants, no more animals, no more man……..

Puts it into the proper context, don't you think….????🐝🌎🐝🌍🐝🌏🐝🌱 https://t.co/hBOQR0MUsi

— Robert Redmayne Hosking 🔥🌍🔥 (@rhosking252) November 9, 2023
Shop killing the whales
Whales are critical to life on Earth
Whale poo helps grow the phytoplankton that sequester huge amounts of carbon and produce at least half of the world's oxygen.
When a whale dies its body sequesters over 30 tons of carbon dioxide https://t.co/qXxlgBAiL9 pic.twitter.com/YDc9gYFv5G

— GO GREEN (@ECOWARRIORSS) November 9, 2023
Australia: "A recent NSW Fisheries survey found only two juvenile Murray cod in a 128-kilometre stretch of river" https://t.co/4oARlnD9HF

— Terry Hughes (@ProfTerryHughes) November 8, 2023
Major polluters could be jailed for up to 20 years under an "ecocide" bill proposed in the Scottish Parliament. https://t.co/I48wVb081a

— Svein Tveitdal (@tveitdal) November 9, 2023
Another day and another forest to get the chop
This time Sri Lanka https://t.co/1U8jm1xpbw pic.twitter.com/bZ4WOatVYN

— GO GREEN (@ECOWARRIORSS) November 9, 2023
A Manta Ray weaves in and out of plastic bags and litter in search of food at Manta Point in Bali. We must do better.

Nature is amazing. Protect it. #PassOnPlastic #Wasteless #Useless #Buyless #biodiversity #oceans pic.twitter.com/a6dkz926p9

— Mike Hudema (@MikeHudema) November 9, 2023
More on Other Science and the Beauty of Earth and this Universe:
"Carl Sagan's words reverberate today" | My essay for @TheBrilliantHQ on this eve of #CarlSaganDay:https://t.co/jMxH6Wl2fo

— Prof Michael E. Mann (@MichaelEMann) November 8, 2023
'Mother Trees' Are Intelligent: They Learn and Remember
They have all the characteristics of intelligence: the behaviors, the responses, the perceptions, the learning, the archiving of memoryhttps://t.co/b3zUuDOHy5 pic.twitter.com/HGWwxf3E3B

— GO GREEN (@ECOWARRIORSS) November 9, 2023
Happy Carl Sagan Day ❤️ This video footage is from when our co-founder Carl Sagan, unveiled the Pale Blue Dot image at a press conference on the Voyager missions in 1990. We are grateful to have had Carl for a blip of time on this "mote of dust suspended on a sunbeam." ✨ pic.twitter.com/Cyyk2nwuFx

— Planetary Society (@exploreplanets) November 9, 2023
Snapped these to shots walking on North Campus to my office. @universityofga is a pretty campus, especially this time of year. It's November… pic.twitter.com/nDCzHqtaeQ

— Dr. Marshall Shepherd (my record is my blue check) (@DrShepherd2013) November 9, 2023
'The thinner tree was cut years ago and the big one has been holding and feeding it since then. They "wake up" together in the spring and "go to sleep" together in the autumn'

Inosculation is a natural phenomenon in which parts of two different trees, commonly but not… pic.twitter.com/Ta34iNeEp2

— Science girl (@gunsnrosesgirl3) November 9, 2023
Night Thoughts and reminder

Our cities need to go back to being sponge cities with green oases. Trees are and always will be the best way to do that💚🌱☘️🌿🌲🌳🍀💚 pic.twitter.com/qdjiM9lmvD

— Green is a mission (@Greenisamissio1) November 9, 2023
A new morning on the journey of life and I wish my beloved and much appreciated fellow inhabitants of planet Earth a peaceful good morning and a blessed day accompanied by kindness and respect. May God bless you and may all your wishes come true.❤️💙💚🌱☘️🌿🌲🌳🍀💚 pic.twitter.com/D30EPcJdqx

— Green is a mission (@Greenisamissio1) November 9, 2023
As a child, nature told me the time and I knew I had to get home at sunset. The feeling of security and that someone was waiting for me at home has remained until today. I wish my beloved and much appreciated fellow inhabitants of planet Earth a good evening and a blessed night❤️ pic.twitter.com/h1WSlZejcQ

— Green is a mission (@Greenisamissio1) November 9, 2023
If you like these posts and my work on record temperature ratios, please contribute via my PayPal widget on this site. Thanks in advance for any support. 
Guy Walton… "The Climate Guy"