Sarurday November 10th… Dear Diary. The main purpose of this ongoing post will be to track United States extreme or record temperatures related to climate change. Any reports I see of ETs will be listed below the main topic of the day. I'll refer to extreme or record temperatures as ETs (not extraterrestrials)😊. 
Deadly California Fires…November 2018 Day 3
Just like with Hurricane Michael the climate story has become so big with the fires currently burning in California that they will be the headline for days to come on many media articles, so we will on diary posts mark them numerically. Today is day 3 of this unfolding climate change tragedy, which started Thursday. The expert that I very much differ to in the case of California is Dr. Daniel Swain, who introduced me to the dipole affecting the West about a year ago. Please follow his blog. Dr. Swain has written much on Twitter about the current fire situation as it relates to our changing, warming climate, reiterating my main points from yesterday's Extreme Temperature Diary blog, which I will now repost:
Rainy season has started late this year in California…again. While autumn precipitation isn't usually huge fraction of overall annual average, it's hugely important to ecosystems & in bringing "fire season-ending" moisture. This yr, autumn precip was <20-30% of avg. #CAwx (2/n) pic.twitter.com/veOuqXXrUH

— Daniel Swain (@Weather_West) November 10, 2018
Strong downslope winds were a key factor in the devastation of #Paradise by the #CampFire. But strong winds in damp forest simply aren't going to drive the same kind of wildfire. The extreme, summer-like dryness of vegetation clearly matters. #CAwx #CAfire (4/n)

— Daniel Swain (@Weather_West) November 10, 2018
In this part of California, summer 2018 was warmer than any prior to 2014 (4 of the 5 warmest on record have occurred in the past 5 years). Cumulative effect of warmth over many months also helped to dry out vegetation more than would otherwise have been the case. #CAwx (5/n) pic.twitter.com/dRHbRqyPWW

— Daniel Swain (@Weather_West) November 10, 2018
Here is the tragic picture I am using to tweet out today's post just in case anyone is wondering if the  thing is fake: 
https://one-news.net/wp-content/uploads/2018/11/Camp-Fire-turns-fatal-in-Paradise-California.jpg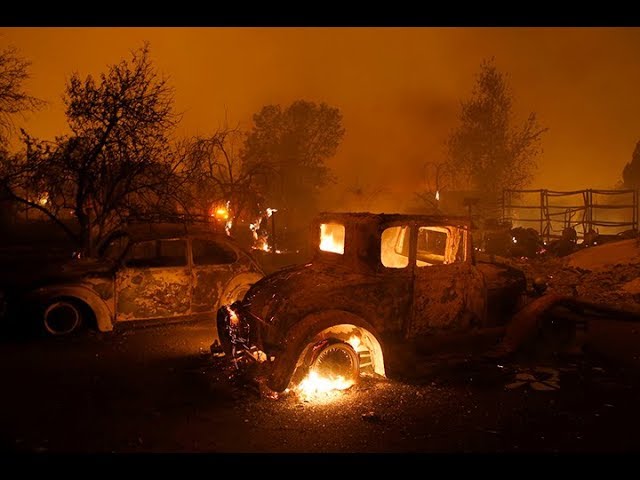 Let's briefly look at the forecast pressure gradient for Sunday, which unfortunately will increase string easterly winds across the state ince more fanning flames: 
W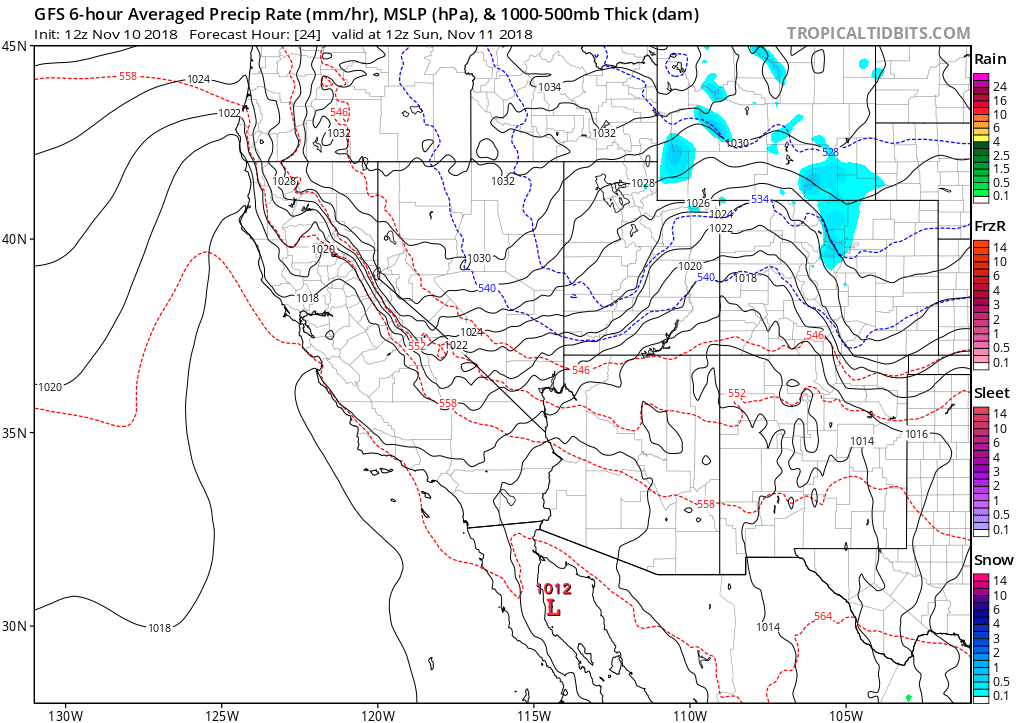 On the above Tropical Tidbits chart we see pressure above 1030 millibars building southward through Utah and Nevada tightening the gradient across California's Sierra, a sure sign that high autumn winds are on there way for California on Sunday.
Synoptically, this week's #CaliforniaFires (#CampFire & #WoosleyFire) are partially a result of amplifying upper-level ridging over #California. This favors sfc ridge building inland, initiating strong Santa Ana winds.

Unfortunately, a stronger event is likely to occur next week pic.twitter.com/T8Q7VoV9F1

— Philippe Papin (@pppapin) November 10, 2018
Extremely critical fire weather in some parts of our area for tomorrow as the Santa Ana's kick in. #StaySafe #FireWX #CAwx #SoCalFires https://t.co/wpLO1xSGg1

— NWS San Diego (@NWSSanDiego) November 10, 2018
As usual north winds are beginning in the west side of the valley(location of the barrier/low level jet). Easily seen with the smoke being pushed south. pic.twitter.com/SxlopO9OlS

— Rob Elvington (@RobElvington) November 10, 2018
Today I will highlight some major fire news from Saturday from social media below:
The #CampFire is now the most destructive fire in California history as the death toll, area burned grows around Paradise: https://t.co/pRdP0yaWnr pic.twitter.com/pcybiZsXYP

— The Weather Channel (@weatherchannel) November 10, 2018
The #CampFire in northern California is now the most destructive in the state's history, breaking a mark set…last yearhttps://t.co/7uFGfo4gXd

— Bill McKibben (@billmckibben) November 10, 2018
UPDATE: Just 36 hours after it formed, the #CampFire is now officially the most destructive wildfire in California history.

6,713 buildings
6,453 homes
9 people dead
0% containedhttps://t.co/5AtYvbqYEW

— Eric Holthaus (@EricHolthaus) November 10, 2018
The 2 largest and 2 most destructive wildfires in California state history have all occured in the last 13 months.

Camp: November 2018: 6,713 buildings
Tubbs: October 2017: 5,636 buildings

Mendocino: July 2018: 459,123 acres
Thomas: December 2017: 281,893 acres https://t.co/MCfL0gcJ4f

— Edgar McGregor (@edgarrmcgregor) November 10, 2018
Camp Fire could threaten Oroville on Saturday night, Cal Fire says https://t.co/6Ci94mjDlu

— PatRick Enviromental (@PatRickWildfire) November 10, 2018
Can't emphasize this enough. Areas including the #CampFire have fuels/ERCs that are >99th percentile for *ALL DAYS* 1979-2015. That includes months like July-August. pic.twitter.com/Wl3BQ5xh2o

— Rob Elvington (@RobElvington) November 10, 2018
No rest for the fire-weary: Weather conditions near LA will resurge to "extremely critical" (the most dire rating) from Sun into Mon. Big areas of "critical" fire wx in both NoCal and Socal. https://t.co/0XjGJVGXxT pic.twitter.com/Rgb1cAyDMz

— Bob Henson (@bhensonweather) November 10, 2018
Most of #California is experiencing dangerously poor #AirQuality due to smoke from the #CampFire & #WoolseyFire. Today's S-NPP #VIIRS overpass confirms the oppressive shroud, including extensive smoke blowing offshore with wisps wrapping back as far south as Baja peninsula. #CAwx pic.twitter.com/k6s6VpQTj9

— UW-Madison CIMSS (@UWCIMSS) November 10, 2018
The driver and her mother were responsible for getting 48 horses out from burning Malibu. The fires came very quickly and the roads were closed some people were at work when it all started. They survived. Thank god. #ThisIsClimateChange #WeDontHaveTime pic.twitter.com/9KdZeCLdKD

— We Don't Have Time (@WeDontHaveTime0) November 10, 2018
This most excellent Weather Underground summary was updated earlier today:
Twin fire catastrophes are unfolding across Northern and Southern California https://t.co/PhiyW4L1Ti #CampFire #WoolseyFire pic.twitter.com/bhmvKa13Bt

— Weather Underground (@wunderground) November 9, 2018
Dear Diary. Here are some unfortunate evening updates:
Northern California's #CampFire has now burned an area the size of New Orleans as the death toll more than doubles. Fierce fire weather conditions are expected once again on Sunday. The latest news: https://t.co/fqXFilCpOZ pic.twitter.com/xRUzzFhBVD

— The Weather Channel (@weatherchannel) November 11, 2018
The awful reality in #Paradise. It's still far worse than most folks realize. #CampFire #CaliforniaWildfires #CaFire https://t.co/8fTgQi6zZ8

— Daniel Swain (@Weather_West) November 11, 2018
The #Woolsey Fire continues to burn with 0% containment. 🔥

The entire city of #Malibu has been evacuated.

If you have been forced out by the fires and need shelter, these locations are available to be of aid:

More at: https://t.co/BUeN5uePQ9 pic.twitter.com/1pUPcAmmzH

— Matthew Cappucci (@MatthewCappucci) November 11, 2018
(As usual, this will be a fluid post in which more information gets added during the day as it crosses my radar, crediting all who have put it on-line. Items will be archived on this site for posterity.)
Here is some other weather and climate news from Saturday:
The writing is on the wall – if we take the right steps moving forward we can (and will) win on climate https://t.co/j2tVzJY6EL #ClimateHope

— Climate Reality (@ClimateReality) November 10, 2018
(If you like these posts and my work please contribute via the PayPal widget, which has recently been added to this site. Thanks in advance for any support.)
The Climate Guy