Monday August 18th… Dear Diary. The main purpose of this ongoing blog will be to track United States extreme or record temperatures related to climate change. Any reports I see of ETs will be listed below the main topic of the day. I'll refer to extreme or record temperatures as ETs (not extraterrestrials).😉
Loosing The First Glacier At +1.0°C to +1.2°C Above Preindustrial Conditions
As my title states officially the first glacier leftover from the last ice age has melted at the current level of global warmth and at about 415 parts per million of CO2 concentration in the atmosphere. We are continuing business as usual industrial activity with very little overall curtailment of carbon pollution even though we have the technology to do so. If anything, traditional third world countries like India and Kenya in the early 21st century are starting to emit more carbon due to the need to generate more energy, becoming hungry for the benefits that go with modernization. It's no wonder that we officially lost our first glacier on the planet this year. Obviously more will be lost as global averages soar above +1.5°C. I have my doubts that we can keep averages below +2.0°C, the line in the sand drawn by the Paris Accords, but we will see.
Here is more from Desdemona Despair:
https://desdemonadespair.net/2019/08/iceland-commemorates-first-glacier-lost-to-global-warming-the-world-that-we-learned-how-it-was-learned-by-heart-as-some-kind-of-eternal-fact-is-not-a-fact-any-more.html
Iceland commemorates first glacier lost to global warming – "The world that we learned how it was, learned by heart as some kind of eternal fact, is not a fact any more"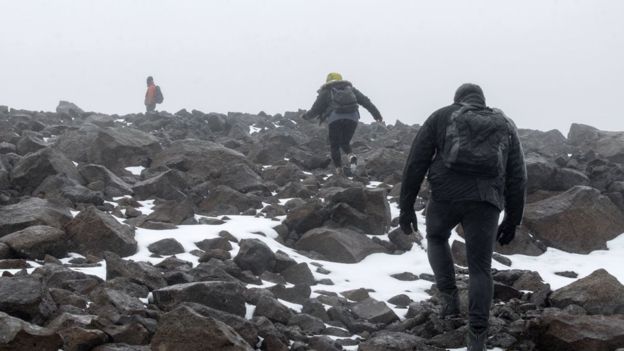 Dominic Boyer, Cymene Howe, and their student Magnus Sigurdsson climb into the mountains in August 2019 to drill holes for the Okjokull glacier memorial plaque. Photo: Josh Okun / BBC News
By Toby Luckhurst
18 August 2019
(BBC News) – Mourners have gathered in Iceland to commemorate the loss of Okjokull, which has died at the age of about 700.
The glacier was officially declared dead in 2014 when it was no longer thick enough to move.
What once was glacier has been reduced to a small patch of ice atop a volcano.
Prime Minister Katrin Jakobsdottir, Environment Minister Gudmundur Ingi Gudbrandsson and former Irish President Mary Robinson were due to attend the ceremony.
After opening remarks by Ms Jakobsdottir, mourners were set to walk up the volcano northeast of the capital Reykjavik to lay a plaque which carries a letter to the future.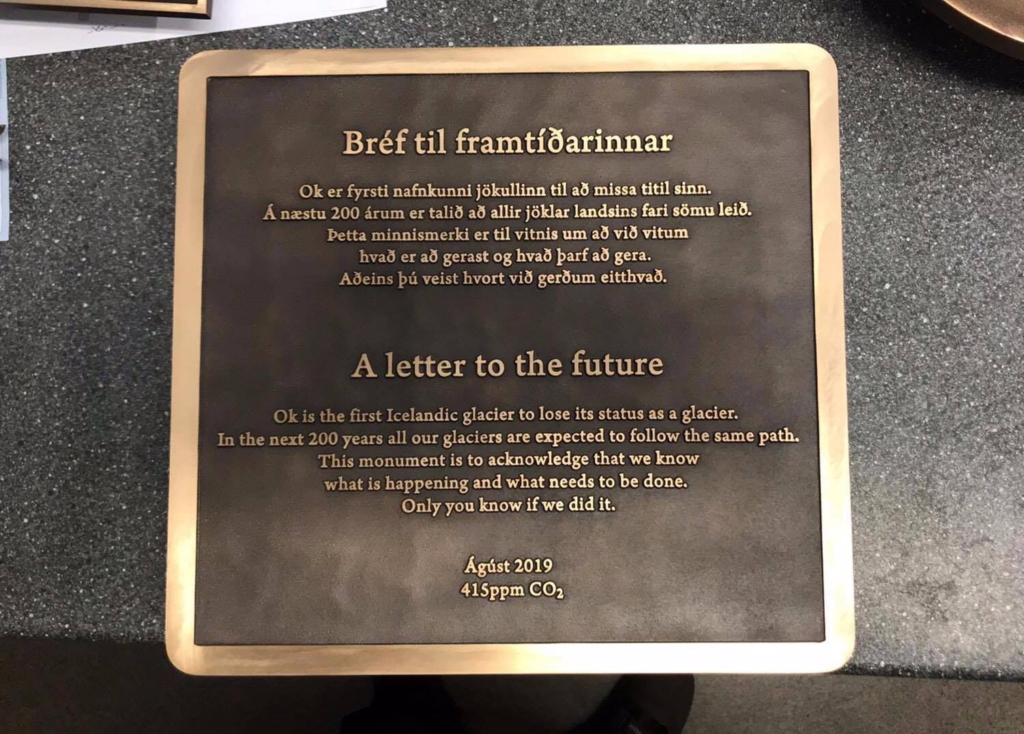 Memorial plaque for the Okjökull glacier, which was declared dead in 2014. On 18 August 2019, scientists will be among those who gather for a memorial atop Ok volcano in west-central Iceland to place the plaque. Words by Andri Snaer Magnason. Photo: Dominic Boyer / Cymene Howe / Rice University
"Ok is the first Icelandic glacier to lose its status as glacier," it reads.
"In the next 200 years all our main glaciers are expected to follow the same path. This monument is to acknowledge that we know what is happening and what needs to be done.
"Only you know if we did it."
The dedication, written by Icelandic author Andri Snaer Magnason, ends with the date of the ceremony and the concentration of carbon dioxide in the air globally – 415 parts per million (ppm).
"You think in a different time scale when you're writing in copper rather than in paper," Mr Magnason told the BBC. "You start to think that someone actually is coming there in 300 years reading it.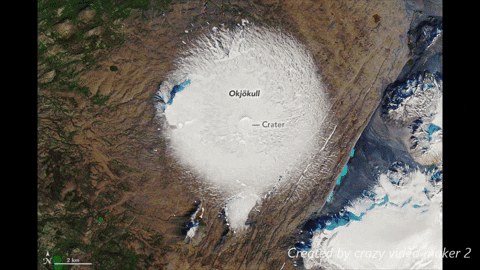 Satellite views of the Okjökull glacier in Iceland in 1986 and 2019. Data: Landsat / U.S. Geological Survey. Photo: Joshua Stevens / NASA Earth Observatory
"This is a big symbolic moment," he said. "Climate change doesn't have a beginning or end and I think the philosophy behind this plaque is to place this warning sign to remind ourselves that historical events are happening, and we should not normalise them. We should put our feet down and say, okay, this is gone, this is significant." […]
"My generation had to learn by heart the names of the most significant mountains, moors, fjords," Mr Magnason explained. "So culturally it's also referring back to childhood textbooks.
"The world that we learned how it was, learned by heart as some kind of eternal fact, is not a fact any more." [more]
Iceland's Okjokull glacier commemorated with plaque
Again, will we let the rest of our biosphere change so much that the rest of the Earth's glaciers disappear, as well as the north and south polar ice caps, allowing sea levels to eventually rise more than 20 feet? I'm beginning to think so. Hopefully new trends of curtailing CO2 concentrations will change my mind and yours about the future of our planet, but I need to see proof of a big course correction.
…………………………………………….
The heat is really on from coast to coast on this Monday August the 19th:
Look for some extreme temperature reports from the Northeast and western High Plains and Rockies at the end of this post.
Dear Diary. Here were Monday's hot maxes:
Here is more climate and weather news from Monday:
(As usual, this will be a fluid post in which more information gets added during the day as it crosses my radar, crediting all who have put it on-line. Items will be archived on this site for posterity. In most instances click on the pictures of each tweet to see each article.)
As promised here are some hot "ET" reports from Monday:
(If you like these posts and my work please contribute via the PayPal widget, which has recently been added to this site. Thanks in advance for any support.)
Guy Walton- "The Climate Guy"