Sunday February 2nd… Dear Diary. The main purpose of this ongoing post will be to track United States extreme or record temperatures related to climate change. Any reports I see of ETs will be listed below the main topic of the day. I'll refer to extreme or record temperatures as ETs (not extraterrestrials)😉
Main Topic: Groundhog Day and Superbowl Temperature Trends From Climate Central
Dear Diary. Groundhog Day and Superbowl Sunday happen to coincide today. I hope all will enjoy these two big U.S. events and traditions. This has been a mild winter overall for much of America and Europe so I jokingly sent out this tweet last night:
We will find out just how warm the two month period of December-January has been over the next week. My tea leaves are telling me that it will be at least ranked among the top ten warmest across the lower 48 stated and Europe, as well.
I'm sure that not all winters in the future across Europe and North America will be this mild, but there is definitely a warming trend. Which brings us back to today. Even our friendly meteorologist rodent is scratching his little furry head. given these mid afternoon temperatures, especially in the Plains: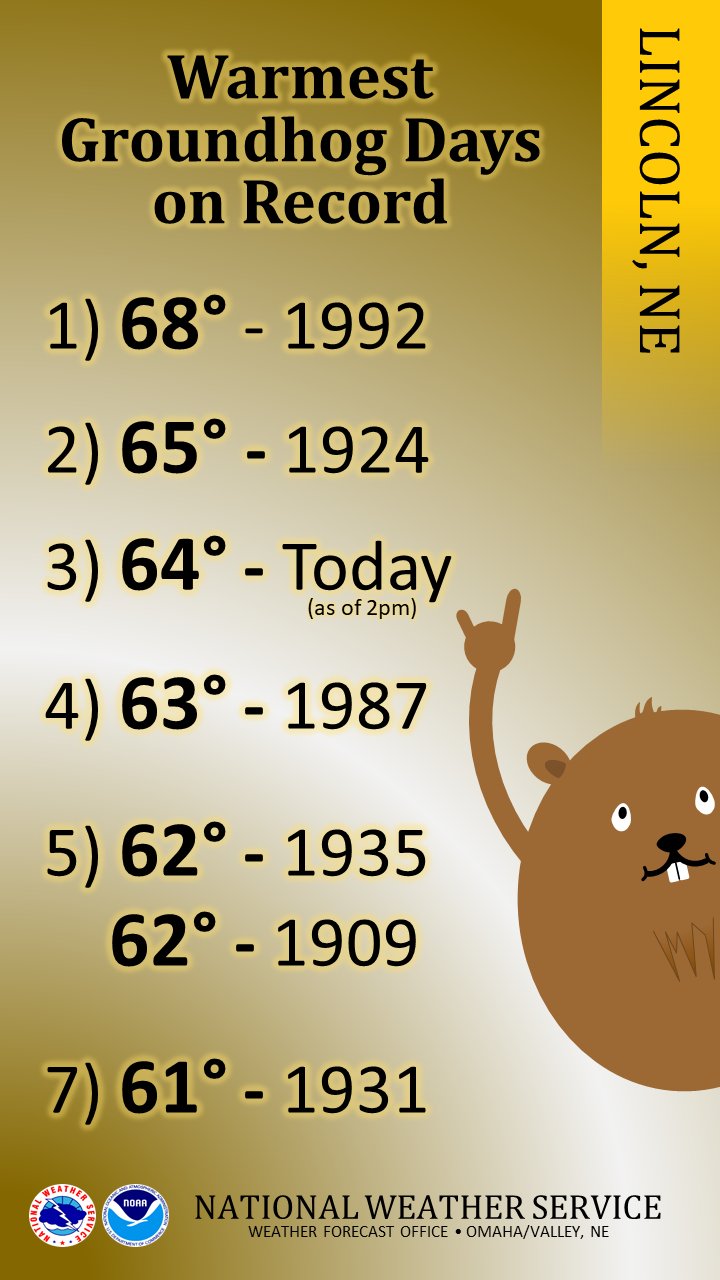 I'm certain that this taste of spring won't last all the way through March, but it is warm on Groundhog Day 2020. Here are some statistics combined for the Superbowl and Groundhog Day from Climate Central:
https://medialibrary.climatecentral.org/resources/2020-groundhog-day-trends?utm_source=Climate+Matters&utm_campaign=2020SuperBowlGroundhog
2020 Groundhog Day Trends
Jan 29, 2020
Groundhogs aren't known for their forecasting prowess, but Punxsutawney Phil has been predicting early springs more often as the climate warms. Coincidence?
Market Versions Available
Sunday is Groundhog Day, that fateful holiday when meteorologists must answer to a rodent and its shadow (or lack thereof). Like it or not, Punxsutawney Phil has been predicting earlier springs more often—14 times in the past 50 years, after only 5 times in the 73 years prior. While Phil's year-to-year predictions are faring worse than a coin flip, his shift toward earlier springs may be onto something; the six weeks after Groundhog Day are warming up in 93% of the 244 cities analyzed. This year is no exception, with leaves appearing in the Southeast weeks before normal. Early springs do come at a cost, from early pest outbreaks and mistimed migrations to emboldened groundhogs. 

Find all local JPG and PNG versions here
Methodology: Groundhog Day graphics plot the average temperature between February 2 and March 16.
https://medialibrary.climatecentral.org/resources/superbowl-xlviii-groundhog-day
Superbowl XLVIII & Groundhog Day
Jan 29, 2014
See full multimedia package here >>
We're a few days away from the kick off of the first Super Bowl played outdoors in a cold-weather city. But East Rutherford, New Jersey isn't the coldest locale that could host a Super Bowl. Here are some of the coldest NFL cities along with some historical snowfall facts to share with your viewers in the run up to Super Bowl Sunday.
Coldest Super Bowl Ever?
The average high temperature for the first week of February in East Rutherford, where MetLife Stadium is located, is 39.6°F, but MetLife doesn't even crack the top five coldest stadiums in the NFL. The home fields of the Buffalo Bills, Cleveland Browns, Chicago Bears, and the New England Patriots are all colder than MetLife Stadium. Green Bay's Lambeau Field, nicknamed "The Frozen Tundra," takes the honor of the coldest stadium in the NFL. The average high there during the first week of February (when the Super Bowl has been played since 2004) is only 25.6°F.
At 43°F, the coldest Super Bowl on record was Super Bowl VI which was played outdoors in New Orleans' Tulane Stadium in 1972. Temperatures did drop during that game, and the overnight low hit 24°F. Ironically, the hottest game-day high was recorded the next year. Super Bowl VII was played in the Los Angeles Coliseum where the daytime high was 82°F. That record was tied again in 2003 in another Southern California locale, San Diego.
Snow-free Streak Continues
The fact that outdoor Super Bowls usually happen in a balmy climate means snow has never graced the field at game time. With no flakes in the forecast for Sunday, it looks like that streak will continue. We calculated a combined temperature and snowfall index for the first week of February. It turns out Buffalo tops the list of NFL's coldest and snowiest cities. Green Bay comes in second, and East Rutherford is all the way down at number 8 on that list.
We also took a look at the biggest one-day snowfall totals ever recorded at the station closest to all NFL stadiums during the same time frame. The biggest one-day snow amount was 29.3″ from 1978 in Patriots land – Foxborough, MA. Philadelphia and Baltimore follow with 21.9″ and 16″ respectively, which fell during the winter of 2010.
If It Comes Down To A Field Goal
Talking about weather records and climate data is interesting, but can the weather actually affect the outcome of a game? According to an analysis from MIT, the answer is "yes." When the mercury dips below 50°F, kickers' accuracy takes a dive, too. Cold weather has more of a chilling effect on kickers than "icing" them by taking timeout before the kick, or the two other weather factors – precipitation and wind. The only factor that has a greater impact on field goal success rates than temperature? Altitude, which shouldn't be a factor since East Rutherford sits just 7 feet above sea level.
Related Media
Sep 27, 2017
Football season is getting warmer in all 30 of the cities with an NFL team.
Feb 2, 2016
Early February bring the Super Bowl, which can be a big weather-related event.
Jan 31, 2013
Scientists aren't the only ones whose predictions are getting better.
Please consider donating through the Paypal widget on this site. I need everyone's support to continue my work, especially that of processing NCEI record count data for scientific research.
Here is some more weather and climate news from Sunday:
(As usual, this will be a fluid post in which more information gets added during the day as it crosses my radar, crediting all who have  put it on-line. Items will be archived on this site for posterity.)
Here are some "ET's" from Sunday:
(If you like these posts and my work please contribute via the PayPal widget, which has recently been added to this site. Thanks in advance for any support.)
Guy Walton "The Climate Guy"