Thursday March 5th… Dear Diary. The main purpose of this ongoing post will be to track United States extreme or record temperatures related to climate change. Any reports I see of ETs will be listed below the main topic of the day. I'll refer to extreme or record temperatures as ETs (not extraterrestrials)😉
A Look At The Bahamas Six Months After Hurricane Dorian
Dear Diary. Amid all of the bad news concerning Australia and eye popping new, warm climate statistics coming in from the Northern Hemisphere it's easy to let past climate crisis events slip through the proverbial cracks. It seems like a lifetime ago, but it has only been six months ago since Category Five Hurricane Dorian stalled over Great Abaco Island in the Bahamas. How is that island doing since that time? The sad answer is not too well looking at this article posted by Desdemona Despair:
By David Common and Melissa Mancini
1 March 2020
(CBC News) – Ten minutes away from the restored and gleaming cruise ship terminals on Grand Bahama island, just beyond the multi-millionaires' beach compounds, is the real Bahamas — and it lies in ruins.
It's six months since Hurricane Dorian made landfall on the island nation, snapping trees, gutting homes, shearing exterior walls and roofs clean off. Along with the catastrophic winds, surging waves hammered cars through buildings, and emptied schools of desks and chairs and pretty much everything else.
Bahamian authorities officially reported 76 dead as a result of Dorian's wrath. But nearly that many have been missed from some individual communities, with the belief by many aid and other organizations that the true death toll is more likely counted in four figures. Hundreds of Haitian migrants lived next to the sea when the hurricane hit, for instance, and many are unaccounted for but, without status in the country, their deaths have not been included in the official nationally tally.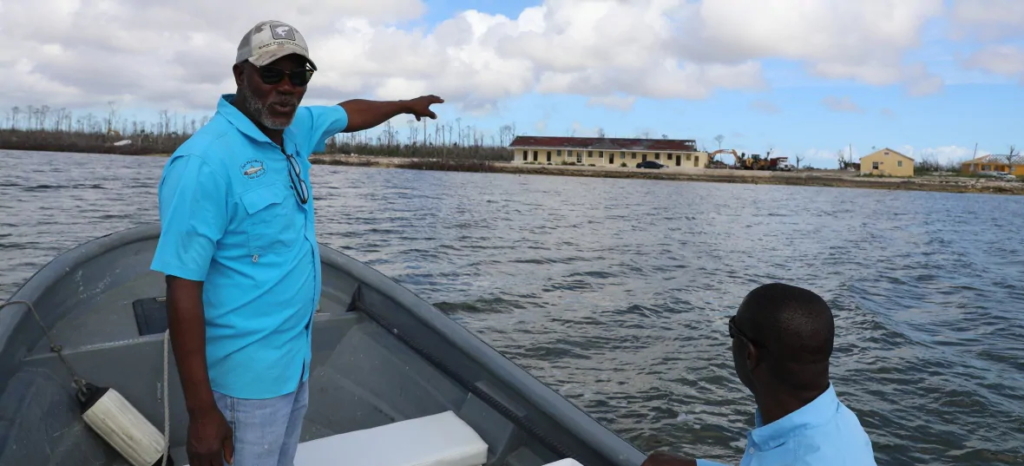 In February 2020, six months after the storm, Phil Thomas, left, points to a local school that was badly damaged by Hurricane Dorian. Photo: David Common / CBC
While the streets have been cleared of debris, thousands of homes remain uninhabitable. Power crews continue to restore electrical service, and roofers have years of work ahead of them.
"What do people do? They have nowhere to come back to," says Bishop Silbert Mills, on the hardest hit island of Great Abaco.
"When they do come, there is nothing."
Mills's own church was a sanctuary for more than 200 people. First as powerful winds battered the windowless building during the storm, and then for nearly a week as supplies dwindled and food rationing became a necessity, with the community waiting for two metres of floodwater to recede back into the ocean.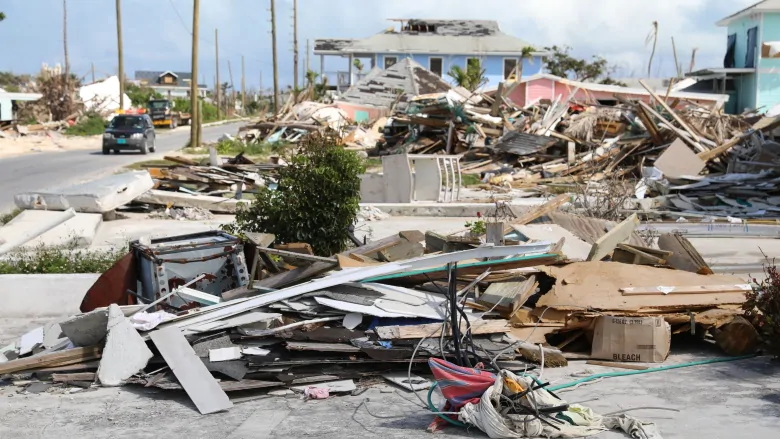 Great Abaco's recovery from the destruction of Hurricane Dorian has been slow, and while streets have been cleared of debris, badly damaged buildings and piles of rubble can still be seen six months after the storm in February 2020. Photo: David Common / CBC
For several days after the storm, water cascaded into homes of Great Abaco. On neighbouring Grand Bahama island, 80 per cent of the island was covered in water.
That wiped out business, and with it the source of most of the jobs on both Abaco and Grand Bahama.
"On Sept. 1 when I woke up, my pizza operation was worth half a million dollars," says Bishop Mills. "After Dorian, it was reduced to vacant land."
He didn't have insurance and does not expect to ever have the money to rebuild that business. He's running his other business, a gospel radio station, out of a trailer he now lives in with his brother. [more]
'I don't feel like we're making any progress': 6 months after Hurricane Dorian, Bahamas struggles to rebuild
As the globe continues to warm we will see a multitude of additional large scale tragedies, some occurring simultaneously. In the past we might see one major climate crisis event happen per year, but now we can expect one almost every season. Journalists will see increasing pressure to cover a Dorian on one side of the planet while fires rage in Brazil or elsewhere, for example, in another hemisphere. Also, let's make sure that people affected by climate change events get news coverage long after weather or fires affecting them has passed. These people need all the help they can get, so their stories must not be dropped as another crisis unfolds. I'll endeavor not to leave any behind on this blog.
Here is more information on how you can help those affected by Hurricane Dorian:

How To Help Hurricane Dorian Victims In The Bahamas After Their Homes Were Wiped Out:
Donate Supplies Requested By The Bahamas Ministry Of Tourism
Donate Money To The Hurricane Dorian Relief Fund
Donate To World Central Kitchen, Run By Chef José Andrés
Volunteer With Or Give To The Bahamas Red Cross
Spread The Word About The Need For Humanitarian Aid & Support
How To Help Hurricane Dorian Victims In The Bahamas After Their Hom…www.bustle.com/p/how-to-help-hurricane-dorian-victims …See all results for this question
Please consider donating through the Paypal widget on this site. I need everyone's support to continue my work, especially that of processing NCEI record count data for scientific research.
Here is some more weather and climate news from Thursday:
(As usual, this will be a fluid post in which more information gets added during the day as it crosses my radar, crediting all who have put it on-line. Items will be archived on this site for posterity.)
Amongst all of this climate madness, let's end today's post with a bit of good news:
(If you like these posts and my work please contribute via the PayPal widget, which has recently been added to this site. Thanks in advance for any support.)
Guy Walton "The Climate Guy"