Tuesday July 14th… Dear Diary. The main purpose of this ongoing blog will be to track United States extreme or record temperatures related to climate change. Any reports I see of ETs will be listed below the main topic of the day. I'll refer to extreme or record temperatures as ETs (not extraterrestrials). 😉
Main Topic: Prolonged Historic U.S. Heat Wave…Update #10…Dangerous Heat Intensifies Across The South And Moves North
Dear Diary. As expected, today is the first day that our heat wave, which mostly has been confined to the Southwest and south-central states, begins to move into the central Plains and east of the Mississippi River. Elsewhere outside of National Weather Service advised areas we've already seen many consecutive days above 90F in cities like Washington D.C. Also, it continues to be torridly hot in Miami.
As usual to start this blog let's access U.S. heat levels for the next two days. Our mid level CAT 2 heat wave is continuing to intensify across the south-central states with numerous advisories posted on this Tuesday morning. Heat advisories have been added in Oklahoma, Arkansas and Missouri, however all advisories have been dropped in the Southwest. For that reason I'm keeping our prolonged heat wave at CAT2 status.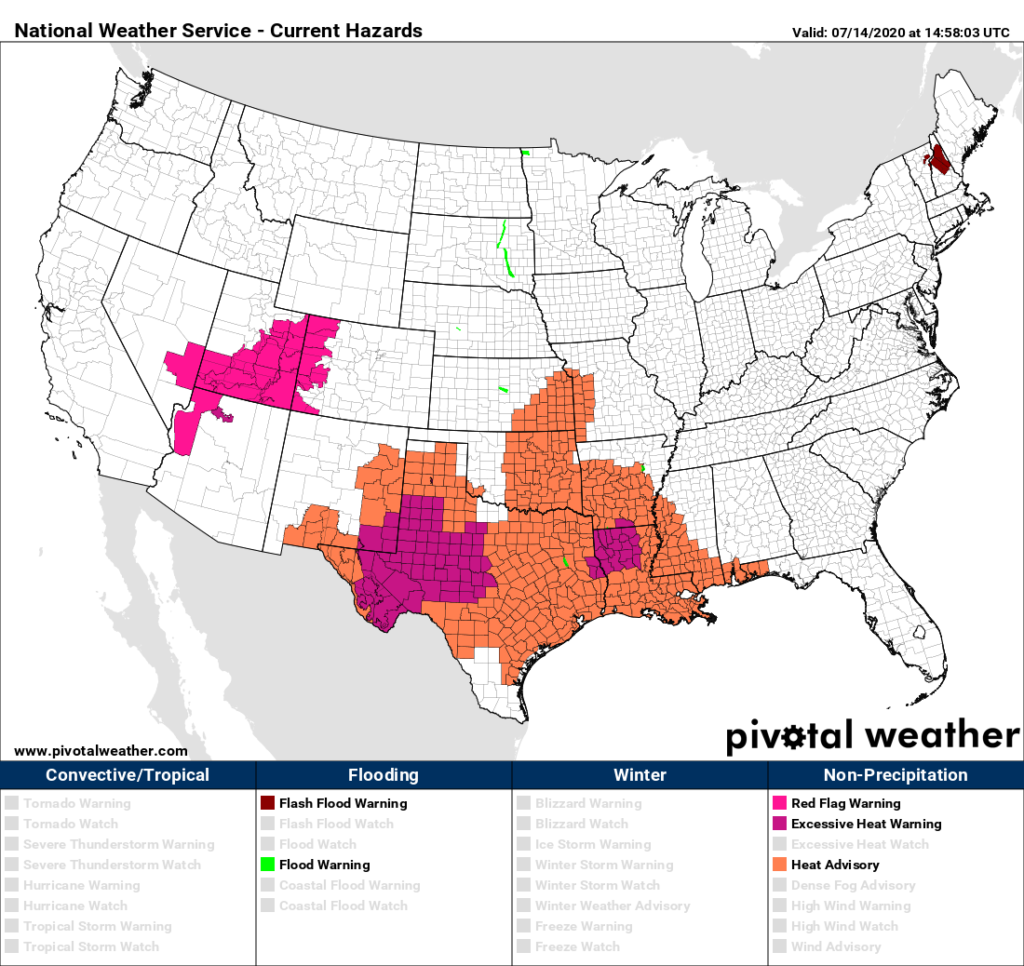 On Wednesday higher levels of heat and humidity will be spreading northward into the Ohio Valley and Mid-Atlantic. People from Colorado southward to the Texas Panhandle should see a brief break from near record heat: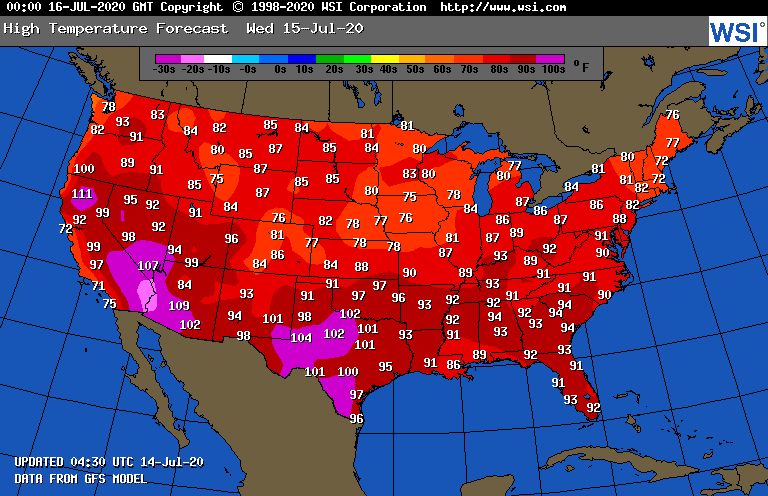 Through 240 hours today, or as far out in time as models can be relied upon for decent guidance, I don't see a break in the overall weather pattern responsible for this heat wave in which we see well above average temperatures east of the Rockies. The heat dome will fluctuate daily but not get too much below 594 decameters in its center:
At least the ridge won't get too much stronger than what is depicted on the above chart through the end of July looking at todays model guidance.
For the next couple of weeks fronts will temporarily cool the Upper Midwest and Northeast and bring the risk of severe storms but will not break this heat wave:
As usual, I'll be posting more updates on this dangerous heat wave as the day progresses.
Here are some of Tuesday's scorching "ET's" listed in the space below:
Here is more climate and weather news from Wednesday:
(As usual, this will be a fluid post in which more information gets added during the day as it crosses my radar, crediting all who have put it on-line. Items will be archived on this site for posterity. In most instances click on the pictures of each tweet to see each article. The most noteworthy items will be listed first.)
Now here are some of today's articles and notes on the horrid COVID-19 pandemic:
(If you like these posts and my work please contribute via the PayPal widget, which has recently been added to this site. Thanks in advance for any support.)
Guy Walton… "The Climate Guy"