The main purpose of this ongoing blog will be to track United States extreme or record temperatures related to climate change. Any reports I see of ETs will be listed below the main topic of the day. I'll refer to extreme or record temperatures as ETs (not extraterrestrials).😉
Main Topic: Checking Up On U.S. Drought…Why Conditions Are Getting Worse
Dear Diary. In October I let my readers know why drought conditions may worsen as we move into the year 2021:
It's time after a couple of months to compare the drought monitor map from October to that of the latest in December: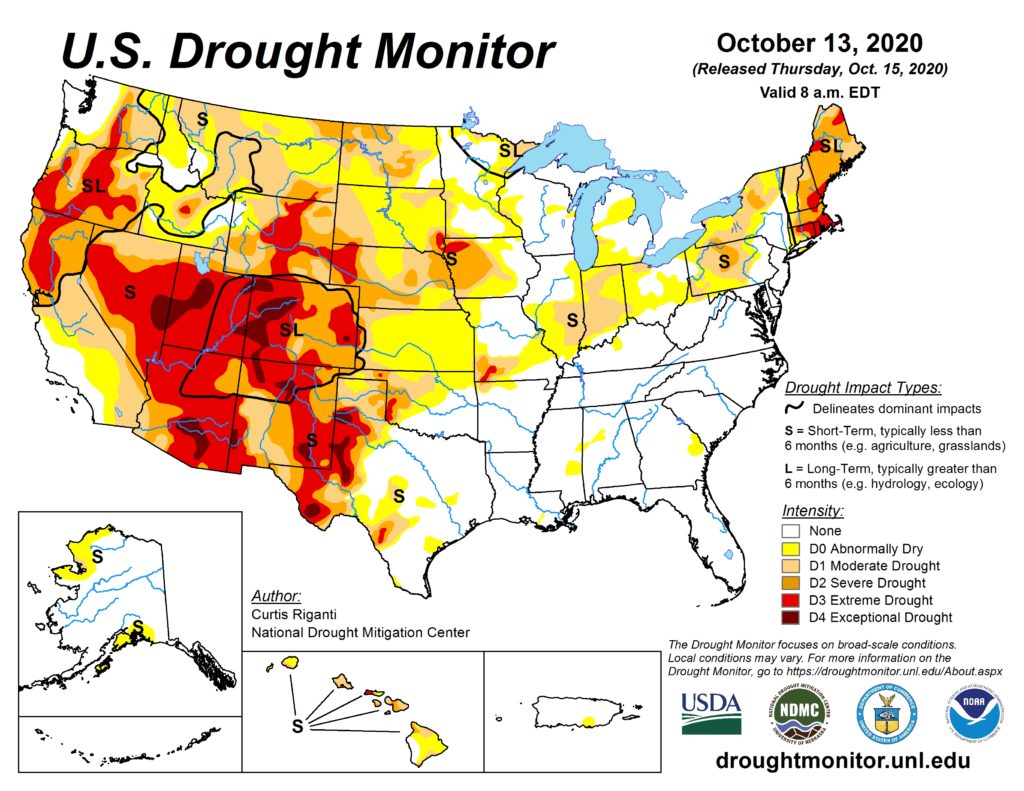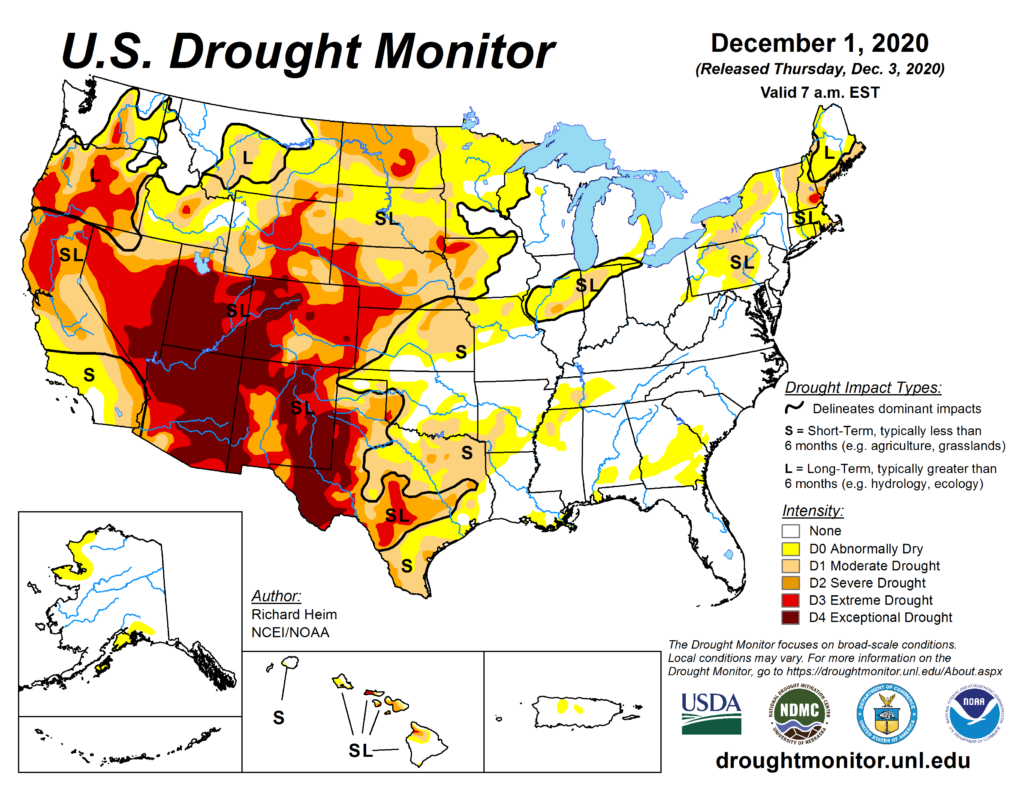 As feared, drought in the West has gotten worse and is beginning to make more inroads in the Plains, threatening agricultural interests. At least drought in New England has waned. A wet nor'easter has ended drought conditions in New England the last few days. It will take more than just a couple of wet winter storms to end the drought in the West and Plains, though.
During the winter we need to build up snow cover to avoid dry soil moisture so it will be moist during mid and late spring for much of the grain growing Midwest. By early December we should be seeing snow cover in the northern Plains and northern Great Lakes area. Here we see that we are behind climatological norms:
My friend Bob Henson, who is an expert on weather patterns driven by underlying climatological sea surface temperatures, has written a nice post delving into drought and its relationship to fairly strong La Nina's. I also mentioned our current La Niña pattern with drought back in October. Here is Bob's article applied to the great state of Texas:
https://texasclimatenews.org/features/drought-fire-threat-increasing-in-texas-as-la-nina-takes-hold/
Drought, fire threat increasing in Texas again as La Niña takes hold
December 4, 2020
Fall's mild weather and scant rainfall suggest we may be in for a repeat of harsh conditions last seen in 2011, when the state endured its driest year in more than a century of recordkeeping, plus a punishing heat wave.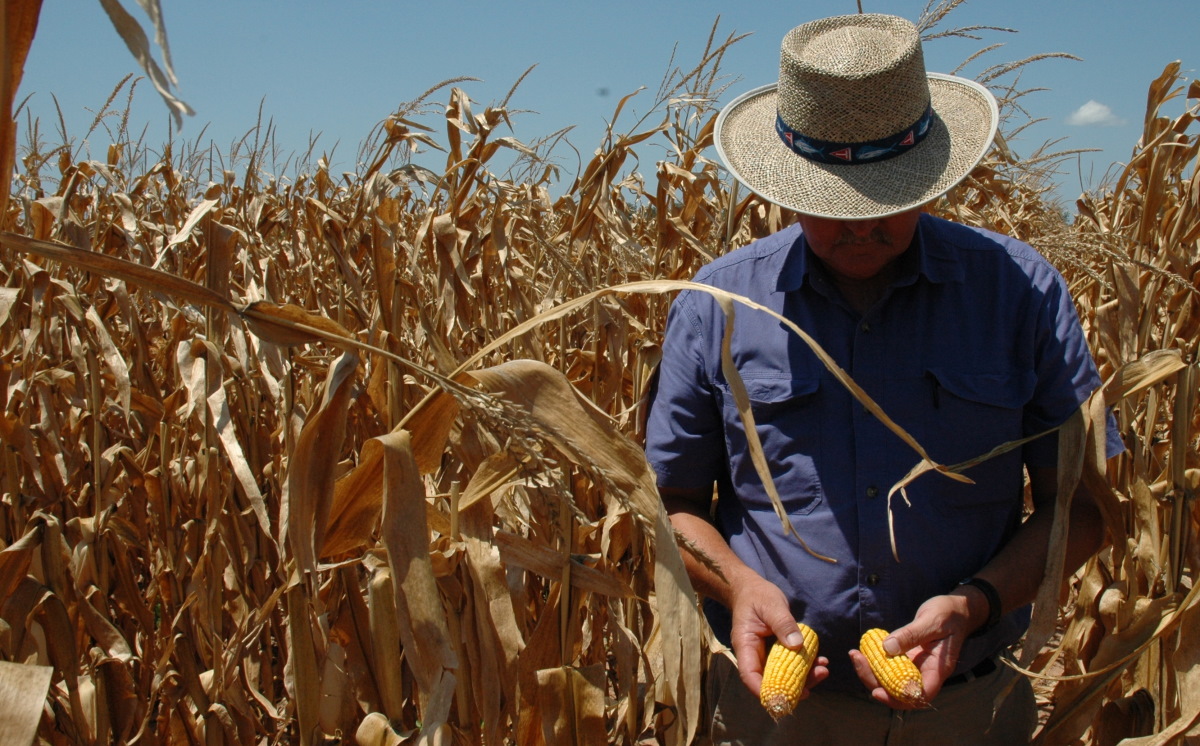 By Robert Henson
Texas Climate News
Stewart Doreen, managing editor at the Midland Reporter-Telegram, captured the zeitgeist of a bleakly parched autumn with his lead for a November 15 article: "Sometimes, it feels like it's not going to rain again in Midland."
It did rain again in Midland – nearly a half inch on Thanksgiving weekend – but the West Texas city still ended up with one of its driest autumns on record. A mere 1.34 inches of moisture fell from September through November.
Texas as a whole just saw its 16th-driest October in 126 years of recordkeeping, and the period from January to October was the state's 10th warmest year-to-date on record.
There's likely to be plenty more mild weather, but only scant precipitation, in the upcoming winter across Texas. The main culprit is La Niña, a semi-cyclic phenomenon in the tropical Pacific that's expected to prevail at least through the winter and perhaps longer. La Niña favors warm, dry winters across the U.S. Sun Belt, including Texas.
"We usually get a few very strong cold fronts, but with a lot of mild weather in between," said Texas state climatologist John Nielsen-Gammon in an email, describing the prototypical La Niña winter.
As of November, La Niña conditions had strengthened to levels unseen since 2011. That's when Texas endured its driest water year (defined in Texas as the 12-month period from October through the following September) in more than a century of recordkeeping. The state averaged just 10.86 inches of moisture from October 2010 through September 2011.
That year's fire season – the worst in modern Texas history – took 10 lives and consumed more than 2,900 homes.
Please read the rest of this fine article here:
https://texasclimatenews.org/features/drought-fire-threat-increasing-in-texas-as-la-nina-takes-hold/
+++++
Robert Henson is a contributing editor of Texas Climate News. A meteorologist and science writer based in Colorado, Henson is the author of "The Thinking Person's Guide to Climate Change."
Unfortunately, what drought that builds across Texas won't stay in Texas. I found that the historic heat waves of 2010-11 and 1980 were anchored in Texas and other south-central states, but record heat and associated drought spread north and east, affecting other major crop growing areas.
Another clue that drought will get worse across most of the U.S. during 2021 is what's happening in Mexico:
A hot Mexico can aid in building atmospheric heat domes across the southern U,S. during any time of the year but especially during the spring. In turn, building heat domes over the South in spring usually expand into much of the rest of the U.S. by mid summer. Of course, these heat domes limit precipitation.
We'll check back on this drought issue in early February when snow cover usually is at its zenith. By that point in time we can start making some good forecasts for the spring and the growing season.
Here is more climate and weather news from Sunday:
(As usual, this will be a fluid post in which more information gets added during the day as it crosses my radar, crediting all who have put it on-line. Items will be archived on this site for posterity. In most instances click on the pictures of each tweet to see each article. The most noteworthy items will be listed first.)
Now here are some of today's articles and notes on the horrid COVID-19 pandemic:
(If you like these posts and my work please contribute via the PayPal widget, which has recently been added to this site. Thanks in advance for any support.)
Guy Walton "The Climate Guy"