The main purpose of this ongoing blog will be to track planetary extreme or record temperatures related to climate change. Any reports I see of ETs will be listed below the main topic of the day. I'll refer to extreme or record temperatures as ETs (not extraterrestrials).😉
Main Topic: Feedback Loops Of Drought, Fire, And Carbon Emission Going Into High Gear
Dear Diary. Across the Northern Hemisphere during the past summer it has been my impression that we have witnessed more tragic wildfires than has occurred during one season in modern history. These fires have produced their own feedback mechanism, mainly record amounts of carbon released into the atmosphere from wildfire alone.
In the United States our historic western drought has led to historic California fires, as well:

Obviously, western U.S. fires are adding to atmospheric carbon concentrations.
For more on these agitating feedback loops here is not one but two articles:
https://gizmodo.com/summer-wildfires-emitted-more-carbon-dioxide-than-india-1847718710
Summer Wildfires Emitted More Carbon Dioxide Than India Does in a Year
Wildfires around the world set records for carbon dioxide emissions in July and August, topping India's annual emissions.
By Dharna Noor Wednesday 9:45AM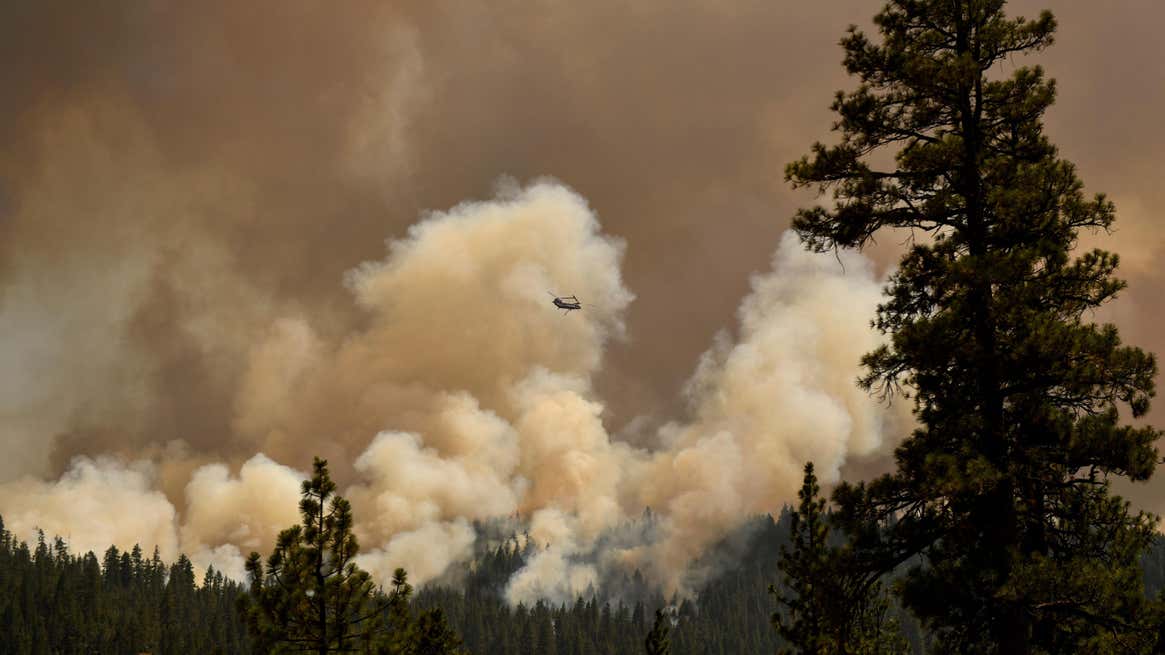 A firefighting helicopter flies past smoke plumes after making a water drop during the Dixie Fire.Photo: Patrick T. Fallon/AFP (Getty Images)
The world set a scary new record last month: Wildfires around the world pumped out more carbon dioxide than ever before.
Forests on multiple continents went up in smoke, spewing out billions of tons of carbon dioxide, new data from the Copernicus Atmosphere Monitoring Service shows. In July, wildfires emitted nearly 1.3 gigatonnes of carbon dioxide, a record that was topped by August's 1.4 gigatons. Between the two months, forest fires emitted an amount of carbon dioxide greater than all of India's carbon emissions in a year.
The majority of those emissions came from wildfires two regions, western North America and Siberia. Blazes in both regions were fueled by heat waves, drought conditions, and low soil moisture levels—three hallmarks of the climate crisis. In the case of North America, monster fires are still burning in the U.S. and continue to threaten everything from homes and giant sequoias. What's been most shocking about the fires in the northern hemisphere is, well, everything.
"What stood out as unusual were the number of fires, the size of the areas in which they were burning, their intensity, and also their persistence," Mark Parrington, senior scientist and wildfire expert at the Copernicus Atmosphere Monitoring Service, said in a statement.
Related Stories
Satellite Image Shows How Shockingly Close the KNP Complex Fire Is to Earth's Biggest TreeCalifornia's Quest for Water Could Drive Up Carbon EmissionsAmateur Metal Detectorist Finds Astonishing Gold Hoard Buried by Pre-Viking Chieftain
Indeed, the massive fires in northeastern Siberia's Sakha Republic and were so large and intense that they sent ribbons of smoke to the North Pole in June. Though they started to die down last month, some were still burning in early September.
"It's a similar story in North America, parts of Canada, the Pacific Northwest, and California, which have been experiencing large wildfires since the end of June and beginning of July and are still ongoing," Parrington said. Northern California's Dixie Fire, for instance, is the largest single fire in state history, burning down nearly 1 million acres. While fires in the West and Siberia are the two biggest sources of emissions, destructive blazes have hit the Mediterranean region hard from Portugal to Turkey to Syria.
It's impossible to talk about these fires without talking about climate change. Hot, dry weather is becoming more common and can lead to megafires like those that have enveloped the northern hemisphere this year—and other recent years for that matter. The emissions from these fires, including some that burned through forests that corporations had bought to offset their emissions, will worsen the climate crisis and up the risk of even more damaging blazes to come.
Forest managers urgently need to adapt to avoid even more catastrophic losses. That means considering more managed, low-intensity burns to thin out brush that allows fires to spread and looking at other outside-the-box solutions. Any serious plan to control wildfires must also include phasing out fossil fuels use. By getting serious ending carbon emissions, we can help break the cycle we're currently locked in.
And here is a Guardian article:
https://www.theguardian.com/world/2021/sep/21/global-wildfire-carbon-dioxide-emissions-at-record-high-data-shows
Global wildfire carbon dioxide emissions at record high, data shows
Figures from EU monitoring service for August are highest since it began measurements in 2003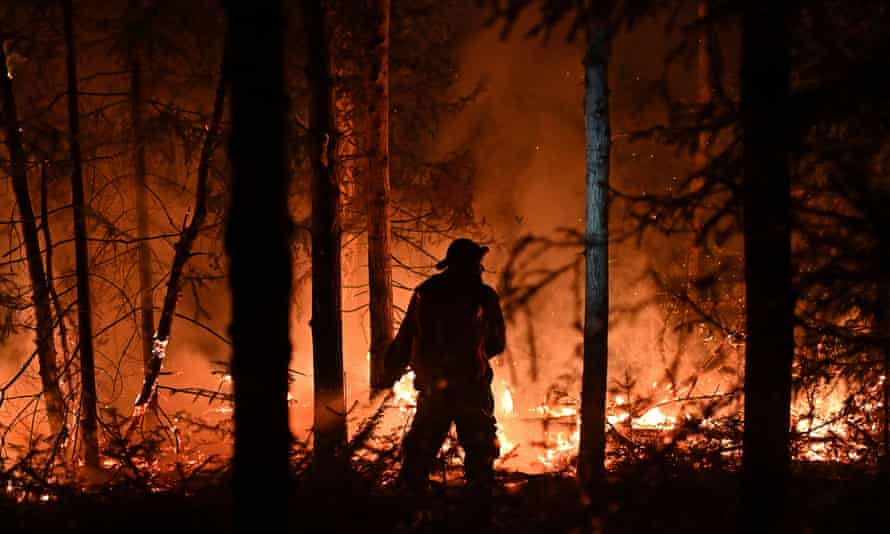 A volunteer works to extinguish a wildfire near the town of Revda in Russia last month.
Photograph: Alexey Malgavko/Reuters
Jonathan Watts @jonathanwatts Tue 21 Sep 2021 12.17 EDT
August was another record month for global wildfire emissions, according to new satellite data that highlights how tinderbox conditions are widening across the world as a result of the climate crisis.
The Copernicus Atmosphere Monitoring Service of the EU found that burning forests released 1.3 gigatonnes of carbon dioxide last month, mostly in North America and Siberia. This was the highest since the organisation began measurements in 2003.
After a July record of 1258.8 megatonnes the previous month, scientists are concerned that areas with dense vegetation are becoming a source rather than a sink of greenhouse gases.
The increased flammability was evident across swathes of the northern hemisphere. Russia, which is home to the world's biggest forest, was by far the worst affected as infernos in the taiga forests of Siberia pumped 970 megatonnes of carbon dioxide into the atmosphere between June and August – more than all the forests in the rest of the world put together.
"The number of fires, their persistence and intensity were remarkable," Copernicus said.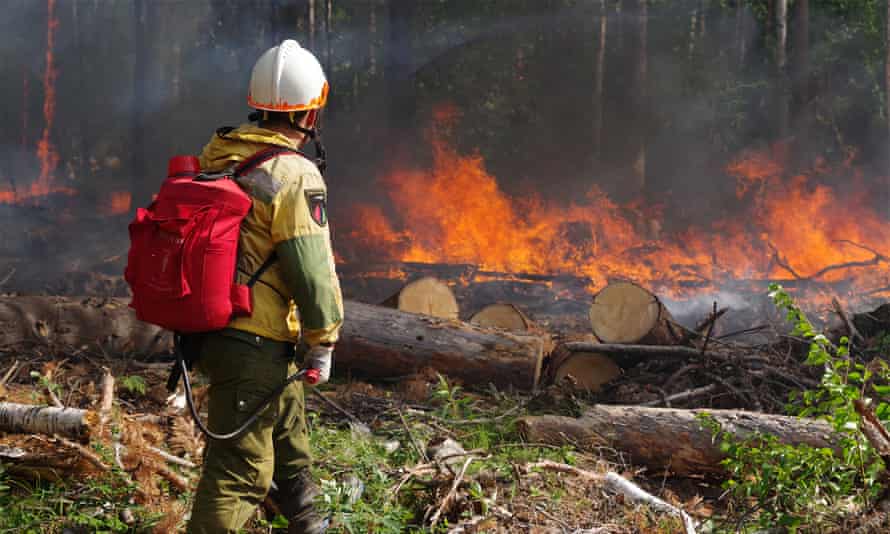 Summer fires are not unusual in the Sakha Republic of north-eastern Siberia, but 2021 was exceptional. Emissions during this peak season were more than double the previous record. Blazes are burning longer than usual and with more ferocity.
In July, choking smoke gave the city of Yakutsk, which is in the midst of the Siberian fire region, the most polluted air in the world. This followed measurements of unusually high temperatures and lower than normal soil moisture.
Fires are also increasingly common in the Arctic Circle. This far northern region, which has warmed more than twice as fast as the rest of the planet, released 66m tonnes of CO2 this summer.
It was a similar story in North America, which has sweltered through deadly heat and unusually long dry spells.
In northern California, the Dixie Fire is now one of the biggest ever recorded in the state's history, having turned almost a million acres to ash. Several Canadian provinces have also been scorched by unusually intense fires.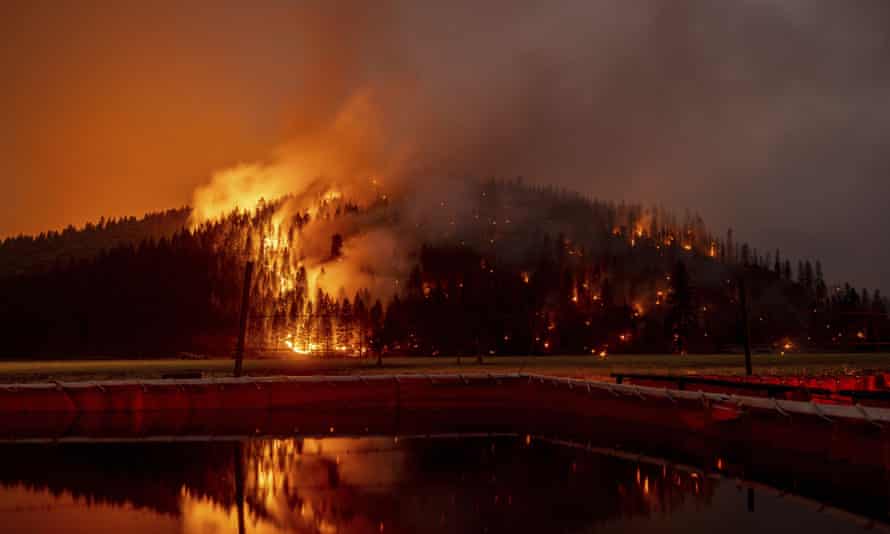 Europe has far less forest cover, but record high and prolonged heat has resulted in devastating fires in Turkey, which were four times more intense than anything previously registered. Greece, Italy, Spain, Portugal, Albania, North Macedonia, Algeria, and Tunisia have also battled with huge blazes that sent smoke plumes billowing across the Mediterranean.
Mark Parrington, senior scientist at Copernicus said this year was not a one-off but a sign of a worsening trend caused by human-driven climate change. "It is concerning that drier and hotter regional conditions, brought about by global warming, increase the flammability and fire risk of vegetation. This has led to very intense and fast-developing fires. While the local weather conditions play a role in the actual fire behaviour, climate change is helping provide the ideal environments for wildfires."
Related articles:
……………………………………………………………………………………………………….
Here is more climate and weather news from Friday:
(As usual, this will be a fluid post in which more information gets added during the day as it crosses my radar, crediting all who have put it on-line. Items will be archived on this site for posterity. In most instances click on the pictures of each tweet to see each article. The most noteworthy items will be listed first.)
Now here are some of today's articles and notes on the horrid COVID-19 pandemic:
(If you like these posts and my work please contribute via the PayPal widget, which has recently been added to this site. Thanks in advance for any support.)
Guy Walton "The Climate Guy"