The main purpose of this ongoing blog will be to track planetary extreme or record temperatures related to climate change. Any reports I see of ETs will be listed below the main topic of the day. I'll refer to extreme or record temperatures as ETs (not extraterrestrials).😉
Main Topic: The Return Of The Dipole And Dry, Record Heat To The Southwest.
Dear Diary. In the last few days a very bad repeating weather pattern has raised it's ugly big heat dome head across the Southwest…that of the dipole, or ridge along the West Coast and trough in the East. Here is the 500 millibar pattern from this morning: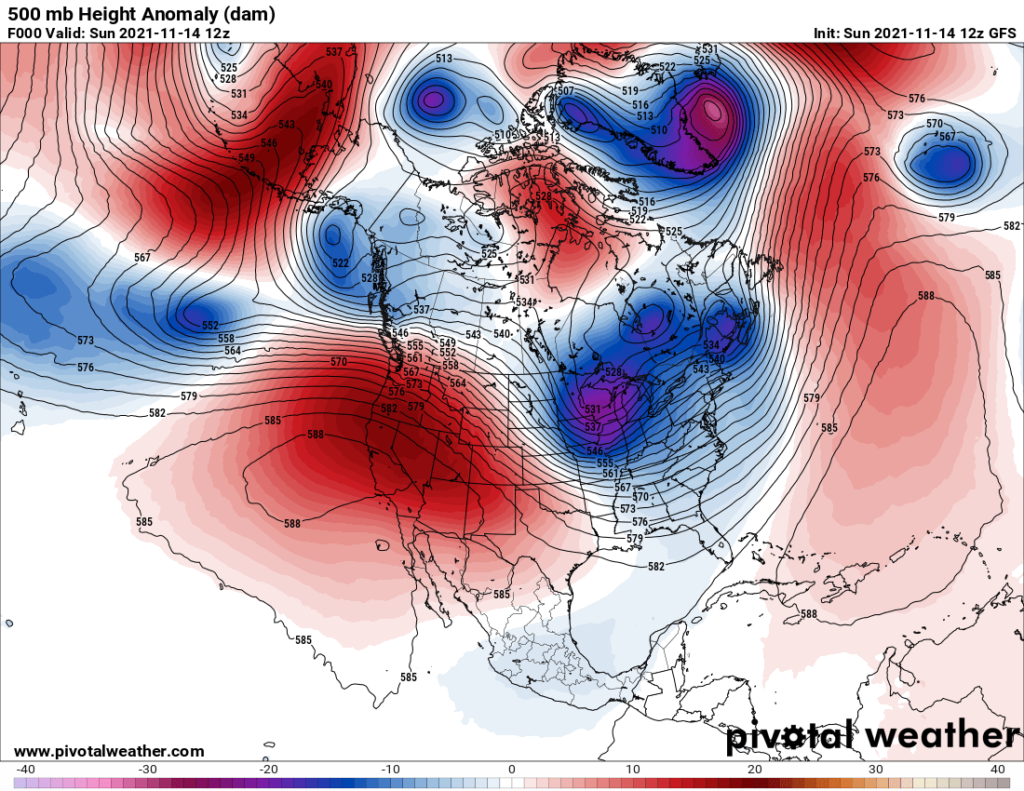 Cold 500 millibar heights in the Midwest are not that uncommon for mid November, but warm heights above 585 decameters are. This is why we are seeing record heat in the Southwest:
Here is what our western expert, Dr. Daniel Swain, has to say about the current pattern:
The Northwest will be very wet early this week, though:
In the long term I just don't see a break in this warm, dry pattern through the end of November:
Obviously, a return to a warm, ridgy drought pattern is not good news:
I'll be keeping a close eye on drought conditions and any more relief coning for the western U.S. as we roll through winter.
Here are some "ET's" reported from Sunday:
Here are some more COP26 articles and news:
Here is more climate and weather news from Sunday:
(As usual, this will be a fluid post in which more information gets added during the day as it crosses my radar, crediting all who have put it on-line. Items will be archived on this site for posterity. In most instances click on the pictures of each tweet to see each article. The most noteworthy items will be listed first.)
Now here are some of today's articles and notes on the horrid COVID-19 pandemic:
(If you like these posts and my work please contribute via the PayPal widget, which has recently been added to this site. Thanks in advance for any support.)
Guy Walton "The Climate Guy"