The main purpose of this ongoing blog will be to track planetary extreme or record temperatures related to climate change. Any reports I see of ETs will be listed below the main topic of the day. I'll refer to extreme or record temperatures as ETs (not extraterrestrials).😉
Main Topic: Record Warmth to Build from Coast to Coast This Week
Dear Diary. To top off what surely will be a near record warm fall, once the National Center for Environmental Infrastructure completes their statistics for September through November, a very warm climate change related airmass will build over the lower 48 states this week. Record warmth will occur from the West Coast, which began on Sunday, and build through the Rockies into the Southeast by Friday. The only areas of the country not to experience this warmth will be the Upper Midwest and Northeast, which will have near average conditions. Not many people will be complaining about this warmth except for snow and cold weather enthusiasts. This week won't get many into the traditional holiday spirit.
Here is what the 500 millibar pattern will look like by Wednesday morning: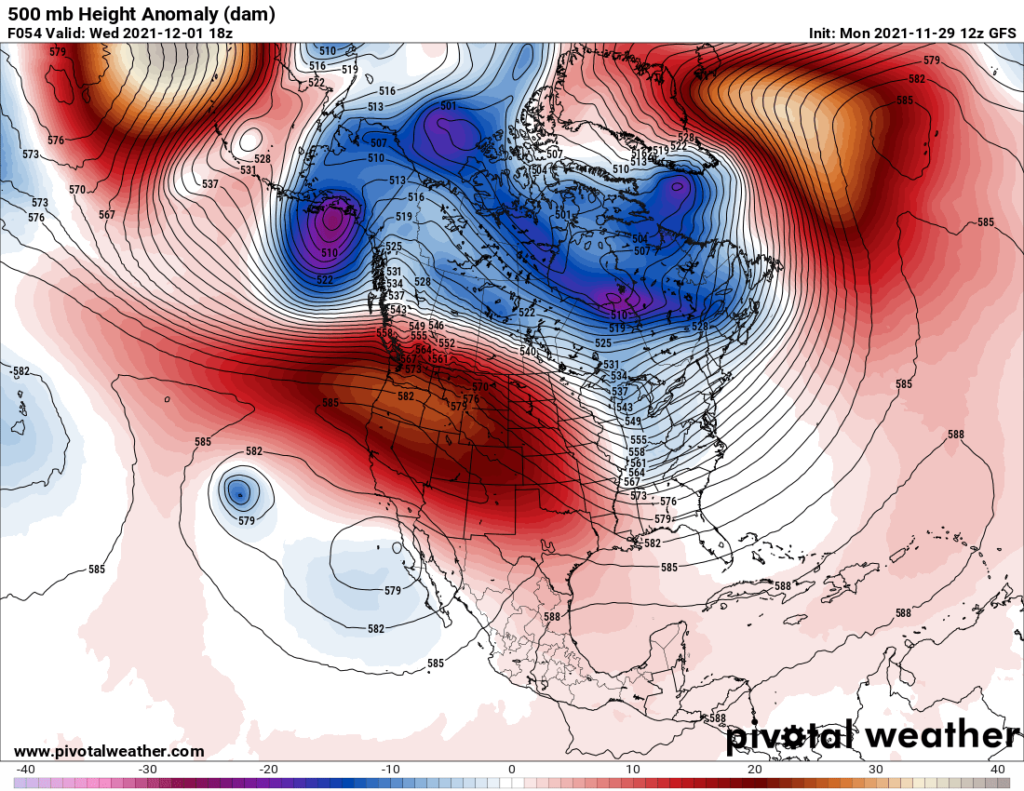 I don't think that I have ever seen 500 millibar heights this warm and high on December 1st in the western U.S.
Here are model high maxes for Wednesday December 1st:
The maxes above will be at near record values from California through the Rockies into the central and southern Plains.
Click on the following video to see dot maps of records for this coming week:
https://weather.com/news/weather/video/record-highs-possible-to-start-december-as-warmup-overtakes-much-of-the-country
And of course, with this fall's warmth comes a big lack of snow. Both the lack of snow cover and record warmth are locked in a feedback loop. This is not your typical late November snow cover map, my friends, particularly in the central and southern Rockies:
I'll start posting many of those "ET's" once my radar spots them during this week.
Some "ET's" reported from Monday:
Records from Sunday:
Here is more climate and weather news from Monday:
(As usual, this will be a fluid post in which more information gets added during the day as it crosses my radar, crediting all who have put it on-line. Items will be archived on this site for posterity. In most instances click on the pictures of each tweet to see each article. The most noteworthy items will be listed first.)
Now here are some of today's articles and notes on the horrid COVID-19 pandemic:
(If you like these posts and my work please contribute via the PayPal widget, which has recently been added to this site. Thanks in advance for any support.)
Guy Walton "The Climate Guy"