The main purpose of this ongoing blog will be to track planetary extreme, or record temperatures related to climate change. Any reports I see of ETs will be listed below the main topic of the day. I'll refer to extreme or record temperatures as ETs (not extraterrestrials).😉
Main Topic: Top Five 2022 Weather/Climate Disasters by Jeff Berardelli
Dear Diary. As promised, I'm reposting some noteworthy lists of climate and weather notes from 2022. Yesterday I came across Jeff Berardelli's list, which is today's main subject. For years Jeff has been a strong advocate for broadcasting the science of climate change and now does so from Tampa, Florida. Tampa dodged a tremendous bullet last year from Hurricane Ian.
For Jeff's full video, which I did not repost, please hit the link below:
5 worst global weather disasters of 2022 | WFLA
5 worst global weather disasters of 2022
by: Jeff Berardelli
Posted: Jan 5, 2023 / 10:51 PM EST Updated: Jan 6, 2023 / 04:02 PM EST
TAMPA, Fla. (WFLA) — In this week's climate classroom we look back at the top five extreme weather and climate events of 2022. We start right here on the West Coast of Florida, with the world's most destructive storm of 2022.
Hurricane Ian
With estimated losses between $50 – $100 billion, Hurricane Ian is likely destined to become Florida's most costly storm in history.
Ian roared ashore on Sept. 28. Winds of 150 mph and a towering storm surge of 15 feet decimated coastal communities.
The bridge leading from Fort Myers to Pine Island, FL (AP Photo/Gerald Herbert, File)
Ian's prolific rainfall was a 1-in-1000-year event, flooding rivers and submerging homes up to their rooftops.
European Summer Heat Wave
In July, the United Kingdom hit 104 degrees Fahrenheit, shattering the all-time national heat record. A study found that heat intensity would have been statistically impossible without climate change.
A police officer givers water to a British soldier wearing a traditional bearskin hat, on guard duty outside Buckingham Palace, during hot weather in London, July 18, 2022. Scientists said the heat wave in England and Wales on July 18 and 19 was definitely turbocharged by human-caused climate change, according to a study released Thursday, July 28, by the World Weather Organization.
This was just a small part of Europe's hottest summer on record. Government data revealed the heatwaves contributed to 20,000 excess deaths.
European Drought
The combination of record-breaking temperatures and low rainfall led to Europe's worst drought in 500 years. Rivers, like the Rhine and Danube dried up, halting shipping.
The "Maeuseturm" is pictured in the middle of the river Rhine in Bingen, Germany, Friday, Aug. 12, 2022. (AP Photo/Michael Probst)
A similar scene played out in China along the Yangtze River where water levels dropped to their lowest in 150 years.
In the US, the west experienced its most extreme drought in 1200 years. While in the east, you could practically walk across parts of the Mississippi River in late fall.
People walk to Tower Rock, an attraction normally surrounded by the Mississippi River and only accessible by boat, Oct. 19, 2022, in Perry County, Mo. Foot traffic to the rock formation has been made possible because of near record low water levels along the river. The impacts of climate change hit communities across the country. (AP Photo/Jeff Roberson, File)
A study of 2022's widespread Northern Hemisphere drought found it to be 20 times more likely because of human-caused climate change.
Pakistan Floods
Perhaps the most dramatic weather event of last year was the one you likely never heard of, devastating floods in Pakistan.
Women carry belongings salvaged from their flooded home after monsoon rains, in Sindh Province, of Pakistan, Sept. 6, 2022. Earth's warming weather and rising seas are getting worse and doing so faster than before, the World Meteorological Organization warned. (AP Photo/Fareed Khan, File)
Summer monsoons flooded 10% of the nation – an area the size of South Carolina. The floods killed 1,700 people and left 2.1 million people homeless.
Famine in Horn of Africa
Right now, the Horn of Africa is in the midst of its worst drought on record, according to NASA. The drying is due to 3 consecutive years of La Nina, a warm Indian Ocean and also Global Warming.
NASA image of extreme drought in the Horn of Africa
In Somalia, Kenya and Ethiopia, the UN says more than 2 million children are in need of urgent treatment due to severe malnutrition. 24 million people are running out of water. This is forcing millions to flee from their homes just to survive.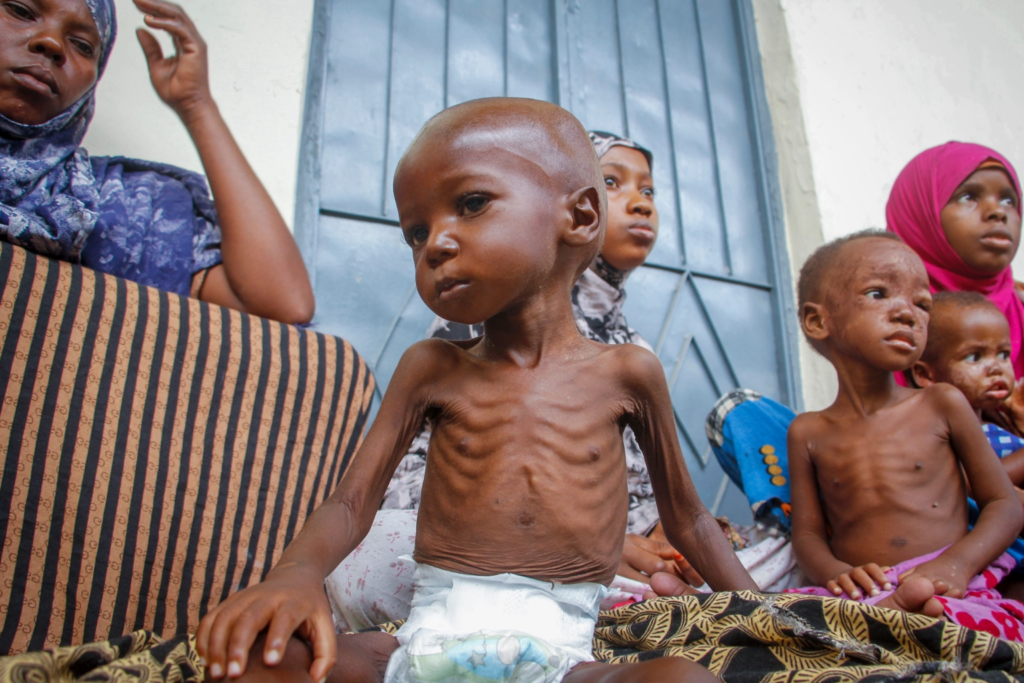 A malnourished two-year-old sits by his mother, left, who was recently displaced by drought, at a malnutrition stabilization center run by Action Against Hunger, in Mogadishu, Somalia. (AP Photo/Farah Abdi Warsameh)
Globally, over the past decade, weather and climate disasters have displaced more than twice the number of people as compared to conflict and violence.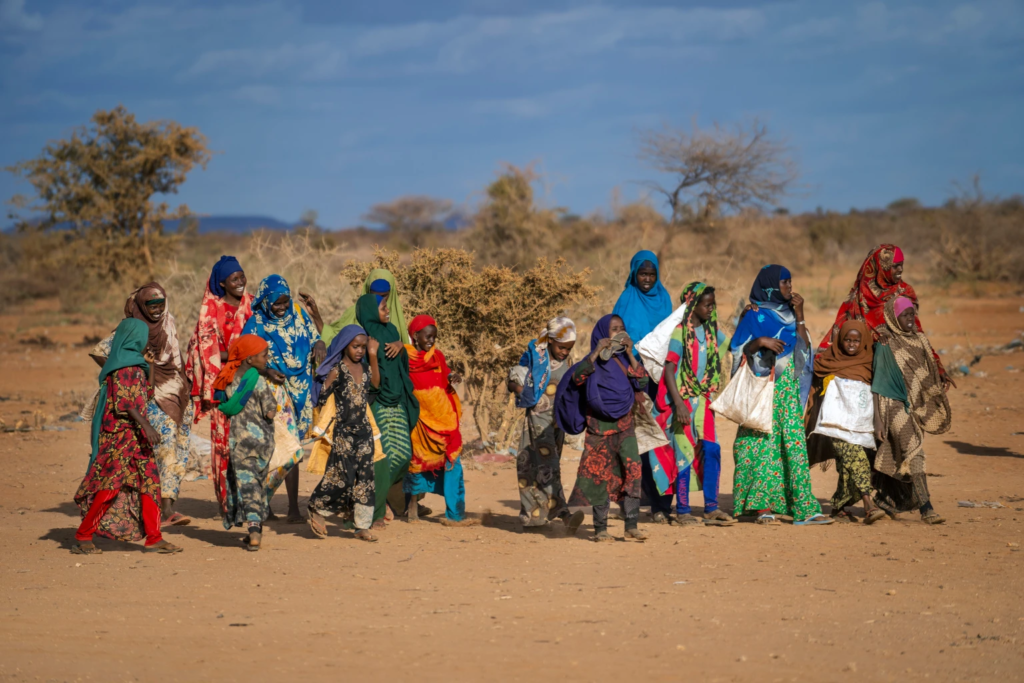 People arrive at a displacement camp on the outskirts of Dollow, Somalia, on Sept. 19, 2022. (AP Photo/Jerome Delay, File)
Here are some "ET's" recorded from around the planet the last couple of days, their consequences, and some extreme temperature outlooks, as well as some extreme precipitation reports:
Here is some new 2022 climatology:
Here is more climate and weather news from Saturday:
(As usual, this will be a fluid post in which more information gets added during the day as it crosses my radar, crediting all who have put it on-line. Items will be archived on this site for posterity. In most instances click on the pictures of each tweet to see each article. The most noteworthy items will be listed first.)
If you like these posts and my work please contribute via the PayPal widget, which has recently been added to this site. Thanks in advance for any support.)
Guy Walton… "The Climate Guy"