The main purpose of this ongoing blog will be to track planetary extreme, or record temperatures related to climate change. Any reports I see of ETs will be listed below the main topic of the day. I'll refer to extreme or record temperatures as ETs (not extraterrestrials)😉
Main Topic: Update on Canada's Climate Change Induced Smoke
Dear Diary. Earlier this warm season what I dubbed as Heatwave Amoco, which started in the Pacific Northwest and western Canada and then affected most of that country, was responsible for setting off numerous blazes, so much so that Canada is having its worst wildfire season in recorded history. The smoke from Candian wildfires has been choking U.S. cities ever since and can be seen in the skies of Europe as it get transported by the jet stream across the Atlantic.
The Washington Post has written a nice summary on what has been happening with this Canadian smoke. If we don't stop the burning of fossil fuels, this year's smoke will be a horrific unhealthy annual event:
This is now Canada's worst fire season in modern history as smoke fills skies – The Washington Post
It's Canada's worst fire season in modern history, as smoke fills skies
On Sunday, smoke from Canadian fires stretched across the Atlantic Ocean, with a plume apparently on its way to parts of Europe
June 26, 2023 at 7:00 a.m. EDT
Smoke and fire across eastern Canada on Sunday evening. (Colorado State/CIRA)
It's been another mind-boggling stretch for fire in Canada, amid what has become the largest season in the modern record for the country, according to statistics compiled by the Canadian Interagency Forest Fire Center.
In the seven days ending Sunday, more than 3.5 million acres (1.4 million hectares) burned, or 69 percent of an average full season in the country. This year's tally of land burned is now up to 17.8 million acres (7.2 million hectares), surpassing the entire year of 1995 with 17.5 million acres (7.1 million hectares), for the biggest fire season in modern history for Canada.
The peak of typical Canadian wildfire season still lies ahead.
Under a sprawling heat dome in the east, conflagrations centered on Quebec unleashed their maddening fury, munching up boreal forest and delivering thick palls of smoke to those downwind — including those as far away as Europe. In Quebec alone, just shy of a million hectares has burned over the past week.
Massive scope
Fires, air quality index values and smoke plumes late Sunday. (AirNow)
A prevailing story of this fire season is that angry infernos are spread across the country. Typical seasons in Canada tend to focus on one area, often the west, when it comes to the biggest blazes. The coast-to-coast nature of the current activity has made the fight incredibly fraught.
Early last week, powerful and slow-moving upper-level low pressure delivered rare heavy snowfall to high elevations of Alberta and British Columbia, while also bringing much-needed rain and some flooding to the prairies to the east. Moving into the weekend that just ended, that low pressure and rainfall departed, replaced by higher temperatures and a resumption of smoke production.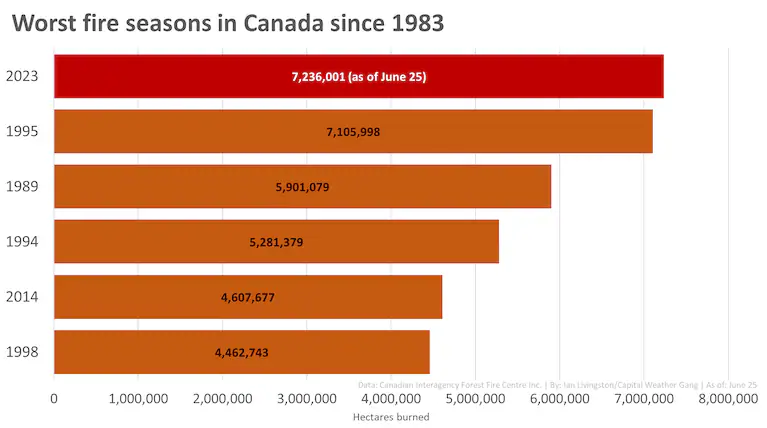 While the west saw what is destined to be a painfully brief respite, a heat dome of high pressure flexed over the country's kindling to the east. Under that heat dome, the only weather other than hot and dry is the occasional thunderstorm that tends to deliver more lightning than rain, potentially sparking new fires.
Given ideal conditions for fire, the region saw explosive growth in area burned over the past week. In Quebec, 2,444,488 (989,249 hectares) were added to the tally, while 361,245 acres (146,191 hectares) piled onto the total in Ontario.
Those two provinces have now seen 6.7 million acres (2.7 million hectares) and growing go up in smoke, surpassing the average year in the whole country by more than a half-million hectares.
Wildfire smoke, air quality and your health
(Photo by AFP PHOTO / Nova Scotia Government) (Handout/AFP/Getty Images)
Wildfire smoke can travel great distances, with particulates small enough to enter the bloodstream through your lungs if inhaled. If you're in an area affected by smoke, limit your outdoor activities (especially when exercising) and wear a good mask outside that can filter fine particles. Here's how to protect yourself from wildfire smoke.
As seen with recent smoke invasions in the Northeastern United States, and in other parts of the United States and Canada, the smoke produced by the boreal forest fires is incredibly dense and foreboding. Unlike many forest fires where flames tear through the tree crowns and move on, boreal forests burn as much at the ground level because of extensive flora as well as other biomasses like peat.
On Sunday, smoke from Canadian fires stretched across the Atlantic Ocean, with a relatively thick plume apparently on its way to parts of Europe.
Smoke impacts
Code Purple and Code Maroon air quality index values returned to much of eastern Canada in recent days. Under high pressure, smoke plumes have tended to hang around before being caught up in the normal mid-latitude westerly wind flow.
Unhealthy air quality stretched from the Great Lakes to the Atlantic Ocean on Sunday. (PurpleAir)
Code Red (151+ AQI) begins the unhealthy level for general population, with Code Purple (201+ AQI) equal to very unhealthy and Code Maroon (301+ AQI) the worst of all, with hazardous conditions.
Despite the scarcity of official observation stations in Quebec and Ontario, daily peak values of 509 AQI were reported on Saturday.On Sunday, Code Red and Purple hourly observations were common from the international border region of the Great Lakes eastward to New Brunswick and Prince Edward Island.
Looking at a time series of maximum 24-hour code from EPA, the recent spike in activity is plainly seen, even with very few locations to observe the smoke in eastern Canada. There have now been a number of extensive smoke episodes driving air quality deep into the unhealthy and hazardous zones.
The 509 AQI recorded Saturday was the highest of the stretch since these fires began in early May. Poor air quality is likely in many of the same regions over the next few days, while ahead of low pressure to the west. Some of the worst air may creep into New England late Monday into early Tuesday, as smoke also rotates southward on the back of the low across the Upper Midwest.
More smoke and fire to come
Other than the occasional passage of low pressure and attendant rainfall chances, the fire weather situation remains similar to recent conditions. In other words, warmer than normal and drier than normal rolls on for much of the country. Typically, Canada's fire season is just kicking into gear for the months ahead.
The greatest fire risk may return its focus to the west in the nearer term.
Already in recent days, the fires that were knocked back by weather including rain and snow have begun flaring again. High to extreme fire danger is forecast to expand in coverage from British Columbia through Alberta and the Northwest Territories, then increasingly eastward into Saskatchewan and beyond, according to Natural Resources Canada.
Rain chances rise for the time being in Ontario and Quebec. A slow-moving storm in the Great Lakes crawls toward the East Coast into midweek. On the northeast side, some rain will fall. It could be a soaking for parts of the region ablaze but will also probably lead to erratic fire behavior with changing winds.
Fire threat forecast for a week from now. (Natural Resources Canada)
This low-pressure area is already wrapping smoke into it from the north and then swirling in on its backside, which may continue in the days ahead. If it continues, it may ultimately deliver a round of smoke to the Midwest, Mid-Atlantic and Northeast, but rain in the source regions may also diminish the plumes for a time.
Longer-term forecast ideas show mostly above- to well-above-average temperatures from end to end of Canada. Heading into July, the government forecasts show fire danger coverage growing — in provinces from coast to coat — with high to extreme fire danger.
Canadian wildfire smoke
Latest news: Why are Canada's wildfires getting worse? Meteorologists aren't sure how long the fires will continue to scorch parts of Canada. Smoke from Canadian wildfires spread over much of the Midwest, Ohio Valley, Northeast and Mid-Atlantic.
Wildfire smoke: This is the latest wildfire smoke forecast, including where it is now and where it's headed.
Air quality and your health: Breathing in wildfire smoke is bad for your health. The EPA uses a color-coded system to measure air quality. Here's an explanation of what Code Red, Code Purple and more mean. Learn how to protect yourself including which air filters and air purifiers to choose for your home.
Environmental impact: Wildfires send greenhouse gases into the air, but Canada doesn't count some of them as part of its official emissions contributions, a Post report found.
By Ian Livingston Ian Livingston is a forecaster/photographer and information lead for the Capital Weather Gang. By day, Ian is a defense and national security researcher at a D.C. think tank. Twitter
Much More:
Here are some "ET's" recorded from around the planet the last couple of days, their consequences, and some extreme temperature outlooks, as well as any extreme precipitation reports:
Here is more climate and weather news from Tuesday:
(As usual, this will be a fluid post in which more information gets added during the day as it crosses my radar, crediting all who have put it on-line. Items will be archived on this site for posterity. In most instances click on the pictures of each tweet to see each article. The most noteworthy items will be listed first.)
Today's News on Sustainable Energy:
More Environmental Stuff:
And from the Weather Department:
More on other science and the beauty of Earth and this universe:
If you like these posts and my work on record temperature ratios, please contribute via the PayPal widget, which has recently been added to this site. Thanks in advance for any support.
Guy Walton… "The Climate Guy"