The main purpose of this ongoing blog will be to track planetary extreme, or record temperatures related to climate change. Any reports I see of ETs will be listed below the main topic of the day. I'll refer to record temperatures as ETs (not extraterrestrials).😉
Main Topic: Elevating Biden's Landmark Climate Law
Dear Diary. Election season is rapidly approaching, although since we have a presidential one across the U.S. every four years with a congressional election every two years it seems like we are always in the season. Since Trump appeared on the scene in 2016, we get the phrase 'this is the most important election of our lifetime' bandied about a lot. For climate folks that's of so true. If Trump or another similar Republican does get elected in 2024, it very well could be game over for our climate because he will undo most of what Biden has done during his presidency.
But we have another problem. Young people who voted for Biden during 2020 think that he hasn't done enough to solve the climate crisis and has been compromising too much with fossil fuel interests. Our youth could stay home because of this perception throwing the 2024 election to Trump. So, what should the Biden administration do at this point in 2023? Why, get out there and advertise plus elevate their landmark climate law while promising to do more, especially if the House can get flipped back to Democrats after the next election. Older folks are becoming more concerned about our climate too especially after all of the horrific environmental news from this year.
Some Republicans have this attitude. We need to vote them out of Congress and send their pundits to the dustbin of history …and we dare not stay home:
I'm used to hearing crazy ideas, but this is next level insanity.

Former Trump staffer and recurring Fox News guest Steve Milloy believes that climate is a hoax intended to kill most of the world's population. pic.twitter.com/CojXZbkI2B

— Dr. Robert Rohde (@RARohde) September 26, 2023
Here are more details from the Washington Post:
Why Biden allies are scrambling to tout his landmark climate law – The Washington Post
Why Biden's allies are scrambling to elevate his landmark climate law
To win over climate-concerned voters in 2024, environmental groups and many Democrats say they must raise awareness of a signature Biden achievement.
By Timothy Puko
September 26, 2023
A Sunrun worker carries a solar panel for installation on the roof of William and Marcia Lee's Las Vegas home on Aug. 24. (David Becker)
LAS VEGAS — Eleonor Cantu is the kind of climate-conscious voter that President Biden and Democrats need in 2024 to hold on to power in Washington.
An executive casino host who describes herself as a supporter of Sen. Bernie Sanders (I-Vt.), Cantu, 41, wants government to act aggressively on climate change. But she also thinks that the president and Congressional Democrats from her state haven't done enough to meet that mark.
Asked about the Inflation Reduction Act — Biden's signature legislative achievement, which is pumping billions of dollars into clean energy and other climate programs — she said she thought that it was mostly about raising interest rates, a misconception that illustrates how even the name of the law can be confusing.
"I don't know what they are really doing," she said regarding climate, while on her way out of a coffee shop south of Las Vegas. "I only hear the bad stuff. If (Biden's) doing good stuff — I don't know. I don't know a single Democrat who's excited about Biden."
Such is the conundrum for Biden, his environmentalist supporters and Democrats, including several lawmakers in Nevada whose reelection campaigns might determine control of Congress. They passed the largest climate bill in history last year, but many voters aren't giving them any credit for it. Some aren't even aware of the Inflation Reduction Act, or the IRA, as it is known inside the Beltway.
Eleonor Cantu, 41, of Las Vegas says she doesn't believe that Democrats have been aggressive enough in fighting climate change. (David Becker for the Washington Post)
According to a July poll by The Washington Post, 71 percent of Americans said they have heard "little" or "nothing at all" about the law one year after its passage. Administration officials and political operatives say they have work ahead to change those numbers, but that they are optimistic Americans will eventually notice its impact.
Many are only just starting to learn, said Karen Skelton, a senior adviser in the Biden administration. "It's so new, it's hard to imagine unless it's happening right in front of you, how transformative what we're going through is.
Nevada is whipsawed by both extreme weather and divided politics, and it is regularly courted by both parties and their big-dollar donors because of its swing-state status. That is prompting Democrats and their activist allies, ahead of 2024, to double down on their efforts to persuade voters that Biden has taken strong action on climate.
West of downtown Las Vegas, Nevada's 3rd District is an expanse of arrow-straight multilane roads. From off-strip casinos such as the Orleans and the Palms — famous two decades ago as a haunt for Paris Hilton and other celebrities — to sprawling suburbs farther west, it is home to thousands of ethnically diverse union workers, largely friendly to Democrats. But the district also rolls south through the rocky desert sacred to the Mojave people, a land of ranchers and other rural voters who are often dedicated Republicans.
That makes it one of the most nation's most divided and competitive districts, with "nonpartisan" the most active voter registration here. Rep. Susie Lee (D) won her last election here by just 10,000 votes. National donors are already pouring in for a race that has become known as one of the most expensive in Congress.
Lee's environmental allies helped organize events for Lee and dozens of other candidates last month, when Congress was in recess and lawmakers went back to their districts. Over a span of a few weeks, Lee buzzed around Vegas to senior centers, union halls and the unveiling of the state's first hydrogen-fueled bus.
"I want people to understand just what's in that bill and what they can take advantage of," Lee said before a recent community meeting held at a local library to explain the law's consumer programs. Her push to Nevada voters? "That we've gotten results."
In this desert oasis, people of all political stripes commonly say they see effects from climate change. Residents suffered through record heat this summer, and fretted about water rationing and a shrinking Lake Mead. A rare Pacific hurricane passed nearby and two monsoonal floods inundated the Las Vegas Strip just since mid-August.
Rick Van Diepen asks a question during an informational event about new consumer benefits from the federal Affordable Clean Energy Plan at the Windmill Library in Las Vegas. (David Becker for the Washington Post)
Rep. Susie Lee (D-Nev.) speaks at an informational event about new consumer benefits from the federal Affordable Clean Energy Plan. (David Becker for the Washington Post)
For Democrats such as Lee, the challenge is persuading voters that Biden's climate investments will both reduce these threats and also help them with new tax breaks, jobs and reduced energy bills.
"It's all hands on deck to educate the public," Margie Alt, director of Climate Action Campaign, an advocacy coalition of several environmental and progressive groups, said in an email. The IRA's investments are now going out to communities, she added, and "we are making it our business to be sure people see, hear and feel the benefits."
In coming weeks, Alt's group and other political environmental organizations such as the League of Conservation Voters and Climate Power plan to spend significant sums — they declined to say how much — on climate advertising and events in key swing states, Arizona, Michigan, Georgia, Pennsylvania and Wisconsin, along with Nevada.
By moving now, Democrats hope to create a springboard for 2024. Republicans are constant critics, but the Biden administration also faces a drumbeat from left-wing activists. Thousands filled New York streets at Climate Week protests this month and called for President Biden to commit to phasing out the production and consumption of fossil fuels.
The Democrats' larger strategy, in two main ways, seeks to counter decades of failure and please both left-wing climate critics and pocketbook moderates who just want smaller energy bills. First, the law itself introduced new climate policies that Democrats expect will be more popular than the ideas they failed to pass in the 1990s and 2000s. And now they are pairing that with more aggressive political tactics than what followed the passage of other signature Democratic laws, like the Obama-era Affordable Care Act.
Biden bet big that he could work with Congress to approve a giant spending bill to be the cornerstone of his climate agenda. It eschewed taxes or almost anything punitive in favor largely of subsidies for developing cleaner energy. Many of those benefits go straight to retail consumers, with others designed to boost manufacturing and job growth for Americans.
That has juiced manufacturing investment and industrial construction to levels unseen in decades. The independent research firm Rhodium Group, in collaboration with MIT's Center for Energy and Environmental Policy Research, said this month that total domestic investment for clean energy development rose 37% to $213 billion in the year ended June 30.
But that strategy has also opened Biden and Democrats to political attacks on spending. They advocated for the climate plan on top of major bipartisan spending bills for infrastructure and pandemic recovery. And Republicans have frequently blamed those decisions for feeding inflation, deficits and poverty, which rose sharply last year as some pandemic aid ended and prices rose.
Frank Velasquez, 73, is an independent and former Democrat who says he is "very concerned" about climate change, but that "fiscal issues" will be much more important to him. He complimented Sen. Jacky Rosen (D-Nev.) — who also faces reelection next year — but said he's still "up in the air" on all 2024 candidates, with reservations about both presidential front-runners, Biden and former president Donald Trump.
"All this spending, sooner or later, something's got to give," said Velasquez, who lives on a straight-line street called Romance Circle northwest of downtown Las Vegas. He said that addressing climate change is important but that he distrusts many Democrats. "They're so liberal, they spend, spend, spend, spend, spend."
Frank Velasquez outside the Las Vegas home that he rents. Velasquez says he's worried about climate change but also about Democratic fiscal policy. (David Becker for the Washington Post)
House Republicans have repeatedly tried to kill several of the law's climate programs, including tax credits for producing zero-emissions electricity, building utility-scale batteries or making those types of investments in poor and minority communities. They have not succeeded, but another budget showdown is looming ahead of the new fiscal year Oct. 1.
Republicans have, however, also welcomed clean energy developments — when their home states benefit from the law. Companies have announced $30 billion in new investments, according to a Climate Power tally, for Georgia and South Carolina — including car factories, battery recyclers and solar-cell manufacturers. Some Republicans in Congress have cheered those investments, including Rep. Marjorie Taylor Greene (R-Ga.) and others who voted against the law.
Nevada becomes much more conservative the farther you get from Las Vegas or Lake Tahoe, and about $7 billion of the $9 billion in investments announced for Nevada are farnorth of Lee's district, where Republicans often win elections by 10- to 20-point margins. Tesla and one of its indirect suppliers, Redwood Materials, are each spending more than $3.5 billion on manufacturing sites there, about 25 miles east of Reno.
The region's Rep. Mark Amodei (R) signed a letter supporting Redwood's successful request for a $2 billion loan from the Energy Department. But he later went on to vote against the Inflation Reduction Act and rescind programs that would provide funding for other clean-energy projects.
The Democratic-crafted bill was too political and haphazard in the way it raises and doles out money, Amodei said. And he doesn't think rural voters in his district find many of its programs appealing.
But if Washington is giving out money to clean-energy companies, Redwood deserves it, he added.
"This electrification stuff is the future," he said. "Look, I lost the vote. But I'm not going to sit here and punish a company in my district that's doing a good job."
Democrats and climate advocates say that illustrates how these programs produced popular results, even in more conservative areas. If they campaign effectively, Democrats say that could lead to happy voters once they understand what the law includes.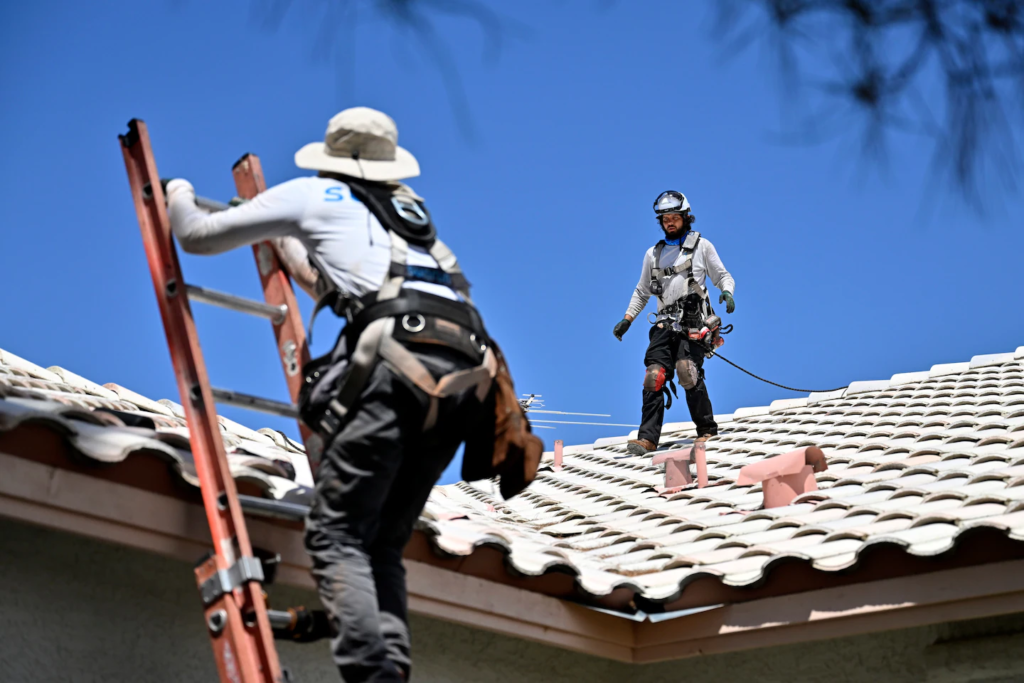 Sunrun's workers install solar-power equipment on the roof of a Las Vegas home. (David Becker for The Washington Post)
The Post-UMD poll found that fewer than 40 percent of respondents supported the Inflation Reduction Act, and even fewer reported hearing much about it. But a majority of respondents said they do support programs that were passed as part of the law, including tax credits for solar panel installation, for domestic solar and wind manufacturing, and for homeowners to buy heat pumps.
At the Windmill Library event, organized in conjunction with the League of Conservation Voters, Lee listed several of those programs as she spoke to an audience of about 40 people, mostly her local supporters and environmentalists. Her list includes a 30% tax credit on installing rooftop solar, a $150 credit for homeowners who pay to review their home for ways to save energy and upfront discounts for upgrading to more efficient appliances.
"So many times we hear of these tax packages that are delivered to big corporations and no one quite understands how it trickles down to them," Lee told the audience while standing in front of a projector screen. "This is money in your pocket."
Many locals are already starting to benefit, especially from rooftop solar — popular in this sunny desert town. Fidencio Ruiz, 55, a casino restaurant worker and self-professed Trump supporter, ordered a second set of eight rooftop panels when his installer, Sunrun, promised that new state and federal rules would help lower his electricity bills to nearly zero.
Sunrun workers were installing his new panels just three days after Tropical Storm Hilary drenched the American Southwest, which Ruiz brought up as a clear sign that the region has a problem with extreme weather. But he hesitates to support Democrats' wide-sweeping climate plan, saying he sees it as "just another way of taking a little bit more of our freedoms."
Based on Sunrun's calculations, Ruiz could save hundreds of dollars a month on his power bills in part because of the IRA. But he still doesn't trust the law's intentions or durability. "The government isn't going to do s— for you," he added.
Democratic operatives are wary of political opponents exploiting their signature climate policy to sow fears. Many, including White House officials, cite what happened when Republicans used Obama's health care law against Democrats in their successful campaign to take back Congress.
A Sunrun worker carries a solar panel for installation on the roof of a Las Vegas home. (David Becker for the Washington Post)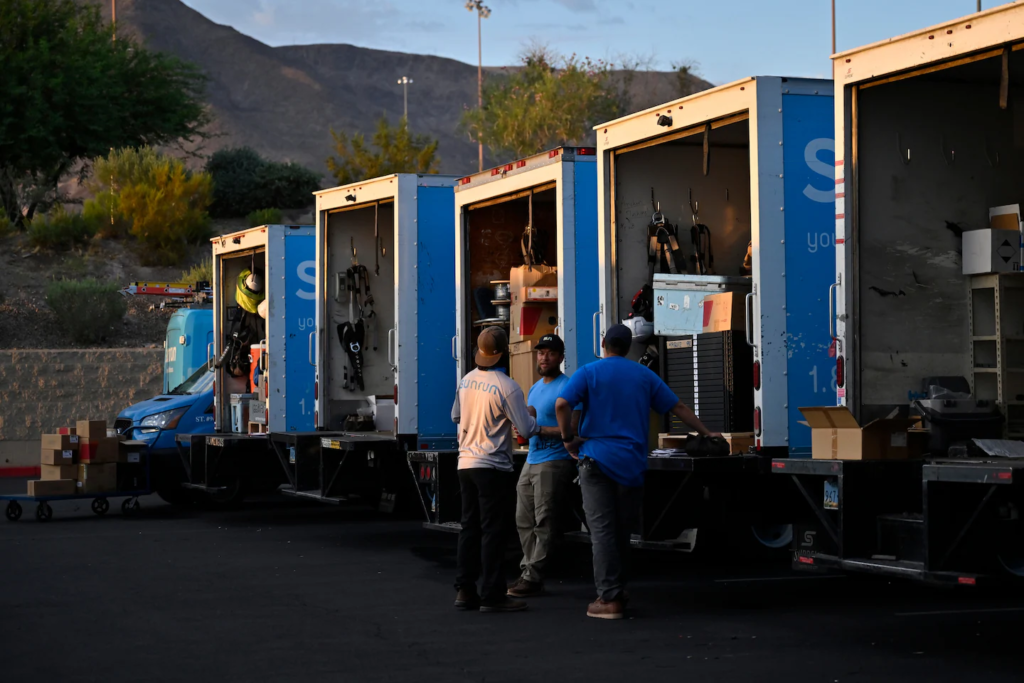 Workers gather by their trucks before they head out for solar-power equipment installation across the Las Vegas valley. (David Becker for the Washington Post)
Republicans were, however, unable to repeal the Affordable Care Act. And Democrats argue they can make Biden's climate law a political winner, too, with enough investment.
That means waves of television ad buys and in-person events. Environmental groups and candidates hope those generate more television news coverage, which political operatives say still catches people's attention.
But that can be hard. While the Las Vegas floods captured local TV attention while Lee was campaigning in her district, the stories didn't mention climate change, and were often overshadowed by longer segments on the region's upcoming Super Bowl and two Beyoncé concerts scheduled for that coming weekend.
Like her conservative counterpart Ruiz, Cantu said she struggles to find trustworthy information. She's a Bernie fan, she said, because she sees the senator as more energetic than Biden in advocating for people and elevating his own agenda.
"A corporate Democrat is giving away money to companies, and here we are," she said of the president. "Democrats have promised change for decades and decades and decades, but it's still the same."
By Timothy Puko Timothy Puko is a reporter covering climate policy and politics for The Washington Post. He has been covering energy and climate policy, and geopolitics from Washington since 2017 and joined The Post in October 2022. He previously covered energy commodity markets from New York and the environment and energy industry in Pennsylvania. Twitter
Here are some other "ET's" recorded from around the planet the last couple of days, their consequences, and some extreme temperature outlooks, as well as any extreme precipitation reports:
#BREAKING – #Perth just had its hottest September day on record. The city reached 34.3ºC at 3:39pm, beating its previous September record of 34.2ºC from 2014. Data for Perth dates back to 1897. Temps may climb further this afternoon. pic.twitter.com/pMcL9nlRus

— Ben Domensino (@Ben_Domensino) September 27, 2023
Fierce heat in Australia:
42.3C today in Western Australia at Port Hedland broke its historic record of highest temperature for September.
Tomorrow Perth will rise to 32C/34C and next days Marble Bar will be >40C every single day,threatening the Australia national monthly record https://t.co/dehxloiqQ6

— Extreme Temperatures Around The World (@extremetemps) September 26, 2023
Europe is still with exceptionally warm conditions,except the Central Mediterranean
In the East, anomalies are extreme:#Ukraine for example is recording >30C every day with locally warm nights and Tmins 16/18C, like in mid summer
Tmins >15C next days even in Estonia
Unprecedented pic.twitter.com/VqZTI3OrAo

— Extreme Temperatures Around The World (@extremetemps) September 26, 2023
More exceptional heat in Mexico.
Yesterday widespread temperatures 44C/46C reaching the Pacific coast and very hot again on the highlands with more monthly records again

37.4 Durango 1873m
34.2 Ciudad Guzman 1514m
32.0 Morelia 1915m

Those are 3C/4C above their previous records https://t.co/uQwGB8DrcK

— Extreme Temperatures Around The World (@extremetemps) September 26, 2023
[1]
Historic day in South America with lots of records,specially in Brazil (next tweet)

BOLIVIA all time records set yesterday and today

40.3 Magdalena
39.8 Cobija
40.4 San Borja tied
40.2 San Joaquin tied

Monthly
39.2 San Ignacio

FRENCH GUIANA
36.8 St George monthly record https://t.co/NiBaGyDorl

— Extreme Temperatures Around The World (@extremetemps) September 25, 2023
Brutal heat wave in #Brazil with temperatures up to 43.0C at Sao Romao.
Belo Horizonte AP 38.6C and Sete Lagoas 38.8C are the main all time records.

Dozens were the monthly records beaten spread in several states,see list of the most important: pic.twitter.com/2cFbZsejbi

— Extreme Temperatures Around The World (@extremetemps) September 26, 2023
Another record day in French Guiana:

Yesterday 38.8C at Saint Laurent do Moroni, highest temperature ever recorded in the territory, St Laurent took it back after the record was "stolen" in the previous days by 2 other stations.

Records have been beaten and rebeaten for weeks. https://t.co/esEXMuSnQp

— Extreme Temperatures Around The World (@extremetemps) September 26, 2023
Middle East-Mexico-North Africa:
Extreme heat doesn't want to go away and a new historic heat wave will threaten the records of the latest 46C/48C in Africa and in the whole Hemisphere:
Violent khamsin wind from Sudan will sweep Egypt and nearby countries with unprecedented heat. pic.twitter.com/58Fao5DE7f

— Extreme Temperatures Around The World (@extremetemps) September 26, 2023
A cold front with a late return of wintry conditions in South Africa is pushing the heat dome Northeast.

Temperatures are at record levels in Zambia (39C at 1000m asl);next days we can expect 40C+ in Zambia and up to 44C in North Mozambique and East Malawi,threatening records. pic.twitter.com/yRa81Vf9RR

— Extreme Temperatures Around The World (@extremetemps) September 26, 2023
Today, the heat wave in southern China is gradually developing, and Yuanyang, Yunnan has ushered in the 116th day this year with temperatures exceeding 35C. In Xinjiang, cold air caused widespread snowfall in Altay, with the lowest temperature in Daxi Valley being -7C. pic.twitter.com/gO8vo4dDT7

— Jim yang (@yangyubin1998) September 26, 2023
More records in #Indonesia in this early hot season (hot season should be October-November in most islands):
The city of Semarang yesterday tied its September record with 37.2C, while the airport today in on track to rise even higher. https://t.co/NdTYcLGuWI

— Extreme Temperatures Around The World (@extremetemps) September 26, 2023
Here is more climate and weather news from Tuesday:
(As usual, this will be a fluid post in which more information gets added during the day as it crosses my radar, crediting all who have put it on-line. Items will be archived on this site for posterity. In most instances click on the pictures of each tweet to see each article. The most noteworthy items will be listed first.)
A scientist explains climate change: "we haven't triggered runaway warming yet. We can avoid that point of no return if we act quickly and dramatically…We've got 4 billion years of Earth history. Let's try to learn from it." https://t.co/H0DPdQtvJX @MichaelEMann @MarkFischetti

— Rocky Kistner (@therockyfiles) September 26, 2023
"Climate Doomism Disregards the Science — Climate change is a highway, not a cliff, and we can still take the exit ramp" | Excerpt from #OurFragileMoment, courtesy of @APSphysics: https://t.co/d8loUiHXEH

— Prof Michael E. Mann (@MichaelEMann) September 26, 2023
"Renowned climate scientist Michael E. Mann on what 'doomers' get wrong — In his new book, #OurFragileMoment,' he explains why every fraction of a degree of climate warming is worth preventing" | My convo with Michael Svoboda for @CC_Yale: https://t.co/vKAqNpzpB5

— Prof Michael E. Mann (@MichaelEMann) September 26, 2023
According to the current state of the Thwaites Glacier tongue & its both flanks (late Sept analysis) we have to place the entire glacial area in the highest emergency level. Partial or even complete shear at the anchor points is very likely (Nov/Dec).#AR7https://t.co/uI4itYMhcY

— Kris Van Steenbergen (@KrVaSt) September 26, 2023
Global temperatures in 2023 are extraordinary.

The various different datasets available all agree on this. We are breaking records by shocking amounts.

Graphic by @micefearboggis pic.twitter.com/D7O171v0pp

— Ed Hawkins (@ed_hawkins) September 26, 2023
🚨 Also news – 2023 observed the lowest annual maximum #Antarctic sea ice extent on record.

This maximum was set 13 days earlier than average.

For more information (@NSIDC): https://t.co/7P0vCc6Dor pic.twitter.com/rAoGg8jSj9

— Zack Labe (@ZLabe) September 26, 2023
For the last issue of @grist's limited-run series on extreme heat, I wrote about the links between the heat crisis and past global epidemics. What marks the cooled from the doomed, the living from the dead? Access to simple interventions. https://t.co/fWArVrdBf5

— Zoya Teirstein (@zteirstein) September 26, 2023
Huge amounts of heat trapped by human-emitted greenhouse gases have been absorbed by the ocean. El Niño can thus release more ocean heat now than the past. Stronger event = bigger impact? Yet again, our addiction to fossil fuels gets us in more trouble. https://t.co/HOYkap5B5l

— Jonathan Overpeck (@GreatLakesPeck) September 27, 2023
One of the problems with calling the last 3 months "the warmest summer in history", is that for a lot of people it wasn't (including many in the English speaking world).

Globally, it was shockingly warm, but most of Europe & the US didn't set records.https://t.co/bfg2FDigY1 pic.twitter.com/2yAHw4Wumu

— Dr. Robert Rohde (@RARohde) September 26, 2023
"We are hitting record breaking extremes much sooner than I expected. That's frightening, scary, and concerning, and it really suggests that we're not as aware of what's coming as we thought we were."
— Dr Sarah Perkins-Fitzpatrick, UNSW #climate https://t.co/dhMNwQDE9N

— David Spratt (@djspratt) September 27, 2023
"We are in the midst of a global food crisis," he said. "More than 700 million people were undernourished in 2022 compared to 613 million in 2019." https://t.co/FqCckwuHWM

— David Wallace-Wells (@dwallacewells) September 26, 2023
This is an excellent guide to help watch out for greenwashing in discussions around climate change and agriculture.

The biggest solutions, which aren't talked about much: cutting food waste, shifting to plant rich-diets, and curbing deforestation.https://t.co/h4z8jr7TAz

— Dr. Jonathan Foley (@GlobalEcoGuy) September 27, 2023
1. "The environmental apocalypse is
coming and it's coming very, very rapidly,"
What is utterly horrifying is that a respected national business figure can say in @thetimes that the apocalypse is coming (supported by 1000s of science papers) and the ..2/ https://t.co/cjl6kFA08J

— Roger Hallam (@RogerHallamCS21) September 26, 2023
Solidarity with these youth who are taking 32 states to court over the climate crisis! https://t.co/XjZxTbCEs5

— Xiye Bastida (@xiyebastida) September 26, 2023
Today's News on Sustainable, Traditional Polluting Energy from Fossil Fuel, and the Green Revolution:
Good news! 🚨@IEA's new #NetZeroRoadmap shows limiting global warming to 1.5 °C is still possible, thanks to record clean energy growth.

But greater ambition & implementation and stronger international cooperation will be crucial to achieve this goal 👉 https://t.co/2HB9OS3fir pic.twitter.com/9yTliNfoDt

— UN Climate Change (@UNFCCC) September 26, 2023
Handy @IEA cheat sheet for #COP28 & beyond

1.5C means…

Now
🏭no new unabated coal
🛢️🔥no new oil or gas

By 2030
🌄3x renewables
🏬2x efficiency
🔥-75% methane

In NDCs for 2035
📉advanced CO2 -80%
📉emerging/developed -60%

By 2050
⚡️power 90% renewable
🔌energy 50% electric pic.twitter.com/oLIH7OLYGR

— Simon Evans (@DrSimEvans) September 26, 2023
University of Oxford analysis shows wind & solar power could comfortably supply all UK's energy needs by 2050 alongside energy storage https://t.co/YCFxHo1z0E

— Doug Parr (@doug_parr) September 26, 2023
BREAKING: @IEA's Net Zero Emissions scenario reaffirms that governments must stop approving new fossil fuels – and close some fields early – to protect a livable planet. https://t.co/dRcNnzB9eK#EndFossilFuels #KeepItInTheGround pic.twitter.com/u5b2zmBTBt

— Oil Change International (@PriceofOil) September 26, 2023
And it's getting cheaper.

Clean energy will win, not just because it's clean — but because it's simply better. https://t.co/an8AtY9uQE

— Dr. Jonathan Foley (@GlobalEcoGuy) September 26, 2023
"review of 12 large-scale projects reveals a litany of cost-overruns and missed targets, with a net increase in emissions."

Fossil Fuel Companies Made Bold Promises to Capture Carbon. Here's What Actually Happened.https://t.co/eY5qa9lQoi @DeSmog @LMicalBuchsbaum Edward Donnelly

— Mark Z. Jacobson (@mzjacobson) September 26, 2023
New study reckons the UK could transition to 100 per cent renewable power. https://t.co/Ek5fuJ3QSi

— James Murray (@James_BG) September 26, 2023
Rosebank will be almost fully funded by UK taxpayers

We know relying on #fossilfuels is terrible for our energy security, cost of living, & climate

sky-high bills & seemingly half of the Northern hemisphere have shown us that.
https://t.co/ZVEwl0CFcD

— Doug Parr (@doug_parr) September 27, 2023
NEW REPORT: 740 fossil fuel projects have been waved through under Australia's main environment law, highlighting a fundamental flaw: its failure to directly address climate change.https://t.co/GHlwdlV15V

— Climate Council (@climatecouncil) September 26, 2023
More from the Weather Department:
I am excited about this first step towards being able to provide emergency and water managers with high-resolution, street-level visualizations of forecasted floodwaters across the entire nation! https://t.co/uge9HNc0sC

— NWS Director (@NWSDirector) September 26, 2023
Last few runs of the EURO on https://t.co/3cvwpvVJ22. Interesting to watch. Frontal line leftovers maybe blending with Philippe leftovers. Low pressure area somewhere around the SE coast. Timing middle next week so too far away to take too serious. Couple others kinda sniffed… pic.twitter.com/6k9EsqZL7e

— Mike's Weather Page (@tropicalupdate) September 26, 2023
Great visual by Michael showing record Sea Surface Temps in the western Caribbean. As we head towards October – when development typically ramps up there – all eyes will be on that region. Also in the below image, ocean heat content pictured which includes heat below the surface https://t.co/TutxV50bf0 pic.twitter.com/J03lokZ0b2

— Jeff Berardelli (@WeatherProf) September 26, 2023
📈 A positive Indian Ocean Dipole (IOD) is rapidly strengthening and its intensity is currently consistent with the major 2019 event…

The positive phase of the IOD is marked by cooler than average seas in the tropical eastern Indian Ocean and warmer than average seas in the… pic.twitter.com/Kyy1WZGR2d

— Ben Noll (@BenNollWeather) September 26, 2023
A State Climate Extremes Committee said "Hail yes!" to a new state hail diameter record set near Kirk, CO on Aug 8, 2023. Besides its impressive 5.25" in diameter, the stone raised questions too. @NWS @NWSGoodland @IBHS_org @ColoradoClimate https://t.co/WhIkMAST6D pic.twitter.com/eY2n33sZoc

— NOAA NCEI (@NOAANCEI) September 26, 2023
Surprise! The EV battery pack may outlast the car itself.

https://t.co/IREgC6L022

— Dr. Jonathan Foley (@GlobalEcoGuy) September 26, 2023
WOW! Check out this towering, electric storm last night over Fort Myers Beach, Florida. This incredible composite shows all the strikes in just 3 minutes! Credit: @WINKNews viewer Ed Saternus ⚡⚡@stormhour @spann pic.twitter.com/awNWPfsGHb

— Matt Devitt (@MattDevittWINK) September 26, 2023
More on the Environment:
Sea level rise + drought = Southern Louisiana is quickly running out of fresh water https://t.co/rYhzwxH2nF

— Eric Holthaus (@EricHolthaus) September 26, 2023
According to the current state of the Thwaites Glacier tongue & its both flanks (late Sept analysis) we have to place the entire glacial area in the highest emergency level. Partial or even complete shear at the anchor points is very likely (Nov/Dec).#AR7https://t.co/uI4itYMhcY

— Kris Van Steenbergen (@KrVaSt) September 26, 2023
📈 A positive Indian Ocean Dipole (IOD) is rapidly strengthening and its intensity is currently consistent with the major 2019 event…

The positive phase of the IOD is marked by cooler than average seas in the tropical eastern Indian Ocean and warmer than average seas in the… pic.twitter.com/Kyy1WZGR2d

— Ben Noll (@BenNollWeather) September 26, 2023
More on other science and the beauty of Earth and this universe:
A rare dumbo octopus was spotted during an exploration in the North Pacific Ocean! 🐙

Typically found in the deep waters of the Central Pacific, dumbo octopuses use ear-shaped fins to propel themselves through the water to find food. pic.twitter.com/GVzF98kAlU

— AccuWeather (@accuweather) September 26, 2023
Incredible photo of the Ada, OK pancake stack from a few days ago. The smooth stacks happen as low-level stable layer develops with evening and/or anvil shadows https://t.co/po0t7xevvc

— Reed Timmer, PhD (@ReedTimmerAccu) September 26, 2023
If you like these posts and my work on record temperature ratios, please contribute via my PayPal widget on this site. Thanks in advance for any support.
Guy Walton… "The Climate Guy"