The main purpose of this ongoing blog will be to track planetary extreme, or record temperatures related to climate change. Any reports I see of ETs will be listed below the main topic of the day. I'll refer to record temperatures as ETs (not extraterrestrials)😉
Main Topic: Why the World Won't Ditch Fossil Fuels Soon
Dear Diary. If you are climate conscious, you may dream of a world in which fossil fuel use stopped tomorrow. But what if you got your wish in late 2023? Everything would stop. There would be practically no air travel. Food would be much harder to grow and transport to a grocery store. Unless you owned an EV you could not travel. Even most mass transit would cease. Heaven forbid that your power grid depends on the burning of coal or natural gas. If so the lights would go out, and if you do own an EV, it could not be charged. Most computer systems would fail. In other words, if fossil fuels magically disappeared tomorrow, civilization as we know it would collapse.
The transition to electrifying everything and running all things off of renewable energy needs to happen fast. And our very existence depends upon a quick transition. Yes, we need fossil fuel use to continue 21st century lifestyles but putting society in a warlike footing for transition is essential given warning signs this year that we have seen from a climate at about 1.3°C above preindustrial conditions.
Here is more why our transition is so difficult and delays for essential change are occurring:
What ending fossil fuel extraction across the world would look like – The Washington Post
What the world would look like without fossil fuels
A thought experiment shows the complexities of phasing out oil, gas and coal
Analysis by Shannon Osaka Climate zeitgeist reporter
September 30, 2023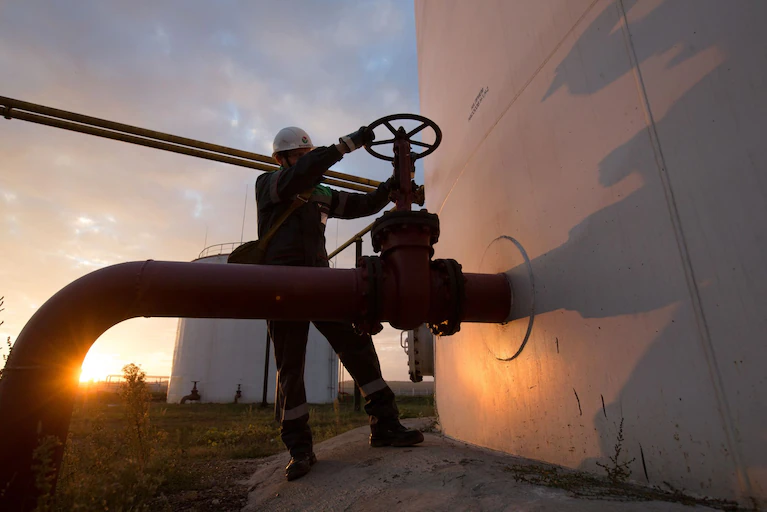 Oil delivery equipment near Ufa, Russia, in 2016. (Andrey Rudakov/Bloomberg News)
In any given year, the worldproduces staggering quantities of fossil fuels. Roughly 36.5 billion barrels of oil. Over 8 billion metric tons of coal. The United States alone extracts and processes over 100 billion cubic feet of natural gas. When those fossil fuels are burned, planet-warming gases are released. All that coal, oil and gas is the reason that September has already seen record-high temperatures and the world is likely to miss its goal of limiting global temperature rise to 1.5 degrees Celsius.
When climate activists march, chant or stage sit-ins, they are often calling for an end to those fossil fuels. Earlier this month at New York's Climate Week, protesters urged world leaders to "end fossil fuels now" and sent a letter to President Biden asking him to commit to phasing out fossil fuel extraction in the United States. United Nations Secretary General António Guterres hosted a climate summit where the only nations invited were those ready to commit to "no new coal, oil and gas."
But what would happen if the world did suddenly stop extracting fossil fuels? And what does that mean for attempts to phase out something humanity has depended on for centuries?
Most everyone agrees that a sudden, abrupt halt in fossil fuel production — if, for example, the United States and Saudi Arabia and every other large producer shut down their oil wells all at the same time — would be catastrophic.
"Oh, dear God," said Samantha Gross, director of the energy security and climate initiative at the Brookings Institution. "I don't even know where to start."
If fossil fuel production were stopped tomorrow, the world would quickly grind to a halt. Even in areas where a large portion of electricity is run on renewables, fossil fuels are often used to provide "firm" power that can come on at any time of the day or night. Without that power, electricity grids would see widespread blackouts. Within a few weeks, a lack of oil — still the major fuel used for trucking and shipping goods worldwide — would impede deliveries of food and other essential goods.
"Even if I could walk to the grocery store, there'd be no food there," Gross explained. Governments would probably work to curb demand and ration remaining stores of fossil fuels — but even those reserves would last for only so long. The United States' strategic petroleum reserve, for example, currently holds around 347 million barrels of oil; that would last the country just 17 days at current levels of use. It would last the world just 3½ days.
Such a sudden phaseout isn't, of course, what activists are really asking for. "The expectation isn't that extraction will stop everywhere in the world," said Kelly Trout, the research co-director at Oil Change International. Many groups are focused on preventing new oil and gas extraction, in line with models that show that any new oil and gas production will take the world over the 1.5-degrees-Celsius goal.
Marchers in New York on Sept. 17. (Justin Lane/EPA-EFE/Shutterstock)
The International Energy Agency, for example, which models energy transitions to zero-out carbon emissions, says there is no need for the world to open new coal mines or develop oil and gas projects that have long lead times. But, "continued investment is required in some existing oil and gas assets and other approved projects," the agency said in its latest report.
Olivier Bois von Kursk, a policy analyst at the International Institute for Sustainable Development, points out that oil and gas fields, on average, lose about 4 percent of their production every year as reservoir pressure decreases. That's close to the decline of roughly 3 percent per year that the IEA modeled in its scenario for cutting emissions to zero by 2050.
"So you could just keep the fields that are already in operation," von Kursk said.
'Slim, elegant and a little scary': Here's what wind energy's future looks like
But that would require a huge and rapid build-out of solar, wind, batteries and electric vehicles. The IEA predicts that the world will have to triple renewable energy capacity in just seven years to cut fossil fuel demand by 20 percent. Countries will also need to push rapid expansion of electric trucks and further development of new technologies like carbon capture and hydrogen.
Still, new oil and gas wells continue to pop up all over the world. According to a recent report from Oil Change International, the United States is responsible for around one-third of planned fossil fuel expansion between now and 2050. On Friday, the Biden administration unveiled a plan to allow more offshore oil and gas leasing in the Gulf of Mexico over the next five years to ensure the government can also auction new offshore wind leases.
And policymakers and researchers argue over whether developed countries should phase out fossil fuel production first — since they've emitted the most carbon emissions to date — or continue to produce to ensure steady fossil fuel supplies for the rest of the word.
As the world transitions to clean energy, the build-out of renewables should be balanced with the phase-down of fossil fuels. But timing those two difficult, complex processes is easier said than done. IEA Executive Director Fatih Birol, who is helping lead the global push to eliminate unabated fossil fuels worldwide by 2050, said in a recent interview that he worries about how the shift could leave coal, oil and gas workers unemployed.
"The biggest worry I have is: 'What are the implications of the clean energy transition in some of the segments of the population that are badly affected?'" Birolsaid. "In a not very well-planned transition, there could be a bit of a backlash with political implications."
Climate activists and policymakers have long debated where climate action should focus: On cutting demand by building out renewables, phasing out gas-powered cars, etc. — or cutting supply by stopping production of fossil fuels. So far, governments have not focused much on cutting supply. And activists are getting frustrated.
"Any new leasing will make the world more dangerous and less prosperous," Mattea Mrkusic, energy transition policy lead at the climate advocacy group Evergreen Action, said in a statement. "We don't have time to go backward."
More on climate change
Understanding our climate: Global warming is a real phenomenon, and weather disasters are undeniably linked to it. As temperatures rise, heat waves are more often sweeping the globe — and parts of the world are becoming too hot to survive.
What can be done? The Post is tracking a variety of climate solutions, as well as the Biden administration's actions on environmental issues. It can feel overwhelming facing the impacts of climate change, but there are ways to cope with climate anxiety.
Inventive solutions: Some people have built off-the-grid homes from trash to stand up to a changing climate. As seas rise, others are exploring how to harness marine energy.
What about your role in climate change? Our climate coach Michael J. Coren is answering questions about environmental choices in our everyday lives. Submit yours here. You can also sign up for our Climate Coach newsletter.
By Shannon Osaka Shannon Osaka is a climate reporter covering policy, culture, and science for The Washington Post. Before joining The Post, she was a climate reporter at the nonprofit environmental outlet Grist. Twitter
Here are some other "ET's" recorded from around the planet the last couple of days, their consequences, and some extreme temperature outlooks, as well as any extreme precipitation reports:
A significant heatwave will send temperatures into record-challenging values across the U.S. Midwest, Great Lakes, and southern Canada this early October.https://t.co/1QEZVWtQiV

— severe-weather.EU (@severeweatherEU) October 1, 2023
September 2023 was warmer than normal everywhere in Canada except for the southern part of Baffin Island. Warmest September on record in Churchill, and 2nd warmest in Yellowknife. #wxtwitter pic.twitter.com/axZmRaipWD

— Patrick Duplessis (@Pat_wx) October 1, 2023
Breaking News: RECORD !

Badajoz in Spain just reached 37.5C (provisional) tying the official highest temperature recorded in October in Spain (=Marbella 2014)
Table from AEMET.
Updates later…. pic.twitter.com/iYpXKI8ufS

— Extreme Temperatures Around The World (@extremetemps) October 1, 2023
Historic October heat wave in #Japan with temperatures up to 35C and nights up to 28C.
Records fell in several regions and more and to come.
Japan has been with stifling hot conditions day and night for months, breaking thousands of records. pic.twitter.com/LDFf6OMk4G

— Extreme Temperatures Around The World (@extremetemps) October 1, 2023
Extraordinary heat wave in #Australia ,unbelievable temperatures for this time of the year widespread >35C in the South.
36.9C at Sydney Airport,35.6C in the Observatory and 35.3C in the Harbour.
Australia has been living something exceptional for weeks with 35C/40C in the South. pic.twitter.com/KtiF9tERJr

— Extreme Temperatures Around The World (@extremetemps) October 1, 2023
Never ending record heat in the Guyanas which have been beating records no-stop for months

GUYANA
38.0C Georgetown AP all time high
36.0C Mabaruma all time high

SURINAME
37C Paramaribo AP monthly record tied for the 5th day in a row

FRENCH GUIANA
35.3C Kourou all time high pic.twitter.com/lmNtLEyQwE

— Extreme Temperatures Around The World (@extremetemps) October 1, 2023
Here is some new September 2023 climatology:
September 2023 in #Germany was also record hot.
With an anomaly of 3.46C above average it beat 2006 and 2016.
The German tallest mountain Zugspitze had a +5.0C anomaly with its reduced glacier now badly agonizing. pic.twitter.com/LZ0UKtuoNr

— Extreme Temperatures Around The World (@extremetemps) October 1, 2023
September 2023 in #Switzerland was also exceptional:
With an anomaly of +4.0C it destroyed 1961 as the new hottest September on records.
Moreover,together with Poland,they were they most above average countries in the world.
[Libya the most below].
Kudos @mieichmann pic.twitter.com/71fx2ZtYTD

— Extreme Temperatures Around The World (@extremetemps) October 1, 2023
September 2023 in #France was also record hot:

Average temperature was 21.12C,the anomaly +3.58C vs 1991-2020 and was 0.9C hotter than the previous hottest September 1949.

More than 500 monthly records fell during an unprecedented heat wave in the month. https://t.co/2WNlgAcxYW

— Extreme Temperatures Around The World (@extremetemps) October 1, 2023
September 2023 in #Japan was exceptionally hot:
With an average temperature of 24.9C and an anomaly of +2.6C vs 91-20, it pulverized by 1.1C September 2012 as the hottest on records.

Japan had its hottest July,August,summer and September on records.
October started record hot. https://t.co/aI6dOGtlZk

— Extreme Temperatures Around The World (@extremetemps) October 1, 2023
With more contributions just made on September 30, the annual time (so far) the heat index was at or above 105°F in Miami is now 178 hours. The old full-year record was 49 hours. It just doesn't end and nothing even remotely close to this heat has ever been observed here. https://t.co/zRfaQaXSiY pic.twitter.com/fjX8AezHu1

— Brian McNoldy (@BMcNoldy) October 1, 2023
Accumulated Cyclone Energy (ACE) totals for September:

North Atlantic: 74
Western North Pacific: 19
Eastern North Pacific: 18

Definitely not a typical #ElNino signal when the Atlantic generates double the Pacific ACE during September! #Philippe #Rina #hurricane pic.twitter.com/HTaBwxdalG

— Philip Klotzbach (@philklotzbach) October 1, 2023
It's official: September was by far the warmest September at Finland's longest operating weather station, Helsinki Kaisaniemi:

15.8°C 🌡️🚨

The reading beats the previous record set in 1934 (14.9°C) by almost one degree. pic.twitter.com/GHH9mPS0HO

— Mika Rantanen (@mikarantane) October 2, 2023
Here is More Climate and Weather News from Sunday:
(As usual, this will be a fluid post in which more information gets added during the day as it crosses my radar, crediting all who have put it on-line. Items will be archived on this site for posterity. In most instances click on the pictures of each tweet to see each article. The most noteworthy items will be listed first.)
"Climate Crisis: Approaching the Tipping Point of Civilization" by @GeethaPillai (@GeethaPillai13) for @BNNKarachi: https://t.co/t3WBCvxCkR

— Prof Michael E. Mann (@MichaelEMann) October 1, 2023
#SundayMorning Reading: New York bails out from under 8 inches of rain. Say what you want about outmoded sewers and the like… After a summer of high heat, now extreme downpours hit the city: This is the #ClimateEmergency https://t.co/VhU8WMMdvL via @usatoday

— Silicon Valley North (@CCLSVN) October 1, 2023
We warned you about the #ClimateCrisis-Now it's here

"The planet is desperate for visionary leadership."

"The planet is desperate for policy that creates an equitable transition away from fossil fuels, and into #ClimateEmergency mode as a society."
https://t.co/1dU2LtO8Gc

— Prof. Peter Strachan (@ProfStrachan) October 1, 2023
Loss of thicker August sea ice from 1979 to 2023…

Note that I have masked out sea ice < 1.5 meters in order to emphasize the decline of the (relative) thicker ice. Data from PIOMAS. You can compare this animation with a more realistic version here: https://t.co/qXpJKsA27B pic.twitter.com/hfUbsJfUYy

— Zack Labe (@ZLabe) October 1, 2023
Every SLAPP, regardless of the defendant, is an attack on everyone who believes in the power of free speech and the right to peaceful protest. No one should be bullied for speaking up on behalf of people and the planet. https://t.co/9dA88cDKK1

— Greenpeace International (@Greenpeace) September 30, 2023
My new video:

Roughly each 1000 tons of CO2 Emissions Today Kills One Future Person: that's one billion dead for 2Chttps://t.co/1QEIPLpXnm#climate #ClimateAction #ClimateCrisis #ClimateCatastrophe pic.twitter.com/wv0P8tZXYj

— Paul Beckwith (@PaulHBeckwith) October 2, 2023
"The only way to turn down the heat is to turn off fossil fuels. If we don't hurry up and put solutions in place now, these types of summers will eventually become the norm – we may look back on this one as mild." – the Climate Council's @simoncbradshawhttps://t.co/qwSGcOMwTy

— Climate Council (@climatecouncil) October 2, 2023
Eight things the world must do to avoid the worst of #ClimateCrisis
1. Stop methane emissions
2. Stop deforestation
3. Restore degraded land
4. Change what we eat
5. Go #RenewableEnergy
6. Use energy more efficiently
7. Stop burning #FossilFuels
8. #ActNow https://t.co/8wNURqsLfL

— Prof. Peter Strachan (@ProfStrachan) October 1, 2023
More true each day:

We need a certain amount of #cleanenergy, but our leaders have left #climateaction too late for us to also avoid big lifestyle changes.

We now must choose:

safeguard living conditions
or
stick with business as usual.@GretaThunberg https://t.co/UeiNaQU9Tl

— Rebecca Woodward (@rwclimate) October 1, 2023
Today's News on Sustainable, Traditional Polluting Energy from Fossil Fuel, and the Green Revolution:
Good climate news this week
1 EU carbon border tax goes live
2 UK speeds up £20b renewables from Morocco plan
3 Austrian Air, DWS guilty of greenwashing
4 Kenya in Africa's biggest wind farm
5 France to phase out coal by 2027
6 Nissan Europe to only sell electric cars from 2030 https://t.co/SSjkC9YxkA

— Assaad Razzouk (@AssaadRazzouk) October 1, 2023
Why Japan should stop its Fukushima nuclear wastewater ocean release …https://t.co/SuiCo4Evjn

— Dr Paul Dorfman (@dorfman_p) September 30, 2023
54% of Portugal's electricity is now generated by #RenewableEnergy

"No #Nuclear, no #Coal-produced power. Sometimes the progress passes our attention, but we should be aware of the significant progress #Portugal is making."#EnergyTransitionhttps://t.co/LmmNBRVGb3

— Prof. Peter Strachan (@ProfStrachan) October 1, 2023
Electric buses to be made in South Africa 💪

Cape Town's Golden Arrow bus service is going fully electric to free itself of increasingly costly fuel.

Its buses will be charged on solar and wheeled renewables.https://t.co/oWDOgGt6B3

— Nick Hedley (@nickhedley) October 1, 2023
VICTORY! After years of litigation, a NY judge has ruled: Greenidge's crypto mining pollution goes against NY's nation-leading climate law. This marks a big win for neighboring communities, local farms, & the environment. https://t.co/fOn3YNRj98

— Earthjustice (@Earthjustice) October 1, 2023
Tesla Semi electric truck does 1,732 km in a single day in independent trial https://t.co/hKmUo9KbAW #EVs #EndFossilFuels

— Peter Gardner (@PeterDGardner) October 2, 2023
More from the Weather Department:
Those warning of crisis, labelled catastrophists; sound familiar?#Drought leaves millions in Uruguay without tap water fit for drinking

"More than half of #Uruguay's 3.5 million citizens are without access to tap #water fit for drinking"#WaterCrisis
https://t.co/XS9aVHHkS5

— Prof. Peter Strachan (@ProfStrachan) October 1, 2023
#SundayMorning Reading: "We don't have anywhere to go, so we'll stay here until the water returns" As #Brazil heads into summer, #Drought drains Brazilian #Amazon residents reliant on waterways https://t.co/VYTVSkzqNk via @physorg_com

— Silicon Valley North (@CCLSVN) October 1, 2023
What more do you want from us? The alerts for a major NYC flooding event were non-stop in the 24 hours leading up to the event, and these are the same types that cheer spraying of climate protestors with fire hoses. pic.twitter.com/vYwLAGfilt

— Ryan Stauffer (@ryans_wx) October 1, 2023
Accumulated Cyclone Energy (ACE) totals for September:

North Atlantic: 74
Western North Pacific: 19
Eastern North Pacific: 18

Definitely not a typical #ElNino signal when the Atlantic generates double the Pacific ACE during September! #Philippe #Rina #hurricane pic.twitter.com/HTaBwxdalG

— Philip Klotzbach (@philklotzbach) October 1, 2023
Thanks to a strong #ElNino
Event, @NOAA predicts the NW of the US & upper plains will have a warm winter, the Midwest will be dry while the Sw & South will be very wet. The wild card is the NE, where warm air may collide w/Arctic blasts.https://t.co/LQezpIONX7

— Laurie Garrett (@Laurie_Garrett) October 2, 2023
More on the Environment:
Trees Are Dying at Shocking Rates
According to one 2019 study, global greening stopped more than 20 years ago, and vegetation has been declining since, all because of the drought-amplifying effects of warming.https://t.co/i0iXA1cJES

— GO GREEN (@ECOWARRIORSS) October 2, 2023
We are choking to death on plastic.

Our oceans, seas, rivers, land, is "Systematically devoured"……by incessant plastic waste…….

"An explorer just made the deepest ever manned sea dive, and he found a plastic bag"……..

PLASTIC IS KILLING US.
https://t.co/HaqkMg9MjH

— Robert Redmayne Hosking 🔥🌍🔥 (@rhosking252) October 1, 2023
Record short term rainfall in NYC. Record drought in LA/MS. Resiliency, adaptation, and mitigation towards climate change and increasing extreme events requires an "all of the above approach". Extremes will continue to increase. We are behind the curve. https://t.co/4VXwZWdGUG

— victor murphy (@wxmanvic) October 1, 2023
The anthropogenic warming of the planet to the highest temperatures in tens of thousands of years has consequences for all species. #ClimateEmergency https://t.co/KMeFgpYtPY

— Randall Gates (@rgatess) October 1, 2023
Ecosystem degradation does not affect everyone equally. Women and girls, marginalised and impoverished communities are often the hardest hit.#GenerationRestoration efforts help those affected build resilience and adapt to a changing environment. https://t.co/2b8yM9TPpg pic.twitter.com/FlPPQOWqEP

— UN Environment Programme (@UNEP) September 30, 2023
'Watching extinction in real time': conservationists losing hope for Australia's swift parrot if logging continues https://t.co/VJtLYk7bZn

— Christopher Wright (@ChristopherWr11) October 1, 2023
More on Other Science and the Beauty of Earth and this Universe:
'They seemed primed to take over': How the Great Dying doomed the 'beast tooth' and set the stage for the dawn of the dinosaurs | An excerpt from #OurFragileMoment courtesy of @LiveScience: https://t.co/KkwsjKyJ6P

— Prof Michael E. Mann (@MichaelEMann) October 1, 2023
This is the Japanese Puffer Fish – one of #nature's greatest artists. To grab a female's attention he creates something that defies belief.

Nature is more amazing than we will ever know. Protect it in all its forms.#ActOnClimate #climate #energy #rewilding #biodiversity pic.twitter.com/O0s3Rbew1l

— Mike Hudema (@MikeHudema) October 2, 2023
If you like these posts and my work on record temperature ratios, please contribute via my PayPal widget on this site. Thanks in advance for any support.
Guy Walton… "The Climate Guy"