The main purpose of this ongoing blog will be to track planetary extreme, or record temperatures related to climate change. Any reports I see of ETs will be listed below the main topic of the day. I'll refer to record temperatures as ETs (not extraterrestrials).😉
Main Topic: Record Shattering Heat Occurring Across Midwest and Eastern U.S. This Week
Dear Diary. As mentioned on this blog a couple of days ago, the Omega block that brought severe flooding to New York would also produce record heat as the calendar page turned to October for much of the United States. That heat came to fruition over the weekend:
It was historically hot in the northern and central Plains on Sunday 10/01/23. Nineties as far north as the Canadian border were well out of climatological bounds for October folks. No NWS advisories were issued for heat today, though. @MichaelEMann @KHayhoe @Laurie_Garrett pic.twitter.com/kSxVd0bfwu

— Guy Walton (@climateguyw) October 1, 2023
Today we will take a deep dive into why it is so warm beyond the fact that climate change is the root cause. Climate change is delaying typical autumn weather more and more with time as has been demonstrated by many organizations, such as Climate Central.
Efforts remain underway to dismiss or diminish recent climate change-enhanced events, including NYC's recent extreme rainfall event and the record-shattering heat that began the month in the Plains States and Great Lakes region. Facts matter. pic.twitter.com/iIBmQTiYnN

— Don Sutherland (@DonSuth89069583) October 2, 2023
Don't worry folks. Pumkin spice weather is coming in about a week, but before we see this stark pattern change:
We will have to contend with this:
Here are more details from Severe Weather.EU:
A significant heatwave will send temperatures into record-challenging values across the U.S. Midwest, Great Lakes, and southern Canada this early October.https://t.co/1QEZVWtQiV

— severe-weather.EU (@severeweatherEU) October 1, 2023
A historic, record-shattering heatwave is forecast for the Midwest this week (severe-weather.eu)
A Historic, Record-Shattering Heatwave is Forecast for the Midwest This Week
By Author Marko Korosec
Published: 01/10/2023
Categories Global weather
A textbook Omega-Blocking High pattern is developing across North America this weekend. It results in a record-challenging heatwave for the U.S. Midwest and Great Lakes and Ontario, Canada, as we head into the first week of October 2023. Fall season continues with very high temperatures, with quite an unusually strong heat dome for October.
Temperatures from Sunday through mid-next week are expected to be around 20-25 °F higher than normal, challenging daily records across the northern states and Ontario province. Daily High temperatures will push into 80-90 °F for several days.
It hasn't been so warm over the Midwest and Great Lakes so late in the season for decades. Daily records over a century old will be challenged in the following days.
For instance, in Minneapolis, the record highs for early October were set back in 1897, nearly 120 years ago. Those records are held at 87 degrees F, and forecast calls in the next few days will be challenging those.
Other large cities like Fargo (ND), Des Moines (IA), Duluth and International Falls (MN), and Omaha (NE) will all see challenging temperatures. After Monday, extreme warmth for October will also follow across Ontario and Quebec, Canada. Montreal will see extreme warmth as well.
Normally, the temperatures are in the 60-70s Fahrenheit range across the Midwest and Great Lakes through early October. So, this heatwave will bring excessive heat for some later in the fall season. The reason behind this evolution is the general weather pattern developing across North America through early October—a deep Pacific low digs into Western CONUS, with a strengthening Upper High to its east.
This results in a significant warm wave spread north and east and intensifying while we head into the first week of October. Unusually high temperatures develop and reach northern states with the help of southerly flow between the two large-scale features.
This is establishing a longer period of stable and particularly warm October weather. This feature, known as the Heat Dome, intensifies a heatwave underneath. Such a specific weather pattern brings excessive heat and very high temperatures. Let's talk about it first.
What is a Heat Dome, and Why Does It Bring Extreme Temperatures?
Let's review the primary background feature that caused the development of major heat waves globally this year. There were particularly strong heatwave events already this fall over the United States; similar occurred in the past on both North American and European continents.
The Heat Dome is that feature that leads to these extreme heat events. Usually, the heat dome is the main and the most dominant feature of summer weather patterns on both continents. We use a heat dome term when extremely high and anomalous temperatures develop. Here is how it works and why it is important to understand it from a larger scale.
The upper-level ridge pattern, or warm air mass in the higher altitudes, is the Upper High (or blocking High). It usually forms the heat dome. This weather pattern brings high and sometimes record-challenging temperatures for the region underneath.
So, this specific term is used when a broad area of high-pressure parks over a large portion of the continent. Usually, it stays there for several consecutive days or even weeks if the event is particularly stable and extreme.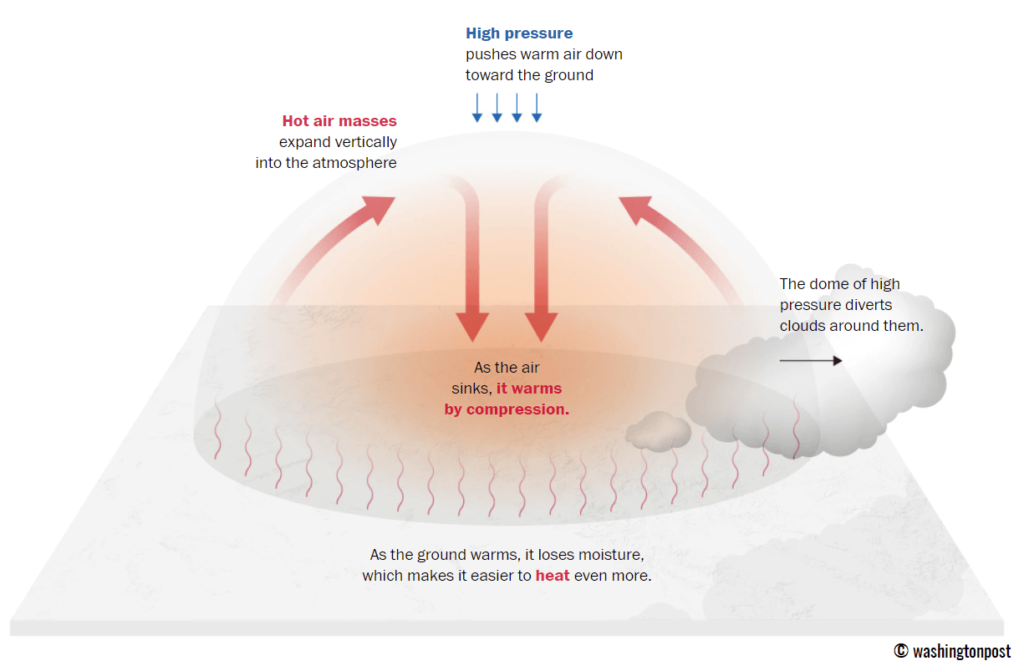 The heat dome works like a lid on a pot. The extensive dome of heat traps a significantly warmer air mass at all levels underneath, sinking layers toward the ground. Therefore, the air mass becomes dry and anomalously warm at the lowest elevations and extremely hot near the surface.
A heat wave, associated with a heat dome, creates stable weather and often arid air mass with minimal chances for precipitation or even clouds, as the sinking air parcels in the center of the heat dome result in rising temperatures. This is because the weather pattern develops a so-called Omega blocking High.
The example below is this kind of an extensive blocking pattern that developed a historic heat dome across the U.S. in mid-summer this year. If an Omega-blocking pattern develops this early October, it will engulf a large part of the continent. It has a central heat dome and a low-pressure system on each side.
Typically, drier and warmer weather produces a significantly enhanced wildfire threat due to developing drought. Or additionally worsening the ongoing, pre-existing, arid conditions. Such examples were wildfires in the Pacific Northwest and other parts of western North America in recent years or in Europe (Greece, Portugal, etc.) during the summer season.
Heat dome is often also to blame for being responsible for deadly heatwaves worldwide due to a scorching and excessive heat that lasts for a very long period. Such heat dome events brought record temperatures in many countries worldwide in 2023, extending into the fall seasons.
The daily average and maximum temperatures under the heat dome are typically significantly above normal. When the dome of heat is particularly strong, it challenges or breaks existing historical records, as we have seen globally this year. This becomes particularly striking when this feature develops during early summer or autumn/fall.
A historic Heatwave for Midwest, Great Lakes and Ontario, Canada
Let's now dig into the details of developing this unusually strong fall season heatwave for the first week of October 2023.
A Textbook Omega-Blocking Pattern Develops a Heatwave Under the Heat Dome
Over this weekend into early next week, the general weather situation over North America indicates an extensive blocking high. Strengthening a heat dome into the eastern two-thirds of the CONUS and southern Canada. This results in strongly anomalous geopotential heights, or, in other words, a stable period with unusually warm weather.
The chart below shows a textbook Omega blocking pattern developing over the U.S. and Canada. On Monday, a deep Upper Low digs into Western CONUS from the Pacific Ocean, while another low is off the East Coast.
With a strengthening High over the U.S. and a deep low on the west, a south-southwesterly flow is establishing a significant warm plume across the continent. Thus, achieving a much warmer air mass in the following days gradually spread north, expanding into the Midwest and the Great Lakes and spreading across southern Ontario, Canada, throughout mid-next week.
From Sunday into Monday, an extremely anomalous air mass will develop across the northern states and Ontario. The warmest and most anomalous air mass will persist for several days, at least until Wednesday next week, gradually spreading east into eastern Canada with time.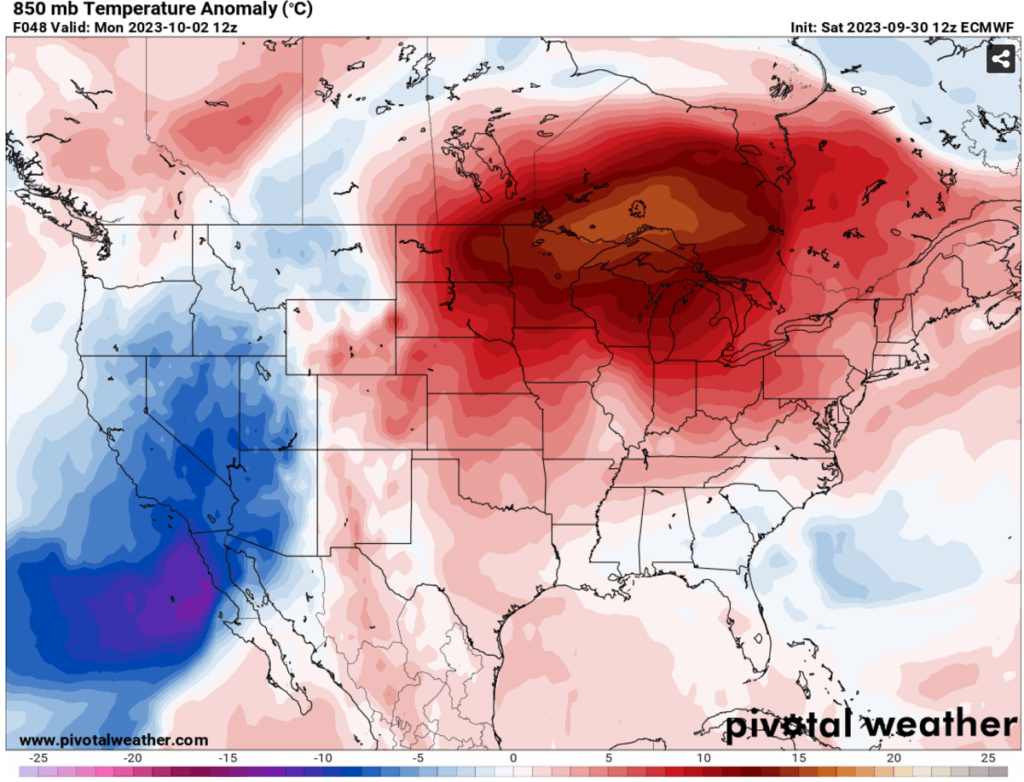 The heat dome and heatwave are forecast to peak in the Upper Midwest, Great Lakes, and southern Ontario through Monday and Wednesday. The highest temperature anomalies are forecast over Minnesota, Iowan, Illinois, Wisconsin, Michigan, and across the international border into Ontario and Quebec provinces.
This will result in daily high temperatures significantly above normal for early October and challenge the existing century-old temperature records. Temperatures could locally be nearly 30 °F above normal for this period.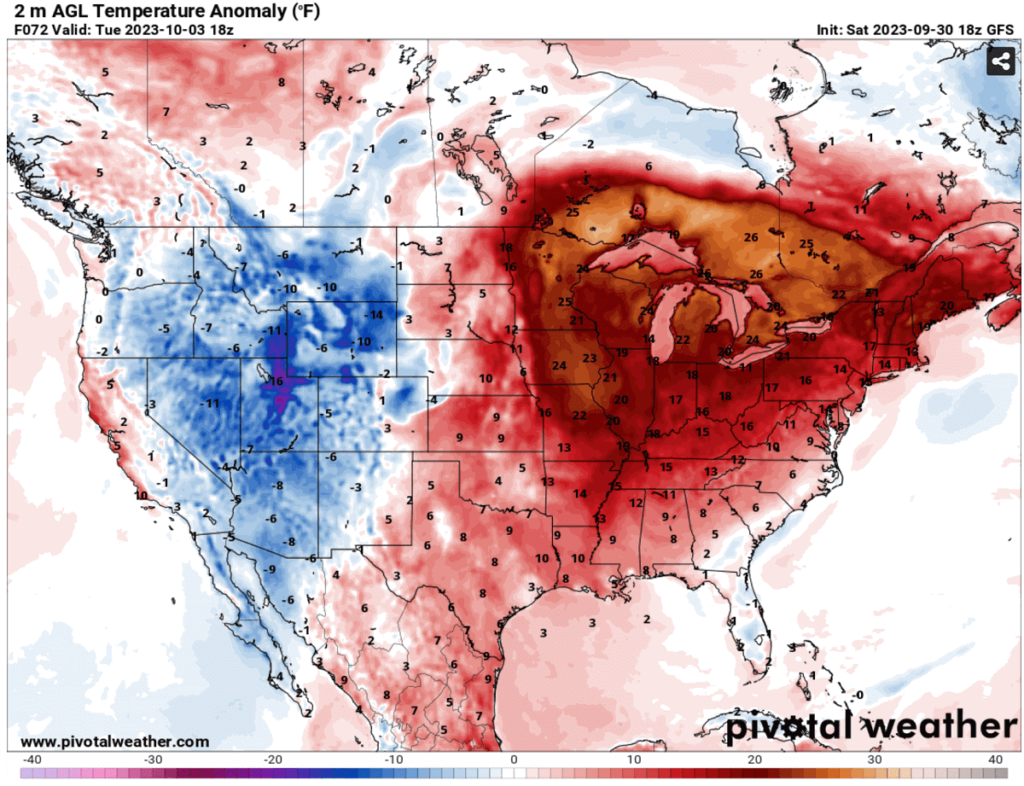 On the contrary, temperatures will be below normal in the west under the Upper Low moving onto the Rockies.
Daily High Temperatures could be record-challenging for the Upper Midwest, Great Lakes, and Ontario, Canada
With an expansion of the warm plume into the northern states, starting Sunday, temperatures will significantly increase over the Midwest and Great Lakes first. Then, as the heat dome strengthens from the south, much warmer temperatures will spread into Ontario and Quebec, Canada.
Daily minimum temperatures across the Dakotas, Iowa, and Minnesota will not fall below mid-60s. That is very high and could be record-breaking, as normally, such temperatures are observed daily highs in early October for the Midwest.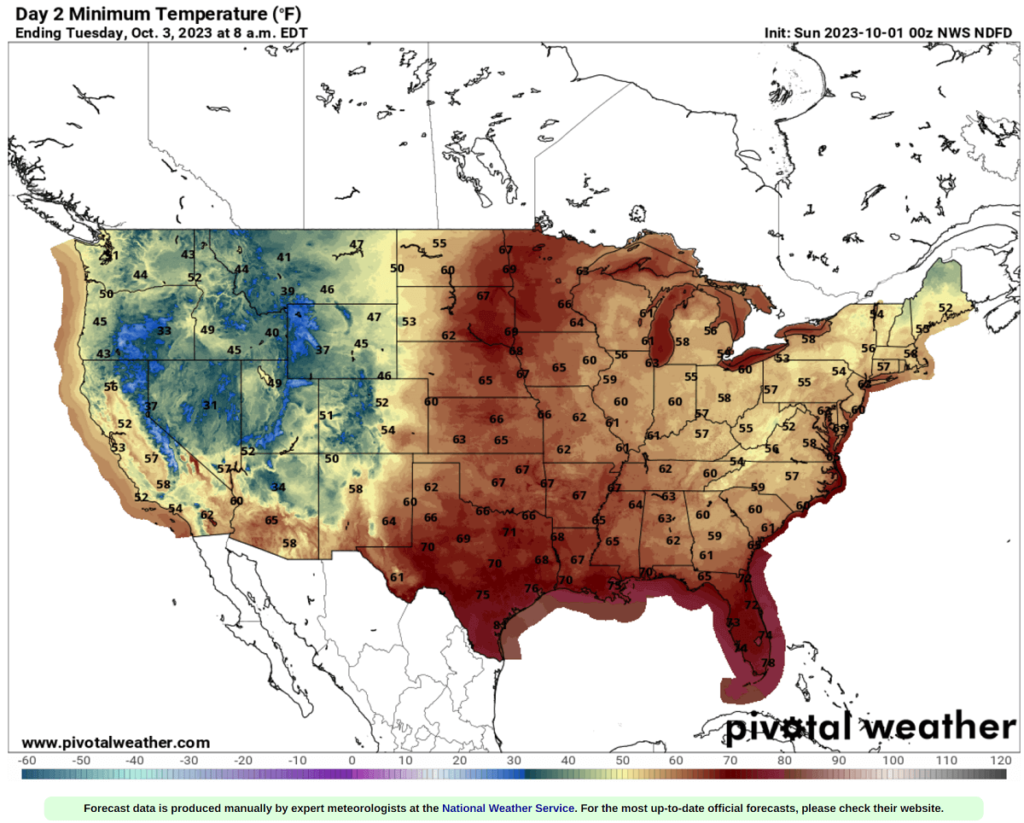 On Monday and Tuesday, the maximum temperatures are forecast to be in the upper 80s to low 90s across the Midwest and upper 70s to mid-80s over the Great Lakes. Low 80s are forecast for southern Ontario and Quebec on Tuesday through Thursday as heatwave strengthens more.
Higher temperatures will also develop south across the southern CONUS; low to mid-90s are forecast across the south-central Plains and the low-/mid-Mississippi Valley.
Unusually warm weather will be spread across the eastern two-thirds of the country as we head into the first week of October, similar to southern Ontario and Quebec. Low to mid-80s are forecast for the East Coast as well.
A Weather Pattern Change To Arrive Towards the Weekend, Heatwave Replaced with Colder Temperatures from the North
In the chart below, we are reviewing the mid-range trends across North America. The general weather model consensus agrees that a pattern flip will likely follow late next week into the weekend, with a deep low digging south into the eastern US from Canada. At the same time, a strong blocking High develops for the Pacific Northwest.
A large heat dome established over the western CONUS and Pacific Northwest would bring anomalously warm temperatures for several days into the region. The chart below shows the dipole weather pattern: a blocking High on the west and a deep Low on the east.
Although this forecast is almost a week in advance, the consensus is trending into this solution on both global weather models, ECMWF and GFS. So, around the next weekend, warmth will re-establish in western states but switch to colder weather for the central and eastern United States.
The temperature anomaly forecast for next Saturday hints at more than 10 °C (25 °F) colder temperatures for the northern and central Plains, Midwest, mid-Mississippi Valley, and later on Ohio Valley and towards the East Coast.
Temperatures on the west will be 5-10 °C above normal, even warmer across western Canada under the core of the heat dome.
Below is an impressive overview of the weather situation, a Meteogram for Thunder Bay (Canada) along the international border. The chart reveals how rapid temperature increase is forecast this early October from around 10 °C at 850 mbar level (or 4000 ft altitude) to around 20 °C. This will be more than 15 degrees above normal.
Thus, maximum daytime temperatures will be in the low to mid-80s across Minnesota, Wisconsin, and Michigan. Even higher, into the low 90s across Iowa, Illinois, and Arkansas on Tuesday.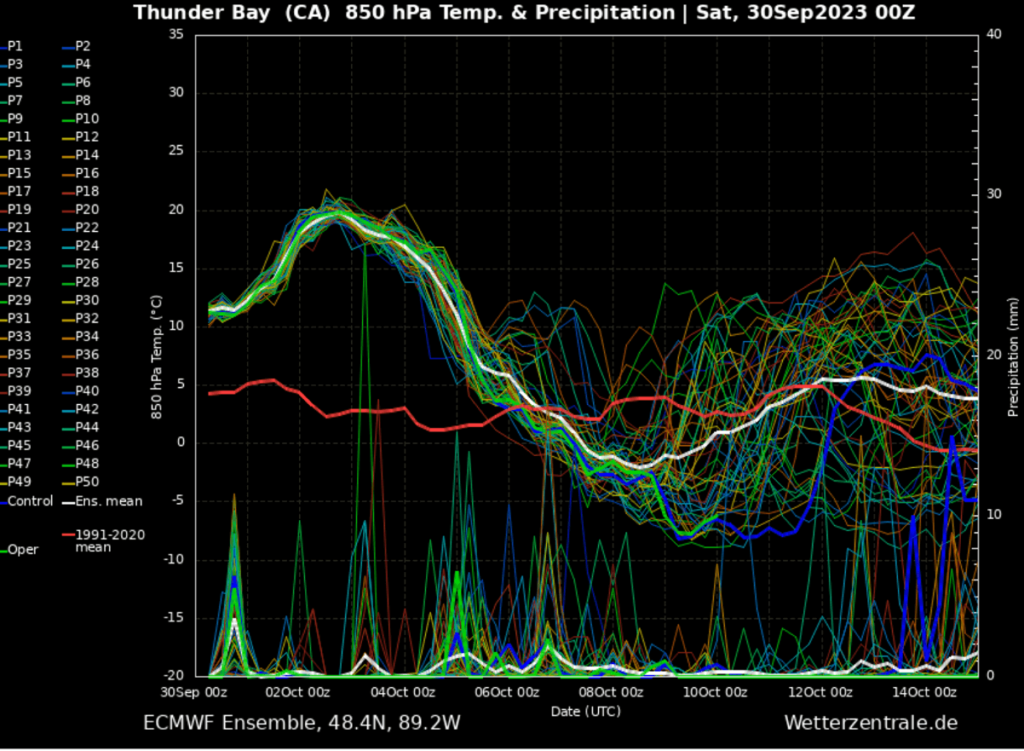 After this significant heatwave, a rather sharp decline is seen as temperatures at this 850 mbar level drop from 20 °C (68F) to nearly -5 °C (23F). That is quite an intense cold refreshment, with around 45 degrees Fahrenheit temperature drop until the next weekend.
If these conditions are verified, after record-high temperatures for early October, the first Arctic cold blast of this fall season could follow from Canada into the United States.
We will monitor the general pattern evolution as we head into the next week and will keep you updated. Stay tuned.
Another good summary of U.S. record warmth for the first week of October by @MatthewCappucci to be linked to today's ETD post: https://t.co/TG8sTnxmWj@MichaelEMann @extremetemps @DonSuth89069583 @bhensonweather @BrianMcHugh2011 @KHayhoe @ECOWARRIORSS https://t.co/iePTeoZRoS

— Guy Walton (@climateguyw) October 2, 2023
Here are some other "ET's" recorded from around the planet the last couple of days, their consequences, and some extreme temperature outlooks, as well as any extreme precipitation reports:
Extraordinary heat in Spain,records were obliterated with huge margins allover the country
Most important records 🧵

38.0 Badajoz National October record
37.2 Seville Tablada 36.7 Aero
36.7 Cordoba
35.8 Granada AP
33.6 Jaen
34.1 Toledo
33.1 C. Real
30 MADRID TIE 32.6 Barajas https://t.co/mmWs2Jyn98

— Extreme Temperatures Around The World (@extremetemps) October 1, 2023
Update
38.2 MONTORO NEW SPAIN OCTOBER RECORD
Records were obliterated with up to 6C margin with tropical nights even >1300m!
First >30 Pamplona in October
Most communities beat their records
36.0 Llimiana CATALONIA
31.7 Borda Vidal ANDORRA NATIONAL RECORD
31.6 Andorra La Vella pic.twitter.com/eHfwe0WZ2y

— Extreme Temperatures Around The World (@extremetemps) October 1, 2023
Extraordinary heat in #France,at least 332 stations broke their October records (thread list by Meteociel 🧵).
Max was 35.5C at Anglars.
Most important records include 34.2 Montauban,33.0 Toulouse,32.5 Bordeaux,31.0 Avignon, 30.0 Limoges,20.8 Mt Aigoual, etc… pic.twitter.com/A0OxgLMaEd

— Extreme Temperatures Around The World (@extremetemps) October 1, 2023
Records are falling allover the world today
In North/Central Africa & Middle East

32.2C Medinah highest Tmin ever recorded in SAUDI ARABIA in October
Tmax 43.5C monthly record

36.8C Meknes MOROCCO monthly record

36.6C Brazzaville CONGO monthly record pic.twitter.com/ODyHdrwO2i

— Extreme Temperatures Around The World (@extremetemps) October 1, 2023
Brutally hot day in #Spain:
With fohn winds, temperatures obliterated records with huge margins up to 37.0C on the coast of Cantabria at Barcena.
Also 36.7C at Bilbao Airport
34.5C yesterday at Vitoria (515m).

So far in Europe , nearly 1200 records fell, 700+ of which in France pic.twitter.com/gEeUZbyjAP

— Extreme Temperatures Around The World (@extremetemps) October 2, 2023
Extraordinary day in #Germany,dozens of records were pulverized both highest Tmins and highest Tmaxes.
Highest was 29.8C Notzingen:
See a list of records courtesy of Michael Thesner
–
Few records also in Italy:Florence (and all Tuscany),Arezzo,Ferrara,Cimone,Perugia and Sarzana pic.twitter.com/OxO1ULNgnj

— Extreme Temperatures Around The World (@extremetemps) October 2, 2023
[2]
Avalanche of records also in Germany,Austria and Switzerland.Hundreds of records.
in Austria up to 28.6C at Mattelsburg, 20% of the stations broke their monthly records (many more tomorrow).
A list of main Swiss records today after the 25.0C yesterday at Ulrichen (1346m) https://t.co/U3XZWeh095

— Extreme Temperatures Around The World (@extremetemps) October 2, 2023
Another historic day in #France 🇫🇷 with temperatures soaring to 35.9°C in Bégaar but the most reliable station is Navarrenx with 35.8°C, only 0.4°C from the October national record set in 1985. 🥵
Tons of monthly records have been broken, check out the list for the main stations. pic.twitter.com/mYhxZoAbhf

— Thierry Goose (@ThierryGooseBC) October 2, 2023
Exceptional heat yesterday also in Portugal and Morocco.
In Portugal 37.7C at Alvega and 16 stations above 36C !
Some records were broken like 32.4C at Vila Real, many were few decimals from 2017 including 33.6C at Lisbon.

In Morocco monthly records 39.5C Safi and 36.9C Meknes. pic.twitter.com/DvVn5H8c19

— Extreme Temperatures Around The World (@extremetemps) October 2, 2023
Stifling hot October nights in Japan in this infinite summer.
Those are Records broken for Highest Tmins in October (Kudos JMA):

Thailand also keeps beating records every month:
1 October first record (tie):36.0C Surat Thani pic.twitter.com/QGNMEu4mew

— Extreme Temperatures Around The World (@extremetemps) October 2, 2023
Endless record continues in the Guyanas

38.3C Georgetown airport today it beat its all time record again and it's the new Guyanese October national record.
Records have been beaten every day for months in the area.
Some stations even beat their monthly records all months of 2023 https://t.co/I6X7SYs0MM

— Extreme Temperatures Around The World (@extremetemps) October 2, 2023
Amazing what it's happening in the Caribbeans
For months,every day records are broken and rebroken

SURINAME
38 Zanderj ties HOTTEST DAY IN SURINAME HISTORY

MONTHLY RECORDS

32.8 SABA

FRENCH GUYANA
38.2 St Laurent

NICARAGUA
35.4 Juigalpa

GUYANA
37.7 Timerhi
35.5 New Amsterdam https://t.co/jeg6FxVvAh

— Extreme Temperatures Around The World (@extremetemps) October 1, 2023
Quite a contrast in USA:Cold in NW and historic heat wave in Northern Plains with up to 97F in Minnesota,96F in Iowa and North Dakota.

Records fell by dozens mostly in Minnesota including the Twin Cities with 92F
The list below includes only most important stations: pic.twitter.com/kpF0Io2O5I

— Extreme Temperatures Around The World (@extremetemps) October 1, 2023
Here is some new September 2023 climatology:
Breaking: Finland, like many other European countries, has had its warmest September on record. The month was 3.2°C warmer than the 1991-2020 average.

Official press release from the Finnish Meteorological Institute below: https://t.co/OGl2CUdTjs

— Mika Rantanen (@mikarantane) October 2, 2023
September 2023 in #Denmark had an average temperature of 16.3C,+2.7C above normal and was the warmest September on records.
It was warmer than both July and August, which is exceptionally rare. https://t.co/2I4FIsVPgt

— Extreme Temperatures Around The World (@extremetemps) October 2, 2023
September 2023 in #Austria was also record warm.
Temperature anomaly was a whopping +3.7C va 1991-2020.
Precipitations were less than half of normal. (right map).
Some glaciers like the Hintertux and Molltaler were at their lowest levels.
Maps by ZAMG. pic.twitter.com/4xYpiYobq6

— Extreme Temperatures Around The World (@extremetemps) October 2, 2023
Septemebr 2023 in #Australia was very hot and dry
With a temperature anomaly of +2.43C va 1961-1990 (+1.8C vs 1991-2020) was the 3rd warmest on records
Hottest on records in Western Australia
It was the driest September ever recorded with a rainfall deficit of 71%
See maps by BOM pic.twitter.com/cWGeJNnWE4

— Extreme Temperatures Around The World (@extremetemps) October 2, 2023
Australia just had its driest September on record, with below average rainfall across the majority of every state and territory. It was also Australia's 2nd hottest September on record based on daytime heat, with a mean maximum temperature 3.38°C above the 1961-1990 average. pic.twitter.com/1FxcGWUgOL

— Ben Domensino (@Ben_Domensino) October 2, 2023
Here is More Climate and Weather News from Monday:
(As usual, this will be a fluid post in which more information gets added during the day as it crosses my radar, crediting all who have put it on-line. Items will be archived on this site for posterity. In most instances click on the pictures of each tweet to see each article. The most noteworthy items will be listed first.)
He added that while natural variability can deliver major storms, "human-driven climate change is the primary driver, underscoring the urgent need for climate mitigation and adaptation efforts".

New attribution study on New York storm #ClimateChangehttps://t.co/sPQ8RGxClf

— Brian McHugh 🌏🏳️‍🌈 (@BrianMcHugh2011) October 2, 2023
🚨Last week was 1.9C hotter than pre-industrial temperatures, the biggest anomaly ever recordedhttps://t.co/yrKwIzau3a pic.twitter.com/v0Z9aZb8MY

— Simon Evans (@DrSimEvans) October 2, 2023
The UAH satellite dataset just came out with a monster warm September, largest anomaly of any month in their record.

I'm expecting to see reanalysis and surface datasets coming out with similarly extreme results over the next two weeks. pic.twitter.com/gMjE6yqDQL

— Dr. Robert Rohde (@RARohde) October 2, 2023
"How lessons from Earth's past can help us save the planet" | My conversation today with @PBS/@KALW @YourCallRadio about #OurFragileMoment: https://t.co/X47Bb5MZRU

— Prof Michael E. Mann (@MichaelEMann) October 2, 2023
September 2023 #Arctic sea ice extent was the 5th lowest on record.

This was 2,040,000 km² below the 1981-2010 average. September ice extent is decreasing at about 12.24% per decade. Data: @NSIDC. pic.twitter.com/JU3fTknjbj

— Zack Labe (@ZLabe) October 2, 2023
#Arctic sea ice extent is currently the 5th lowest on record (JAXA data)

• about 380,000 km² below the 2010s mean
• about 1,510,000 km² below the 2000s mean
• about 2,640,000 km² below the 1990s mean
• about 3,300,000 km² below the 1980s mean

Plots: https://t.co/ysoGwwYtqb pic.twitter.com/6xovt9JCy1

— Zack Labe (@ZLabe) October 2, 2023
This summer & fall it's been all about increasing number & magnitude of heat & rainfall extremes but with #winter approaching what about the trends in #cold extremes? We did an in-depth analysis and you might be surprised by the findings in our new paper: https://t.co/l3pzf73vU1

— Judah Cohen (@judah47) October 2, 2023
Personal actions on climate matter. A lot.

They can be help change the larger system, and send political, economic, and social signals to businesses & politicians.

Just make sure they don't substitute for change in other parts of the system. https://t.co/ngFGagqw8A

— Dr. Jonathan Foley (@GlobalEcoGuy) October 2, 2023
#COP28 #ClimateChange is about consumption of very richest people in our global society.

50% of global emissions are emitted by just 10% of the population.

90% of global emissions by 50% of the population.

We need climate justice to save our planet. The rich need to step up pic.twitter.com/iMP9IoZycE

— Professor Mark Maslin 𝕏 🙄 (@ProfMarkMaslin) October 2, 2023
The only way to solve this, as the event frequency will increase 20X by mid century, is to raise the roads / install pumps like Miami Beach has done. It's costly but necessary. https://t.co/VPIKulwNkK

— Jeff Berardelli (@WeatherProf) October 2, 2023
This is what the world will look like over the next 100 years…if we fail to act. We have no time for business as usual.

No time to waste, no planet B. #ActOnClimate #climateemergency #climate #energy #tech #solar #wind #GreenNewDeal pic.twitter.com/DsjwzFrAD0

— Mike Hudema (@MikeHudema) October 2, 2023
Today's News on Sustainable, Traditional Polluting Energy from Fossil Fuel, and the Green Revolution:
Not sure if you noticed, but as of yesterday, the UK only had one coal-fired power station remaining

UK coal use is now the lowest it's been since 1757https://t.co/N9odr1x3wG pic.twitter.com/q2iZ78NeCf

— Simon Evans (@DrSimEvans) October 2, 2023
Report by @Civitas_UK claiming #NetZero will cost UK trillions retracted due to 'factual errors'

– Rightwing thinktank mistakenly costed onshore wind power 10,000 times higher than reality etc@DrSimEvans
Story by mehttps://t.co/h1CnHbKDFo

— Damian Carrington (@dpcarrington) October 2, 2023
Well, that is surprising! Dutch candidate to become EU Climate Commissioner, not known for his firm climate standpoints so far, commits to a 90%(!) emission reduction target for 2040. Would be a big step following the -57% target for 2030. https://t.co/d6EPUiqRQR

— Kees van der Leun  (@Sustainable2050) October 2, 2023
Earth is boiling but BIG OIL booming
Alaska Willow Creek will produce 576m barrels of oil over 30 years, with a peak of 180,000 barrels of crude a day
UK Rosebank oil to produce 300m barrels of oil and gas
East Africa pipeline to create 379 million tonnes of CO2 emissions pic.twitter.com/Ud9zxg2Mih

— GO GREEN (@ECOWARRIORSS) October 3, 2023
The 2023 @IEA Net Zero Emissions roadmap cut its projection for gas in 2050 nearly in HALF compared to just two years ago.

Now Ireland has followed Québec in denying a gas import terminal approval on climate grounds.👀👏

The future is renewable.https://t.co/KG0ow6By79

— Oil Change International (@PriceofOil) October 2, 2023
The transport agency in the Oslo region now has 24 depots for fast-charging its electric busses. Given that this infrastructure is unused much of the day, this month the agency will talk with the transport and construction industry about access. 1/3https://t.co/THjyTHu2bf pic.twitter.com/jY3BpdzTg4

— Robbie Andrew (@robbie_andrew) October 2, 2023
Paris is working to become a '15-minute city' where everything you need is located locally within 15 mins. Every street will have a bike lane, 60,000 parking spots are being removed & replaced with parks. They aren't done yet.

We have the solutions implement them.#ActOnClimate pic.twitter.com/Ka0PjTUlf7

— Mike Hudema (@MikeHudema) October 2, 2023
More from the Weather Department:
#Philippe is so asymmetric that the most serious flood threat is now well south of its center, which just passed over Barbuda. It's going to be a rough night for multiple Leeward Islands. https://t.co/dvQkoLD8kV

— Bob Henson (@bhensonweather) October 3, 2023
It's flood, you guys.

How often does this happen in OCTOBER in #NewMexico ? #nmwx https://t.co/1hQh1uV2Rs

— Jim O'Donnell (@jimodonnell2) October 3, 2023
An updated Day 3-7 Hazards Outlook has been issued. https://t.co/VBxTZCpCic pic.twitter.com/J2HGABOoI9

— NWS Weather Prediction Center (@NWSWPC) October 2, 2023
October Drought Outlook by @NOAA's @NWSCPC

Drought improves but mostly remains on the S. Plains as inches of precip are headed that way. Same for other parts of the Plains.

Drought develops in the Northwest and Southeast.

Otherwise, drought persists.https://t.co/s84bYrlJof pic.twitter.com/9nm6NMlbLS

— NIDIS Drought.gov (@DroughtGov) October 2, 2023
Thanks to @NC5_HMathis, the option of more safer locations, including tornado shelters, is a reality in Tennessee. The program is just in its infancy, but several counties have opened shelters recently there. Also, safer places are now an option too. #TNwx https://t.co/IB0SadEUhx

— Craig Ceecee, Ph.D. (@CC_StormWatch) October 2, 2023
Cute. (Was cuter 3 hours ago tbh) #Phillipe pic.twitter.com/l28FB5yVgL

— John Morales (@JohnMoralesTV) October 2, 2023
First big cold front of the season still on the way this weekend. Temps will be tweaked but 40s 50s dipping deep. https://t.co/Hk3pbO7x8H pic.twitter.com/AJ9KCBcxEt

— Mike's Weather Page (@tropicalupdate) October 2, 2023
Increased chances of below normal temperatures are favored for early next week over the eastern U.S. Some scattered, rural areas may see the first frost of the season. https://t.co/5cHLU2Bc0h pic.twitter.com/HlWJcukjlV

— NWS Climate Prediction Center (@NWSCPC) October 2, 2023
More on the Environment:
A warming planet is creating a booming, and dangerous, disaster-restoration industry https://t.co/lkN4DjIFDn

— Naomi Klein (@NaomiAKlein) October 2, 2023
Last week, @POTUS vetoed 2 bills Congress proposed to remove Endangered Species Act protections for the lesser prairie-chicken & the northern long-eared bat. We're in a biodiversity crisis. This is a victory for vulnerable species that need protection. https://t.co/tMcq1UiwL3

— Earthjustice (@Earthjustice) October 2, 2023
Fashion waste is dumped in Africa. It not only causes pollution but fuels climate change, responsible for 8-10% of global emissions. Synthetic materials require an estimated 342 million barrels of oil every yr.

We have better solutions. Implement them.#ActOnClimate pic.twitter.com/PodqcAxWbX

— Mike Hudema (@MikeHudema) October 2, 2023
More on Other Science and the Beauty of Earth and this Universe:
Coming soon — the "ring of fire" annular solar eclipse and other celestial treats. Here's what's on October's sky menu: https://t.co/sWV8CuS75o

— Capital Weather Gang (@capitalweather) October 2, 2023
This is the best news all year ❤️ https://t.co/63zBXMmdOj

— Eric Holthaus (@EricHolthaus) October 2, 2023
🍁 Hanson Lake, Presque Isle foliage through the years at the same spot on Oct 2. Running fairly close to average this year, just a touch shy of peak color. #MEwx pic.twitter.com/eCtlYebBkl

— NWS Caribou (@NWSCaribou) October 2, 2023
Happy Monday! Kicking off the week with a look at some gorgeous fall foliage in Utah! #UTwx 🍁😍 pic.twitter.com/tqFUAZHVO4

— AccuWeather (@accuweather) October 2, 2023
Stop scrolling ✋

You deserve 45 seconds of calming, beautiful fall foliage footage.

📍 @CharlesPeekWX in Irma, Wisconsin pic.twitter.com/b5QQZrdraC

— The Weather Channel (@weatherchannel) October 2, 2023
If you like these posts and my work on record temperature ratios, please contribute via my PayPal widget on this site. Thanks in advance for any support.
Guy Walton… "The Climate Guy"