The main purpose of this ongoing blog will be to track planetary extreme, or record temperatures related to climate change. Any reports I see of ETs will be listed below the main topic of the day. I'll refer to record temperatures as ETs (not extraterrestrials)😉
Main Topic: Death Toll Continues to Rise from Hurricane Otis
Dear Diary. Devastation across Acapulco from Hurricane Otis is continuing to make print news, however the war in Gaza is stealing the show on broadcast news. That's deservedly so since this war is killing more than climate change as of 2023. Still, since Otis is a big warning signal about our climate future, it does deserve more news. In my own tiny way, I'm giving this hurricane more print news today.
Folks like Dr. Michael Mann have noticed that the results and ramifications from Otis are being ignored also:
"Why is the world ignoring Acapulco?" via the great @Will_Bunch for the @PhillyInquirer (w/ a kind shout-out for #OurFragileMoment): https://t.co/qrRoEMB9Eb

— Prof Michael E. Mann (@MichaelEMann) October 31, 2023
As of this Halloween the death count from Otis is 47. As opposed to trick or treat, Hurricane Otis was and continues to be a real horror story for many.
Here are more details from the Washington Post. Two more souls were found to be dead since this article was published yesterday:
Hurricane Otis death toll rises to 45; dozens still missing – The Washington Post
Hurricane Otis death toll rises to 45; dozens still missing
By Lorena Rios,
Samantha Schmidt and Diana Durán
Updated October 30, 2023 at 4:21 p.m. EDT|Published October 30, 2023 at 1:28 p.m. EDT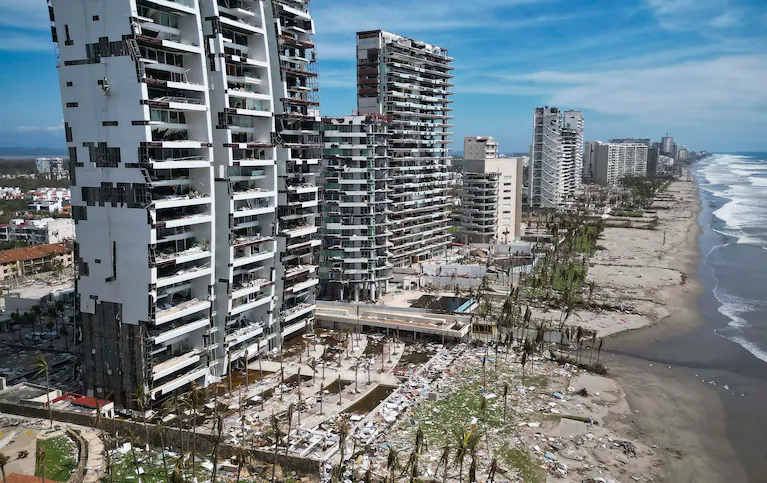 Damage wrought by Category 5 Hurricane Otis in Acapulco, Mexico. (Rodrigo Oropeza/AFP/Getty Images)
ACAPULCO, Mexico — Increasingly desperate families continued to search for missing loved onesMonday as authorities raised the official death toll from Hurricane Otis along Mexico's Pacific Coast to 45.
Forty-seven people remained missing, Guerrero state Gov. Evelyn Salgado told reporters, and about 274,000 homes in the region were damaged or destroyed when the fast-forming Category 5 storm surprised this famed resort city last week with 165-mph winds and lethal flood surges.
Rescue and recovery workers searched the debris with cadaver dogs Monday as authorities continued to assess the destruction.
Residents clean up Saturday after the storm. (David Guzmán/EPA-EFE/Shutterstock)
Otis stunned forecasters last week when it strengthened from a tropical storm to category 5 in 12 hours, the fastest such leap recorded in the region. It made landfall early Wednesday asthe strongest cyclone to hit the country's Pacific Coast since record-keeping began.
Photos: The damage wrought by Otis
The storm blocked roads and disrupted communications. Around 600 hotels and condominiums were affected, with 80 percent of the hotel industry suffering damage, according to Mexico's civil defense agency. Around 120 hospitals and clinics have been damaged.
At least 15,000 security forces have been deployed to the region, and around 2,000 technicians are working to restore power. By Monday, 65 percent of the electric service had been restored, authorities said. President Andrés Manuel López Obrador said Monday he was working with large food distributors to restore the food supply.
But as the government touts its response in López Obrador's daily news conferences and on social media, people in Acapulco say help has been slow to arrive. Neighbors have been sharing what supplies they have left; supermarkets and department stores have been raided for food and other essentials.
People wait in line for food doled out by soldiers. (David Guzmán/EPA-EFE/Shutterstock)
Five days after Otis ground its way inland, the large road tunnel that leads to Acapulco remained pitch black on Monday morning, lit only by the headlights of the cars that ventured through. With many traffic lights still out of order, soldiers directed motorists, some driving with shattered windshields, through the busier intersections.
Elsewhere, people stood in long lines to receive aid or buy bus tickets out of the city.
Iliana Melissa Taboada, a 43-year-old lawyer, waited in line with her brother to travel to the nearby town of Chilpancingo to buy milk, eggs, and medicine, and to charge their phones. Her family had been without electricity or water since Wednesday, when Hurricane Otis ripped the tin roof off their two-story home. That night, water rushed into the first floor of their house, reaching shoulder height.
"It was like a scene from the Titanic," Taboada said. "The moment I tried to open the door to leave the house, more water would come in."
In the days since, they have relied on their neighbors' underground wells for water. They haven't showered. And as they have walked around town searching for any food or water, five days after the storm, they said they had seen little to no government assistance.
Neighbors have teamed up to clean debris off streets in order for technicians to pass through and fix power lines, Taboada said. "Whatever you see cleaned up, it's been us," she said.
Tropical storms have erupted in nearly all of the world's ocean basins
Across town, the stench of decomposed food hung over dusty streets littered with trash, debris, fallen palm trees and loose cables. Restaurants and stores on one tourist strip — a Sunglass Hut, a Tommy Hilfiger store, a McDonald's — were destroyed. Local residents used downed power lines to cordon off certain streets.
Along the Miguel Alemán Coastal Avenue the destruction went on for miles.
An ecological reserve known as Parque Papagayo, home to many species of wildlife, had become a cemetery of fallen trees. It was unclear whether the animals in the park had survived.
A volunteer accepts supplies at a collection center in Acapulco on Sunday. (Felix Marquez/AP)
Of the 45 people confirmed dead, 16 bodies have been turned over to their families, Salgado said. The dead included three foreigners: One citizen each of the United States, Canada and Britain. The three were residents, Salgado said, not tourists.
With no public transportation and limited phone service, family members here and abroad have struggled to communicate and check in on one another.
Liseth Rodríguez, a 40-year-old waiting for treatment for stomach pains Monday, said a friend living in Canada has been unable to speak with her elderly mother in town. Rodríguez planned to check on the mother of another friend. The friend lives just outside Acapulco but had been unable to reach her mother in the city. It wasn't until Monday that the friend was able to charge her phone and get in touch with Rodríguez.
Residents formed long lines at a roundabout and huddled around tents for phone reception.
They carried umbrellas to shield themselves from the scorching sun in temperatures that neared 100 degrees Fahrenheit.
Gladys Nava, 40, woke up at 5:30 a.m. and spent two hours walking and hitchhiking with her 60-year-old father to the coastal area of Acapulco to fill up two 20-liter jugs of water for her three children and herself.
She and her family live in the rural outskirts of Acapulco, where neighbors pitched in to clear the streets of mud and fallen trees. The mattresses in their home had all been soaked in the floodwaters, so they were sleeping on the floor. They needed basic food items such as tortillas and rice, and the price of both staples had skyrocketed since the storm. Nava, who works in the center of Acapulco, had been out of work for almost a week.
"There's no power, there's no security," she said. She said she'd heard neighbors were robbed on dark streets at night. "I don't go out at night anymore. I stay inside with my children."
It was midday and she hadn't yet had anything to eat. With a T-shirt wrapped around her head to protect her from the relentless sun, Nava filled her water jugs and prepared for her long trek home.
By Samantha Schmidt Samantha Schmidt is The Washington Post's Bogotá bureau chief, covering all of Spanish-speaking South America. Twitter
By Diana Durán Diana Durán is a news assistant for The Washington Post's Colombia bureau. She is a Colombian journalist with over 14 years of experience. El Espectador, Colombia's oldest newspaper, was Durán's base for most of that time, and she was the first female editor for the Justice Desk. Twitter
More:
Your 'moment of doom' for Oct. 31, 2023 ~ It's the unknown unknowns.

"Hurricane Otis provided a stark and immediate reminder of the inadequacies of our current predictive tools in the face of rapid climate change and increasingly extreme weather events."https://t.co/3fkgigpNrs

— Prof. Eliot Jacobson (@EliotJacobson) October 31, 2023
Here are some "ET's" recorded from around the planet the last couple of days, their consequences, and some extreme temperature outlooks, as well as any extreme precipitation reports:
Another insanely warm day and night in Eastern Europe
This morning temperatures were locally > 20C in Poland and >25C in the Mediterranean
Max temperatures rose >27C in Russia even above 1000m asl in Dagestan
Algeria with nearly 40C,also at record level
Next days will be historic pic.twitter.com/DKkCABlu1e

— Extreme Temperatures Around The World (@extremetemps) October 31, 2023
Cold at high latitudes and record heat in dozens countries in Eurasia and and Africa
39.2C Pakistan,36.0C Nepal,35.5C Bangladesh,36.9C Iran at 500m asl,36.8C Krabi,Thailand,DOZENS MILLIONS km2 from Japan to the Black Sea and half North of Africa will be breaking records next days pic.twitter.com/vNMBzUqzRH

— Extreme Temperatures Around The World (@extremetemps) October 31, 2023
Insane summer temperatures in China >30C reaching 38 of latitude.
Next days dozens of thousands of November records will fall in East Asia,Middle East,East Europe,North/Central Africa,Caribbeans and South America.
Probably the most the world has ever seen in its climatic history. https://t.co/rlsntjJSiL

— Extreme Temperatures Around The World (@extremetemps) October 31, 2023
Brutal heat wave in #Brazil specially in Piaui State:
41.8C Today at Floriano and Bom Jesus,41.6C Oeiras and Alvorada de Gurgueia.
The heat and the drought have been fierce,now Floriano has the highest average temperature in 2023 in the whole Southern Hemisphere. pic.twitter.com/iDWbYEWeJ4

— Extreme Temperatures Around The World (@extremetemps) October 30, 2023
Record heat is sweeping millions of square km in Africa from North to Central Africa
GHANA tied its October national record with 39.5
TOGO 38.6 Dapaon
CONGO 36.5Gamboma,36 Makoua
CENTRAL AFRICA REPUBLIC 37 Bangui
Heat will further increase and beat hundreds of records in November pic.twitter.com/fipKsIn8B3

— Extreme Temperatures Around The World (@extremetemps) October 30, 2023
While the cold air conquered most of North America (Florida is still hot and humid), the warmth kept "travelling" Northeast from Canda and reached Greenland.
The capital Nuuk today rose above +13C after a Tmin of +7C. It could be a summer day. pic.twitter.com/1IAsxvpyaM

— Extreme Temperatures Around The World (@extremetemps) October 31, 2023
New Zealand warm spell update:
24.1C at Porirua is another record of highest temperature ever recorded in October. https://t.co/r4juOXzpg4

— Extreme Temperatures Around The World (@extremetemps) October 31, 2023
On the last day of October, New Zealand took its share of record heat:
22.8C at New Playmouth AP broke the October record of highest temperature.

176 countries/territories this month broke at least 1 monthly heat record ;this was unthinkable before this year. https://t.co/2fLNmc97q5

— Extreme Temperatures Around The World (@extremetemps) October 31, 2023
From summer to winter in 24 hours in Southern Texas (and NE Mexico):
Yesterday it was still 96F in Falcon Lake while today Tmax after 9am was literally halved to 48F,a full winter day and not far from October cold records.

One more day of warm weather in the Southeast. pic.twitter.com/K3QVETxsnZ

— Extreme Temperatures Around The World (@extremetemps) October 30, 2023
Here is some new October 2023 climatology:
Despite the current cold snap, October 2023, has been warmer than normal for about 90% of the Contiguous U.S. and will finish as about the 12th or 13th warmest October on record. pic.twitter.com/GPTghcPagE

— Brian Brettschneider (@Climatologist49) October 31, 2023
New Zealand warm spell update:
24.1C at Porirua is another record of highest temperature ever recorded in October. https://t.co/r4juOXzpg4

— Extreme Temperatures Around The World (@extremetemps) October 31, 2023
October 2023 in #Switzerland had an average temperature of 9.8C which is +3.1C above the 1991-2020 normal and was the 2nd warmest on records after 2022.
Many records fell during the first half of the month.
This follows a record warm September. https://t.co/nKYtHxcLX9

— Extreme Temperatures Around The World (@extremetemps) October 31, 2023
The first five months of the Atlantic #hurricane season are in the books. So far, June, August and September were above average, while July and October were near average based on Accumulated Cyclone Energy. The full season has met NOAA's definition of an above-normal season. pic.twitter.com/Wp5lpCIRna

— Philip Klotzbach (@philklotzbach) October 31, 2023
Here is More Climate and Weather News from Tuesday:
(As usual, this will be a fluid post in which more information gets added during the day as it crosses my radar, crediting all who have put it on-line. Items will be archived on this site for posterity. In most instances click on the pictures of each tweet to see each article. The most noteworthy items will be listed first.)
Since it's Halloween, probably seems fitting to share this scary graph of global temperatures in September, which absolutely smashed the previous record.https://t.co/OWTIMmT3St pic.twitter.com/UI73TCYtzs

— NOAA Climate.gov (@NOAAClimate) October 31, 2023
Despite the extremes over the past few months, global temperatures remain broadly consistent with climate model projections.

Over at The Climate Brink we take a deep dive on comparing climate models and the latest observations: https://t.co/t0DJbP1Wnv pic.twitter.com/e7xscvfpoz

— Zeke Hausfather (@hausfath) October 31, 2023
Now at October's end, the monster anomaly of Sep/early Oct has largely dissipated. The past couple weeks are much more like what we expect: Global temps ~0.3C warmer than 2022, consistent w/ transition from major La Nina to major El Nino + ongoing global warming (~0.02C/yr). https://t.co/PMzpb6PwHF pic.twitter.com/WUpbiBrC0M

— Prof Michael E. Mann (@MichaelEMann) October 31, 2023
Now here is something scary… #HappyHalloween 🎃 pic.twitter.com/VhTZ577Vkf

— Zack Labe (@ZLabe) October 31, 2023
Is #climatechange accelerating?

New paper by @ZhiLi_Ocean @ProfMattEngland & @SjoerdGroeskamp does ensemble average of ocean heat content datasets. Finds ~doubling of the rate of heat uptake by global ocean between 1990-2000 & 2010-2020.https://t.co/XJ5q1ftXqW pic.twitter.com/GwTxt3spYH

— Deirdre Des Jardins💧🔥💨 (@flowinguphill) October 31, 2023
Thousands of scientists now believe we are in a climate emergency, and that greater action to halt climate change is urgently needed. I'm one of them. https://t.co/hPMCJGoyi5 pic.twitter.com/BTtrZb1Fzh

— Jonathan Overpeck (@GreatLakesPeck) October 31, 2023
Just out from Washington Post: Why many scientists are now saying climate change is an all-out 'emergency' Escalating rhetoric comes as the data show alarming issues. See our comments as scientists and the new climate report here https://t.co/pErHRnGohH https://t.co/yavmUo6gF3

— Dr. William J. Ripple (@WilliamJRipple) October 31, 2023
'For us, the Amazon isn't a cause, it's our home': the riverside communities stranded by the climate crisis https://t.co/S2nSv4TAaM

— Guardian Environment (@guardianeco) October 31, 2023
And here's some more evidence to back up the science. Ocean heat uptake rates have increased by many multiples. https://t.co/ZnwjVit29X https://t.co/v0YDOgKA7l

— Jeff Berardelli (@WeatherProf) November 1, 2023
Climate change vs. heart/ lung health: causes & effects (Part 1)https://t.co/vQ4uApiWJE@ppwone @blairpalese @ECOWARRIORSS @TomRaftery @mike_earthshine @treasadovander @climateguyw @supplychnqueen @Alex_Verbeek @sumuelahi @Drkensilvestri @BobOne4All @OlumideIDOWU @Debbie_banks30

— Asitha Jayawardena (@sustainableuni1) October 31, 2023
It's wild just how warm the western Caribbean is headed into November. Weekly sea surface temperatures are about as warm today as any previous time of year prior to 2023. And we're a full month and a half removed from the typical mid-September climatological peak. Astounding. pic.twitter.com/YexTavXsYI

— Michael Lowry (@MichaelRLowry) October 31, 2023
Some people think that youth activists like to tell people what they should or should not do. In fact, when we do activism, we are usually telling politicians and business leaders that they need to make it easier for people to live in a sustainable way. https://t.co/UJhmTGQBbw

— Vanessa Nakate (@vanessa_vash) October 31, 2023
Nobody I know even mentions climate on social media? It is complete silence. Strange – just happy pictures of the grandkids mostly or vacation shots. It feels dystopic to go on facebook. #ClimateEmergency pic.twitter.com/TQI5RuLtWn

— Sophie Gabrielle (@CodeRedEarth) October 31, 2023
Today's News on Sustainable, Traditional Polluting Energy from Fossil Fuel, and the Green Revolution:
Good morning with good news: Coal generation in USA is down 55% since 2013! For 12 months through August 2023, coal generated 9% less than it did in 2020, when pandemic crippled the economy. Through August, coal generation fell to 16% of 2023 electricity.https://t.co/J3B3zUmw8E pic.twitter.com/UKjTh6mAf8

— John Raymond Hanger  (@johnrhanger) October 31, 2023
From @billmckibben: "exporting L.N.G., because of the extra leakage of the supercooled gas during transit, could allow even larger amounts of methane to escape into the atmosphere and, hence, could do much more damage to the climate than coal does."https://t.co/jMXnw21c5Z

— Jeff Masters (@DrJeffMasters) November 1, 2023
Pavement durability & sustainability deserves more attention than it gets – so I loved opening our new pavement testing facility at the Turner Fairbank Highway Research Center.

The new facility will lead to innovations that make our roads and bridges stronger and longer-lasting. pic.twitter.com/3UJYKV7et2

— Secretary Pete Buttigieg (@SecretaryPete) October 31, 2023
Republicans' lies and baseless attacks on offshore #wind farms succeeded in killing 2 landmark projects. NJ loses those jobs and the chance at becoming a regional hub.
Scientific research shows most whale deaths are caused by ship strikes and fishing gear. https://t.co/0KYUzMsaty

— Green News Report (@GreenNewsReport) November 1, 2023
Scientists have only begun to uncover the extent of pollution from tires.

Recent research shows that particulate pollution from tires and brakes far exceeds pollution from tailpipes.https://t.co/vxGEi9POH8

— Yale Environment 360 (@YaleE360) November 1, 2023
More from the Weather Department:
A monster 950mb storm Ciaran is heading for Europe with "landfall" near the English Channel Wed-Thu. 950mb would be a near record low pressure for region (equiv cat 3 hurr pres). 80mph coast gusts /35 ft+ waves. The storm is powered by a buckling, wicked 200 mb jet stream aloft! pic.twitter.com/DkjamZi0rE

— Jeff Berardelli (@WeatherProf) October 31, 2023
Powerful storm #Ciarán will hit parts of Europe Wednesday and Thursday, with high waves, wind and rain.
Weather alerts issued in UK, Ireland, France, Portugal, Spain etc.
Heed the #EarlyWarningsForAll and stay safe.
Imagery via @ECMWF and @AEMET_Esp pic.twitter.com/UVp56KbNP0

— World Meteorological Organization (@WMO) October 31, 2023
On Thursday #StormCiaran is forecast to cross southern England. The track is still a bit uncertain but will bring very strong winds to southern areas.
At around 953mb this will likely be the lowest or second-lowest sea level pressure observed in this region in the last 200 years. pic.twitter.com/wzJn3Q6sZe

— Ed Hawkins (@ed_hawkins) October 31, 2023
Flights from the East Coast to Europe are reaching speeds over 700 mph thanks to a roaring jet stream. This same jet stream will energize powerhouse #StormCiarán which will slam into Britain and France Wednesday night.

More info on Ciaran: https://t.co/1LxvY6QKk2 pic.twitter.com/h6MY9kWN9b

— Capital Weather Gang (@capitalweather) October 31, 2023
It's looking increasingly probable that Red wind warnings will be issued by Météo-France for Brittany, NW France given the potential for gusts in excess of 160 km/h (100 mph) along the coast early Thursday morning. Storm surge is also a concern. Storm Ciarán is shaping up to be a… pic.twitter.com/Nn5VzLXnHt

— Nahel Belgherze (@WxNB_) October 31, 2023
Météo-France is now explicitly expecting Storm Ciarán to produce 150-170 km/h wind gusts along the coast of Brittany late Wednesday or early Thursday.

Certainly a dangerous storm incoming. pic.twitter.com/lGqVQb3g4K

— Nahel Belgherze (@WxNB_) October 31, 2023
The climate crisis – where roads turn into rivers. Ireland is currently getting a major wake-up call. These are "roads" in Newry Co. Down. A warmer world is a world of droughts and floods. This is the new climate. pic.twitter.com/3oaYHLCfQ7

— Peter Dynes (@PGDynes) October 31, 2023
Chances down to 60% at 2pm for Invest 97 from the NHC. Convection hasn't returned from early this AM. Still treking west. Incoming north shear from behind looks to be preventing organization. https://t.co/Hk3pbO7x8H pic.twitter.com/rZ7q14s0Wr

— Mike's Weather Page (@tropicalupdate) October 31, 2023
We polled 5 seasonal forecasting experts. All 5 are calling for near to above normal snow in the DC area this winter.

Here's what they forecast and why: https://t.co/ewyThNX8Eu

(We'll issue our own CWG winter outlook in early November.) pic.twitter.com/nBCuDByTGA

— Capital Weather Gang (@capitalweather) October 31, 2023
Thunder snow!! Possible today around the Great Lakes. MSP picking up over 2.5" and a few spots near the lakes could get as much as 5". Be ready for bursts of snow that reduce visibility near the lakes today as a quick clipper slides through. pic.twitter.com/nCrju8Ol6k

— Jacqui Jeras (@JacquiJerasTV) October 31, 2023
Hurricane Sandy reanalysis via the new CONUS404 dataset, in https://t.co/OcNgaYlI7H style. pic.twitter.com/fmKsTEjFaA

— Evan Fisher (@EFisherWX) October 31, 2023
Montreal recorded its first measurable snowfall before dipping below the freezing mark, something that's only happened once in recorded history. #QCwxhttps://t.co/AOXEHTtIB0

— The Weather Network (@weathernetwork) October 31, 2023
The big chill for Halloween 2023. At least its mostly dry! pic.twitter.com/tJGlq5MooV

— Jim Cantore (@JimCantore) October 31, 2023
When you're a meteorologist, you commit to the aesthetic. #Halloween #wxtwitter @fox5dc pic.twitter.com/4cAa9AyPaR

— Matthew Cappucci (@MatthewCappucci) October 31, 2023
Noah forecasting extreme rainfall at NOAA today. #Halloween pic.twitter.com/2AkcusCZuJ

— Greg Carbin ☮️ (@GCarbin) October 31, 2023
Who is ready for some snow? For a majority of Canada and a large part of Alaska, November is the snowiest month of the year. 🇨🇦 pic.twitter.com/sj6FdsfccA

— Brian Brettschneider (@Climatologist49) October 31, 2023
More on the Environment and Nature:
Zombie fire = fires that smolder underground through the winter, reemerging in the spring (aka holdover fire). Zombie fires are expected to become more common w/ climate change. More by @ChaseCainNBC @NBCNews. https://t.co/6eNwDLoWUU

— Dr. Merritt Turetsky (@queenofpeat) October 31, 2023
#WorldCitiesDay2023 focuses on financing a sustainable urban future for all.

Cities generate over two-thirds of global #GreenhouseGasEmissions. #IPCC's 2022 Report found that better urban planning can help reduce emissions significantly.

Read more ➡️https://t.co/mIdBKgvokW pic.twitter.com/1UXYGtbxca

— IPCC (@IPCC_CH) October 31, 2023
We're working to reduce our impact on nature across our full value chain, investing in the protection and restoration of nature, and helping to drive collective action.

— GSK US (@GSKUS) September 29, 2023
Building collisions have trimmed the total number of U.S. birds by as much as 9 percent.

"I believe to this day it's an underappreciated problem that's causing irreparable damage," says an ornithologist.https://t.co/LSIZEM7QRZ

— Yale Environment 360 (@YaleE360) October 31, 2023
Air pollution raises risk of type 2 diabetes, says landmark Indian study https://t.co/qPMWycuZ6N

— Guardian Environment (@guardianeco) November 1, 2023
This marine reserve in Mexico was almost dead. 19 years later its teeming with life showing the world how we can save the ocean.

Time to protect the sacred. We have the solutions. Implement them. #ActOnClimate#ClimateEmergency #climate #energy #savetheoceans pic.twitter.com/wPNsyWWf4A

— Mike Hudema (@MikeHudema) October 31, 2023
From our archives: Timber skyscrapers are on the rise. Proponents say that building with wood instead of steel could help cut emissions.

But does the logging needed to erect such buildings cancel out any benefits?https://t.co/hwukbRgPYI

— Yale Environment 360 (@YaleE360) November 1, 2023
More on Other Science and the Beauty of Earth and this Universe:
Is anyone so self centered to believe "We are the only ones"? https://t.co/YaCFTNsmUI

— Sandi Walters (@srzjwalters) November 1, 2023
Night Thoughts

If we planted a million of these beautiful trees, we could shade and cool about four billion four hundred and fifteen million square meters of land, not to mention the benefits of CO2 storage and groundwater regulation.
Just to mention that💚🌱☘️🌿🌲🌳🍀💚 pic.twitter.com/oXXnabfTYQ

— Green is a mission (@Greenisamissio1) October 31, 2023
This is a majestic view of Mt. Fuji surmounted by lenticular clouds while reflected in a lake.

[📸 Taitan21] pic.twitter.com/Yq6T4Md5ev

— Massimo (@Rainmaker1973) October 31, 2023
Just wow. pic.twitter.com/m3uPmBGkVP

— Edgar McGregor (@edgarrmcgregor) October 31, 2023
What more could you ask for? 😍
🍁 fall foliage
⛅️ colorful sunrise
☁️ mammatus clouds pic.twitter.com/4Vjj8zzsih

— AccuWeather (@accuweather) October 31, 2023
Trick or treat? #Halloween pic.twitter.com/25E01We33U

— Extinction Rebellion Global (@ExtinctionR) October 31, 2023
If you like these posts and my work on record temperature ratios, please contribute via my PayPal widget on this site. Thanks in advance for any support. 
Guy Walton… "The Climate Guy"