Tuesday September 25th… Dear Diary. The main purpose of this ongoing post will be to track United States extreme or record temperatures related to climate change. Any reports I see of ETs will be listed below the main topic of the day. I'll refer to extreme or record temperatures as ETs (not extraterrestrials)😊.  Here is today's main climate change related topic:
Brown Energy Companies…Will They Voluntarily Transition To Green Energy?
When observing old hunts in movies sometimes the prey, which often was a convict, would try to fool dogs involved in the chase by swimming through a shallow lake or stream, throwing off their scent. By September 2018 all coal and oil companies have been identified by various green environmental organizations with the public joining the hunt to corral carbon polluters. Most everyone knows what big energy must do for the long term health of the planet. Some of the traditional, mischievous prey has gotten cunning coming up with plans to transition to green energy for public relations purposes while keeping long range plans to continue to pollute. Some companies proverbially want to have their cake and eat it too by planning to continue to mine and drill while simultaneously investing in solar and wind power for maximum profits. Being good bloodhounds what have news services sniffed out?
I saw this piece from one of the people I follow closely on Twitter this morning: 
http://www.climatechangenews.com/2018/09/20/exxon-chevron-first-us-companies-join-oil-gas-climate-alliance/
My eyebrows did raise when I learned that Exxon, Chevron, and ten other giant brown energy companies were planning on adhering to the Paris Climate Accords. We've learned through experience that brown energy has bought off politicians left and right in the United States while distorting sound science so that they can continue their profiteering, polluting ways. Do they really have a change of heart?
Quoting from the article: 
According to the Oil and Gas Climate Initiative (OGCI), its three new members recognise and support the Paris Agreement goal of keeping the temperature increase below 2C. As a first gift, they will be contributing $100m to the group's climate fund.
Darren Woods, chairman and chief executive officer of ExxonMobil said: "Our mission is to supply energy for modern life and improve living standards around the world while minimizing impacts on the environment. This dual challenge is one of the most important issues facing society and our company."
Created in 2014, the OGCI comprises 13 oil and gas companies and aims to minimise the impacts of greenhouse gases through investments and research into green technology. The group funds research into cutting emissions related to the production of fossil fuels. It advocates for carbon capture mechanisms and more efficient transport engines as ways to decrease emissions.
Of course there is that little matter of funding: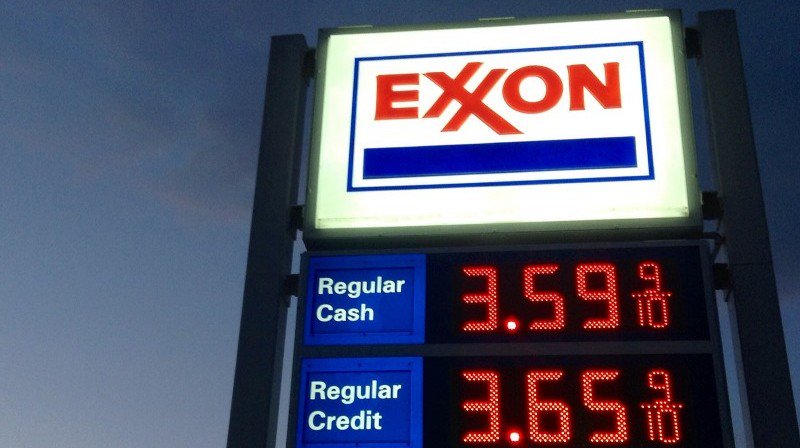 Clicking a few links we come to the home page of the OGCI, which I invite all to peruse: https://oilandgasclimateinitiative.com/
Yet, what kind of reception did the OGCI have in the past from green groups, and what really do they plan. Aha! Most consider natural gas as part of a "green transition:"
http://www.climatechangenews.com/2016/11/04/oil-majors-climate-plan-gets-hostile-reception/
Quoting some of this article from 2016: 
In the coming years, the executives explained OGCI will partner with leading universities and research institutes to explore ways to make the industry more efficient.
And yet the key theme all returned to was not climate but gas, and the role of this fuel to not only offer a bridge to a lower carbon world but become the foundations of future growth.
"I believe natural gas is not just transition but a destination fuel," said Shell CEO Bill Van Beurden.
"Natural gas is a low and lower carbon alternative to coal… significantly lower – it's a good option… and can fill in the intermittency of renewables," said Dudley.
"There is a business and societal case for increasing the use of natural gas in the energy mix of growing economies," said Pouyanne.
"We need to be efficient and look at a low carbon future but without thinking that we can stop using oil and gas overnight – be realistic," urged ENI's Claudio Descalzi.
Looks like a great plan if you expect to profit from natural gas, which is often found and even burned off when oil is drilled. Right? Seriously?  Do we need to be realistic by relying more on natural gas, which can easily be leaked out to the atmosphere from connection devices to homes and on drilling sites thenselves? I'm sure that some folks at individual brown energy companies who are in good conscience in association with the OGCI think that can change their industry from within the system, though.
For reference here are more comments and links from Scott Cook in association with oil companies and OGCI: 

Sigh. I believe that in order for this planet to get its climate house in order big brown energy can't police itself. Either global oversight needs to take place or a carbon tax needs to be devised (or a bit of both) to prod companies into truly green sectors. Many European governments are already doing so. Being good bloodhounds, what do you think or smell.? Sniff sniff.
………………………………………………………………………………………….
I'll be adding some climate related items in this space today:
Many people asking when highway 9 will open. This drone video from Don Kelley shows the water is receding, but still a ton of water on the highway. No idea when it will reopen. #scwx pic.twitter.com/zylb8KHrK9

— Ed Piotrowski (@EdPiotrowski) September 25, 2018
Typhoon Trami looks like it will be a big threat for Japan:
Typhoon Trami GFS 10 day forecast model. West Pacific 9/25 6 pm EST, for surface pressure(mb) and 10m wind speed in kilometers. pic.twitter.com/7Ntz1j3Iks

— Scott Cook (@scook2214) September 25, 2018
While Atlantic systems struggle with dry air and wind shear, #Trami is raging through the Northwest Pacific as a super typhoon https://bit.ly/2Q3A2u0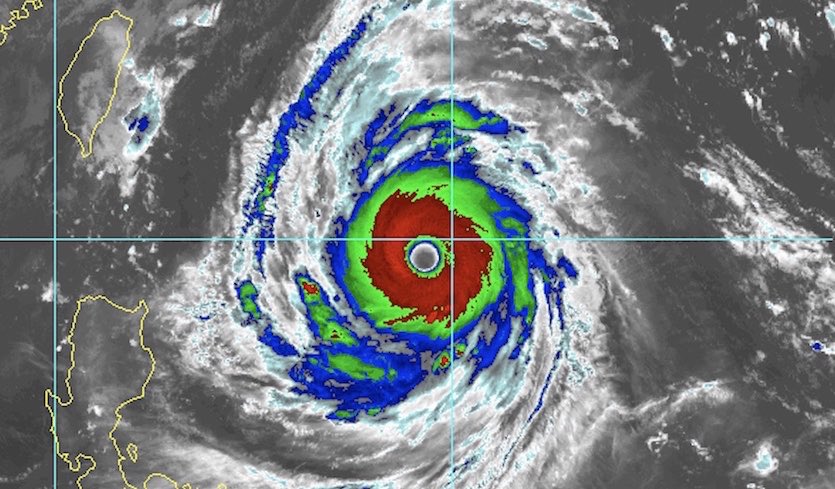 A new system east of NC could become a tropical depression, but its heaviest rains will steer clear of the areas hardest hit by Florence https://bit.ly/2IdmHfS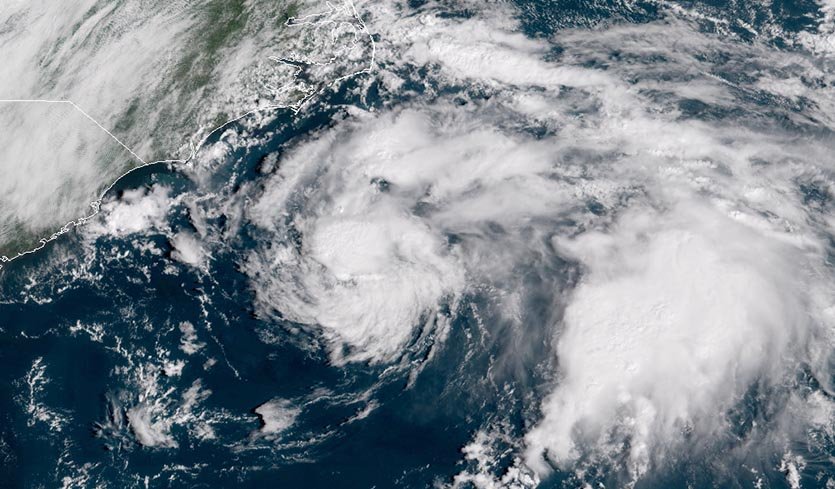 Models still suggesting potential for unusual pattern next week, with cutoff low offshore CA and landfalling hurricane in far north Baja CA. Uncertainty extremely high with this forecast, but things have the potential to get quite interesting next week. Stay tuned! #CAwx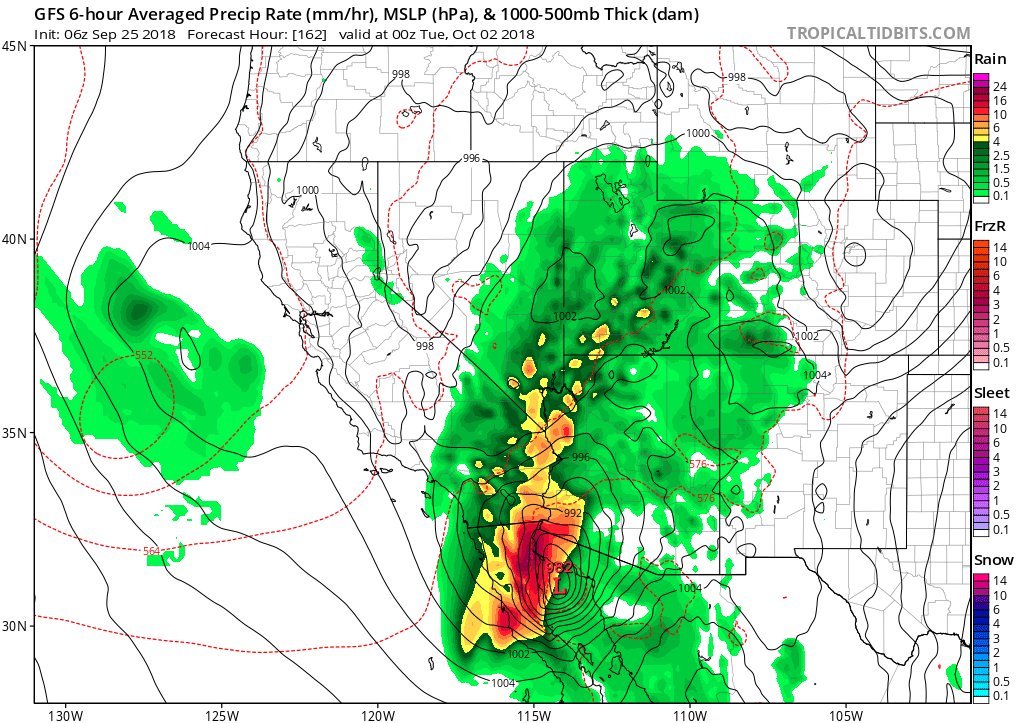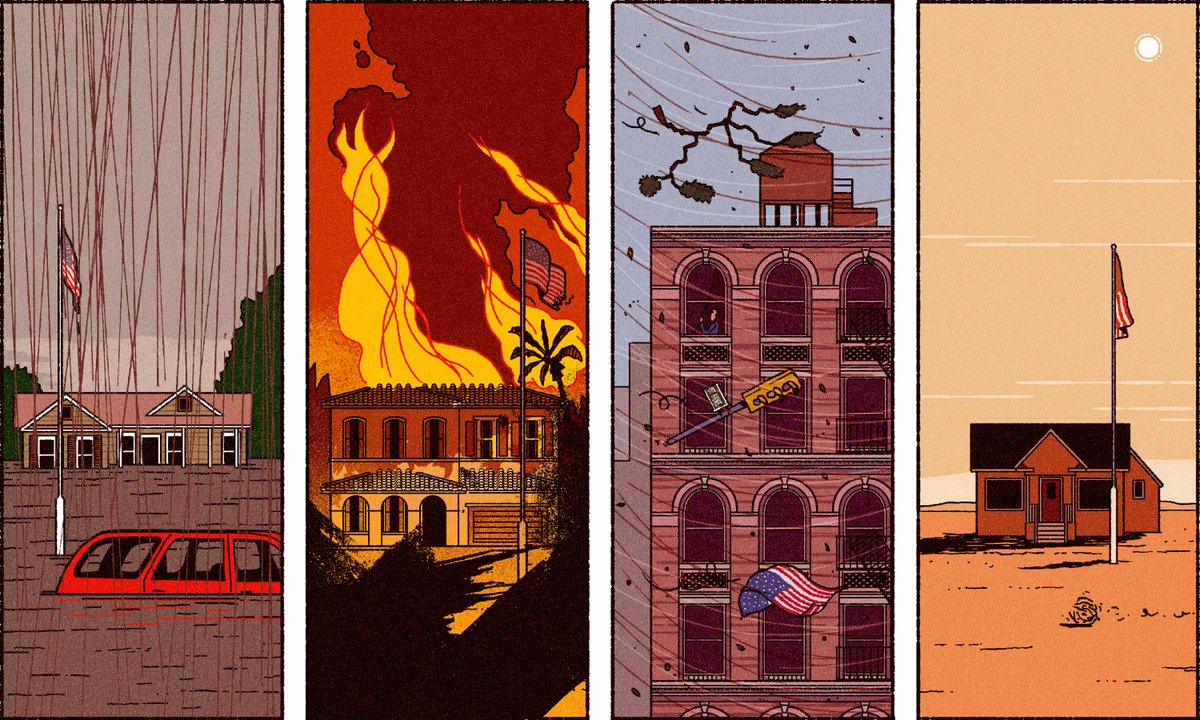 (People Who can are starting to abandon cities that are too hot.):
(As usual, this will be a fluid post in which more information gets added during the day as it crosses my radar, crediting all who have put it on-line. Items will be archived on this site for posterity.)
(If you like these posts and my work please contribute via the PayPal widget, which has recently been added to this site. Thanks in advance for any support.)
The Climate Guy