Wednesday July 8th… Dear Diary. The main purpose of this ongoing blog will be to track United States extreme or record temperatures related to climate change. Any reports I see of ETs will be listed below the main topic of the day. I'll refer to extreme or record temperatures as ETs (not extraterrestrials).😉
Main Topic: Prolonged Historic U.S. Heat Wave Looking Likely…Update #4
Dear Diary. As usual to start this particular post, let's have a heat checkup for the United States for the next couple of days. Our low level CAT 1 heat wave is intensifying across some sections of the country with more heat advisories posted this morning than at the same time on Tuesday: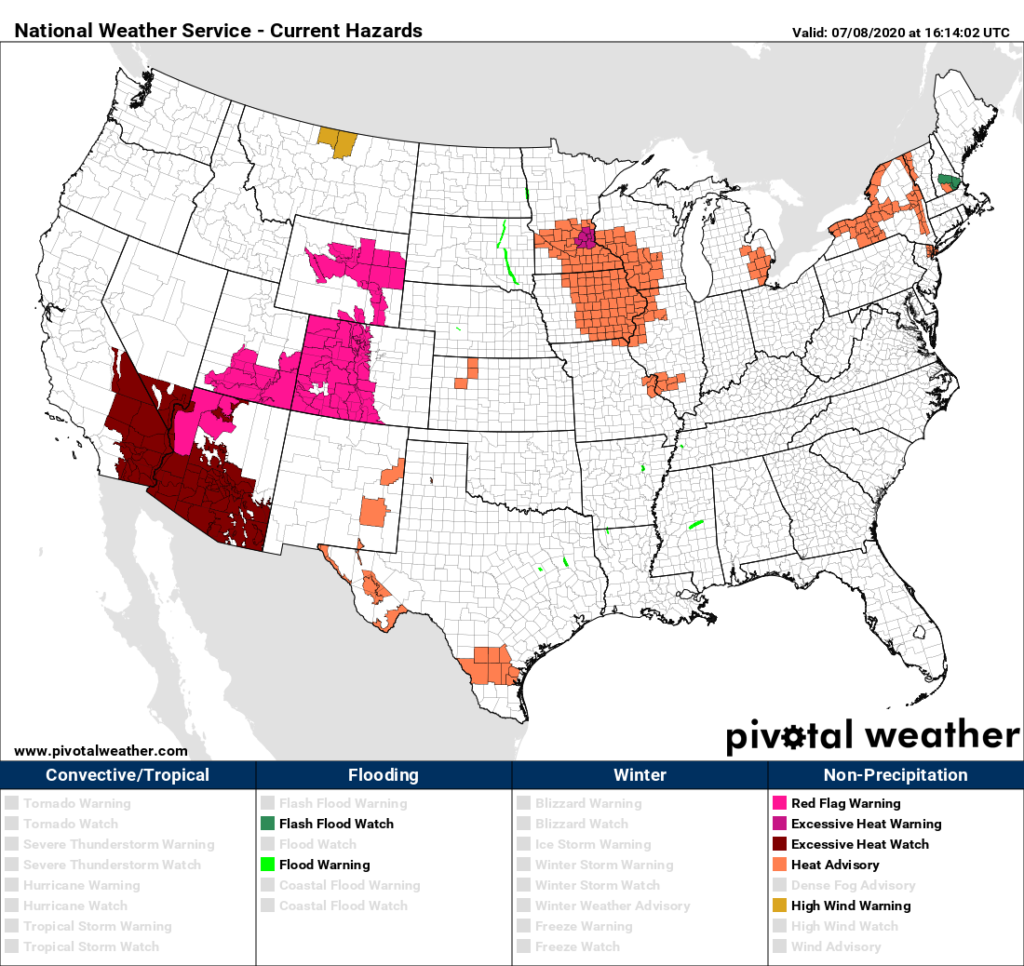 On Thursday heat will be intensifying in the Southwest and much of the Plains: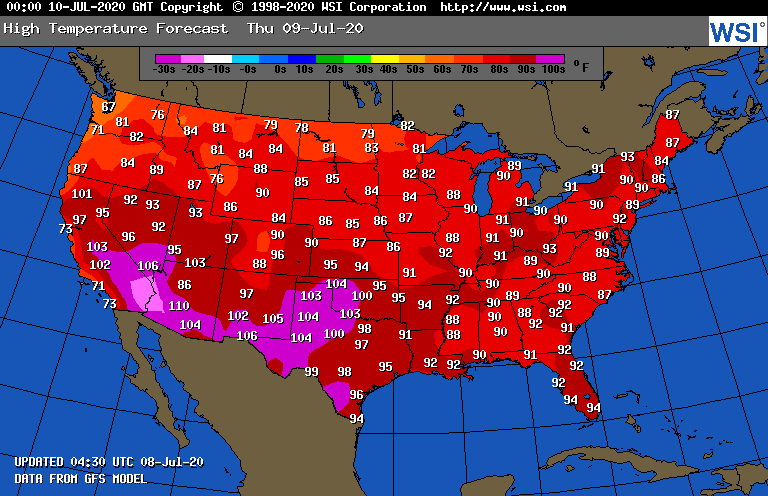 By Thursday our CAT 1 heatwave may ramp up to CAT 2 status from California through much of Texas. For a guide to this rather subjective categorization please read:
The heat dome responsible for this heat wave will initially peak on Saturday and be quite anomalous…just another sign of global warming:
We should see a brief break in the heat in the Upper Midwest due to a system digging into the East by Sunday and Monday:
Also, our heat dome will diminish slightly over the Southwest, but dangerous heat in excess of 100F will continue to build in the central and southern Plains:
Unfortunately all models extend the ridge into the eastern United States and build the thing next week to and above 597 decameters:
Should the above panel verify a monstrous CAT 4 heat wave should occur in just about every location east of the Rockies with many monthly and all-time records being set. While very rare, most of the time near 600 decameter ridges form in or near the Rockies and not in the East, so if the above GFS were to verify the weather pattern would be truly historic. Also, models suggest that this heat dome will get stuck across the central and eastern U.S. through most of the rest of July, so our heat wave will be very prolonged.
As always, check in from time to time on this site to see if I have posted any updates.
Here is more climate and weather news from Wednesday:
(As usual, this will be a fluid post in which more information gets added during the day as it crosses my radar, crediting all who have put it on-line. Items will be archived on this site for posterity. In most instances click on the pictures of each tweet to see each article. The most noteworthy items will be listed first.)
Now here are some of today's articles and notes on the horrid COVID-19 pandemic:
(If you like these posts and my work please contribute via the PayPal widget, which has recently been added to this site. Thanks in advance for any support.)
Guy Walton "The Climate Guy"