Monday July 20th… Dear Diary. The main purpose of this ongoing blog will be to track United States extreme or record temperatures related to climate change. Any reports I see of ETs will be listed below the main topic of the day. I'll refer to extreme or record temperatures as ETs (not extraterrestrials).😉
Main Topic: Prolonged Historic U.S. Heat Wave…Update #16: Heat Wave To Diminish Early This Week Then Reintensify By This Weekend
Dear Diary. For Residents of the Midwest and Northeast I do have some good news. We will see a break from high heat and humidity early this week due to a frontal passage. This won't be the case for those residing along the southern tier of states, which won't be penetrated by the front, although maxes may go down a bit from those observed today in some areas due to an increase in thunderstorm activity. Heat will then creep back northward by the end of this week.
As usual to start this blog let's access U.S. heat levels for the next two days. Our CAT 2 heat wave from Sunday will continue at about the same level through today. Heat advisories remain in place by the National Weather Service across much of the East where the worst conditions will persist from the weekend:
It did get hot enough in the East on Sunday to produce several records at some major reporting stations:
The front will clear the Northeast on Tuesday temporarily putting an end to the heat wave there, or at least diminishing temperatures from Washington D.C northward. A CAT 1 level heat wave will persist in the South:
As indicated from yesterday's report, our heat dome will rebuild, peaking again around Saturday the 25th. The thing actually may not peak until Sunday the 26th looking at today's latest guidance:
By Saturday 90s for maxes will once more build into the Upper Midwest:
The heat dome going into early August should pulse, diminishing some then rebuild with the center fluctuating between 592-597 decameters from what I can discern on forecast models. The thing will remain in place over the mid Mississippi Valley with little movement, which means that the area from the Rockies eastward to the East Coast should see above average temperatures at least through the end of July: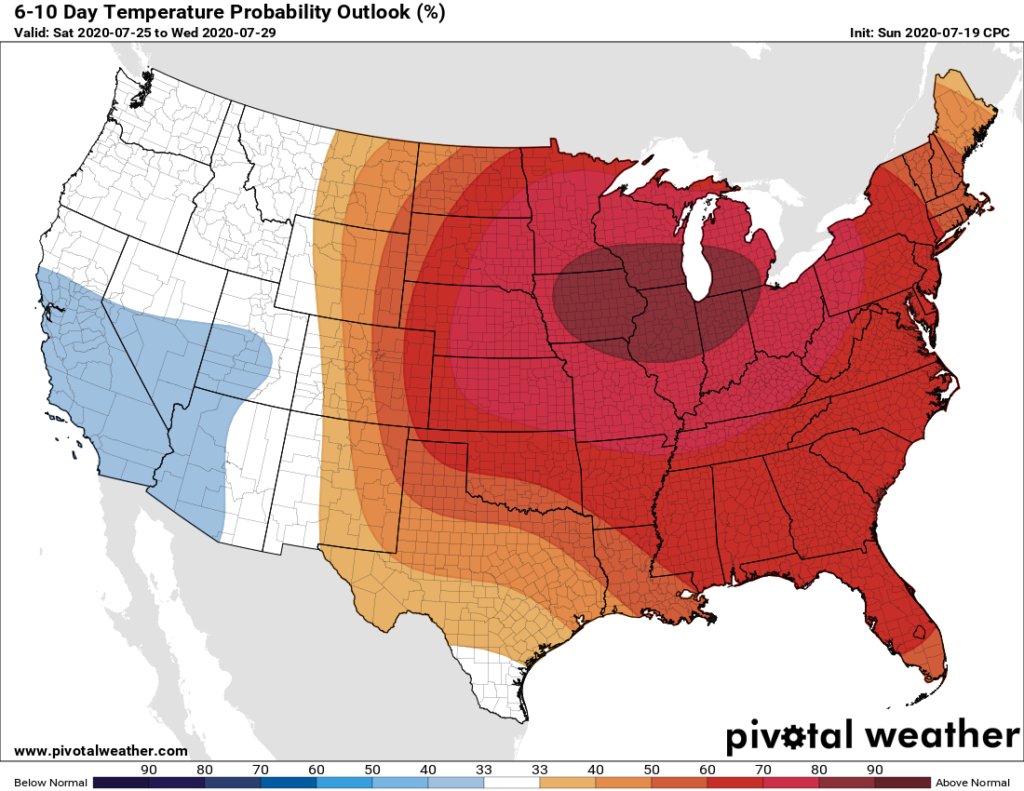 As usual, I'll be posting more updates on this dangerous heat wave as the day progresses.
Here is more climate and weather news from Monday:
(As usual, this will be a fluid post in which more information gets added during the day as it crosses my radar, crediting all who have put it on-line. Items will be archived on this site for posterity. In most instances click on the pictures of each tweet to see each article. The most noteworthy items will be listed first.)
Now here are some of today's articles and notes on the horrid COVID-19 pandemic:
(If you like these posts and my work please contribute via the PayPal widget, which has recently been added to this site. Thanks in advance for any support.)
Guy Walton… "The Climate Guy"