Thursday July 23rd… Dear Diary. The main purpose of this ongoing blog will be to track United States extreme or record temperatures related to climate change. Any reports I see of ETs will be listed below the main topic of the day. I'll refer to extreme or record temperatures as ETs (not extraterrestrials).😉
Main Topic: Prolonged U.S. Heat Wave Builds Again In The Plains…Update #19…An End Is In Sight
Dear Diary. I have great news for my readers. Looking at meteorological guidance it appears that our prolonged heat wave across the United States east of the Rockies will end around July 30th, a week from today. Unfortunately the Midwest and Northeast will see one more round of near record heat ahead of a strong front that will end our heat spell.
As usual let's access U.S. heat levels for the next two days. Our low level CAT 1 heat wave won't change much through Friday. Just a scant few heat advisories remain in place by the National Weather Service across the Middle Atlantic, where a front didn't clear away dangerous levels of heat. The NWS has added advisories in the northern Plains as a result of our next warming trend:
A cooling trend should finally put an end to heat advisories in the Middle Atlantic by Friday where Norfolk, Virginia has had a record four consecutive days at or above 100°F from this Saturday through Tuesday:
While dangerous, 90s for maxes forecast on Friday on the above chart will be below record values.
The hottest day for the Northeast should be on Monday:
As forecast the last zenith of our heat done east of the Rockies should occur this weekend on the 26th or 27th: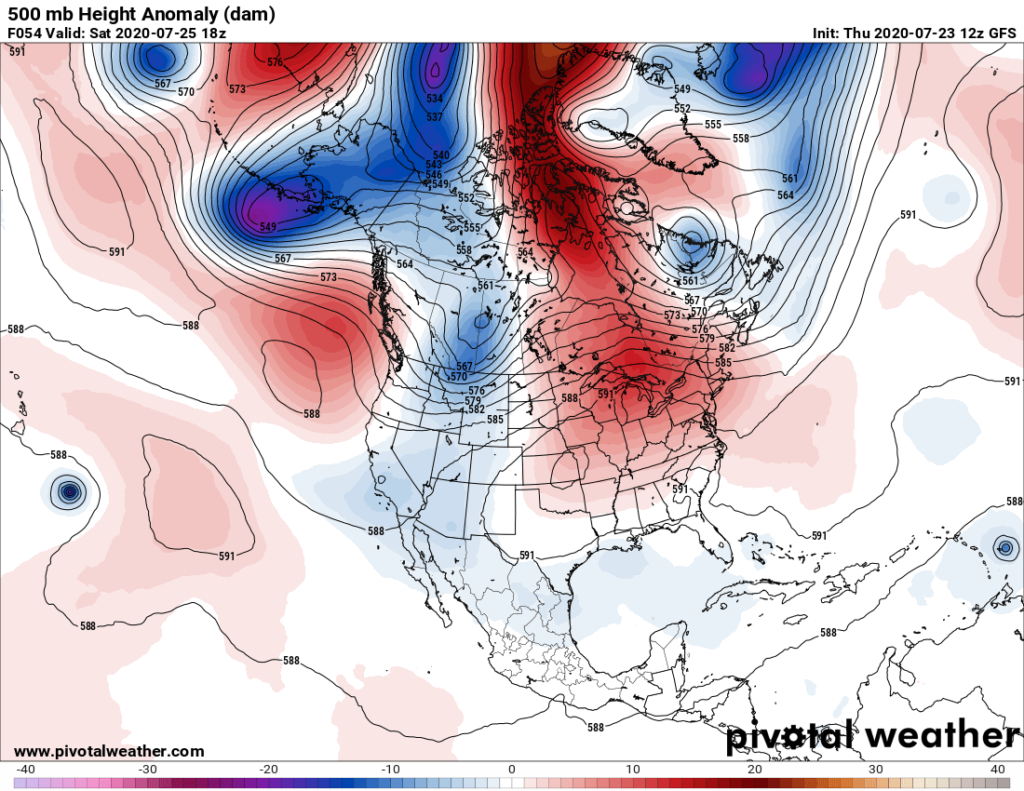 The system digging into the West will eventually move over the top of our heat dome and greatly diminish the thing by the July 28th:
By Tuesday on the above chart our heat dome will have retrograded westward to the Southwest and be fairly miniscule.
By Tuesday morning on the 28th our heat wave ending front will have moved into the central Plains and will have cleared the Midwest: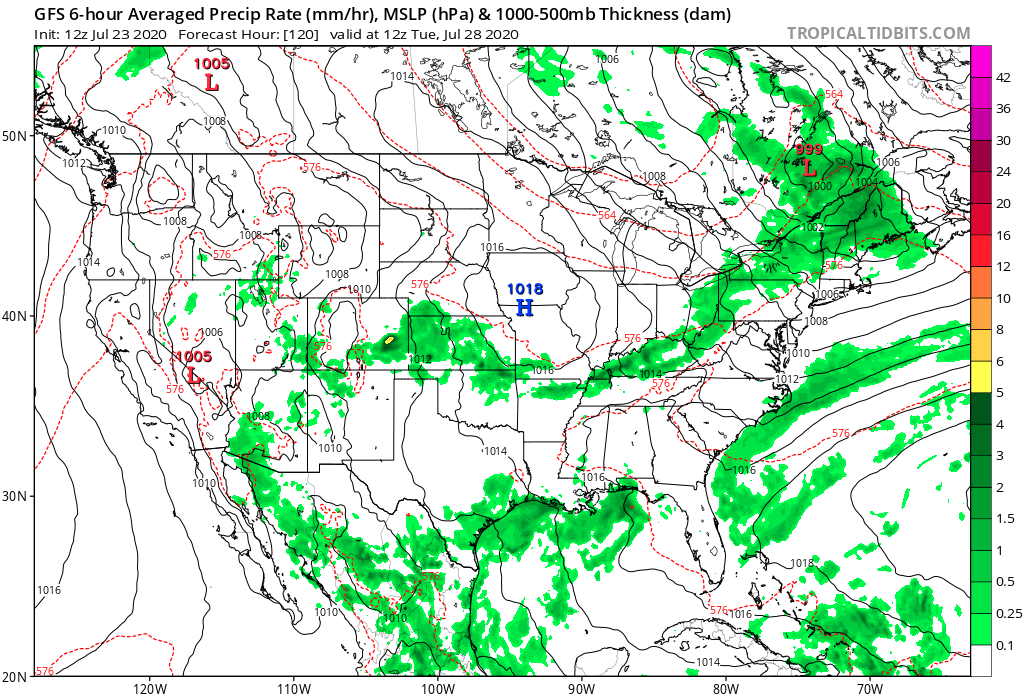 The area from Texas through the the Southeast will see a couple of more hot days, but by this point we won't have a CAT 1 heat wave.
As usual, I'll be posting more updates on this dangerous heat wave as the day progresses in the space below.
Here is a other heat record from Siberia:
Here is more climate and weather news from Thursday:
(As usual, this will be a fluid post in which more information gets added during the day as it crosses my radar, crediting all who have put it on-line. Items will be archived on this site for posterity. In most instances click on the pictures of each tweet to see each article. The most noteworthy items will be listed first.)
Now here are some of today's articles and notes on the horrid COVID-19 pandemic:
(If you like these posts and my work please contribute via the PayPal widget, which has recently been added to this site. Thanks in advance for any support.)
Guy Walton… "The Climate Guy"