The main purpose of this ongoing blog will be to track planetary extreme, or record temperatures related to climate change. Any reports I see of ETs will be listed below the main topic of the day. I'll refer to extreme or record temperatures as ETs (not extraterrestrials).😉
Main Topic: How the Inflation Reduction Act Will Affect U.S. Climate Goals
Dear Diary. Every climate expert I know is lauding the fact the Inflation Reduction Act passed here in the United States, so that there is real hope to fix our climate. Just how much will the act reduce emissions, starting in this crucial decade? Too, we know that some money spent by the federal government gets wasted, sometimes getting siphoned off via corruption. Unfortunately, this happened with vivid relief funds. I'll be keeping a keen eye on reports on how funds are being used from the IRA. We definitely don't want fossil fuel interests to seize on any funny money business so that it's easier for any future Republican led Congress to kill the entire venture. It's essential that federally led climate mitigation remains popular with the general public, and corruption in association with the IRA could potentially kill that.
In any case, after the passage of the IRA we can see how its structure can reduce emissions overall. Let's be optimistic here, like everyone is during September 2022, and assume that all big components of the IRA will go well like the launch of new moon rockets. Here is what we hopefully will see as compiled by Climate Central:
This special alert provides resources to understand what the Inflation Reduction Act means for the country's climate goals.
Major legislation. The Inflation Reduction Act (IRA) contains $369 billion to boost clean energy and cut emissions. The law is estimated to have a greater impact on U.S. climate goals than any previous policy.
The U.S. 2030 climate target is to cut heat-trapping emissions by 50% below 2005 levels.
The IRA is projected to get the nation ~42% below 2005 levels by 2030.
Although the IRA doesn't get the U.S. all the way to its 2030 goals, the law represents a substantial step in that direction.
Where will the emission cuts come from? The IRA is projected to make clean energy and other climate solutions cheaper, accelerating the ongoing energy transition.
Most of the emissions cuts are expected to come from the power and transportation sectors.
In the power sector, the IRA could spur a surge in wind and solar energy. By 2026, annual capacity additions could double the 2020 pace for wind, and reach 5x the 2020 pace for solar.
In transport, the IRA is expected to make electric and zero emissions vehicles cheaper.
The IRA also includes incentives that make efficiency upgrades and low-carbon heating and cooling systems more affordable for individuals and businesses.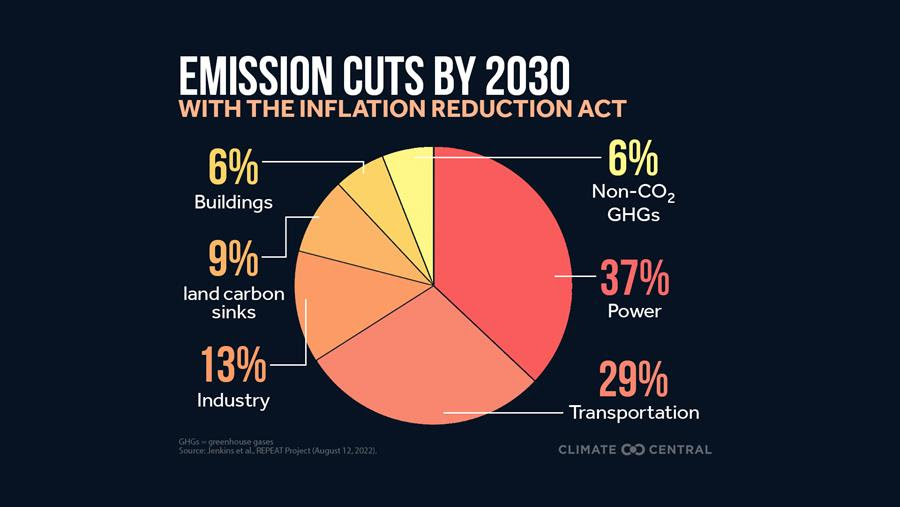 Impacts on health and jobs. By facilitating an unprecedented drop in emissions, the IRA would not only advance U.S. (and global) climate goals, but also boost job growth and improve air quality.
Accelerating the clean energy transition will require a boom in energy supply related jobs. By 2030, the IRA could create over 1.7 million energy supply jobs, with most of those (about 950,000) in manufacturing (mainly solar PV and wind turbine components).
Fine particulate matter pollution, a byproduct of fossil fuel-based energy production and use, can lead to illness and even death. By 2035, the IRA could avoid an estimated 63,000 premature deaths by reducing pollution from fossil fuels.
We've included a list of recent analyses of the IRA's impacts on climate targets and will provide additional reporting resources as further analyses are released.
Source:
The estimates of IRA impacts in this email and the associated graphics are based on modeling from the Princeton University Rapid Energy Policy Evaluation and Analysis Toolkit (REPEAT), as of August 12, 2022. See: Jenkins, J.D., Mayfield, E.N., Farbes, J., Jones, R., Patankar, N., Xu, Q., Schivley, G., "Preliminary Report: The Climate and Energy Impacts of the Inflation Reduction Act of 2022 ," REPEAT Project, Princeton, NJ, August 2022.
Resources:
REPEAT Project: August 12, 2022 report summarizing key findings from analysis of the energy system and climate impacts of the IRA
Energy Innovation: August 23, 2022 analysis of the IRA's impact on emissions reductions, job creation, and public health, using the free and open-source U.S. Energy Policy Simulator
U.S. Department of Energy: August 18, 2022 analysis of the IRA's impact on emissions reductions and U.S. climate goals
Rhodium: August 12, 2022 analysis of climate and clean energy provisions in the IRA
White House Briefing Room: On August 17, 2022, the White House released "State Fact Sheets: How the IRA Lowers Energy Costs, Creates Jobs, and Tackles Climate Change Across America."
Climate Central
One Palmer Square • Suite 402
Princeton, NJ 08542
Here are some "ET's" recorded from around the planet the last couple of days, their consequences, and some extreme temperature outlooks:
Here is some more August and Summer 2022 climatology:
Here is more climate and weather news from Tuesday:
(As usual, this will be a fluid post in which more information gets added during the day as it crosses my radar, crediting all who have put it on-line. Items will be archived on this site for posterity. In most instances click on the pictures of each tweet to see each article. The most noteworthy items will be listed first.)
(If you like these posts and my work please contribute via the PayPal widget, which has recently been added to this site. Thanks in advance for any support.) 
Guy Walton "The Climate Guy"