Saturday September 15th… Dear Diary. The main purpose of this ongoing post will be to track United States extreme or record temperatures related to climate change. Any reports I see of ETs will be listed below the main topic of the day. I'll refer to extreme or record temperatures as ETs (not extraterrestrials)😊.  Here is today's main climate change related topic:
Tracking Florence Day Seven
Today will be the last day in which Florence is the main topic. Don't you think that a week of tracking old Flo is enough?😉 Actually I will continue to add major news items in association with what is currently Tropical Storm Florence as it begins to move north Sunday through the upstate Carolina region and into the Northeast early this week, but we'll move onto other topics. Florence on Saturday has moved into a "Harvey" phase crawling forward at no more than 5 mph due to very weak steering currents, a sign of climate  change. The main problem through Sunday, like in Harvey when it reached this state inland, is one word…flooding, and like with Harvey over a wide area this will be catastrophic.
We have seen astounding amounts of rainfall , so far, from Florence, due to relentless rain bands:
Mesmerizing & horrifying — relentless intense rainbands NE of the center of slow-moving #Florence (just like with #Harvey https://t.co/330cAb8U32). 48-hour radar loop starting w/arrival of the rain on Thursday, and with many hours yet to come. #ncwx pic.twitter.com/KusrWMumTl

— Stu Ostro (@StuOstro) September 15, 2018
We have seen astounding amounts of rainfall , so far, from Florence, yet another sign that global warming  enhances rainfall from tropical systems (Added an update for this evening):
Updated preliminary rainfall reports from Florence received as of 6 pm Saturday evening.  With Tropical Storm Florence still crawling slowly to the west at 2 mph, many of these areas will see more heavy rain overnight, further exacerbating the very serious ongoing flooding.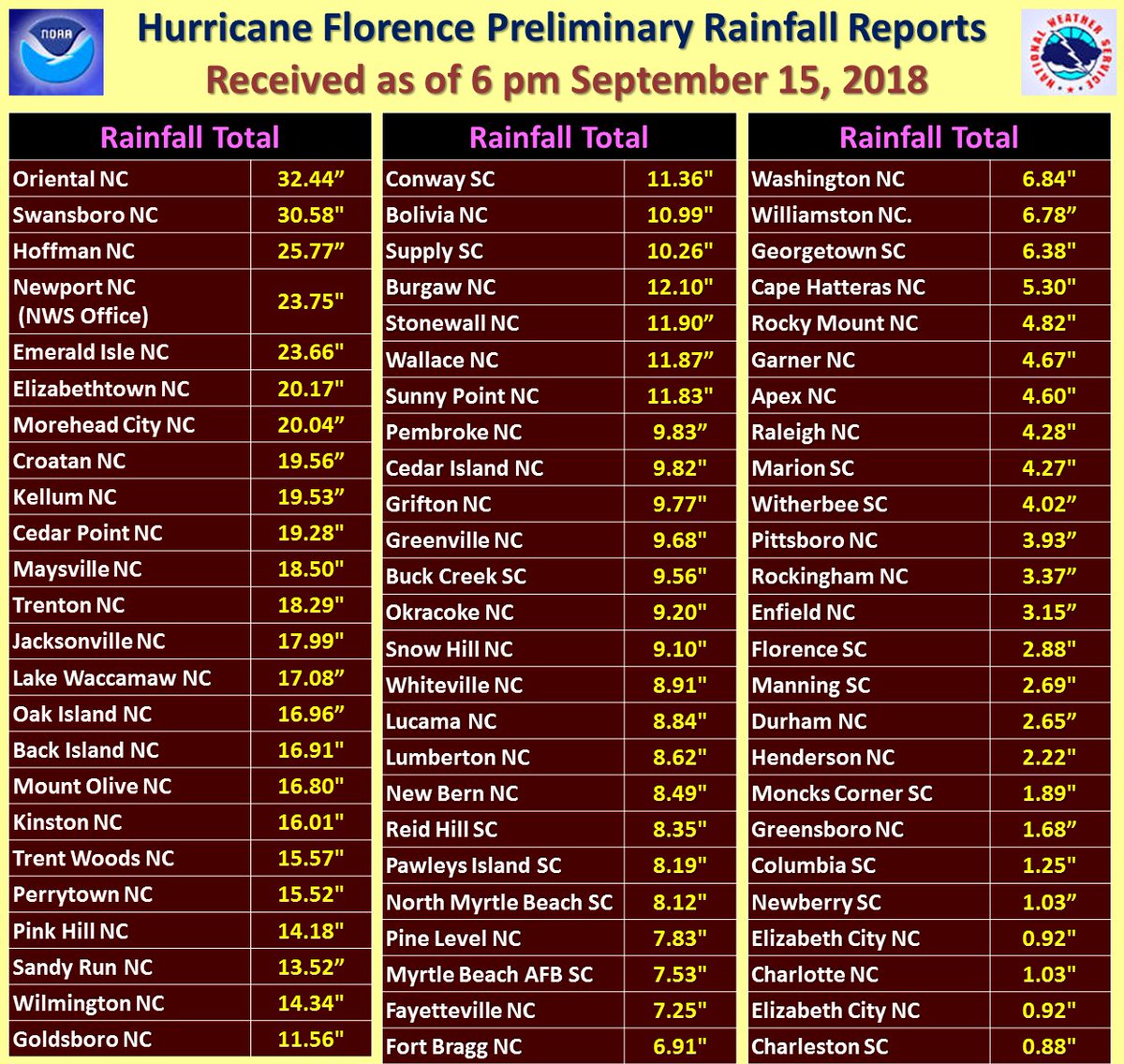 Updated preliminary rainfall reports from Florence received as of noon Saturday.  Heavy rain continues in many of these areas.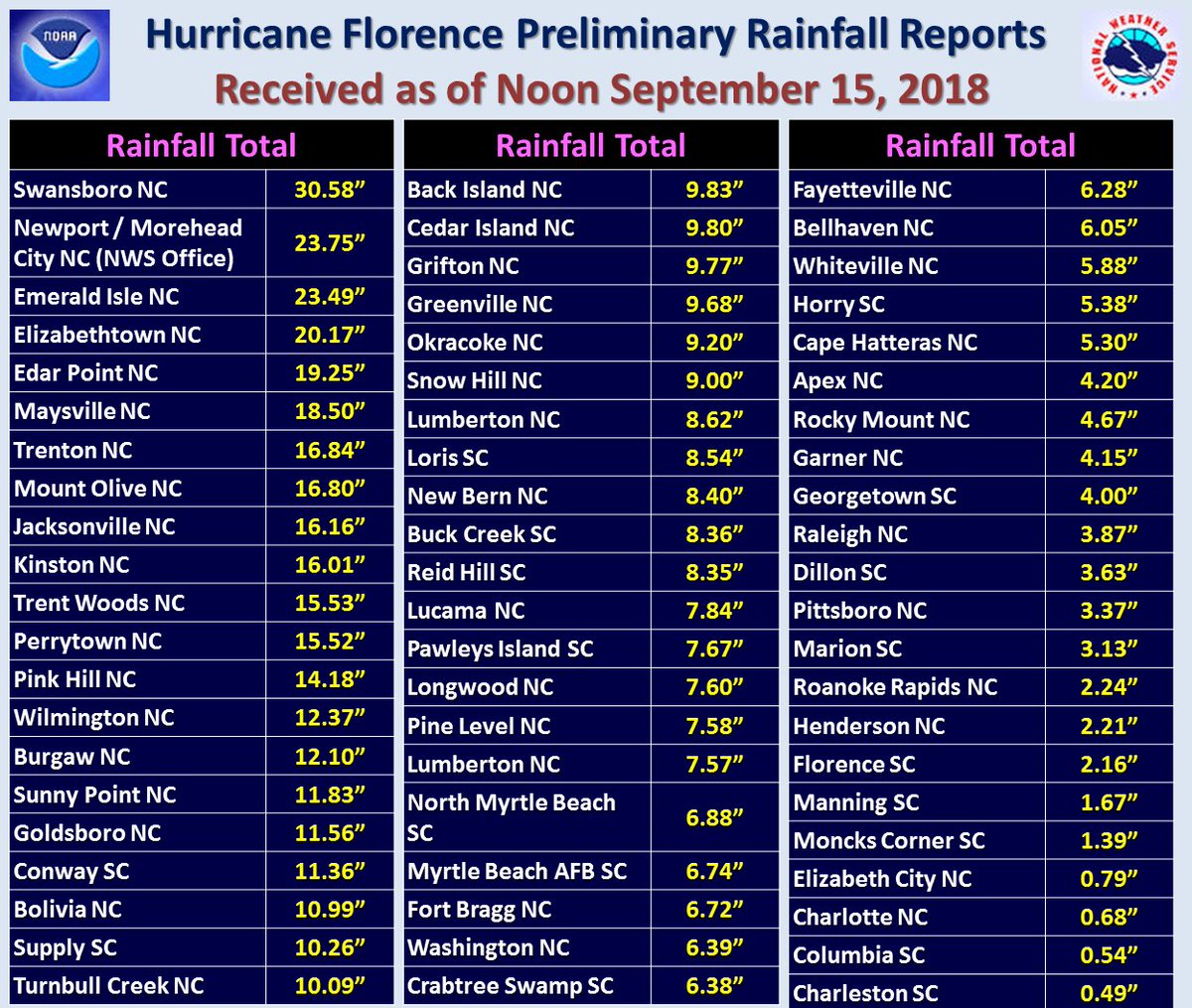 Quoting from the Weather Underground Blog: 
"Incredibly, the high-resolution HRRR model predicts that 20" or more of additional rain will fall in the period from 8 am Saturday through 5 pm Sunday across a swath stretching north and west from Wilmington (see Figure 2 below). Wilmington received 0.02" on Tuesday, 0.60" on Wednesday, 1.50" on Thursday, and 9.58" on Friday, plus more than 3" through late morning Saturday, so it's quite possible the city will top 30" for its storm total if the HRRR is correct. Wilmington also has a good chance on Saturday of breaking its all-time daily precipitation record of 13.38", set on September 15, 1999, during Hurricane Floyd."
Rainfall totals predicted by the 12Z Saturday run of the HRRR model from Saturday morning through Sunday afternoon, September 15-16, 2018. Image credit: tropicaltidbits.com.
This storm will be a marathon vs. a sprint. In addition to the ongoing, dangerous storm surge and flash flooding, will be a long-term river flood threat WELL INLAND as very heavy rainfall continues to fall in the coming days. Consult http://weather.gov for the latest.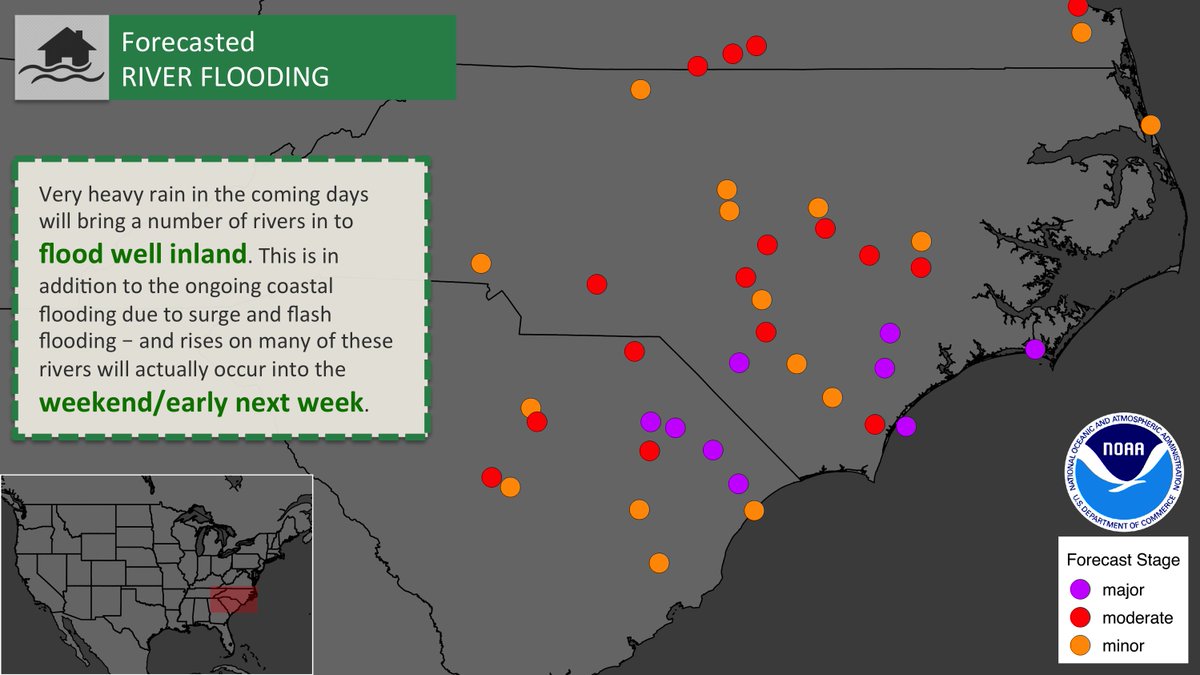 Another subtle climate change aspect of Florence not mentioned in some articles is that subsidence from the western end of its circulation has produced some record and near record heat on Friday and will again today:
Little #climate nugget for tonight. Due to hot subsidence on west side of #Florence circulation #Atlanta reached 95F…the warmest reading here since 8/18/2016. We've had a couple of mild summers in #hotlanta.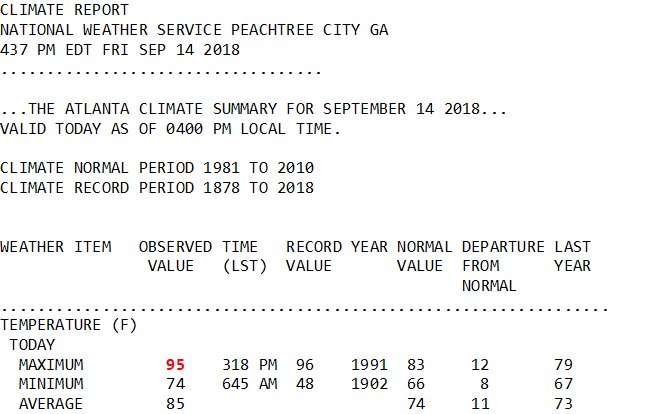 Two high temperature records set today. St. Simons Island tied the record of 95 degrees previously set in 1950. Gainesville also tied the record of 96 degrees, previously set in 1952. #flwx #gawx #climate
Observed "feels-like" temperatures across the area today. Similar conditions are expected again tomorrow. Stay hydrated! #flwx #gawx #jaxwx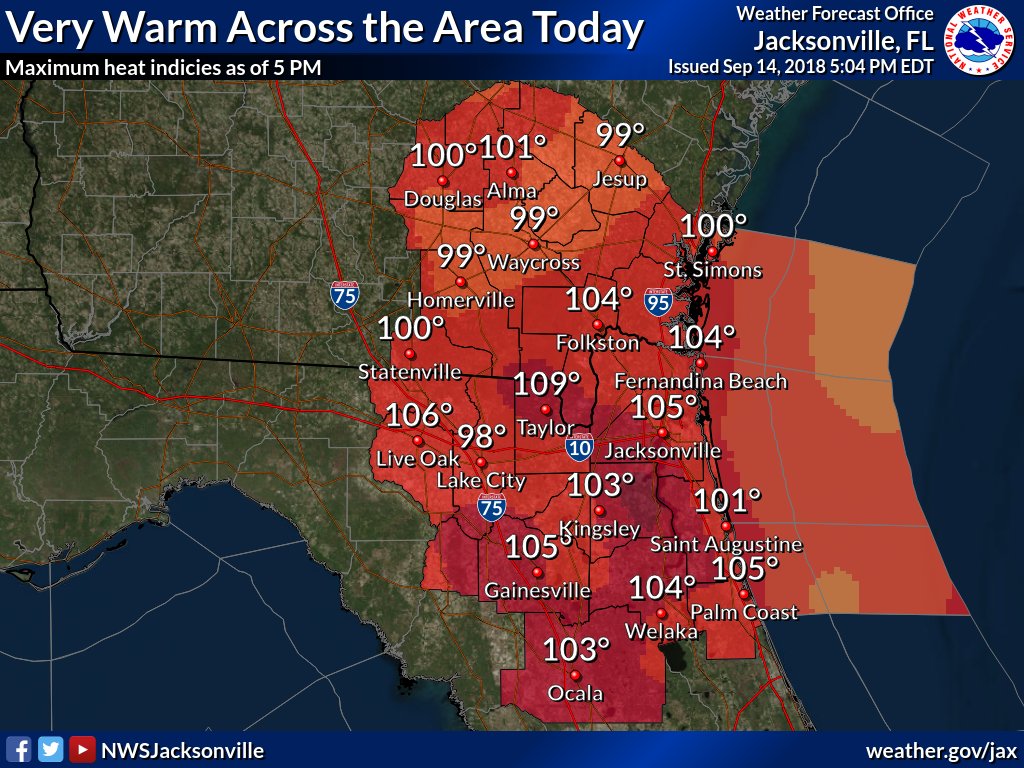 The following is my usual list of news items. All will be saved for posterity in this site.
(As usual, this will be a fluid post in which more information gets added during the day as it crosses my radar, crediting all who have put it on-line. Older items are at the end of this list, which will be archived on this site for posterity.)
Quickly growing swath of North Carolina that has received at least 20″ of rain — per Doppler radar estimates. Very concerning since most inland counties have less than 5% of homes with NFIP flood insurance. #Florence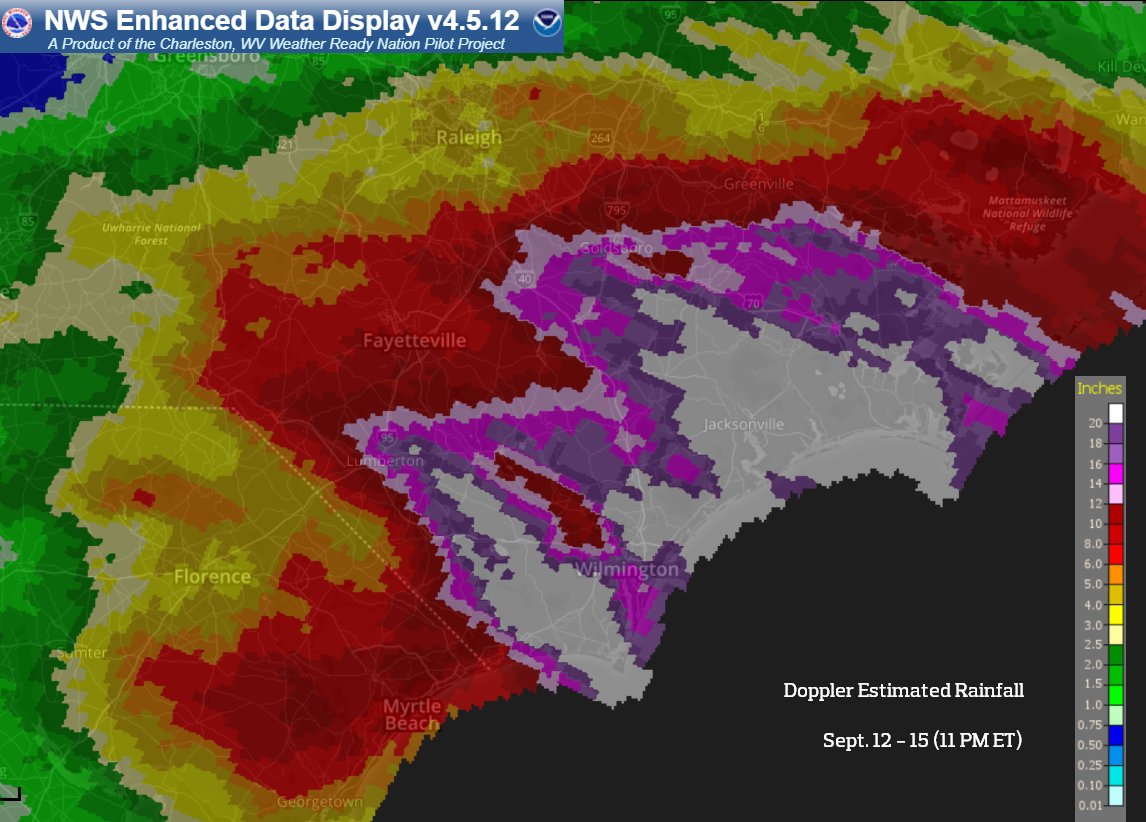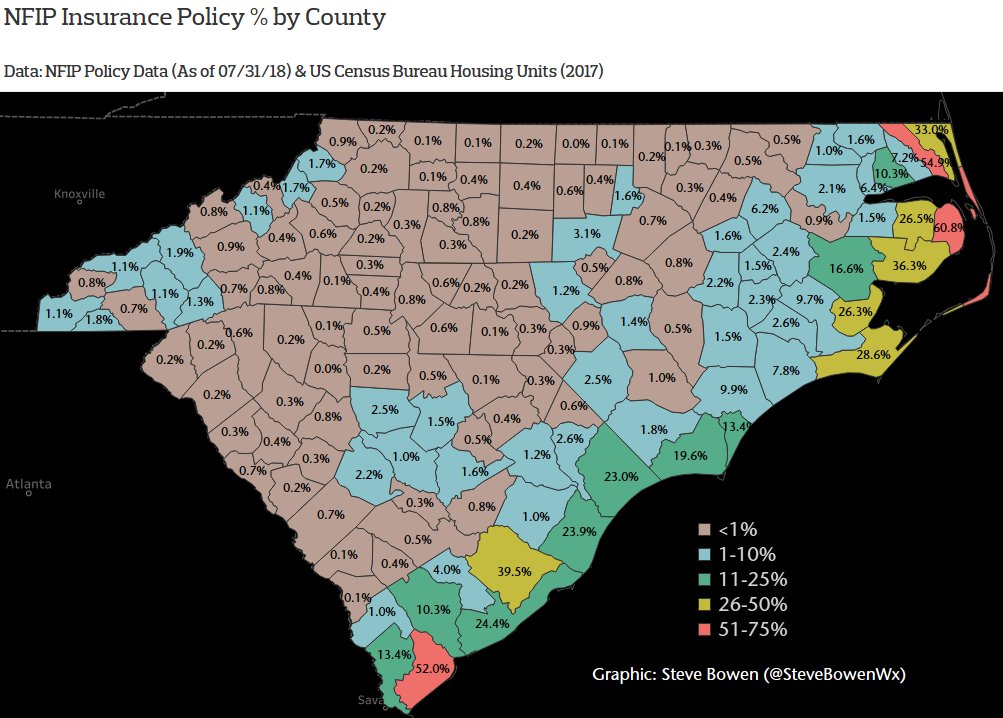 [Sat PM Update] The latest on Florence rainfall & flash flooding. Radar est. totals show pockets of 20-30″ with isolated reports greater than 30″. The flash flood risk will continue Sun into western NC & southwest VA where catastrophic flooding and river flooding are likely.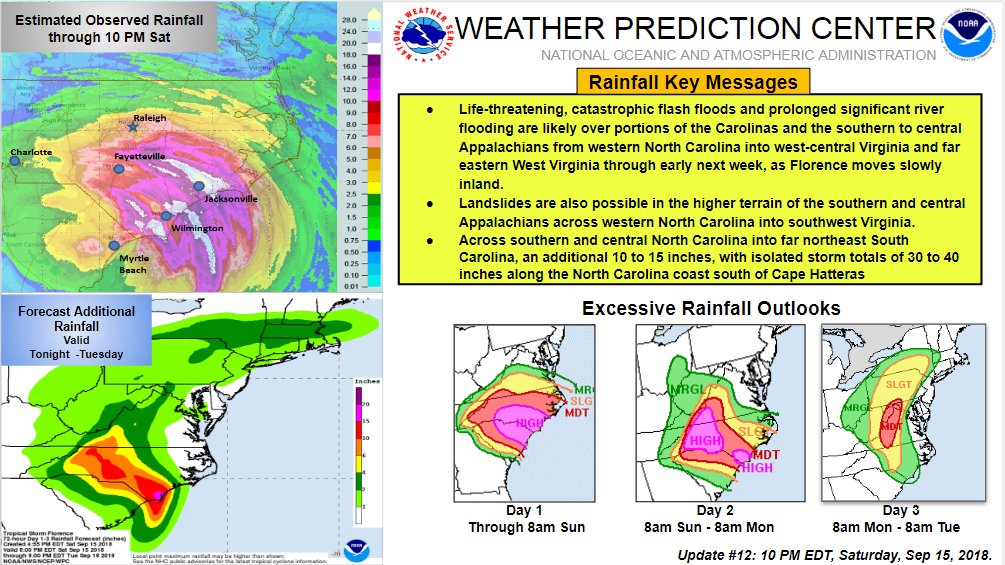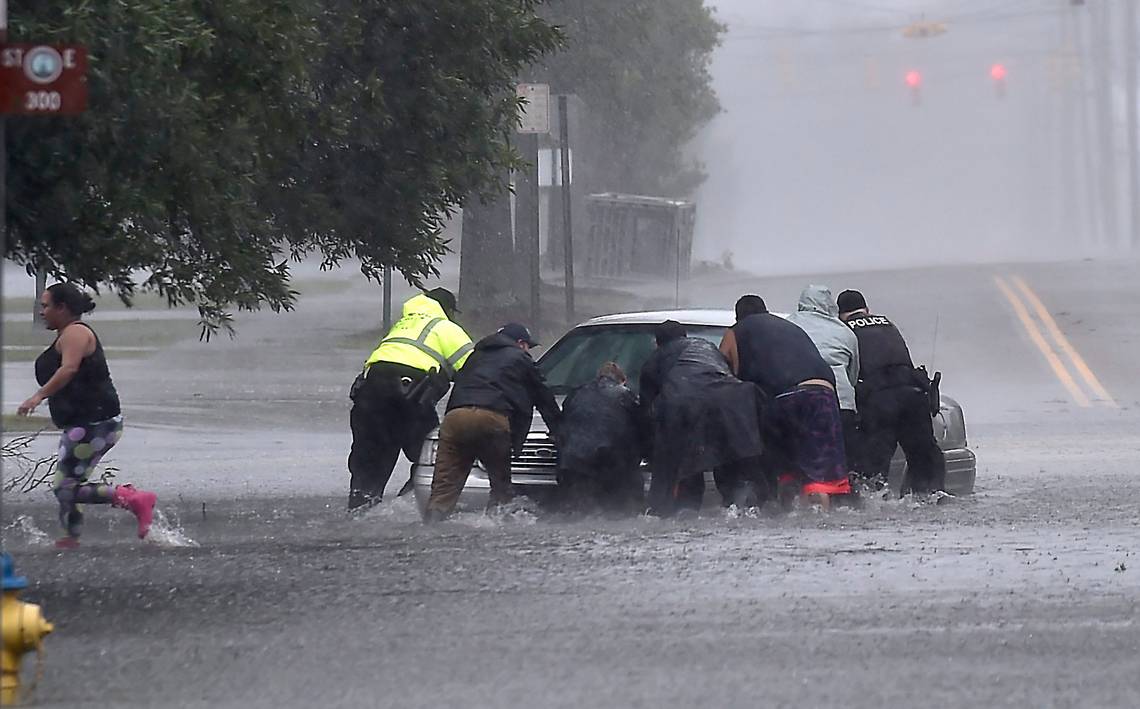 Note: Greg Carbin is chief of the Forecast Operations Branch of the NOAA/NWS Weather Prediction Center, so these strong words are backed up by serious expertise.
The jury's in and sentence isn't good: an additional foot of rain is en route to much of #NorthCarolina thanks to Tropical Rainstorm #Florence. This could be North Carolina's Harvey. 30-45" total.These climate-enhanced rainstorms are and will continue to become the new normal.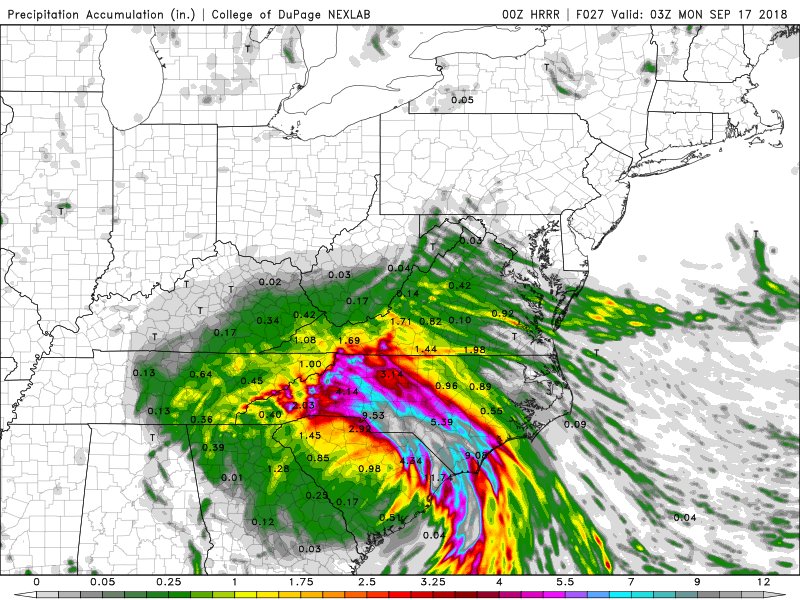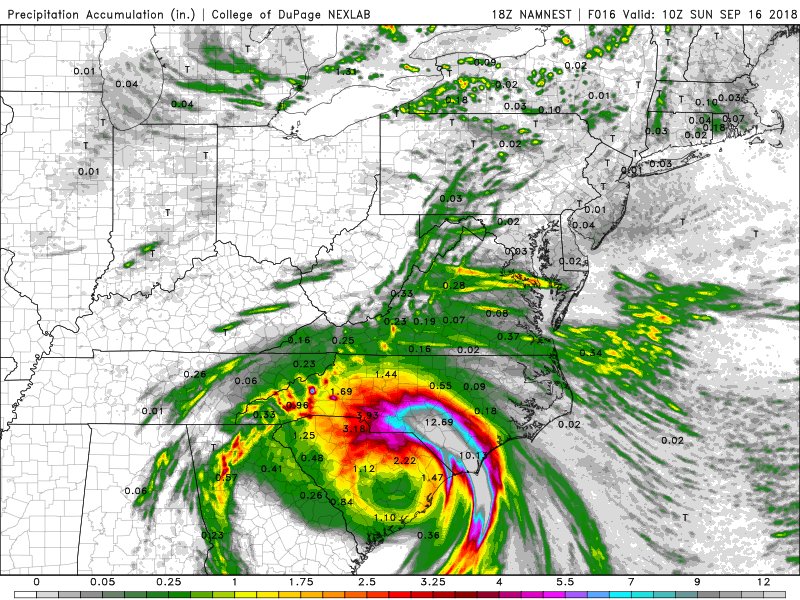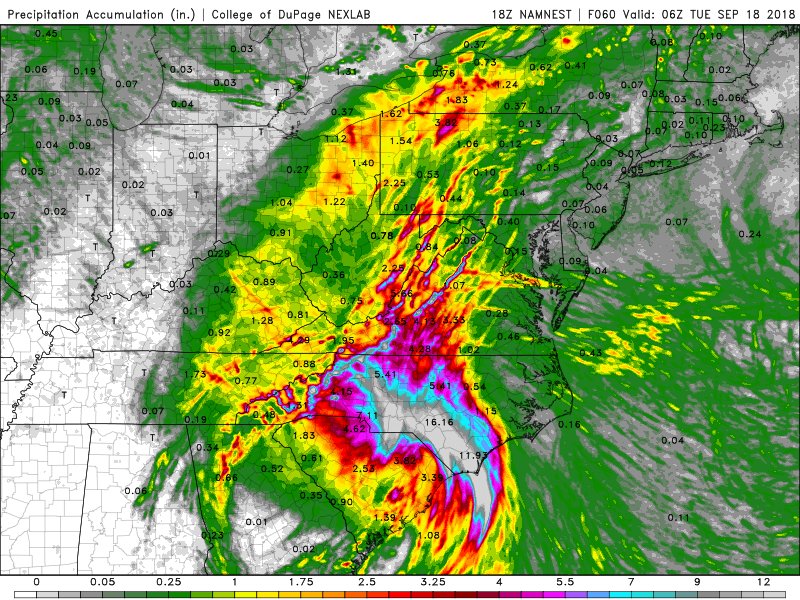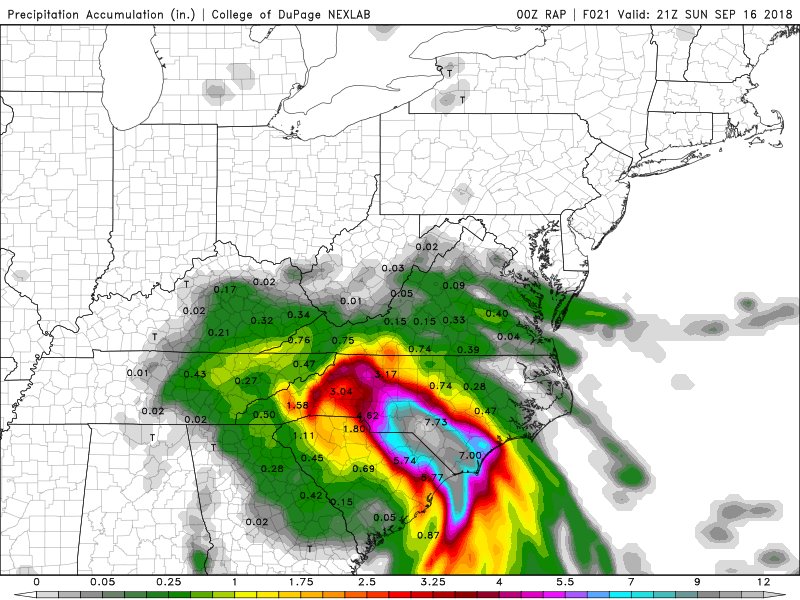 Tomorrow, the convergent zone moves on, aligns with the Appalachians.
We add more convergence, mountain focus, orographic lift, upslope enhancement… and this is going to become a nightmare in the mountains and also down stream of course, prior heavy rain, then more runoff.
Major networks now breaking in on Florence coverage. I think they are finally figuring out how big of a story this is. 30+ inches and more to come. 13 deaths and this sadly likely increases (praying it wont). Towns completely flooded. It is still in the beginning to middle stages
New State record for Rainfall from a Tropical Systems and it's still raining there. #cltwx #ncwx #scwx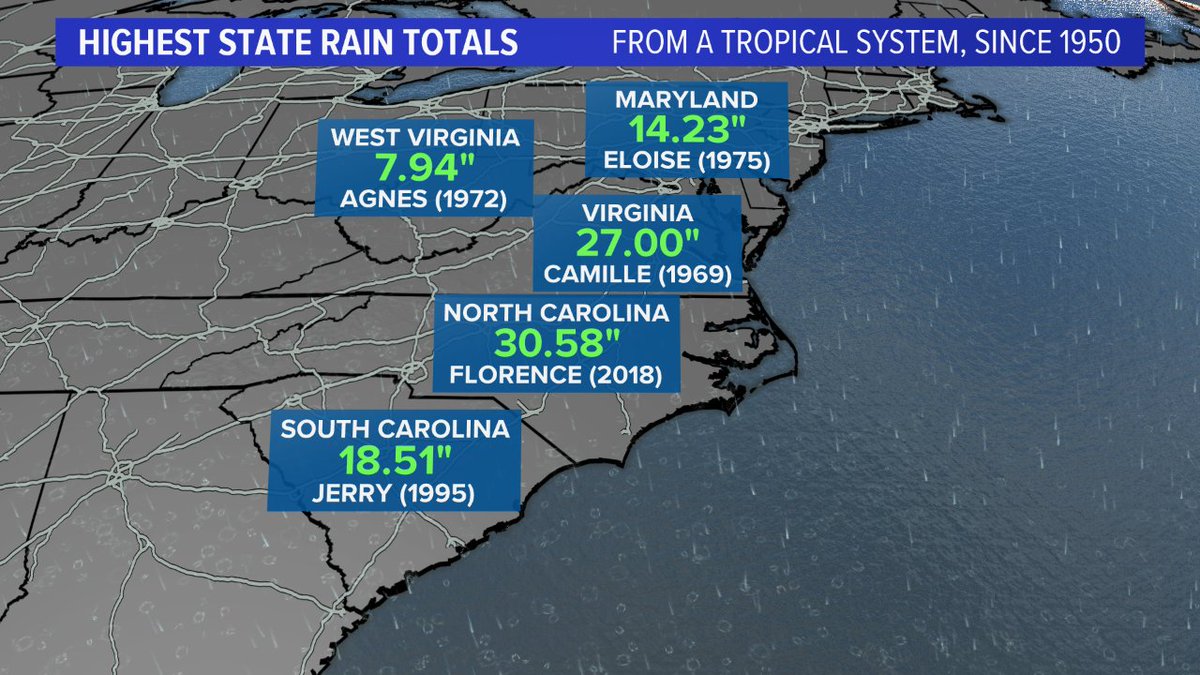 CRAWLING. Tropical Storm #Florence is moving at 2 mph. That's SLOWER than the average walking pace of a person, which is 3.1 mph.
This near stall means no end anytime soon to the life-threatening flash flooding. #NCwx #SCwx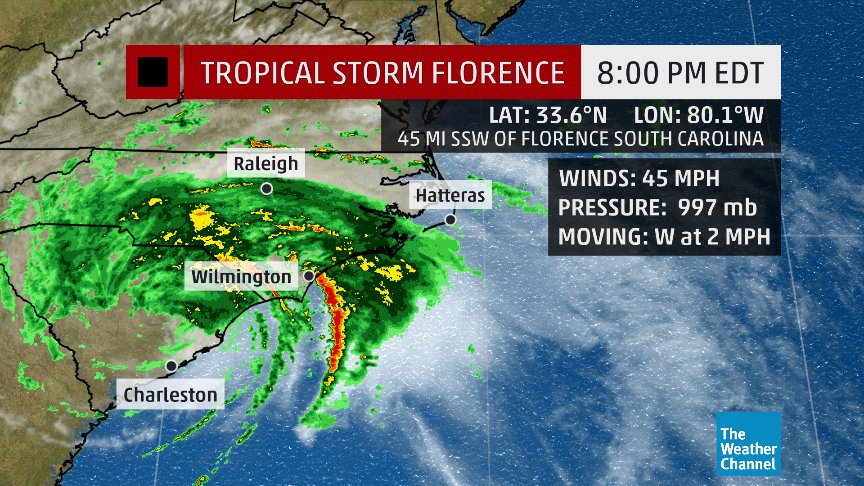 (If you like these posts and my work please contribute via the PayPal widget, which has recently been added to this site. Thanks in advance for any support.)
The Climate Guy