Monday October 1st… Dear Diary. The main purpose of this ongoing post will be to track United States extreme or record temperatures related to climate change. Any reports I see of ETs will be listed below the main topic of the day. I'll refer to extreme or record temperatures as ETs (not extraterrestrials)😊.  Here is today's main climate change related topic:
Scary U.S. Weather…Welcome To October
Frightening things are usually reserved for the end of October at Halloween, but what we will witness weather wise at the beginning of this month will have very scary climate ramifications. Boo! Welcome to October 2018, a time when there will be a weird witches brew of weird weather out of the norm for the United States.
First let's see what sort of "tricks" Rosa will play on the United States. Remember this "ominous" post? https://guyonclimate.com/2018/09/27/extreme-temperature-diary-september-27-2018-topic-rosa-ominous-tumultuous-similarities-to-florence-and-harvey/ Perhaps it was too "monstrous" suggesting that Rosa would be about as disastrous as either Florence or Harvey. I did state that Rosa won't, but the system will not produce many "treats" for the U.S. save some much needed rain in the drought plagued Desert Southwest. It's very unusual to see flash flood watches in place for the Southwest in October:
Here is Weather Underground's latest post on Rosa: 
Quoting this piece and reposting its first two figures: 
"Models indicate a tongue of rich moisture will shoot into the California/Arizona border region beginning on Monday, then spread into much of the Desert Southwest on Tuesday. This moisture will be capable of generating heavy rains of 2 – 4" capable of causing dangerous flash flooding. On the positive side, the entire Southwest is in drought, so Rosa's rains will do much to ease the drought conditions there."
Figure 1. Precipitable water (PW, the amount of moisture in the air above a given point) will be unusually rich across the Southwest on Tuesday morning, running from 4 to 6 standard deviations above average for the time of year. PW values could reach 1.5" in the atmosphere over Las Vegas and 2.0" over Yuma. These would both set records for the highest values observed in any month from October through June. A separate zone of high PW will be moving into coastal Southern and Central California on Tuesday. Image credit: tropicaltidbits.com.
 Figure 2. U.S. drought conditions as of September 27, 2018. Rosa's heavy rains will be falling over regions in moderate to extreme drought. Image credit: USDA/University of Nebraska-Lincoln/NOAA.
The "scary" tie ins to Florence and Harvey to my prior post were on the overall unusual warmth surrounding all three weather systems and associated moisture in the atmosphere with climate change attribution aspects. As far as Rosa goes, Bob Henson of Weather Underground makes a good point:
I'm looking for plenty of those record warm to hot ET reports this week from Texas into the Southeast. What's truly "horrifying" from a climate change standpoint will be 500 millibar heights in the East during the second week of October. In my 30+ year met career I don't think I've seen anything quite as warm as this: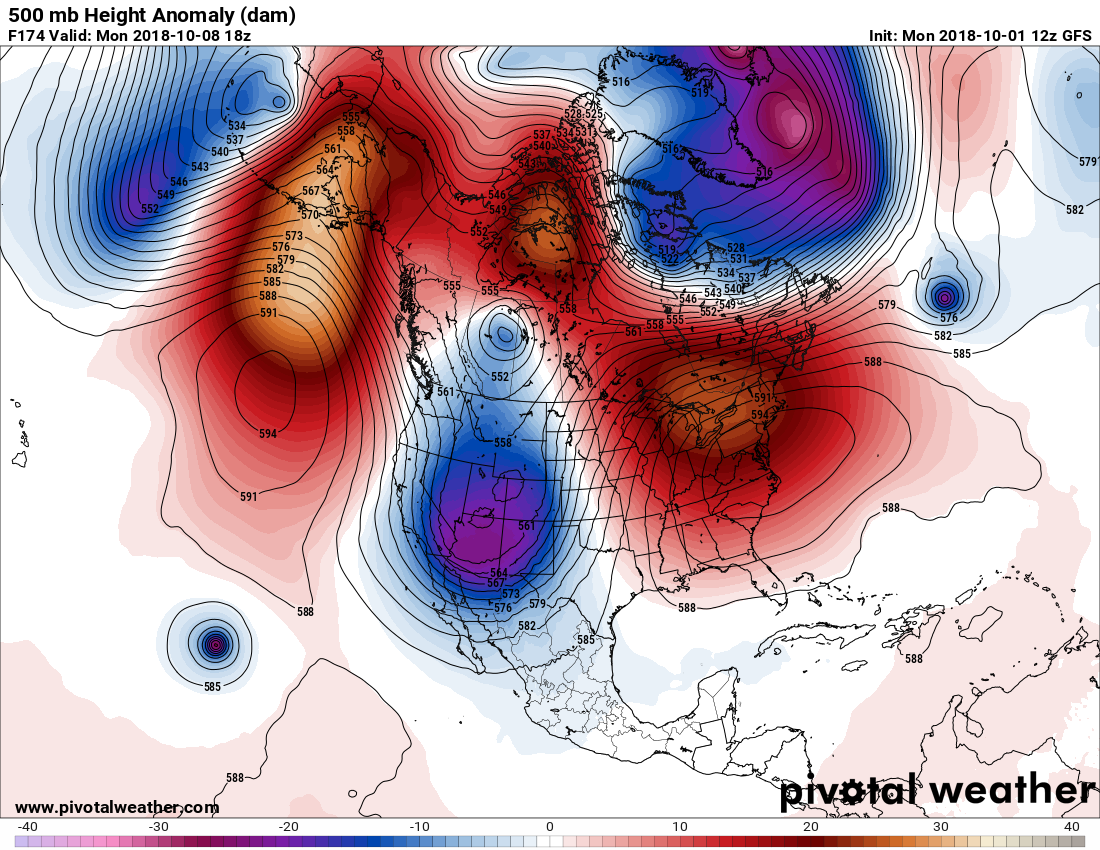 On the above Pivotal chart we see a mid July type 594+ decameter ridge centered over the Mid-Atlantic with a strong upper low forming over the Great Basin. While deep, I've seen stronger cold upper lows in the West during the early fall.
We could be looking at an early season snow storm for the Rockies, which would be in keeping with climatological norms, while seeing record heat in the East, and severe storms with flooding rain in the Plains:
By late this week we will have a pretty good idea just how anomalous the second week of October will be across the United States.
As far as this week goes temperature guidance due to programmed climatology is beginning to have a hard time forecasting anomalous warmth for exact maxes. The following values look very warm for 10/2 across the southern two thirds U.S., but may not be warm enough. We will see what verifies: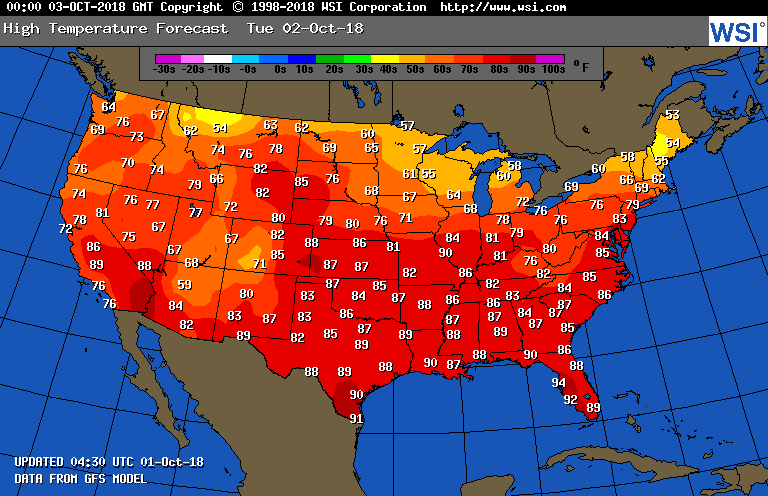 Spooked yet? Will October be a house of horrors weather wise for the United States, or will my country get some beneficial treats? We will see well before Halloween.
…………………………………………………………………………………………….
As usual I'll be posting more climate and weather news here later today:
10:55 AM – 1 Oct 2018
Aloha Hurricane #Walaka! Fortunately this massive major #hurricane will stay west of #Hawaii. #HIwx https://t.co/Sozig6yqSL pic.twitter.com/jGFKco2WRF

— UW-Madison CIMSS (@UWCIMSS) October 1, 2018
(As usual, this will be a fluid post in which more information gets added during the day as it crosses my radar, crediting all who have put it on-line. Items will be archived on this site for posterity.)
Check out this beautiful full disk mid-level water vapor loop from #GOES17! (preliminary, non-operational band 9) Track moisture from #Rosa, #GreatLakes t-storms + more. HT @CIMSS_Satellite. Full res at https://t.co/SDr2UFUJ7V More info at https://t.co/iqye8x8twf pic.twitter.com/JrjkSUqjfw

— UW-Madison CIMSS (@UWCIMSS) October 1, 2018
Here is one big ET from today:
(If you like these posts and my work please contribute via the PayPal widget, which has recently been added to this site. Thanks in advance for any support.)
The Climate Guy