Monday July 6th… Dear Diary. The main purpose of this ongoing blog will be to track United States extreme or record temperatures related to climate change. Any reports I see of ETs will be listed below the main topic of the day. I'll refer to extreme or record temperatures as ETs (not extraterrestrials).😉
Main Topic: U.S. Historic Heat Wave Looking A Bit More Likely…Update #2
Dear Diary. Before we get into a discussion about an impending monstrous heat wave, as usual, let's see where we are for today and Tuesday.
More small areas of heat advisories have popped up across the nation as noted by this latest NWS chart:
Big cities like Chicago and Pittsburgh have seen many days at or above 90F for maxes, and red flag warnings are in effect for much of the increasingly parched West, so I believe we have a marginal CAT 1 heat wave on our hands.
On Tuesday temperatures will be a little hotter in the West and western High Plains. It will be just as hot in Miami, Chicago, Pittsburgh and much of the East Coast, so our CAT 1 level of heat will continue:
Now to our discussion of future heat in July 2020:
Operational meteorological models as of Monday continue to have a lot of inconsistencies with the overall future and strength of a developing heat dome that will initially affect the Southwest and more than likely the south-central U.S. by late this week. This heat episode will only become historic in nature if it A) gets intense enough to produce many records from California eastward through Texas and or B) The thing gets dislodged away from the Southwest and expands north and eastward into the rest if the CONUS, producing near record heat with torrid heat indexes in the Plains, Southeast, Upper Midwest and eventually the Northeast.
Last nights European model had a near worst case scenario for mid July with extreme heat building eastward into the Mississippi Valley and Southeast: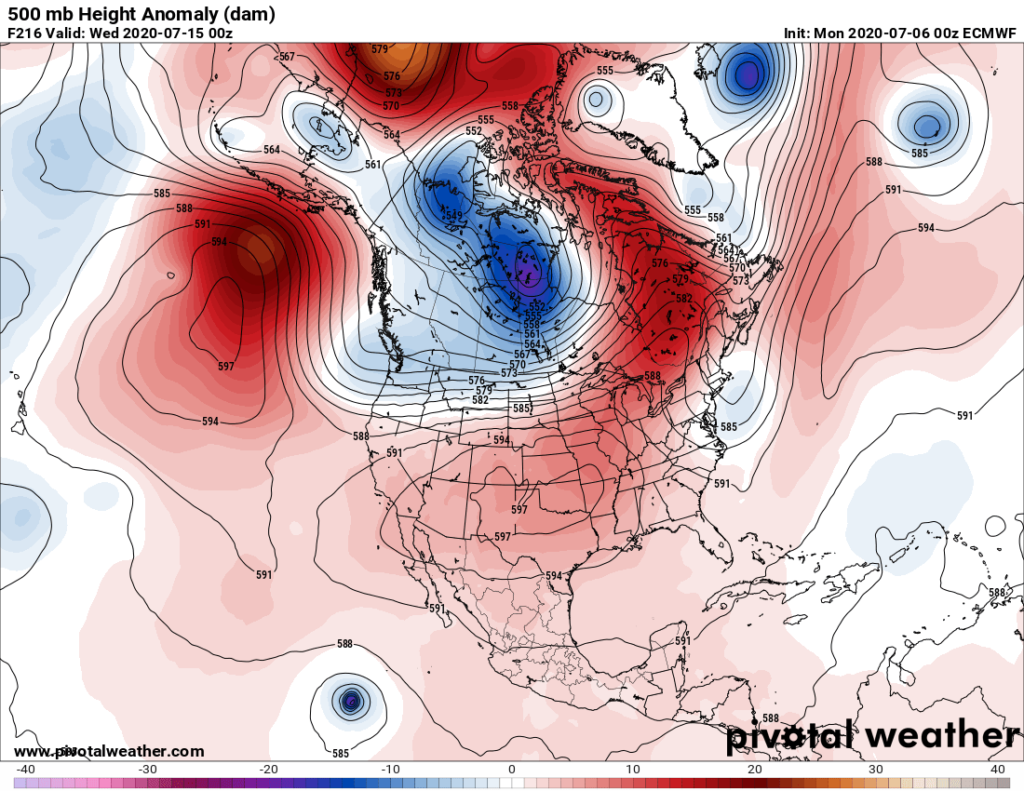 This morning's operational GFS was a little slower and not as intense, but both models dig a system into the Pacific Northwest that would dislodge the Southwest ridge developing this week and move it eastward.
Model ensembles suggest the same scenario: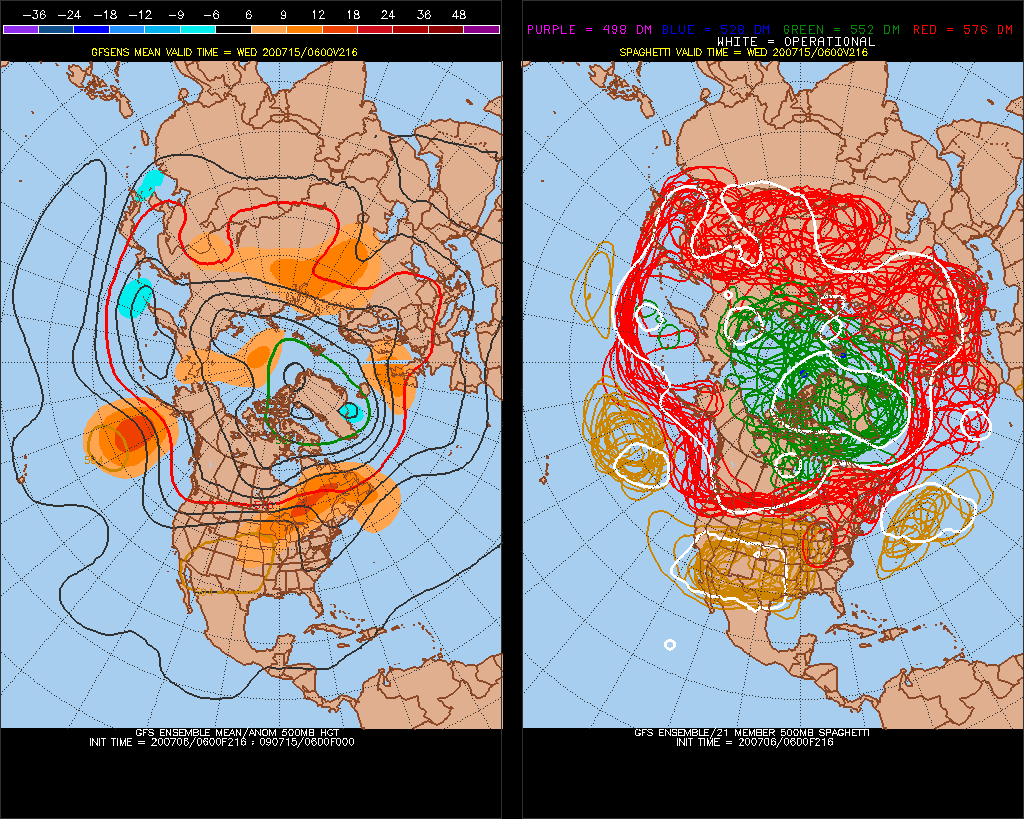 This morning's European model did back off from the overnight operational run since it forced an upper low into the South, but does continue to hold to the forecast of the ridge building into the Plains: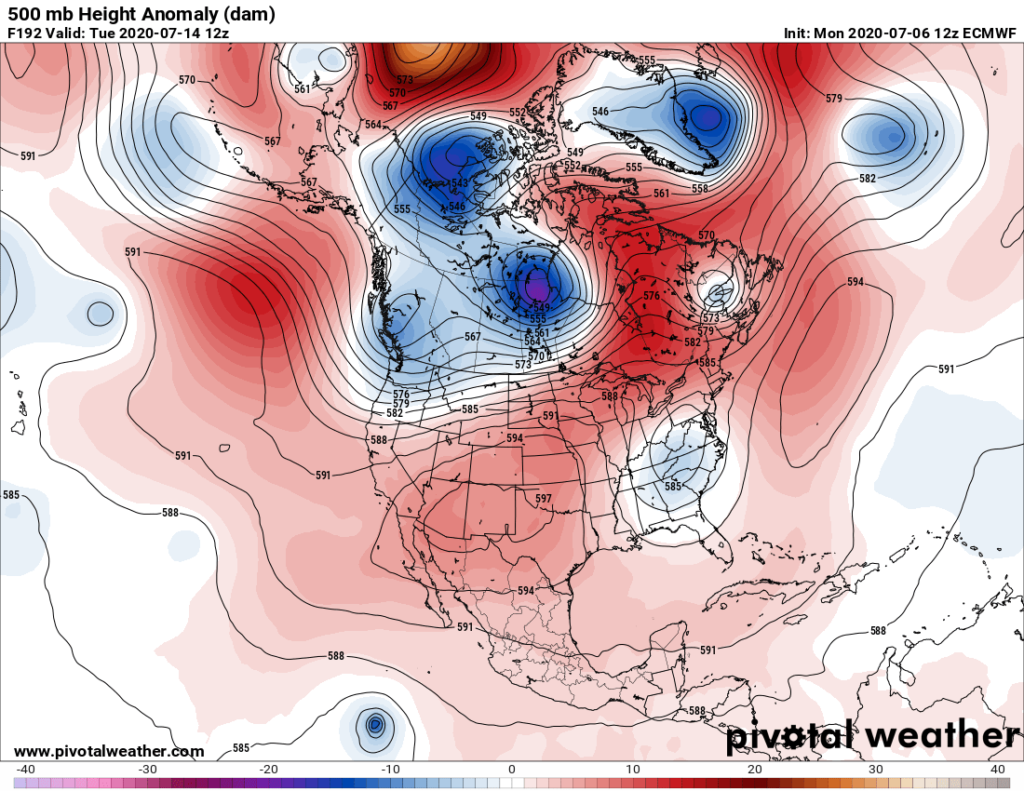 These 850 millibar temperature anomalies also valid for a week from Tuesday are quite toasty for most of the nation: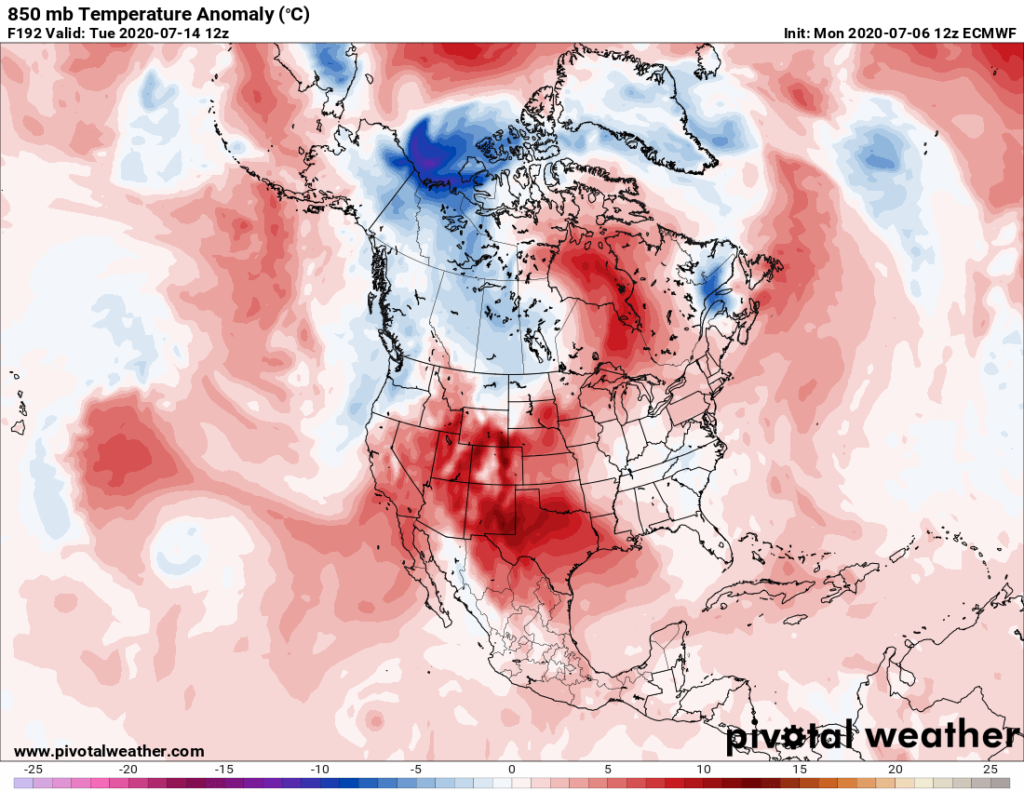 So, overall confidence is slightly better than that of Sunday, unfortunately, that heat will get up to historic, deadly levels for much of the United States starting in the Southwest by late this week. As always, check in from time to time on this site to see if I have posted any updates.
Here is one overseas "ET" from Monday:
Here is more climate and weather news from Monday:
(As usual, this will be a fluid post in which more information gets added during the day as it crosses my radar, crediting all who have put it on-line. Items will be archived on this site for posterity. In most instances click on the pictures of each tweet to see each article. The most noteworthy items will be listed first.)
Now here are some of today's articles and notes on the horrid COVID-19 pandemic:
(If you like these posts and my work please contribute via the PayPal widget, which has recently been added to this site. Thanks in advance for any support.)
Guy Walton "The Climate Guy"