The main purpose of this ongoing blog will be to track planetary extreme or record temperatures related to climate change. Any reports I see of ETs will be listed below the main topic of the day. I'll refer to extreme or record temperatures as ETs (not extraterrestrials).😉
Main Topic: New Heatwave Eta Will Make Outdoor Life Miserable For Millions Across The U.S.
Dear Diary. Meteorological models have done a decent job forecasting a new heat episode that will last through the remainder of this week. As of Tuesday afternoon the system ramped up from a CAT2 to a dangerous CAT3, so continuing down the line of the Greek alphabet:
Thankfully this system will probably not be too long lasting and not get up to a historic CAT4 level. Here is why.
The heat dome in association with Eta as of Wednesday morning sprawls from the Northwest through the Plains into the Northeast looking at hoe much real estate is covered by the +588 decameter line:
The ridge will peak over the Pacific Northwest on Thursday:
Meanwhile the vortex located over Hudson Bay (in a typical position) on the above chart will drive a surface front through the Midwest into the Northeast and destabilize the South, producing heat relieving storms by Saturday: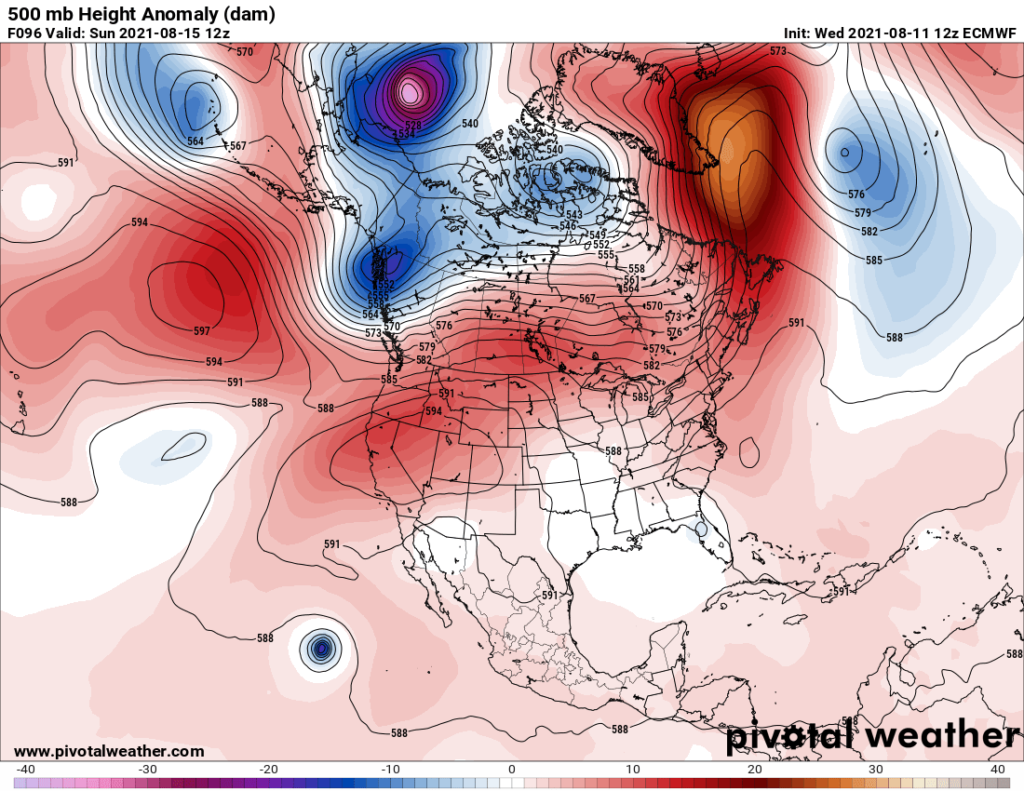 Also by Saturday moisture from Fred will be sweeping northward from Florida into the Southeast. A system dropping southward from British Columbia will be putting an end to the Pacific Northwest part of Eta.
Nevertheless, as of this Wednesday we see about as large of an area covered by heat advisories as we have seen all summer: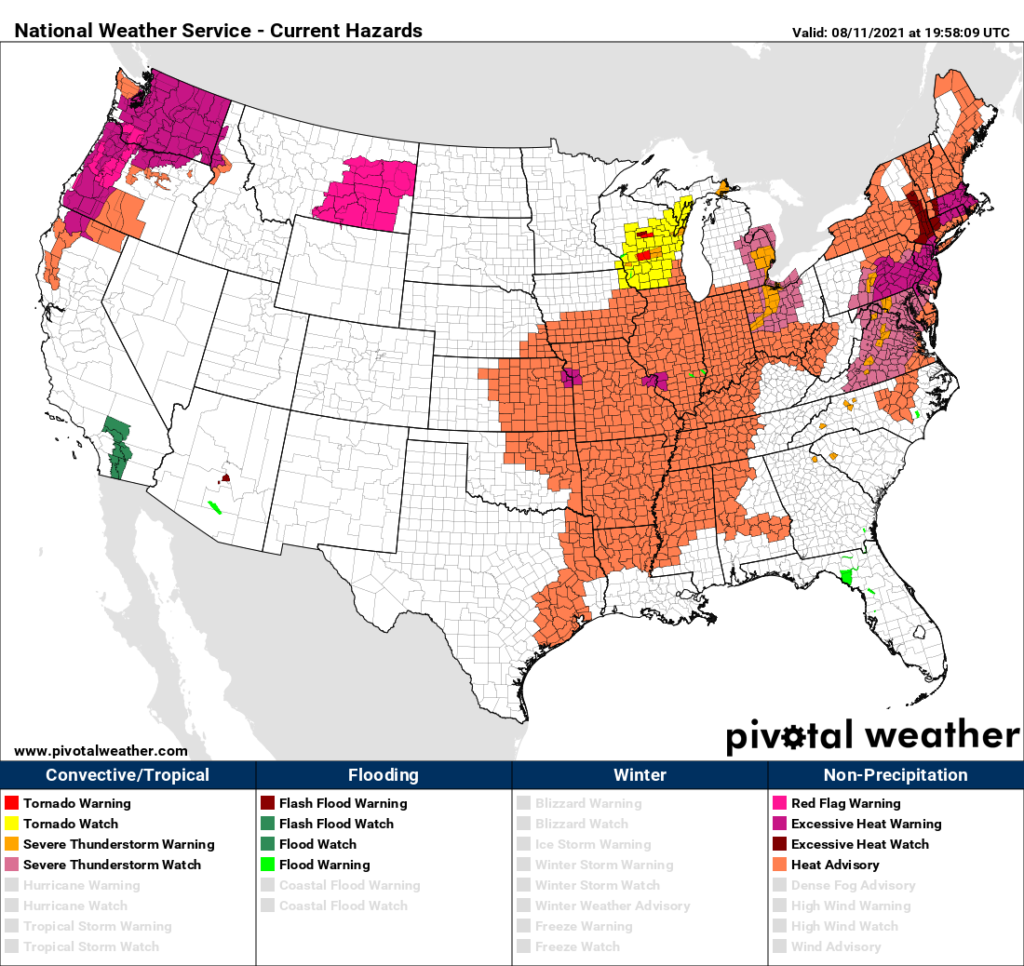 The Northeast and Upper Midwest are also having to contend with strong storms.
I'll be listing records coming from ETA the next few days, which will mostly be from the Pacific Northwest. Speaking of that portion of ETA, which will be more significant than that east of the Rockies, here is part of Dr. Daniel West's in depth blog:
Filed in Weather/Climate Discussion by Daniel Swain on August 9, 2021 • 846 Comments
Searing hot summer continues across CA interior (meanwhile, coastal denizens say "huh?")
The overall pattern over California has been remarkably consistent thus far this warm season: exceptional, unrelenting, and record-breaking heat across interior and higher elevation areas (especially in NorCal), but relatively unremarkable temperatures along the immediate coast that have actually felt pretty chilly at times. It has been a summer of incredible contrasts between the beaches and…virtually everywhere else in California.
This divergence is reflected in the fire season so far–which has rapidly accelerated to historic proportions (yes, even given the context of the last few years) across the northern 1/3 of the state. The Dixie Fire is now the largest single-origin wildfire in modern California history, having burned ~500,000 acres as of this writing. (Yes, I am aware that the August Complex last summer was larger, but that was composed of multiple distinct fires that merged; I am also aware that the Fly Fire near the Dixie may perhaps have been a separate start rather than a spot fire, but it was quite small (<2,500 acres) when it was subsumed by the massive oncoming fire front.) In addition, numerous new fires were ignited by lightning over the past 10 days across Shasta, Modoc, and multiple counties in NW California. Some of these have already burned tens of thousands of acres, are burning in remote areas, and are therefore likely to burn for weeks (probably until the onset of widespread precipitation this autumn/winter).
Yet another record-breaking heatwave across PacNW will bleed into interior NorCal
Incredibly, it looks like a (somewhat lesser) version of the record-shattering heatwave across the Pacific Northwest and British Columbia will repeat itself this week. The synoptic pattern, and its surface weather impacts, look almost eerily similar–though the magnitude appears to be noticeably less. But that's really only because the June 2021 event shattered every record there was to break up in those parts–were it not for the June event, the upcoming event this week would probably have threatened all-time, any-month records in places like Portland and interior B.C. So this is still likely to be a very major heat event for most of Oregon, Washington, and B.C. (with many daily and perhaps monthly records broken), and will also bleed over into much of interior NorCal (i.e., the same parts of CA that have been so hard hit with heat and fires so far this season). Excessive heat watches/warnings are now in effect for much of far N and NW CA at this time, which includes, unfortunately, virtually all of the major fire zones in NorCal (and southern Oregon). I hate to say that it looks like more of the same from earlier this summer, but…it looks like more of the same. It will be relatively hot across the rest of the CA interior, with a long stretch of triple digit temps in the Central Valley and SE deserts once again (although I don't think too many records will be broken this time). The coast will remain pretty mild, yet again, although probably not as chilly as in June as ocean temperatures have warmed since then and the marine layer is not quite as robust.
Here are some major "ET's" reported on Wednesday:
Here is some more July 2021 climatology:
Here is more climate and weather news from Wednesday:
(As usual, this will be a fluid post in which more information gets added during the day as it crosses my radar, crediting all who have put it on-line. Items will be archived on this site for posterity. In most instances click on the pictures of each tweet to see each article. The most noteworthy items will be listed first.)
Now here are some of today's articles and notes on the horrid COVID-19 pandemic:
(If you like these posts and my work please contribute via the PayPal widget, which has recently been added to this site. Thanks in advance for any support.)
Guy Walton "The Climate Guy"